Audio Not Playing through HDMI? Here Is A Fix
"I plug my computer into a TV through an HDMI cable, the picture transfers perfectly but no sound comes through the TV. Is there any way to fix the audio not playing through HDMI problem?"
If you ever faced the situation that when you connect your laptop to TV via HDMI cable, the screen visual works well but the sound only comes through my laptop? Want to find some effective ways to solve the audio not playing through HMDI issue? You are in the right place. Here in this post, we will show you some methods to fix audio not playing issue when you have laptop hooked up to TV with an HDMI cable.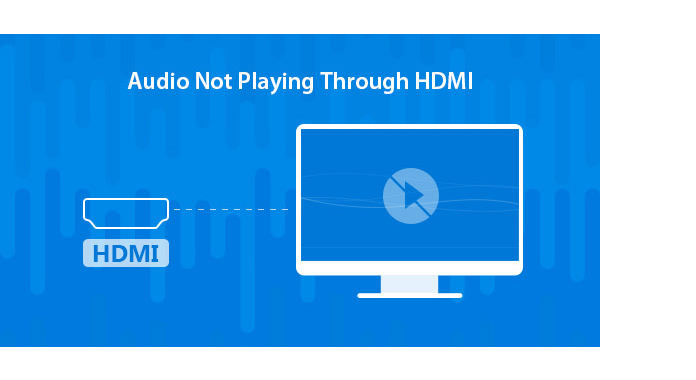 Some basic checks you should do
Before you start to fix the audio not playing through HDMI issue, you should first check if all hardware devices work properly.
1. Check the HDMI cable
Connect your TV with computer with another HDMI cable to check if the problem is resolved.
2. Check the output port
If your PC has multiple HDMI output ports, try different port to see if the audio not playing through HDM problem still exists.
3. Check the monitor
Check the monitor's speaker to make sure the volume is not turned down or muted.
Steps to fix audio not playing through HDMI
After the basic checks above, you may get rid of audio not playing through HDMI cable issue. If the problem still exits, you can take the following guide to try solving it.
Step 1Right-click on "Speaker" icon in the bottom-right corner of Windows.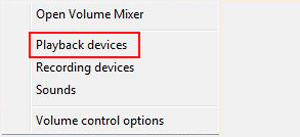 Step 2Select "Playback devices" from the pop-up context menu.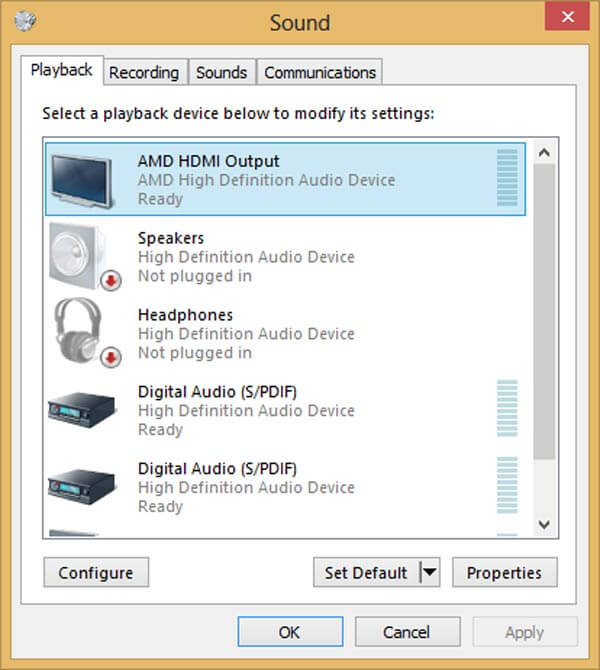 Step 3Click on "Digital Output Device" or "HDMI" option. Then choose "Set Default" and click "OK. In this way, HDMI audio output will be set as default.
Note: You may not see "Digital Output Device" or "HDMI" option in the "Playback" tab. At this time, you can right click on the blank place and click "Show disconnected devices" and "Show disabled devices" to set it as default device.
If you want to better manage your video or audio files, you can free download the professional Video Converter Ultimate to have a try.
Video Converter Ultimate
For Mac
Download and convert video to AVI, RMVB, MP3, FLAC, and other video/audio formats for your device.
Support 1080p HD/4K UHD video downloads and conversion.
Powerful editing features. Rotate/clip/merge/crop video, adjust output video effects, and add personal image or text watermark.
Enhance video quality and add more video/audio effects, including 3D.
Add new subtitle/audio track and remove original audio track.
Support adding images, watermark and text to video clips and changing color, font and size of the text.
In this article, we mainly talk about the audio not playing through HDMI issue. We show you some simple ways to solve the problem. Whether you access audio not playing through HDMI on Windows 10 or Windows 8.1/8/7/XP, you can try fixing it with the introduced methods. If you have other ways to get rid of this problem, please tell us about it in the comments.