What is VCF & How to Import VCF to iPhone/Android
Get a VCF file and can't open it on your computer? What is VCF? What does VCF stand for? How to open a VCF file?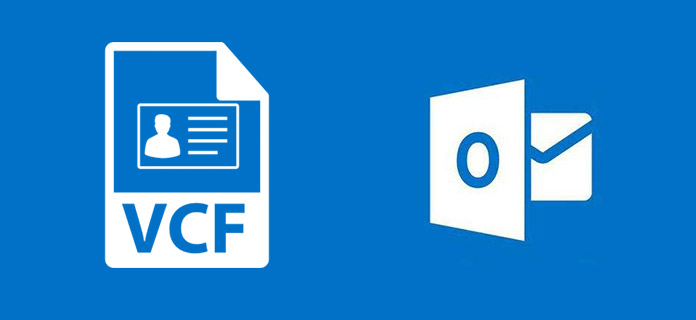 VCF is often used for importing and exporting contacts from address books. It may be attached to e-mail messages, which provides the recipient with an easy way to import the sender's contact information. We explain what VCF is and how to import VCF to iPhone/Android in this post. Just keep reading to find the useful part you need.
Part 1. What is a VCF file
VCF stands for Virtual Contact File, which is commonly referred to vCard. It is a standardized text file format for representing SNP, indel, and structural variation calls. A VCF file normally consists of the contact name, address, email address, phone number and other contact information for the person creating the file. VCF file format also allows for the support of images and other media contents.
VCF file is widely used to transfer contact information between address books. It can also be attached to email messages. If you are a Windows user, you can open vCards with the included Windows Contacts program. And for Mac users, they can open VCF with the included Contacts application. iPhone/iPad/iPod users can directly import VCF to iOS device's Contacts app. One thing you should know that, vCards are saved in a text format, so you can check the contents in a text editor.
Part 2. How to open a VCF file
When you have a VCF file and want to check the detailed contents in it, which tool you should use to open it? If you double click on it, the VCF file will be opened by Outlook. But Outlook is designed with the consideration that a VCF file can have only one contact. What should you do? You can rely on the next three ways to open a VCF file.
Open VCF file with Outlook
VCF files can be opened by a program that lets you view the contact details but the most common reason to open such a file is to import the address book into an email client program, like one online or on your phone or computer.
Step 1 Open Microsoft Outlook app on your computer. Click "File" on the menu bar and select "Open & Export" from the drop-down list.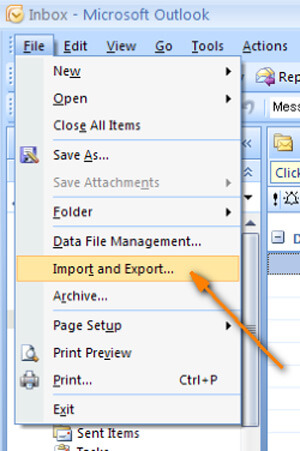 Step 2 Select "Import a VCARD File (.vcf)" and then click "Next" button.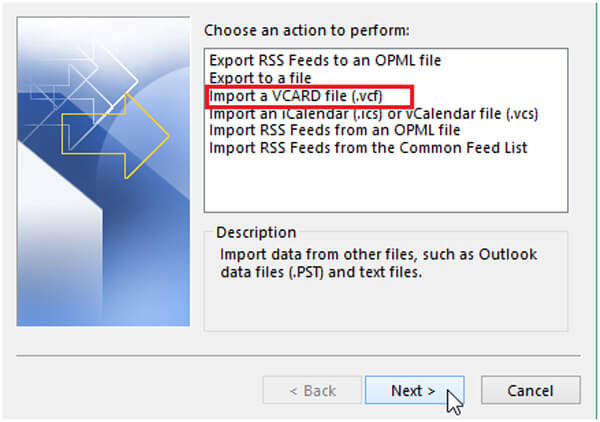 Step 3 Locate the VCF file and click "Open" button to load it to Outlook.
In this way, various data will be listed in the People section of Outlook, and you can handily review them.
Open VCF file with Gmail
Step 1 Navigate to "Gmail Contacts" page and log into your Gmail account.
Step 2 Click "More" and then choose "Import..." option from the menu.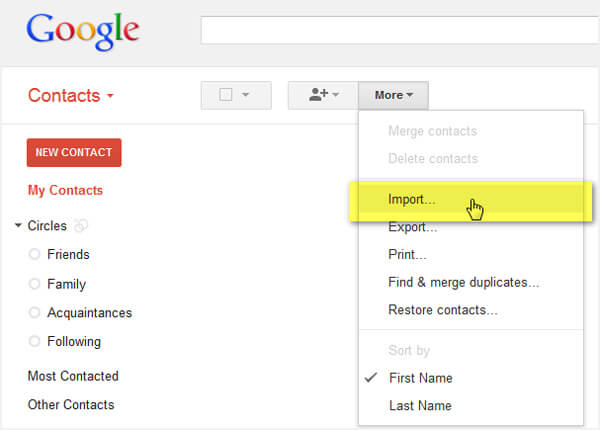 Step 3 Click on the "Choose File" button and choose your VCF file.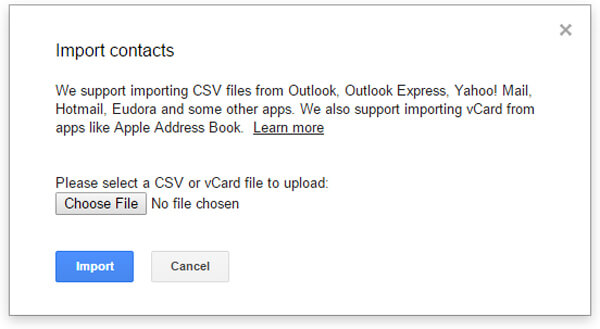 Step 4 Click the "Import" button to load VCF file to the Contacts list.
Open VCF file with iCloud
Step 1 Open iCloud official site on your browser and sign in your Apple account.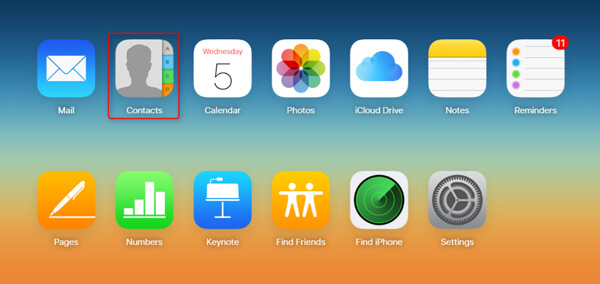 Step 2 Choose "Contact" and then click "Settings" button in the lower-left corner. Then click on "Import vCard..." option.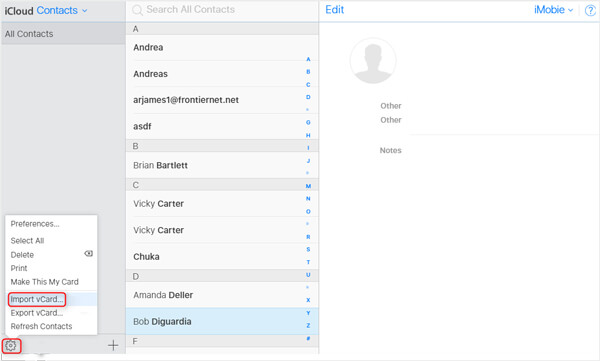 Step 3 Find the VCF file you want to import, the contacts will be added to your iCloud Contacts.
Part 3. How to Import VCF to iPhone
VCF files are frequently used on iPhone to load contacts directly into the user's mobile device. Here comes the question, how to import VCF to iPhone? To do that, iTunes cannot be a good choice. Here we sincerely recommend the professional iOS Transfer to help you import VCF to iPhone. First, you can free download and install it on your computer.
FoneTrans - Best iOS Data Manager
For Mac
Aiseesoft FoneTrans is the professional iPhone sync tool to transfer data between iOS devices, move data from iPhone to Mac/iTunes, and sync data from Mac to iPhone.
Sync iPhone photos, music, playlist, etc. to iTunes directly.
Get contacts, calendar, photos, etc. from iPhone to computer (Windows and Mac).
Transfer data from computer to iPhone.
Compatible with iPhone, iPad and iPod with iOS.
Step 1 Download, install and launch this powerful VCF to iPhone importer on your PC or Mac. Connect your iPhone to it with USB cable. This software will automatically recognize your iOS device and show its basic information in the interface.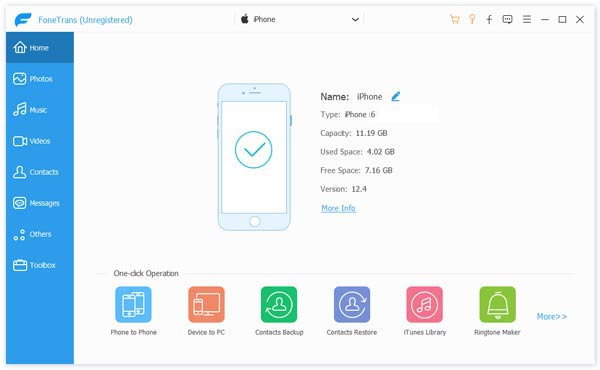 Step 2 Click "Contacts" on the left list and then choose "Import/Export" > "Import Contacts" > "From vCard File".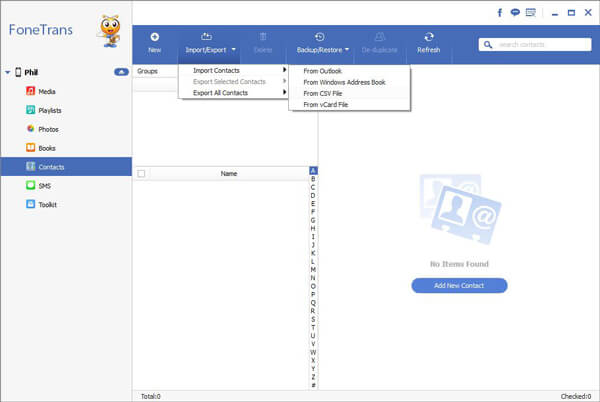 Step 3 Locate the VCF file you want to import and click "Open" to import VCF to iPhone.
Within just a few clicks, you can easily import VCF to iPhone. Also, you can use it to export contacts from iPhone to PC/Mac, Outlook or Windows Address Book. Besides contacts, this iOS data transfer also enables you to transfer photos, videos, messages, songs, and more between iOS device and PC/Mac.
Part 4. How to Import VCF to Android
vCard is used to backup and restore contacts and other data on your Android. vCard file has .VCF extension which can be viewed either by third-party app or Android's built-in feature. You can learn how to import VCF to Android from the method below.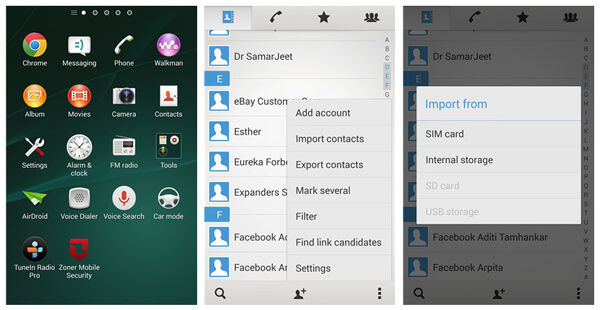 Step 1 Unlock your Android phone and open "Contact" app.
Step 2 Tap "More" from the bottom-right corner on the Contact interface.
Step 3 Tap "Import contacts" > "Import from", then choose the right place your vCards have been saved and load them to your Android phone.
Using this method, you can easily import VCF to Android. However, it is not available on all Android devices. If you can't use this way to import VCF to Android, you can try some VCF apps on Google Play.
Best Android Data Recovery you may want to know:
FoneLab for Android - Best Android Manager
For Mac
FoneLab for Android is the professional Android manager to help you backup and restore app data from Android to PC.
Backup & restore APK file, app data, photos, contacts, messages, call history, etc. to PC.
Make data backup from Samsung, HTC, LG, Huawei, etc.
Recover deleted data from Android devices to PC.
In this post, we mainly talk about VCF. You give you a basic introduction about VCF file. Moreover, we show you how to open a VCF file. We also show you how to import VCF to iPhone and Android. Hope you can better manage VCF file after reading this article.