Questions and Answers about MMS Messaging on iPhone and Android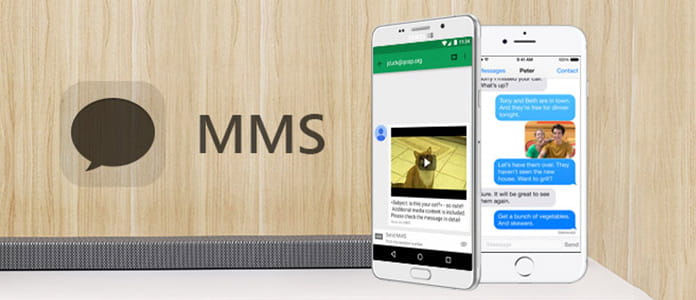 Though there are various messenger apps in life to send or receive messages with photos free with Wi-Fi, still some people select the MMS messaging service to send or receive the important messages. And internet on mobile phone are not anywhere and anytime, so MMS messaging service is still be the option for many.
Questions and Answers about MMS Messaging
If you are one of the many people, then you come to the right place. We collect some users' questions about MMS messaging and share the answers in the following description. Hope you can find what you need today.
1. MMS messaging is the text service for mobile phone, so what is the difference between MMS messaging and iMessages on iPhone?
Before making the difference, you need to know what is MMS messaging. Multimedia Messaging Service (MMS) is a standard way to send messages that include multimedia content to and from a mobile phone over a cellular network. Unlike text-only SMS, MMS can deliver a variety of media, including up to forty seconds of video, one image, a slideshow of multiple images, or audio.
iMessages are texts, photos, or videos that you send to iOS devices and Macs over Wi-Fi or cellular-data networks.
So the basic difference is that MMS messaging works on all mobile devices with money, while iMessages are only for iOS devices with Wi-Fi connection.
2. Since both iMessages and SMS are available for iPhone iPad or iPod touch, then how to check if I send the message in iMessage or SMS from my iPhone?
For iMessages sending, you need to enable the settings, go to "Settings" > "Messages" > slide "iMessgaes" ON firstly.
The second feature is that the iMessages are always encrypted and appear in blue text bubbles, while SMS/MMS messages aren't encrypted and appear in green text bubbles on your device.
3. Ok, got it. So how to use MMS messaging on my iPhone? Do I need to make some settings before that?
Yes, before you use MMS messaging, you need to enable the MMS messaging service firstly.
Go to "Settings" > "Message" > Slide "MMS Messaging" to ON.
If you want to send one MMS to group people, then you can also slide "Group Messaging" to ON.
For using MMS messaging, the needs of settings need to be enabled for your iPhone X/8/7/6/5/4.
For receiving the MMS, the receiver also needs to make the settings as above.
4. After making the settings to enable MMS messaging on iPhone, how can I send the MMS?
For sending the MMS with photos or videos/audio, you need to go to "Message" app, edit your text > tap the camera image to select the photo or video that you want to send, then tap the upper right image to send the MMS with video and photo.
If you run iOS 10, then you can add audio by tapping >, to find App Store, to send the audio file, and still camera image to send the photos or videos.
5. Android phone is different from iOS device, so MMS messaging also needs to be enabled on my Android device?
For sending MMS from Android, you just edit your text, and tap the attachment image on the left side to add photos, videos, audio, contacts, memo, etc.
For receiving the MMS on Android, you need to enable the settings firstly. Go to "Messages" > "More" > "Settings" > "More settings" > "Multimedia message" to slide "Auto retrieve" to ON. Also, you can set the "Delivery reports" or "Read reports" optionally.
6. However, after I made all the settings as the steps above, but my MMS still cannot send. Why?
For such issue, you can fix it in the ways as the following:
➤ Contact you carrier provider to consult if you have the MMS service.
➤ Restart your mobile phone.
➤ If your device is iPhone, then you need a cellular network connection. Contact your carrier for more information.
7. Now, I have got all information to send and receive MMS from my mobile phone. After I receive the MMS messaging from my friends, how to download MMS messages and attachments?
For this question, we will list the answers in two parts.
Part 1. Download MMS attachments to your mobile phone
You just need to open the MMS you receive, view the attached photos or videos/audio, tap the attachment, and select "Save" from the pop-up to download the MMS attachments to your phone.
Part 2. Download MMS text messages from your iPhone or Android
Here you will need the iPhone MMS extractor, FoneLab to help you.
iPhone Data Recovery
For Mac
iPhone Data Recovery is a professional tool specially designed for iOS device users to recover lost/deleted data from iPhone/iPad/iPod safely and easily.
Back up all frequently-used iOS files from iPhone/iPad/iPod to PC/Mac.
Retrieve and export lost data from any iOS device, including iPhone X/8/7/6/5/4.
Get back data from your iTunes backup.
Restore lost data from iCloud backup when you forgot iCloud password.
Step 1 Run this software on your PC, and connect your iPhone to PC with the USB cable.
Step 2 Click "Recover from iOS Device", click "Start Scan" to scan your iPhone.
Step 3 After the scan, click "Messages" > Checkmark the text messages > Click "Recover" to download MMS texts from your iPhone to computer.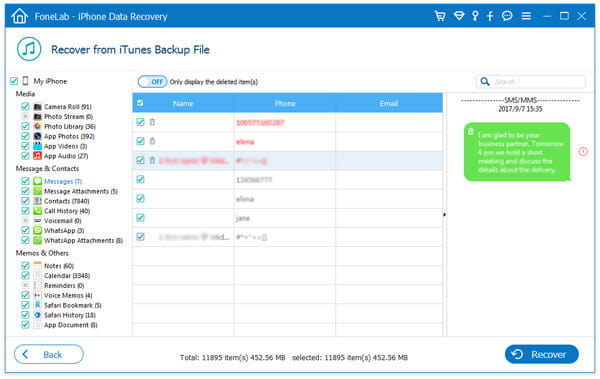 For downloading MMS messages from Android phone, you should visit: How to extract Android messages?
By now, the hot questions surrounding MMS messaging have shared here. For more questions about it will be welcome here to help more people.