Web Launch Recorder Review and 3 Best Alternatives
While the daily usage of your computer, you may often have the need to capture your computer screen or some activities on it. In that case, you can rely on Web Launch Recorder to record video and audio files on computer.
You should know that, there are a large number of screen recording tools including many free online video recorders offered on the internet that can help you record online videos, meetings, video/audio calls, gameplay and more. Are you a Web Launch Recorder user and want to know more about it?
Web Launch Recorder is an easy-to-use screen capture which developed by Big Nerd Software, LLC. Here in this post, we will give you a detailed review of Web Launch Recorder. What's more, if you can't download the WebLaunchRecorder.exe, you can get 3 great screen recorder alternatives from this page.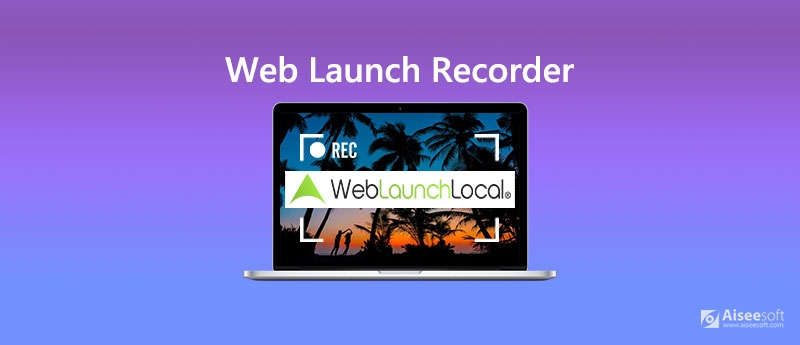 Part 1. Web Launch Recorder Review
Web Launch Recorder, Big Nerd Software, LLC, is a popular screen capture tool which allows you to capture any region of your computer screen. You can find two popular versions of this screen recorder, Web Launch Recorder 2.1 and 2.0. The names of the program executable files are WebLaunchRecorder.exe, APlusRecord.exe, WebLaunchRecorder(1).exe, WebLaunchRecorder (22).exe and WebLaunchRecorder (1).exe.
Web Launch Recorder provides a simple way to record video and audio on computer. But nowadays, you can't find a straight-forward way to download the WebLaunchRecorder.exe. Even you go to some popular download sites, you still can't find the download link for the Web Launch Recorder. So you have to rely on other screen recorders when you want to capture anything happened on your computer.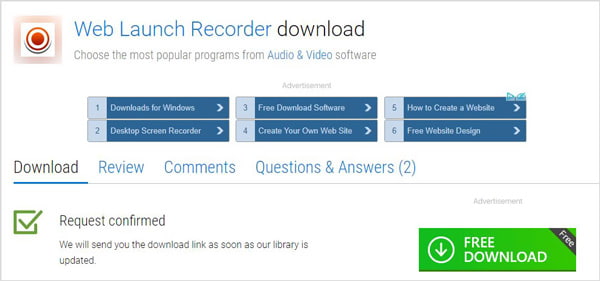 Part 2. Top 3 Alternatives to Web Launch Recorder
As it mentioned above, there is no Web Launch Recorder download link for you to install this screen capture software on your computer. So when you have the need to record online videos or your video game playing, you should turn to other recording tools like Camtasia Screen Recorder. Considering your need, here in this part, we like to introduce you with 3 great alternatives to Web Launch Recorder.
Aiseesoft Screen Recorder is a professional screen recording program which has the capability to capture any activities on your Windows 10/8/7 PC and Mac. It enables you to record any region of the computer screen and save the recording in popular video/audio format like MP4, MOV, AVI, FLV, AAC, MP3, M4A, and more.
This Web Launch Recorder alternative is able to capture high-resolution video even up to 4K UHD. It can capture sound from system audio and microphone. More importantly, it is designed with the latest accelerate technology which guarantees that you can record high-quality video smoothly with low CPU usage.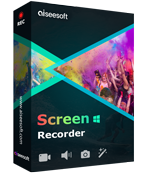 Downloads
Best Web Launch Recorder alternative to capture anything happened on computer.
Capture any activities on computer with full screen, specific window or custom region.
Record any online videos, gameplay, calls, meetings and more with real HD image quality.
Record sound from system audio card, microphone/speaker, or both.
Powerful editing features and output recording in MP4, MOV, AVI, MP3, AAC, M4A, etc.
CamStudio Screen Recorder
CamStudio Screen Recorder is an easy-to-use video recorder that enables you to record online videos, online meetings, video/audio calls, video game playing and other activities on computer. This Web Launch Recorder alternative can capture computer with entire screen or selected area according to your need. After recording, the recording file will be automatically saved as an AVI file.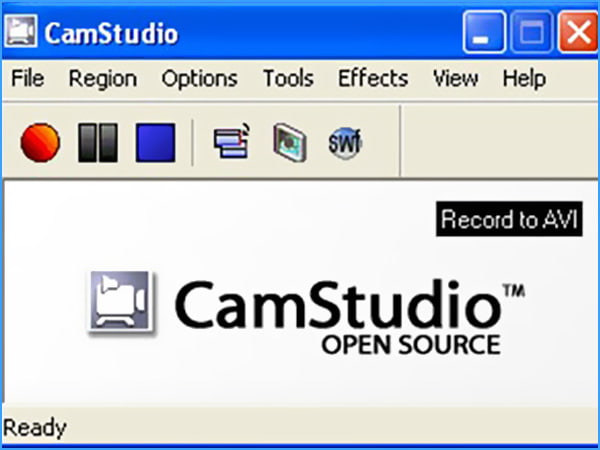 This Web Launch Recorder alternative is equipped with a built-in SWF Producer that can help you turn recorded AVI file into Streaming Flash videos with ease. It also allows you to easily create a screen-in-screen video.
OBS Studio
OBS Studio is a free and open-source screen recording tool which mainly designed for video recording and live streaming. If you want to capture your gameplay on Windows, Mac or Linux computer, OBS Studio can be a great choice. This Web Launch Recorder alternative provides you with a high performance real time video/audio capturing and mixing.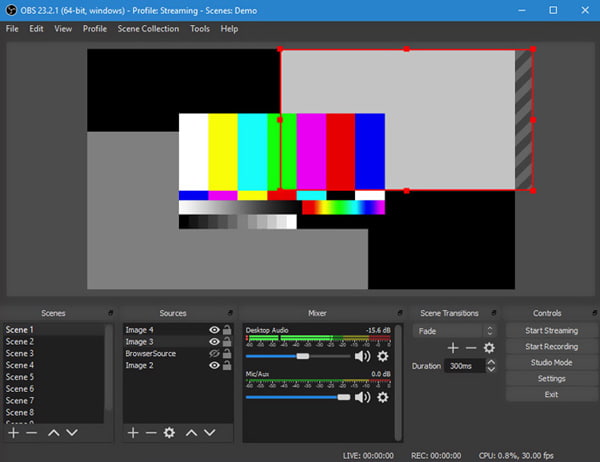 Similar to the recommended recorders above, OBS allows you to capture any region of your computer screen. Also, it can record your own face from Webcam. OBS Studio offers some editing features for you to edit your recordings and adjust output effects. After recording, you are also allowed to directly share the captured file to Twitch, YouTube, DailyMotion, Facebook or another streaming service.
Part 3. FAQs of Web Launch Recorder
Question 1. How can I record my screen online?
When you Google how to record computer screen, you can see many searching results are free online screen recorders. In case you don't know which one you should use, here we strongly recommend the popular Free Online Screen Recorder for you to capture videos on Windows PC or Mac.
Question 2. How to capture Mac screen?
If you are a Mac user and want to screen record on Mac, you can rely on its built-in screen recording tool, QuickTime Player to capture video and audio with ease. One thing you should concern is that, QuickTime Player only allows you to record sound from microphone.
Question 3. Does Windows 10 have a built-in screen recorder?
Yes. Windows 10 has a pre-installed screen recording tool named Xbox Game Bar. Xbox Game Bar is mainly used to capture your game playing. When you want to record videos on Windows 10 PC, you can give it a try.
Can't download Web Launch Recorder? You can pick your preferred one from the recommended Web Launch Recorder alternatives. If you know where to download the Web Launch Recorder, you can also share the download link in the comment part with other readers.

Leave your comment and join our discussion