How to Record a Livestorm Webinar on Windows/Mac
Livestorm is one of popular video communications platforms for building strong relationships with your audience through webinars and video meetings. With Livestorm, you are able to create or engage live interactive events with chat, questions and polls. What if you want to re-evaluate what was said in a webinar in the future? Is it possible to easily record it? In this post, we will show you two easy ways to create a Livestorm recording.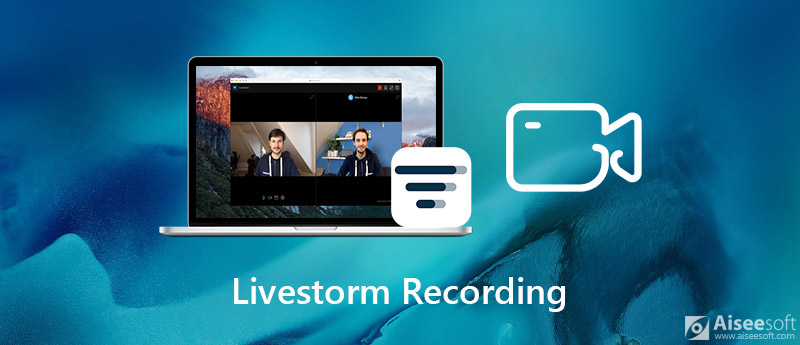 Part 1. How to Record Livestorm Webinars Automatically with Livestorm Webinar Replay
Livestorm provides the service of automatic video recordings that can record webinars and video meetings. The host and attendees can both access the recording instantaneously unless you have disabled the recording in your meeting settings or asked Livestorm to remove it from their database. Replays are only available for meeting registrants. Registrants who did not join the meeting will still receive a link to access the room and watch the replay. You can view and download webinar replays in your meeting dashboard, under "Reply" once the meeting is over.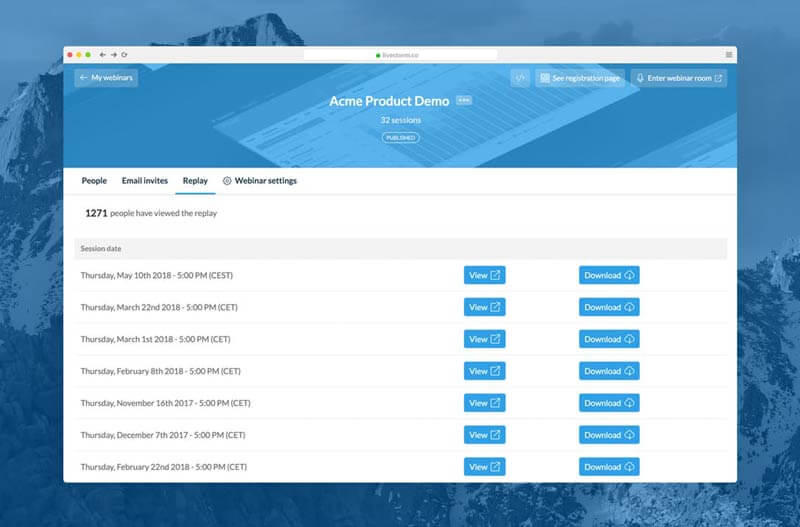 However, you need to note that the media uploaded to the webinar like PDF, videos will not be included in the recording at the moment. Livestorm can only record the first two hours of all you sessions. And you are not allowed to start the recording at a different time. That is inconvenience and time-consuming when you want to review the specific content. Under this circumstance, the best way is to turn to the third-party software to have a complete or specified webinar recording. Keep reading and check the best way to create a high-quality webinar recording.
Part 2. Best Way to Record a Livestorm Webinar with Complete Content in Higher Quality
For the Livestorm webinar recording, you can use the Reply function mentioned above. Due to its own limitations, a professional live webinar recording tool is essential for future review. Aissesoft Screen Recorder is the best live webinar recorder to capture any webinar or video meetings with super-high quality. You are able to record Livestorm webinars or video meetings with audio from computer and your microphone.
You can decide the specific time to start a recording. And the uploaded media files like PDF you presented will be also recorded. What's more, this webinar recorder enables you to easily edit recorded webinar videos, such as cut, rotate, trim, and more. The captured video will be saved in MP4, WMV, MOV, AVI, GIF, TS, etc. for easily playback and sharing.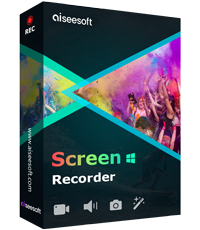 Downloads
Easily record Livestorm live webinars and video conferences with high quality.
Record Livestorm webinars with full screen or customized area and real-time drawing.
Capture computer screen/webcam, record audio and take screenshots.
Record online videos, 2D/3D gameplay, video/audio chats, music and more.
Powerful editing features and export captured content in any popular format.
Steps to Record a Livestorm Webinar
Step 1.
Free download and install this Livestorm webinar recorder on your computer. It allows you to capture a webinar video on both Windows 10/8/7/XP/Vista PC and Mac. Choose the right version to create a Livestorm webinar recording.
Step 2.
Launch this Livestorm recording tool and choose the
Video Recorder
feature at the main window. If you want to capture the audio from the webinar, here you can choose the
Audio Recorder
feature.

Step 3.
When you enter into the Video Recorder window, you can set the recording area and video/audio source based on your need. You are allowed to record a Livestorm webinar with full screen or customized area. Moreover, you can choose to capture sound from system audio, microphone or both according to your need.

Step 4.
Then, you can start your webinar recording by clicking the
REC
button. When you finish recording, just click the
Stop
button to end the recording. After that, click the Save button to save it in MP4, AVI, MOV, MKV, FLV and more and export to your computer. (Find
MP4 Screen Recorder
here)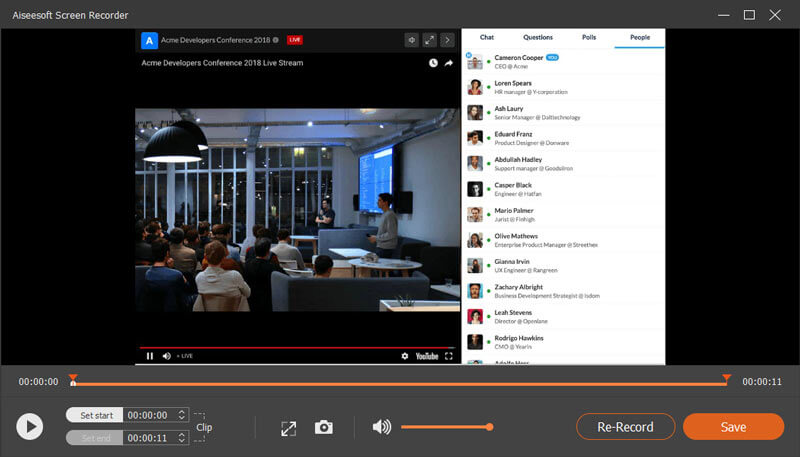 Apart from Livestorm live webinars recording, you can also use this webinar recorder to record GoToMeeting, Webinar, Viber calls, online courses, and more.
Part 3. FAQs of Livestorm Webinar Recording
1. How long does it take to get the replay?
Your replay will be available after each webinar. Once you click on "End webinar" it will be compiled and automatically available shortly.
2. How do attendees access the replay?
Attendees can access the replay by clicking on their access link from the confirmation/reminder emails. The access link is unique to each registrant.
3. Can I download the replay? What format is it in?
Yes, you will be able to download the file in the "Recordings" tab in your dashboard. They are in MP4 format.
4. Is the presentation available inside the replay?
No. Livestorm doesn't support recording the presentation. However, you can use Aiseesoft Screen Recorder to capture the presentation as you wish.
Conclusion
In this post, we mainly talked about how to record a Livestorm webinar. You can find 2 ways to create a recording. If you prefer to record the complete content including uploaded media, you can choose the recommended Screen Recorder to help you get the super-high quality webinar recordings. And you can also use it to capture streaming video, online music video calls and other screen activities with ease. Leave us a comment if you still have any questions.

Leave your comment and join our discussion