One Best Webcam Video Recorder and Five Great Online Webcam Recorders to Capture Videos
Summary: Want to know how to record Webcam videos? Read this post and check 8 best free/paid Webcam recorders you can use whether online or on Windows/Mac computer.
"I want to make a live cooking video sharing with my friends at abroad, but I also want to keep the live video from my camera for preservation. My computer only lets me show my live video, but not record videos with its recording software. Are there any free video recording software? I do not want to spend money for a part-time video sharing thing." - Ross
"Because of my job, I need to capture webcam video and computer screen for sharing. Those webcam recorders online do work. But I do not want to put my business info exposed to others. Is there any webcam recorder that supports to record with webcam and also record my Windows computer monitor?" – Benjamin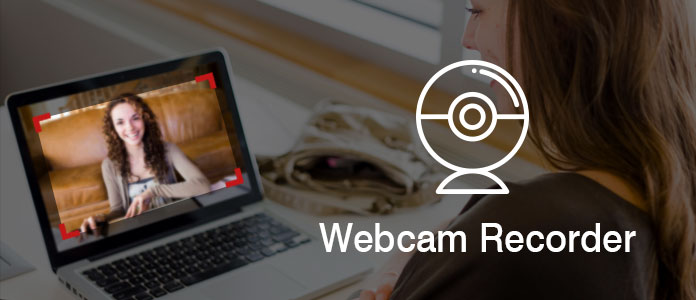 Best Webcam Recorder Online/Windows/Mac
Webcam is used widely in our daily life.
You can use it to contact your friends, families or others. You are allowed to make a video tutorial for cooking or makeup. Still you may want to use webcam to make live show.
If you only want to make live videos, you can complete it directly with webcam. However, if you want to record a video so that you can upload it to YouTube for sharing, or hope to make a video tutorial to show your business partners, then it is necessary to record webcam videos.
When it comes to webcam video recording, you may be confused:
How to record a video with webcam? Which webcam recorder is the best? Is online webcam recorder safe? Is free webcam recording software good? How to record a video with webcam?
Keep reading this post, and you will no longer struggle for these questions.
Part 1. Top 5 best webcam capture software
If you Google for webcam recorder, you will find a great deal of webcam video recording software recommendations.
Some of them are webcam recorder apps that you need to download to your Mac or Windows computer (free or paid), some of them are webcam video recorders online that you could start to use webcam to record video directly.
What type do you need? See the following descriptions.
Webcam recorder apps on Windows or Mac
While you have personal video to record with webcam, you can try some other video recorder apps that you download to your PC or Mac for a private recording.
Screen Recorder (Windows/Mac)
Aiseesoft Screen Recorder is the webcam recorder that allows you to record webcam video as well as screen on your computer monitor. You need to download this app, and make sure your webcam is on, and then launch this software on your Windows computer orderly. You are allowed to select webcam recording area, set system audio or microphone audio, video quality, and choose MP4 or WMV to capture video from webcam. Also, it supports multi-monitor record when you have more than one computer at hand. You will be given to preview the webcam video and save it to your PC quickly because of real-time coding compression.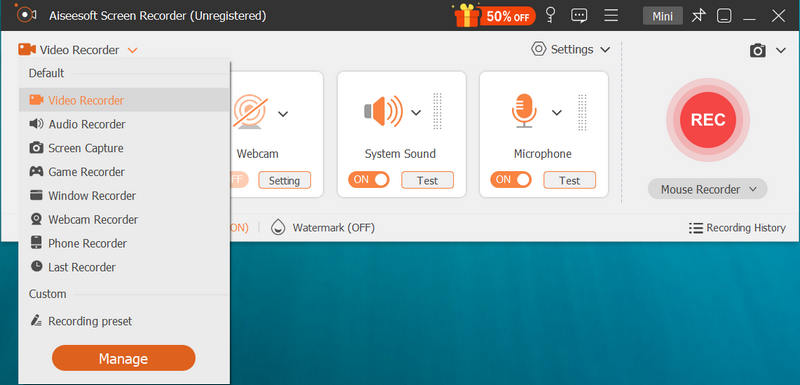 Aiseesoft Screen Recorder
Pros:
1. It is safe to record video on webcam and computer monitor on your Windows 10/8/7/Vista/XP.
2. It has no time limitation to record any online video.
3. It lets you capture webcam photos for a saving on your PC.
Cons:
1. This webcam recorder only gets its Windows version. Webcam recorder for Mac is not supported yet.
Movavi Screen Capture (Windows/Mac)
Movavi Screen Capture is an advanced webcam video recorder for Windows and Mac. You need to download this app from its official page and install on your PC or Mac. After launching it, you can click "Record Video" to start webcam capture directly or get capture settings like video resolution, audio and video capture device, file saving location, etc. After stopping recording webcam video, you can save the file directly or back to its editor to edit your webcam recorded video. It provides other editing features like transitions, titles, filters, crop, audio/video-added, audio fade-in/fade-out to adjust your video effects.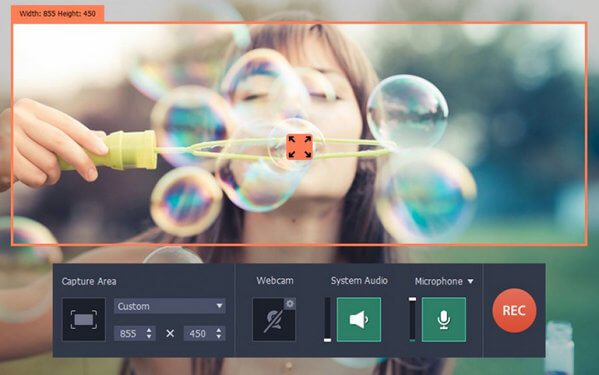 Movavi Screen Capture Tool
Pros:
1. It lets you record webcam video with HD resolution to 1080p.
2. You can upload your webcam video to YouTube, Facebook, Google Plus, etc.
3. It lets you edit your webcam recorded video with more features.
Cons:
1. This webcam recorder gets a blank window for your preview.
2. After the recording, the video can be converted to MP4/MOV/FLV/AVI, etc. It will take you more time to save the webcam video to your Windows or Mac.
3. The trial version of this webcam capture software will overwrite the original recording file.
Free2X Webcam Recorder (Windows)
Free2X Webcam Recorder is 100% free webcam recorder software, record videos from any webcams, digital video cameras and save video as AVI, MP4, WMV file format. And record audio from any source. Audio can be recorded from microphone, line-in, or speakers. Another function excels in taking screenshots of webcam screen and saving it as a standard image format JPG/BMP directly. You can use custom keyboard shortcuts to control webcam, include record/pause/stop/snapshot. And you can edit the watermark on output file. You can also schedule a camera to record or stop at certain times using the scheduling tab. It also provides a powerful file manager that you can use to manage your files.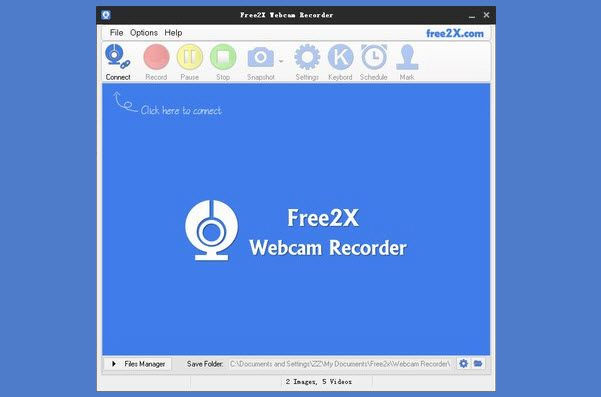 Free2X Webcam Recorder
Pros:
1. It is very easy to record video with your webcam.
2. It is a free webcam photo and video capture.
Cons:
1. It saves you webcam recording to your PC automatically without any option. Only after you click "File Manager", can you delete or run your recordings.
By now, you can get a summary of webcam recorder apps on your computer. Other than the recommendations above, there are also other ones, including Debut Video Capture Software, Bandicam, DxTory, Fraps, etc.
If you want to record a long webcam video with some private information, or you may need to edit your webcam captured files, you can try to find the suitable one from the webcam recorder above.
Online webcam video recorders
If you don't free like any desktop webcam recorder for temporary usage, then you can also choose webcam recorder online.
Online webcam video recorder
This online webcam recorder comes from Toolster, a universal online service. It is totally free. You can use it to record webcam videos as well as download it on your PC or other device. It's an easy and convenient tool which requires only Adobe Flash Player and your permission to access the webcam.
How to use online webcam video recorder: After preparing your camera, click "Start recording" button on its web page to start to record a webcam video. It allows you to select microphone voice, FPS, and a level of sound or mute mode. And the recorded webcam video will be saved in FLV, and you can preview or download the video.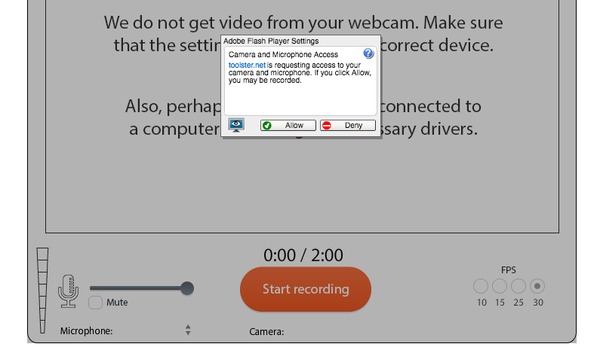 Online Webcam video recorder
Pros:
1. It is total free to record webcam video on Mac or Windows.
2. You do not need to download any apps for webcam recording.
Cons:
1. It has the limited time to let you record 2 minutes.
2. It is not safe enough to record video using webcam for some business use.
3. The recorded video gets a buffer when previewing it.
Video Recorder
Video Recorder from 123APPS is another free online tool that allows you to record videos from webcam, and take pictures right in your browser. The interface is simple as they can be to let the fresh hand capture webcam video easily.
In its permission pop-up interface, you could get flexible settings for microphone audio, file storage on your computer or Google Drive or Dropbox. You are allowed to choose its recording area as full screen or mirror. And the video quality is available for your selection.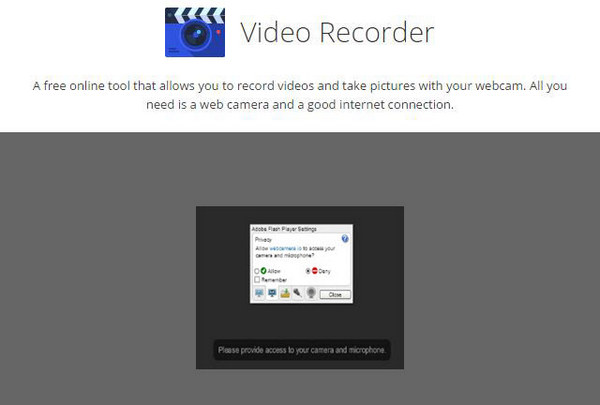 123Apps free Video Recorder
Pros:
1. The app can record videos of unlimited length for free.
2. It is secure to save your webcam recordings to third-party.
Cons:
1. The bad internet connection will interrupt the webcam recording frequently.
2. No any service support for problematic webcam recording video.
Her you can conclude that online webcam recorders are free for your part-time use. And some of they have time limitation, security care, and internet connection. So you need to take care of recording video with free online webcam capture software.
Part 2. How to record video from webcam with webcam recorder
From the above webcam recorder, you must have found what webcam capture software is the exact one you need. Now in this part, we will take one Screen Recorder as an example, and show you how to record video from webcam with it. Firstly, you need to download this software to your PC at first.
Step 1 Connect or turn on camera on PC
Before you record a video with web capture software, you need to make sure you have connect your USB camera or turn on camera on your laptop.
Step 2 Install Screen Recorder
After downloading this webcam capture software to your PC, install and launch it instantly. Choose Video Recorder, then set the recording area, audio source as well as other settings.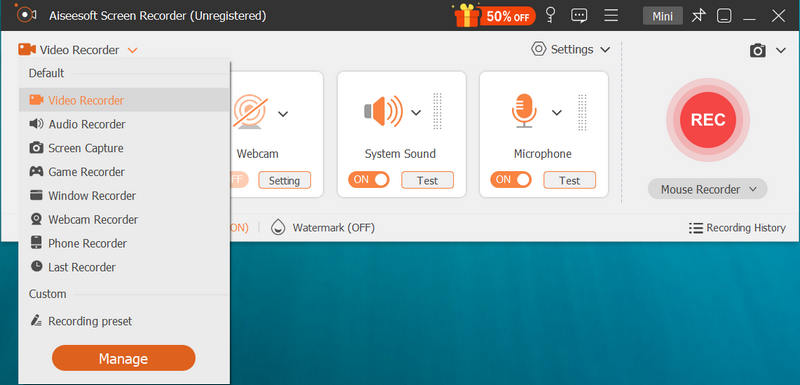 Step 3 Record webcam video
Then, you need to specify the recording area and choose the audio source you want to capture. To record webcam, you need to enable Webcam. After making all necessary settings, click the REC button to start the webcam recording. Click the Stop button to preview and save your recording to PC.

When you use this webcam record to take webcam video recording, the following points you should pay attention to:
1. You need to select recording area manually to get the exact webcam video as you want, when you record Skype videos or record Hangouts call, etc.
2. This Windows webcam recorder lets you also capture extra screen on your computer monitor to show other info that you want to show to others.
3. Not only microphone audio, you can still record system audio from your computer to add your webcam video, like record music online.
4. It lets you capture any video show on your computer monitor, like live gameplay, etc.
A brief conclusion can be made from the above description that, you should choose the suitable webcam recorder to record your video with webcam.
Part 3. FAQs of Webcam Recorder
How do I use my webcam to record video on my computer?
You can make use of a webcam video recorder like Aiseesoft Screen Recorder to help you record videos from your webcam and save them to your computer.
Can I record my Logitech webcam?
Yes. You can just connect your Logitech webcam to your computer, and then run a webcam recording tool you'd like to use. Then, you can start recording a webcam video.