Camtasia Screen Recorder Review and Its Best Alternative
Camtasia Screen Recorder is a very popular video and audio recording tool which can help you capture computer screen, download online videos, and make video tutorials with ease. It provides a simple and convenient way to record anything from various sources like websites, FaceTime call, online lectures or meetings.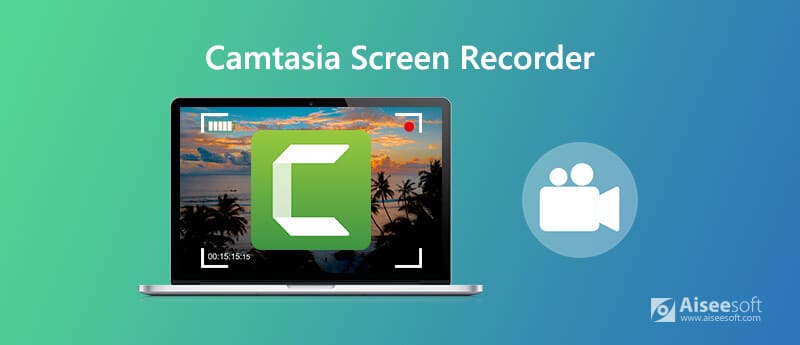 Camtasia Screen Recorder offers a free screen recording trial. But it is not totally free. In the contrary, Camtasia Screen Recorder is quite expensive and it costs $249 per user, including 2 installations. This post will give you a detailed review of Camtasia Screen Recorder to help you know more about it. What's more, we like to share a great Camtasia alternative to help you make the screen recordings.
Part 1. Camtasia Screen Recorder Review
Camtasia Screen Recorder is an all-in-one screen recorder and video editor. It is compatible with both Windows and Mac, and provides a simple way to capture computer screen and create professional-looking videos. Camtasia allows you to record video and audio from your desktop or capture from webcam.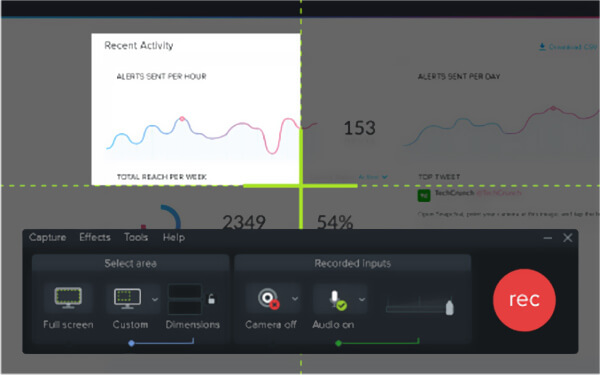 Besides the screen recording features, Camtasia Screen Recorder carries many pre-built and custom video templates to help you custom the recording file. It is also equipped with some pre-made animations and effects for you to custom the video effects. In addition, it enables you to add titles, annotations, and other elements. Camtasia Screen Recorder is an all-featured tool which can help you capture screen, edit video, adjust output effects, and create videos.
Camtasia Screen Recorder allows you to record videos from any video streaming sites. What's more, it can help you record various video/audio calls, online meetings/conferences, and video gameplay with high quality. It has the capability to capture videos in 4K or HD resolution.
Camtasia Screen Recorder is not a free recording tool, as we mentioned above. Actually, it is more expensive than other screen recorders. Even though it offers a free trial, you are not allowed to try all functions. Moreover, the built-in video editor in Camtasia Screen Recorder lacks some basic editing features like crop. After you get the paid version, there are still some purchase-in templates and features.

Camtasia Screen Recorder can provide you with a high-quality video recording experience. But it requires a large amount of resource and CPU. So you need a high configuration computer to guarantee the smooth of recording. Get a free online screen recorder here.
Pros
You can choose to record entire screen or a portion of it.
Users can edit visual effects or add animations in Camtasia Studio.
Record computer screen, PowerPoint presentation, webcam or audio.
Save the recording to MP4, MP3, WMV, AVI, WAV, MPEG-4, etc.
Cons
There are more crashes and bugs with Camtasia.
Need to purchase the pro version for more editing features.
Watermark will be added when you want to export a recorder longer than 2 minutes.
Part 2. Best Camtasia Screen Recorder Alternative to Capture Computer Screen
You can have a free trial of the Camtasia Screen Recorder. What if you are not satisfied with it or don't have enough budget for the recorder? Considering your need, here we sincerely recommend a great Camtasia Screen Recorder alternative, Aiseesoft Screen Recorder for you to record your computer screen. It has the capability to capture high-quality video even up to 4K UHD. What's more, with the adoption of the latest accelerate technology, it enables you to record screen with lower CPU usage.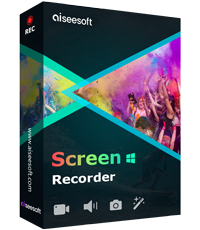 172,896 Downloads
Screen Recorder - Best Camtasia Alternative
Best Camtasia Screen Recorder alternative to capture computer screen.
Record any video, audio and other activities with real HD image quality.
Capture computer screen with full screen, active window or custom region.
Capture sound from system audio card, microphone/speaker, or both.
Edit the recorded file and save it in MP4, MOV, WMV, MP3, AAC, M4A, etc.
How to use this Camtasia Screen Recorder alternative
First, you can double click on the download button above to free install and run this screen recorder on your computer. It offers both Windows and Mac versions. You can download the right version based on your system.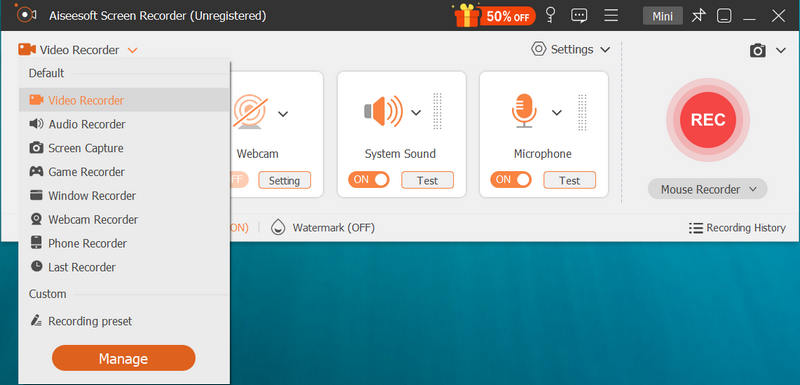 This alternative to Camtasia Screen Recorder allows you to record video, audio and take screenshot. When you have the need to record video, you can choose the Video Recorder feature. You can capture any area of your computer screen and output it in popular format like MP4, MOV, FLV, and more.

While the screen recording, you are allowed to edit the recording file and add text, line, arrow and specific labels to it. Also, you can edit the captured file after recording.
This Camtasia Screen Recorder alternative is designed with a Blue-light real-time HD video encoding technology which guarantees you excellent image and sound quality. In addition, it is able to capture high-quality recording with low CPU storage. It's very useful to record video gameplay and online meeting.
Part 3. FAQs of Camtasia Screen Recorder
Question 1. Does Windows 10 have a screen recorder?
Question 2. How to screen record on Mac?
Mac has a default screen recording tool called QuickTime Player. You can rely on it to record video and audio on Mac with high quality. QuickTime Player is the official media file playing tool for Mac users. It also has the screen and audio recording feature to help you make screen recordings with ease.
You can get a detailed Camtasia Screen Recorder review from this page. You can learn more information about the Camtasia's features. Moreover, we introduce you with a great Camtasia Screen Recorder alternative to better capture any activities on your Windows PC or Mac. If you still have any question, you can leave us a message in the comment part.

Leave your comment and join our discussion