How to Fix Bandicam Audio Recording Not Working
Nowadays, more and more people choose to add their voice when recording a video for creating an explanatory video. But, some of you might have the problem in audio recording when using Bandicam. It sometimes goes wrong and has sound recording problem that your voice can't be captured. Don't worry. In this guide, learn how to fix Bandicam audio not working with ease.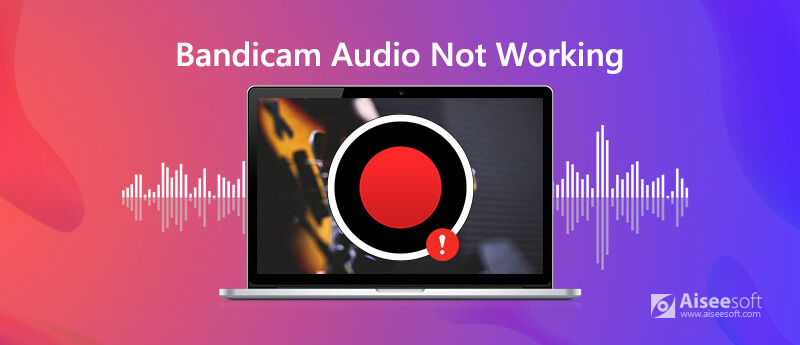 Part 1. How to Fix No Audio Recorded Problem in Bandicam
When you find that the audio is not recorded successfully, you need to check if the settings about audio recording are right in Bandicam. Also, you need to check the settings on your Windows .
1. Check Bandicam Settings
Step 1.
Open Bandicam and click on the Gamepad icon on the top of the interface.
Step 2.
Then, click on the
Settings
button and make sure that you are on the
Sound
tab.
Step 3.
You should set the Primary Sound Device as Default Sound Device.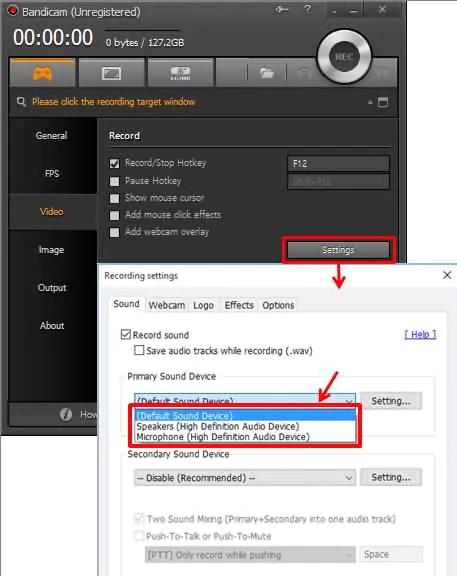 2. Check Windows Settings
Step 1.
Click the system's trey and choose the
Playback
devices option.
Step 2.
Under the Playback tab, set the
Speakers
as the default device.
Step 3.
Again click system's trey, this time choose the
Open volume mixer
option. Just put the volume between 70 and 90.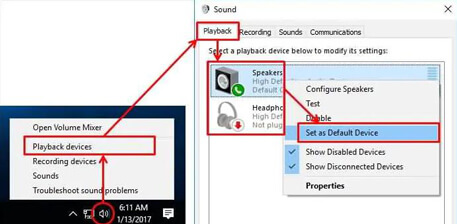 Part 2. Use Bandicam Alternative to Record Audio
If the above ways can't fix Bandicam audio not working problem, you can try Bandicam's alternative to record audio. Here we'd like to recommend a powerful audio recorder, Aiseesoft Audio Recorder, which allows you capture audio from system sound, microphone or both effortlessly. It also enables you to record any screen video with ease. You can use it to capture videos, games, podcasts, webinars, lectures, presentations, Skype calls, online conference, webcam videos, etc. in full screen or customized screen size. The captured audio or video will be saved in MP3, WMA, MP4, AAC, M4A, WMV, MOV, AVI, GIF, TS, etc. for easily playback and sharing.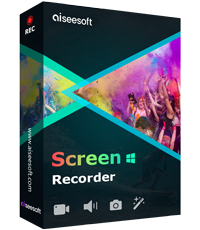 Downloads
Record audio from system audio card, microphone voice or both
Record audio and save it as an MP3/WMA/AAC/M4A file
Capture any video, audio, online tutorial, etc. on Mac/Windows
Powerful editing features to edit captured video and audio file.
Steps to Record Audio with High Quality
Step 1.
Double click the download button above and then follow the instructions to free install and run this audio recorder on your computer.
Step 2.
When you enter the first interface, choose the
Audio Recorder
feature to record any audio. If you also have the need to capture screen content, here you can choose the Video Recorder option.

Step 3.
Before the audio recording, you need to custom some audio recording settings. To capture audio, you need to enable
System Sound
,
Microphone
, or both.

If you need to configure more settings, click the Record setting icon to enter the Preferences window.
Step 4.
Start the audio, and then click on the
REC
button to start recording the audio. You can click on the red
Stop
button to stop the recording process.

Step 5.
After finishing the audio recording, you are allowed to preview the captured audio file and edit it. Then you can click on the
Save
button to save the recorded audio file on your computer.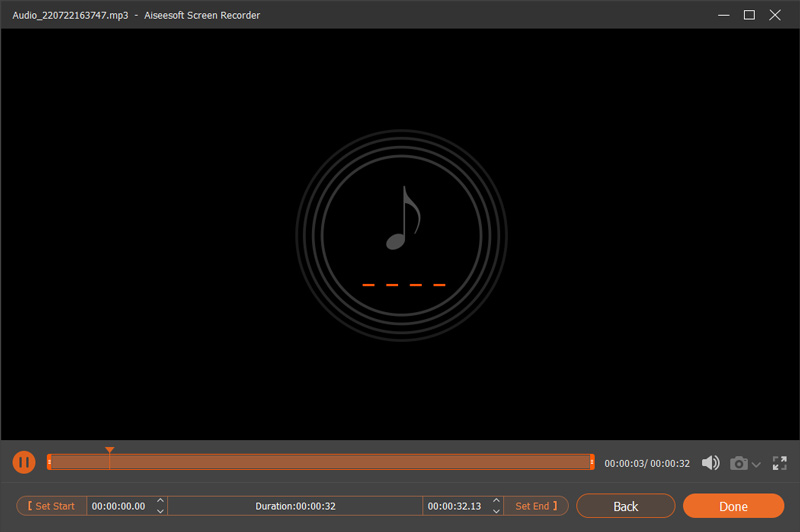 You can also use this audio capture to record voice over music, GoToMeeting, Webinar, Viber calls, online courses, and more.
Part 3. FAQs of Bandicam Audio Not Working
1. Is Bandicam the good recording software?
Bandicam is great screen recording software that you can easily use it to capture screen or audio on your computer.
2. How do I enable and configure microphone to record my voice?
To enable a secondary sound device under Bandicam, head to the General tab and click on the Advanced button. Go to the "Others" tab > Video Record Settings. Then, go to the Sound section, to enable your secondary sound device. Once enable you can configure your secondary sound device, by clicking on the Settings button.
3. Can Bandicam record your voice and computer sound at the same time?
Yes, you can record both your voice and the computer sound at the same time. Here you will need to activate and use the "Two Sound Mixing" option.
Conclusion
Bandicam is the wonderful recording software that you can easily use it to capture screen or audio. However, it also has some problems in audio recording. So if you can't fix the no sound problem in Bandicam, you may try its alternatives, like Aiseesoft Audio Recorder to help you finishing audio recording smoothly.

Leave your comment and join our discussion