How to Effectively Fix Mac Freezing or Stuck on Green Screen
Nothing is more frustrating than a frozen computer. When a MacBook freezes, you cannot do any thing on your computer. Worse, you may face the problem of data loss. It is true that Mac operating systems are stable and a frozen or unresponsive Mac is rare. However, it cannot immune from some of the same weakness as other computers.
The best thing you can do when Mac freezes is not panic but follow our instructions to get rid of the problem and let your Mac running normally again. Moreover, we will also tell you how to get back lost data after troubleshooting.

Mac Freezes
Part 1: Why Mac is frozen
Mac computers are fairly stable and durable devices. However, more and more users reported that their machines do not respond under various situations, like stuck when Mac Sierra updates. The most common causes include:
1. There are too many apps running on your Mac and the CPU is too busy to deal with so many processes at the same time.
2. An individual app that works abnormally leads to Mac freezing.
3. You open too many tabs in your browser that produce much junk data.
4. If there is not enough space on your hard drive, MacOS may be freezing, especially when updating Mac.
5. Hardware problems with your disk or RAM.
6. It is rare, but malware or virus could cause Mac stuck and other problems.
Part 2: 5 Solutions to fix Mac freezing
Even though you cannot analyze what cause your Mac frozen, you can fix the problem with the solutions below.
The processes are also really simple:
Solution 1: Quit apps that cause Mac freezing
Step 1: When you open an app and then Mac freezes, choose Force Quit from the app menu.
Step 2: If it is not valid, press Command + Option + Esc keys on your keyboard.
Step 3: On the Force Quit Applications dialog, find and select the app that causes Mac freezing, and click the Force Quit button.
Step 4: Then open other apps to test if your Mac gets rid of freezing.
Solution 2: Restart your Mac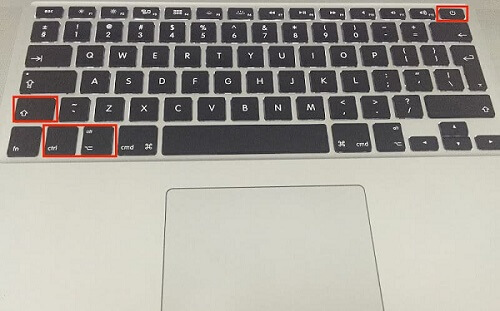 Step 1: Open the Finder app, unfold the Apple menu and select Restart.
Step 2: If the frozen Mac prevents you from hitting the Restart option, hold down the Control + Command keys and press the Power button.
Step 3: Wait for the screen to turn black completely and then press the Power button to turn on your Mac. This solution is an available solution for iMac freezing up.
If Finder responds slowly or keeps crashing, you can check the post to trobleshoot Finder not responding.
Solution 3: Boot into the Safe Mode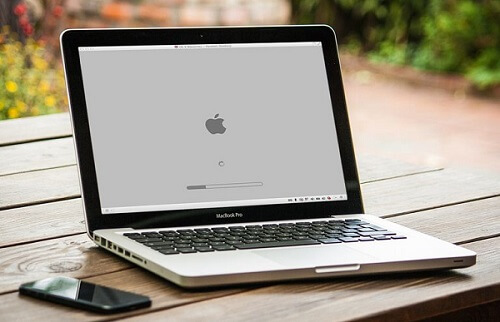 Step 1: Similar to PC, Mac Safe Mode is an effective solution to fix Mac freezing. Press the Power button and then hold down the Shift key once you hear the welcome chime.
Step 2: When you see the Apple logo appears, let the Shift key go. Then you will be presented a status bar and then the Safe Boot icon will show at upper right corner.
Step 3: If your Mac works well in the Safe Mode, restart your Mac as usual.
Solution 4: Update apps and Mac

Step 1: Unfold the Apple menu and click System Preferences -> Software Update.
Step 2: If an update is available to your Mac, click the Update Now button to get it. Get more than one update? Click More info to see the details and select a proper update.
Step 3: After software update, your Safari, iTunes, Books, Messages and other native apps will be up to date too.
Step 4: For third-party apps, open your App Store on Mac, go to the Updates tab and hit Update All to get the latest versions.
Solution 5: Repair disk with Disk Utility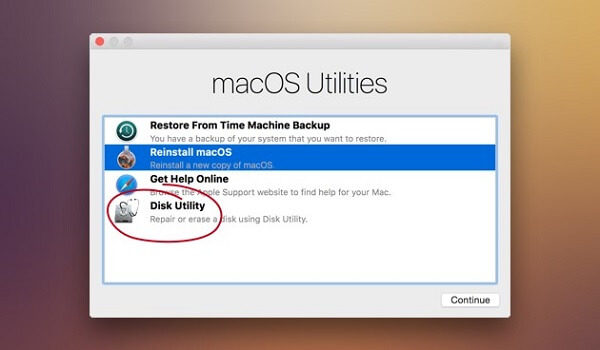 Step 1: If MacOS stuck when update, maybe it is the time to repair disk.
Step 2: Restart your computer and hold down Command + R keys until you see the Apple logo.
Step 3: Pick Disk Utility and hit Continue.
Step 4: Select your system disk or any disk working abnormally, find First Aid and hit it.
Step 5: Then follow the onscreen instructions to complete the disk repair process.
Part 3: Recover lost data after troubleshooting
When fixing the problem of Mac freezing or stuck on grey screen, you face the risk of data loss. So, you should master a data recovery program, such as Aiseesoft Mac Data Recovery.
1.Recover lost data caused by Mac freezing, system crashing and more.
2.Support images, videos, documents, audio, email and other files.
3.Offer both a quick scan and a deep scan.
4.Search for lost files by search bar, type or path quickly.
5.Keep the original condition of your files during the process.
How to recover lost data after fixing frozen Mac
Step 1: Scan your hard drive to look for lost data
Get Aiseesoft Mac Data Recovery installed on your computer and launch it after troubleshooting. Select a proper data type and the drive where stores the files. Hit the Scan button to move on.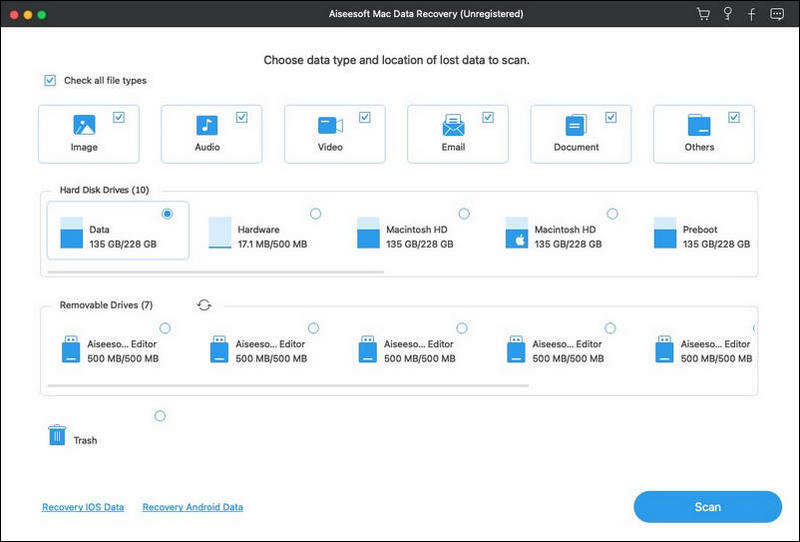 Step 2: Preview lost files
When scanning is complete, you have three ways to find your files:
Seek it in the Search Bar with filename or other keywords.
Find the file from the Type List on the left side based on the file format.
Locate the file from the Path List based on the location.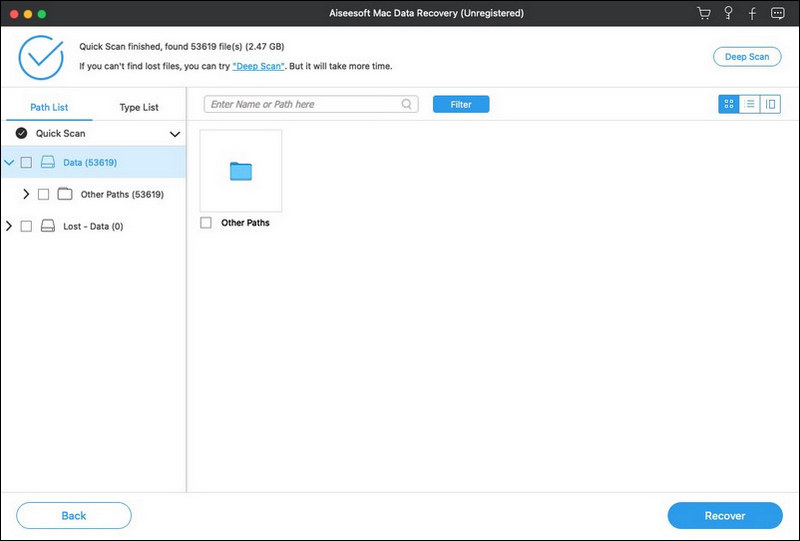 Step 3: Recover files to Mac
Select all lost file you want to get back and click the Recover button to restore lost files to your computer.
Note: If you cannot find the desired files, click the Deep Scan button to perform a deep scan.
Conclusion
Based on the post above, you should understand what you can do when Mac freezes. There are a number of factors could cause Mac stuck and not responsive. The good news is that you can fix this problem by your own with our solutions. Plus, we also shared the best data recovery software, Aiseesoft Mac Data Recovery, to help you recover lost files after your Mac runs into the normal mode.