How to View and Recover iCloud Messages (Text Messages/iMessages/App Messages)
When there are too many text messages and iMessages on your iPhone, what will you do? Delete them? Or back up them to iCloud? Maybe there are some important messages on your iPhone which you do not want to delete and want to keep for a long time. So under this circumstance, you prefer to back up these important text messages/iMessages on iCloud. However, as we all know, it is impossible to view our backed up text messages and iMessages from iCloud backup directly. Well, is there any other way to view the messages on iCloud? And if you were so careless that deleted your iPhone messages, how to retrieve deleted text messages from iCloud backup?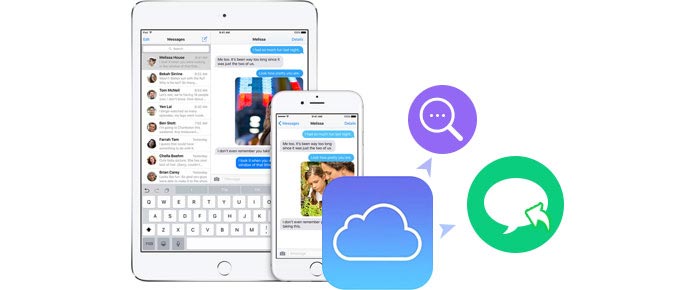 Keep reading this passage, you will find your answer.
How to View and Recover iCloud Text Messages/iMessages ?
When we log in icloud.com on computer with iCloud password, we will find many icons on this site, such as Mail, Contacts, Calendar, Photos and more. However, even though we have backed up iPhone messages on iCloud, we cannot find them here, let alone viewing them freely. So if you want to view text messages on iCloud, we recommend you to try a third-party tool to achieve your wish.
The amazing software which can help you read and restore iCloud messages is iPhone Data Recovery. Except for viewing and recovering text messages from iCloud, you can also restore all the iPhone data from iCloud. With Wi-Fi environment, you can enter and read your deleted/existent iCloud text messages with ease. After that, just recover the messages as you like.
Step 1Download Text Messages Recovery on your computer
Step 2Sign in iCloud with your iCloud account
After installing and running this software on your computer, you will find three items on the left part of the interface. Choose Recover from iCloud Backup File, you will be asked to sign into iCloud with the iCloud account and password (iCloud password forgot?), and then, tap Enter on your keyboard to sign in.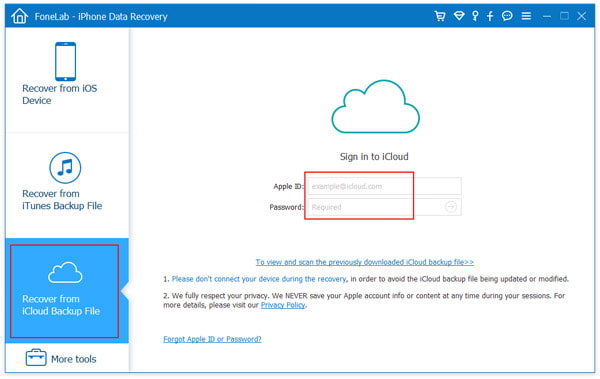 If you cannot remember your iCloud password, you need to find iCloud password back from the websites of Apple Inc.
Step 3Choose iCloud messages and message attachments
After signing in iCloud, you will find the detailed information about your iCloud backups, including the iOS device name, latest backup date, iCloud account and the State. Choose the one which contains the messages you want to view, click Download. The pop-up window will ask you to choose file types you want to download. If you only want to view and check iCloud text messages, you can choose Messages (and Message Attachments if you need) under Message & Contacts. Click "Next" and wait for downloading these iCloud backups.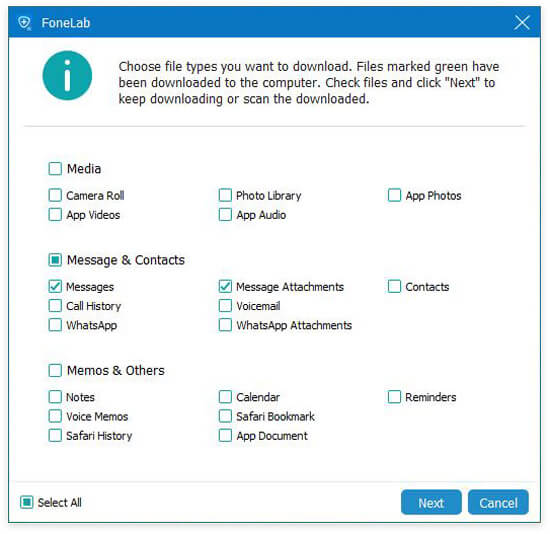 Step 4 View and recover text messages/iMessages from iCloud backup
In this step, you can read your iPhone text messages from iCloud backup now. Click "Messages" on the left menu bar, you can get all messages, including iMessages on the main interface. If you find some messages with red color, that means you have deleted these messages from your iPhone, iPad or iPod. Next, you need to choose the text messages you want to restore, and click "Recover" to retrieve your text messages from iCloud backup.
Free up iCloud storage for backing up new messages
Apple Inc. only provides 5 GB free iCloud storage, if you have saved too many files including the videos, music, messages or something else, there will be no more free storage for you to use. Here you have to upgrade iCloud storage with paying money.
Another way to free up iCloud storage for backing up new messages and message attachments are that you can try to clear up iCloud backup and import the latest messages and files to iCloud storage.