Concrete tutorial to Fix iPhone Notes not Syncing
"I am using an iPhone and a MacBook Pro, for months, I have been unable to get notes sync across my devices, I have important notes on all my devices, so I need to merge all of them, but how to fix this problem?"
Generally speaking, Apple customers enjoy the convenience of syncing notes and other data using iCloud and keeping files accessible anywhere.
However, iCloud tends to be unpredictable. If you have troubles with iPhone notes not syncing, you are not alone. Moreover, you can find the troubleshooting tips in this post.

Part 1: How to fix iPhone notes not syncing
Solution 1: Upload iPhone notes to iCloud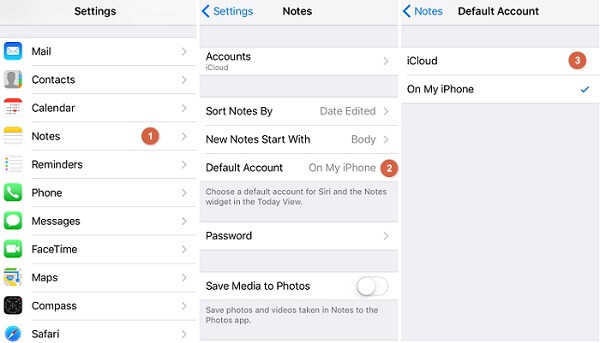 Sometimes, your notes have not been uploaded to iCloud, so iPhone notes not syncing to Mac or other machines. The solution is simple, uploading your notes to iCloud.
Step 1Open the Settings app from your home screen, tap on your Apple account, and go to Notes -> Default Account.
Step 2If the On My iPhone option is enabled, switch to iCloud.
Step 3Connect your iPhone to a Wi-Fi network and backup iPhone notes to iCloud. Then check if iPhone notes not syncing is corrected.
Solution 2: Sign in your iCloud account again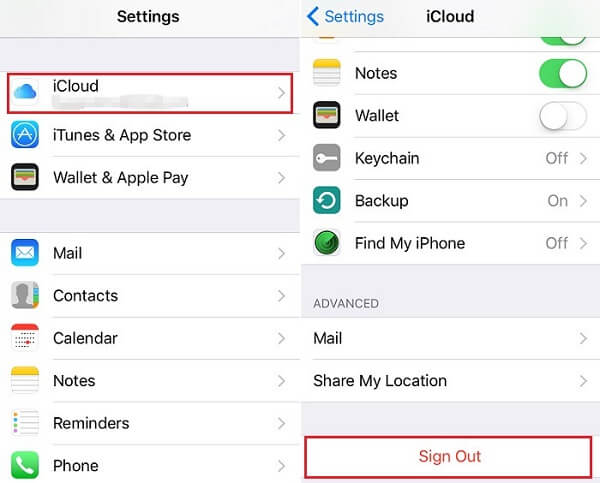 iPhone may be stuck in some mode and the iCloud account is not available. In such cases, simple sign-in your account again may fix the problem that iPhone notes not syncing.
Step 1Tap on your name in the Settings app, go to iCloud and tap on your account.
Step 2If prompted, enter your password associated with the account. Then tap the Sign Out button.
Step 3Wait for a few seconds, go to the iCloud settings screen and tap Sign In button.
Step 4Enter the iCloud account and password that you log in your Mac computer. Now, try again to test if notes is syncing between iPhone and Mac.
Note: If you forgot your iCloud account, just change iCloud account for notes syncing on iPhone.
Solution 3: Enable Notes in iCloud settings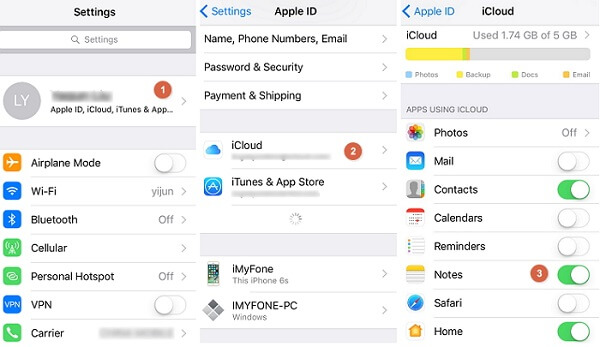 Sometimes, you may disable the Notes option in iCloud. Therefore, you cannot get iPhone notes on Mac.
Step 1Open the Settings app and tap on your Apple account.
Step 2Go to iCloud, scroll down and find the Notes option. If it is disabled, move the switch to right and enable it.
Step 3Once your iPhone connects to a network, iPhone notes will be syncing to Mac.
Solution 4: Update iOS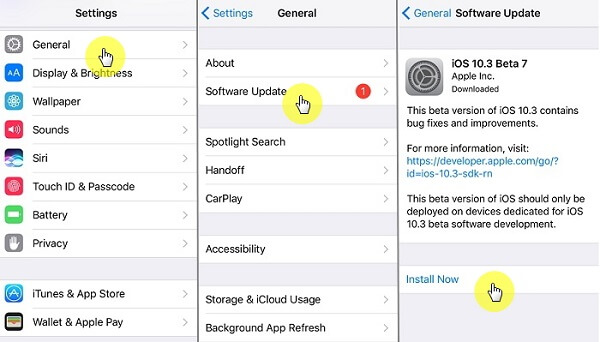 Outdated operating systems could lead to a variety of problems, including iPhone not syncing notes. If you encounter this problem, it may be the time to update iOS.
Step 1Tap on your name in the Settings app.
Step 2Go to General -> Software Update, and iPhone will detect the available update automatically if your device is online.
Step 3Tap the Install Now button and follow the onscreen instruction to get the latest iOS.
Step 4When it is done, you iPhone will restart and you can sync your data between iPhone and Mac.
Solution 5: Force-restart iPhone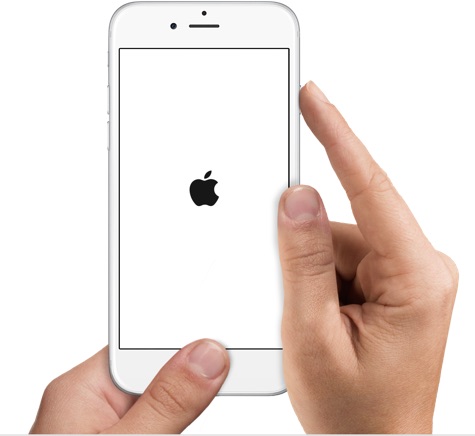 Too much junk data may let your iPhone not work correctly. At this time, simply restarting your iPhone could help you get rid of iPhone notes not syncing.
iPhone X and later: Hold down the Side button and Volume Down or Volume Up button until you see the slider. Move the slider to turn off your device. Wait for at least 20 seconds. Press the Side button until the Apple logo appears.
iPhone 8/7: Keep pressing the Side button and then move the slider to power off your iPhone. After the screen is completely black, press the Side button for a few seconds to turn on your device.
iPhone 6 and earlier: Hold down both the Side and the Home buttons. Then drag the Power Off slider to turn off your device. Then power on your iPhone.
Do not miss: iPhone keeps restarting? Here is the fix.
Solution 6: Look for an alternative to iCloud
If you have tried the solutions above, the problem of notes not syncing between iPhone and Mac, we suggest you to use an alternative to iCloud.
Part 2: Best way to sync iPhone notes to computer
Aiseesoft FoneTrans is a reliable method to sync notes between iPhone and computer with extensive features, such as:
FoneTrans - Best iOS File Transfer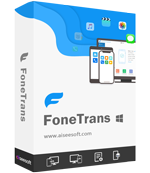 Sync notes between iPhone and Mac or another iOS device in a click.
In addition to notes, support a wide range of data, like photos, music, contacts, etc.
Back up iPhone files to iTunes Library directly to prevent from data loss.
Rely on physical connection to sync iPhone notes without Wi-Fi connectivity requirement.
Available to iPhone XS/XS Max/XR/X/8/8 Plus/7/SE/6s and earlier.
Conclusion
This post has showed you how to fix the problem of iPhone notes not syncing. As you can see, there are multiple methods to help you get rid of the problem