10 Best Free Video Editing Software on Mac OS X in 2018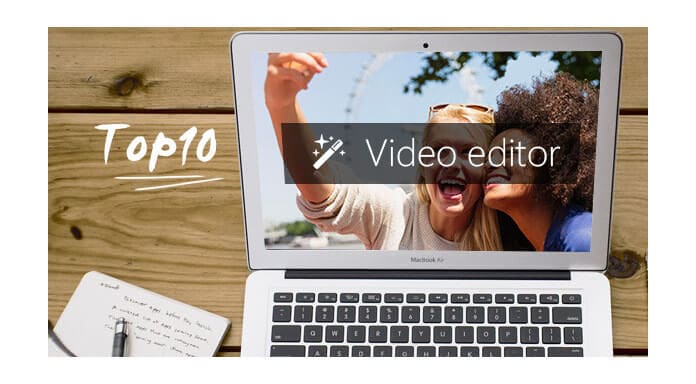 Nowadays, video is around our life. We may record our daily life or memorable moments with camcorder, digital camera, portable devices like iPad, Surface, etc. and even iPhone, Samsung, etc. How to deal with these videos? You may want to edit these videos or make them into movies or trailers for better preservation or sharing. Then looking for a free and easy-to-use video editing software would be very important. Free video editing software for windows would be easier to find, however, if you just have an iMac or MacBook, how to find software to edit videos on Mac? In the following, let's check 10 best video editing software for Mac and learn how to make movies on Mac easily.
Part 1. Best video editing software for Mac introduction
Most of the users like you and me are just an amateur for editing videos and just need some basic functions to make home movies better. The following function would be our most concern when finding a basic video editing tool on Mac:
1. Quick and efficient editing for video clips like improving video quality, adding titles/animation transitions/music and doing some special effects.
2. Support creating those edited videos into DVD/Blu-ray for better preservation or sharing with our family and friends through email, Facebook, YouTube, etc.
3. Simple controls and intuitive interface compare with the professional video editors.
4. And most important, it is FREE!
Here, we get a list of free video editing programs on Mac that can meet most of users' requirement.
You can check the following comparing chart for better understanding of every free video editing apps we have recommended.
Video Editing Software for Mac
Key Features
Video Formats
Platform
iMovie for Mac
• Support editing 4K videos (4K version)
• With Media browser to view home video easily
• Editing tools including theme, adding effects, inserting titles, creating soundtrack, etc.
• Quickly create trailers with Hollywood style
• Support sharing through email, YouTube, Facebook, Vimeo, etc.
Input: MP4, MOV, MPEG-2, AVCHD, DV & HDV
Output: MOV
Mac, iOS, Windows
Lightworks
• Support SD, HD and 4K video files editing
• Incredible timeline (change clip speed, control clip and track volume, add effects and transitions, etc.)
• With realtime titling effects, realtime effects, advanced multicam editing, second monitor output, etc. functions
• Support sharing to Vimeo (1080p max.) and YouTube (720p max.) in free version
Input: ProRes, Avid DNxHD, AVC-Intra, DVCPRO HD, RED R3D, DPX, H.264, XDCAM EX/HD 422
Output: MPEG4/H.264
Mac, Windows, Linux
Blender
• Support live preview
• Mix, sync, scrub and waveform visualize audio supported
• With adding video, image, audio, scene, masks and effects function
• Speed control, adjustment layers, transitions, keyframes, filters and more
Input and Output: AVI, MPEG, QuickTime, 3D
Mac, Windows, Linux
Avidemux
• Support video conversion and most video formats
• Simple editing functions like crop, resize and processing video including
• Filters available to resize, filp or crop images
• Lightweight and fairly simple
Input: MPEG-4 AV, HEVC, MPEG-1, MPEG-2, MPEG-4 Part 2
Output: MPEG-1, MPEG-2, MPEG-4 Part 2
Mac, Windows, Linux
Kdenlive
• Support multi-track video editing
• Add titles with design features and text animation are supported
• Dozens of effects and transitions available
• With timeline preview and themable interface
Input and Output: ProRes, H.264, AVCHD, DNxHD, Divx, HDV, QuickTime
Mac, Windows
Free Video Editor for Mac
• Support cropping, splitting, joining and rotating videos
• Effect and watermark adding available
• Enhance video quality with resolution upscaling, video noise removing and brightness/contrast optimizing
Input and Output: almost all video formats
Mac
Shotcut
• Native timeline editing
• Webcam and audio capture
• Support for 4K resolutions
• Network stream playback
• Color, noise and counter generator
Input and Output: almost all video formats
Mac, Windows, Linux
Jahshaka
• Support 2D and 3D playback, animation and compositing
• Media and asset management
• With color correction, editing and effects functions
Input and Output: "virtually" all video formats
Mac, Windows
VideoLAN Movie Creator
• Support merging, trimming video clips
• Apply filter and music background is also supported
• Timeline realtime preview available
• Only support local exporting
Input and Output: almost all video formats
Mac, Windows, Linux
ZS4 Video Editor
• Automation control for all track and effect using keyframes
• Full cross integration of audio and video
• Manipulate the flow of time smoothly
• Support grouping video/audio tracks into sub-groups
Input and Output: almost all video formats
Mac, Windows, Linux
MovieMator Free Mac Video Editor
• Trim, rotate, crop, merge, split videos & photos
• Change the brightness, saturation, contrast, aspect ratio, transition effect and speed of videos & photos
• Support picture-in-picture effect
• Various filters and transitions available
Input and Output: almost all video formats
Mac
Extended Reading: If you are looking for the professional editor which can be used on your Windows computer, you can check video editor for Windows.
Part 2. How to edit videos on Mac with ease
As we introduce 10 free video editing software for Mac to you above, we are sure you can find the suitable one to meet your needs. Then next, let's see how we can easily edit videos on Mac. Just take iMovie as an example and check the step-by-step guide below.
Step 1Create a New Project
Open iMovie on your Mac and go to File > New Project, and then choose the Project Themes if you like, name the project and click Create to start editing.
Step 2Import Video to the Project
You can choose to import video from Camera or directly from your Mac. If your video file has already on your Mac, you can drag and drop it into the iMovie. Just remember that iMovie only support importing video formats like MOV, AVI, MP4, MPG, DAT, 3GP. If you have other video format file, just find a video converter to convert the file first.
Step 3Edit Video on iMovie for Mac
Split Video Clip
1. Move the cursor to the timeline and select the clip you want to split.
2. Position the playhead you want to split the video clip
3. Control-click the clip, and choose Split Clip from the shortcut menu.
1. Position the playhead at the point where you want to merge the clip in the timeline.
2. Control-click the clip, and choose Join Clip from the shortcut menu.
Add Effects
1. Choose the clip you want to add effect.
2. Select the wanted effect.
3. You can preview the effects easily on the preview window and adjust them according to your need.
Step 4Output the Project
In the main interface, click the "Share" and you can either export the video clip to save on your Mac or you can directly share it to YouTube, Facebook, Vimeo, etc.