6 Solutions to Fix iPhone Won't Restore
More and more people said their iPhone won't restore, and the reasons are various. Some iPhone won't restore because of update, like iPhone 5 updates to iOS 9.0.2; Some iPhone stuck in the Recovery Mode when restoring; Some iPhone appears error messages during restoring, such as Error 9, 1671, etc. And there are also other kinds of reasons that iPhone won't restore.
So here we will show you how to fix iPhone won't restore problems with different situations. And it must be a great help for you.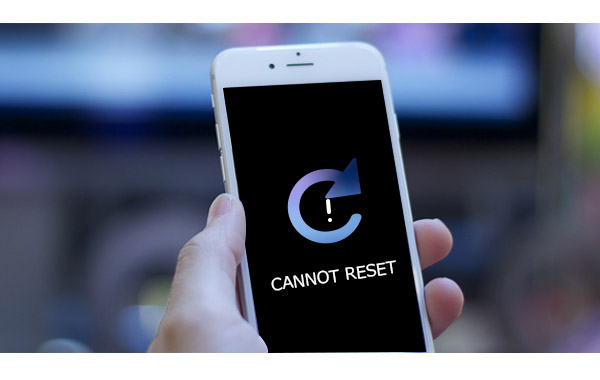 iPhone Won't Restore
iPhone won't restore from iCloud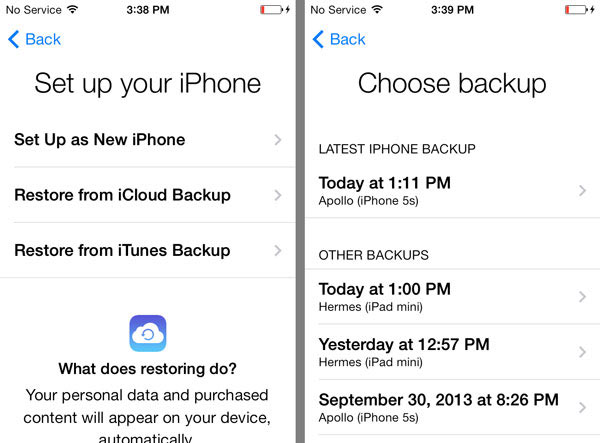 Problem: In "Settings" > "iCloud" > "Storage & Backup", it tells that "This iPhone is currently being restored and will automatically back up when it is done". It is weird, right? Because everything seems go well after restoring iPhone from iCloud, only this point cannot be perfected.
How to fix: Check if your Wi-Fi and power source connections are correct. And also there is a bug in the iCloud leading to the failure of iPhone restoring. So if you meet, you can restart to restore your iPhone from iCloud backup.
iPhone won't restore from iTunes (Unknown Error included)

Problem: In this case, maybe iTunes cannot recognize your iPhone or says it is in recovery mode, maybe you get one error message like "An unknown error occurred", and there are kinds of errors, like error 9, error 21, etc. or maybe some other problems.
How to fix: First, you need to make sure you have the latest iTunes and restart your computer, iTunes, and iPhone. Second, ensure your iPhone has trusted computer if this is your first time to connect iPhone to computer as well as disable anti-virus software. Third, Check Wi-Fi or USB connection. Forth, if your system is too old, update it to the latest iOS version. And now, please try again and again. If you still get some unknown errors, like error 4005, just contact Apple Support for help or check the Apple error list to get the solution.
iPhone won't restore after update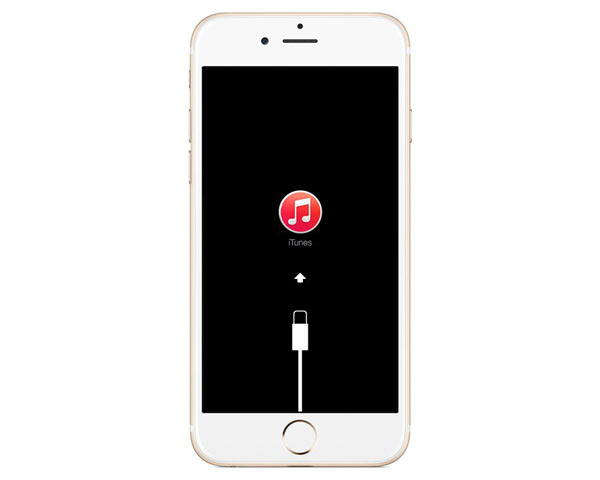 Problem: You have prepared everything for update, and it asks you to connect iTunes. But when you connect iPhone to iTunes, nothing happened, also your phone screen still shows that connect to iTunes.
How to fix: For this situation, you should try to make iTunes recognize your iPhone. So you can update iTunes to latest version, and plug iPhone in iTunes again. If it still doesn't work, just put your iPhone in recovery mode. Here is the steps: Turn off iPhone > plug USB cable into computer and launch iTunes > Hold the Home button for a few seconds until you see the screen of Connect to iTunes > Release Home button and connect iPhone to USB cable. Now, you can see the message that "iTunes has detected an iPhone in Recovery Mode" if iTunes can detect your iPhone. After that, you can restore your iPhone.
iPhone won't restore after jailbreak

Problem: When trying to restore jailbroken iPhone with iTunes, just get the message that "This device isn't eligible for the requested build".
How to fix: Restoring a jailbroken iPhone is not easy. First you need to put your iPhone into DFU mode, and the steps are: Hold Power and Home buttons for 10 seconds and put down Power button but continue holding Home button for a few seconds until iTunes detects your iPhone. Second, click "Restore" in the interface of iTunes. But after restoring, you should set your iPhone as new iPhone instead of restoring it from backup, because a complete restoration of jailbroken iPhone cannot be guaranteed. And now, maybe you need iPhone Data Recovery to recover your backups and transfer them to iPhone.
Extended reading: How to restore contacts from jailbroken iPhone.
iPhone won't boot to restore after jailbreak
Problem: Someone who has jailbroken iPhone becomes regretful for jailbreaking their iPhone. So he wants to start over and restore iPhone factory settings. But the problem comes, iPhone stuck on the Apple logo or a leading icon.
How to fix: The error seems simple, but maybe you should go to Apple store to ask help if you still want your iPhone work. Make sure find one professional troubleshooter.
The best solution to fix all situations that iPhone won't restore
Generally speaking, there are many situations that iPhone won't restore. You cannot find every solution for every different errors. So it is better that if there is a way to fic all kinds of problems about iPhone won't restore. Now, iOS System Recovery is your great assistant. Just download it and try it for free!
iOS System Recovery
For Mac
Fix system crashed, disabled iPhone to normal
Rescue data from frozen iPhone and back up to computer
After fixing iPhone, you are able to restore data from iTunes/iCloud/iPhone
The steps to fix iPhone won't restore
Step 1 Install and launch iOS System Recovery on your computer.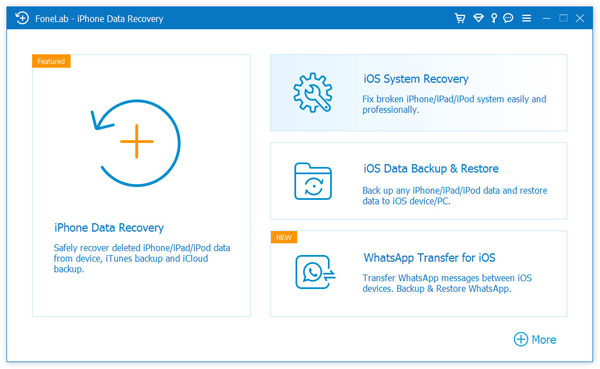 Step 2 Connect iPhone with computer.
After opening this iPhone system recovering app, plug in your iPhone to computer with USB cable. And click "More tools" > "iOS System Recovery" > "Start" to begin the process of fixing iPhone won't restore.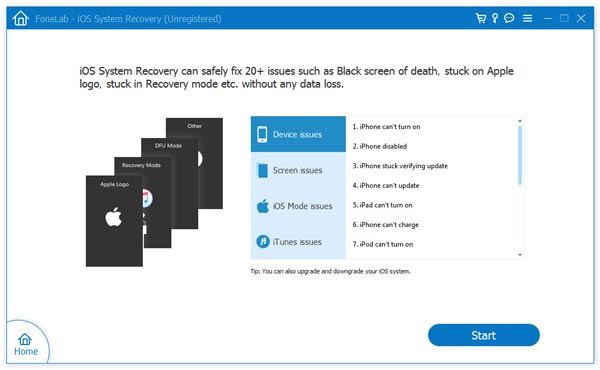 Step 3 Make your iPhone enter Recovery Mode or DFU Mode.
Click "Question" button to make your iPhone enter Recovery Mode or DFU mode. Here we put iPhone into DFU mode.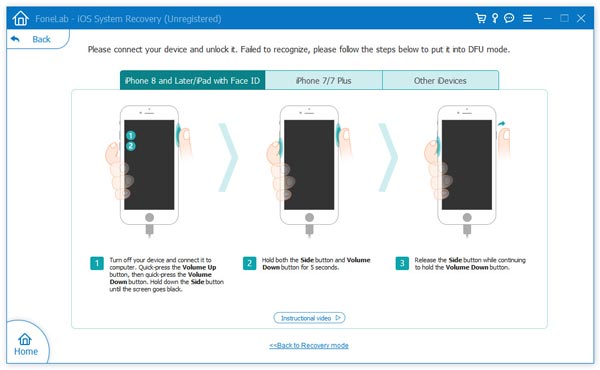 Step 4 Download firmware package.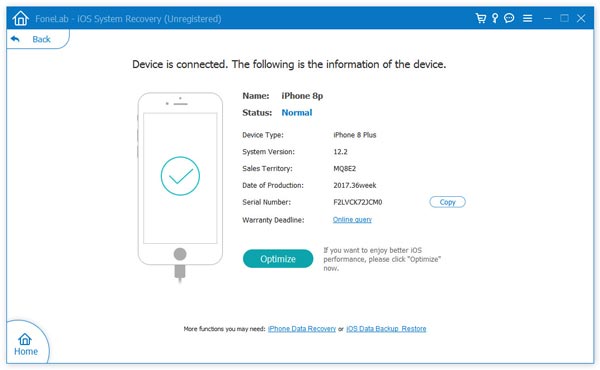 Step 5 Recover your iPhone system and make it exit safe mode.
Now, you need to choose the model of your iPhone. Then click "Repair" to fix iPhone won't restore. And this iOS system recovery will automatically choose the suitable plug-in for your iPhone and begin to repair, you just need to wait for a moment.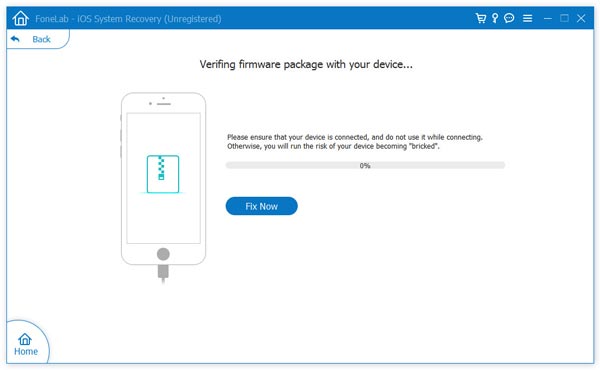 You can watch the video to learn more about iOS System Recovery: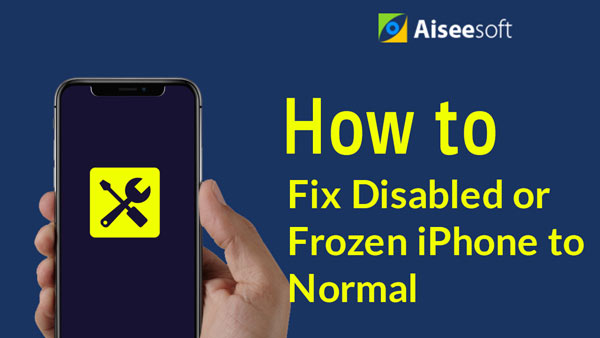 After that, your iPhone will restart, and you can see if it is normal now. Also, if iPhone says No SIM, you can also use this app to repair your iPhone.