What You Can Do When Wi-Fi Is Extremely Slow on Your Mac Computer
It is quite frustrating that the MacBook Pro Wi-Fi is slow, especially when other devices are okay. Can you imagine that webpages take minutes to open? There must be something wrong with your Mac computer or Wi-Fi connection. But why it is and how to fix Mac slow Wi-Fi connection? As for the most possible reasons for Mac Wi-Fi slow, you can check the following list.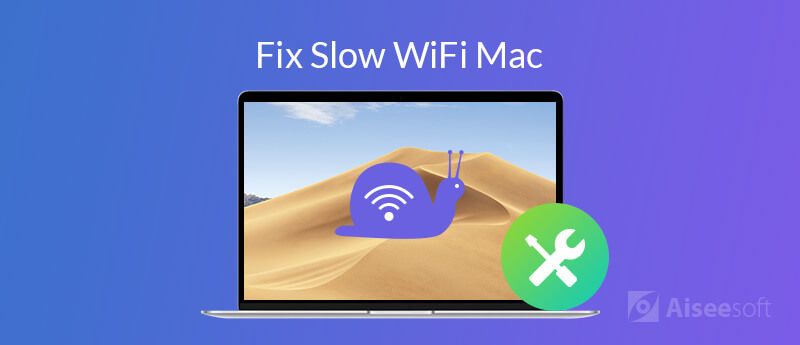 Router issues, like the distance between your Mac and the router, interfered router electronic waves, etc.
Someone is eating up your bandwidth, which cause MacBook Pro Wi-Fi very slow.
Mac OS Sierra upgrade and other new changes.
Disabled network preferences.
What to do to speed up the slow Internet connection on Mac? You can get multiple solutions to troubleshoot Wi-Fi really slow on Mac issues here.
Part 1: Check Wi-Fi Speed and Other Information on Mac
First of all, you need to figure out the current Internet speed of your Wi-Fi connection. If the Wi-Fi speed matches up your plan, then it is not the router's fault. Otherwise, you can pay attention to the router and network settings to speed up slow Internet connection on Mac. Whatever, you can test Wi-Fi speed within Aiseesoft Mac Cleaner.
The built-in Wi-Fi analyzer can help you analyze the current Wi-Fi with the detailed information. You can see how many devices connect to your Wi-Fi network, network delay and other information. Moreover, you can clean up useless files, delete duplicate images, optimize Mac performance, hide files, shred files and get many other interesting functions of Mac Cleaner software.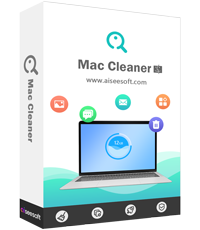 Downloads
Test the Wi-Fi network speed.
Check the network delay, download speed, upload speed, connecting device, Mac address, gateway, signal, IP, etc.
Speed up a slow Mac by cleaning up files and optimize its performance.
Work with iMac, iMac Pro, MacBook, MacBook Air, MacBook Pro.
Compatible with macOS Catalina and macOS Mojave, OS X 10.13, 10.12, 10.11.
Step 1. Launch Aiseesoft Mac Cleaner after the installation. In the main interface, click ToolKit to get more functions.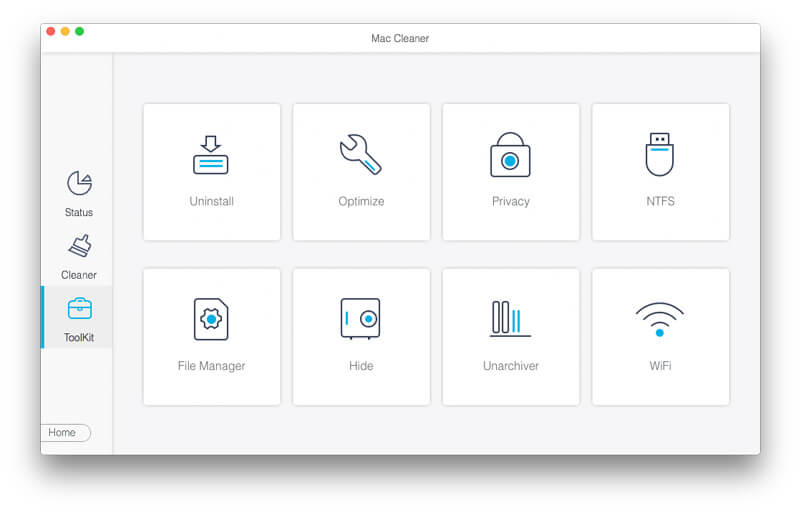 Step 2. Click WiFi on the bottom right corner. You can see the name of your current Wi-Fi directly.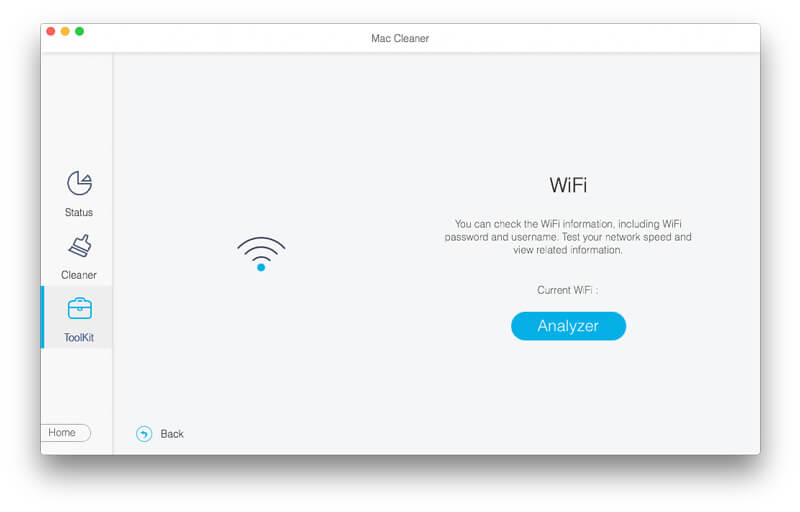 Step 3. Click Analyzer. In the Network Speed section, you can see a brief report of your Mac Wi-Fi network.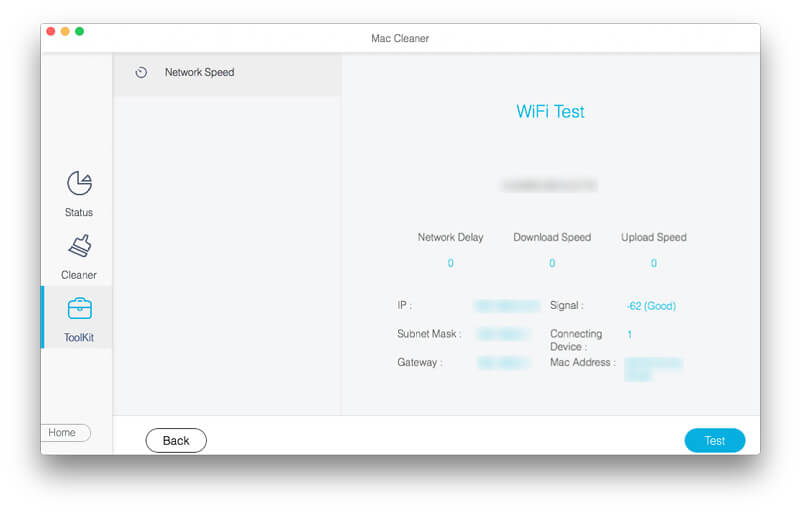 Note: When you find the Mac Internet is slow all of a sudden, you can check the download and upload speed to see if someone is downloading large files. You can also see whether your neighbors use your Wi-Fi connection from Connecting Device. Change the Wi-Fi password. Then you can click Test on the bottom right corner to check Mac Wi-Fi speed again.
Part 2: 6 Ways to Fix Slow Wi-Fi Issues on Mac
These are possible ways to improve MacBook Pro Wi-Fi speed. You can do as the following paragraphs show to find out the real reason for MacBook running slow on the Internet.
Way 1: Restart the Mac Wi-Fi Connection
Step 1. Head to the Wi-Fi menu bar on the top right corner of your Mac computer's screen.
Step 2. Choose Turn Wi-Fi Off from its drop-down list.
Step 3. Turn off Bluetooth adapters on your Mac computer.
Step 4. Restart Mac.
Step 5. Reconnect to Wi-Fi to see if you can fix slow Wi-Fi Internet speed on Mac.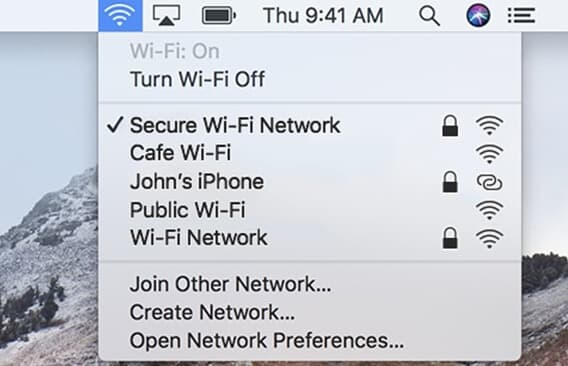 Way 2: Reset the Router
The slow Wi-Fi on Mac issue can be caused by your Wi-Fi router too. You can reboot the router to fix small glitches, just like other digital devices. So you can unplug the adapter first. Then plug it back after a few minutes. If the Wi-Fi speed is still slow on Mac, you can press its red Reset icon to reset Wi-Fi router. Be aware that the Wi-Fi network name and password will be reset to default too.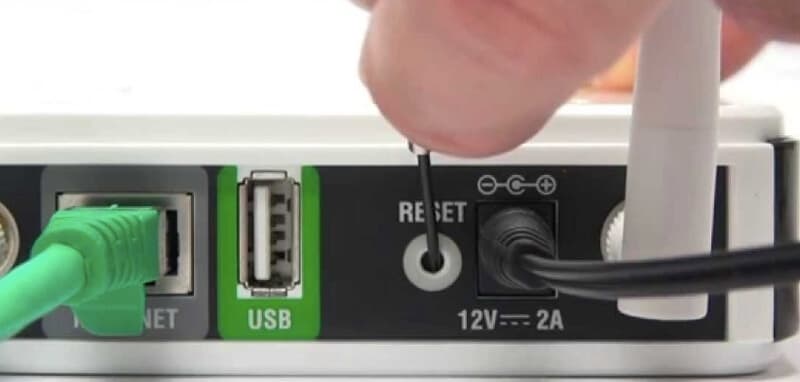 Way 3: Network Diagnostics
Step 1. Choose System Preferences from the Apple drop-down list.
Step 2. Navigate to the Network section.
Step 3. Click Assist Me near the bottom of the Network window.
Step 4. Click Diagnostics in the popping-up dialog.
Step 5. In the Network Diagnostics window, choose Wi-Fi followed by Continue.
Step 6. Follow the on-screen wizard to fix Mac Internet slow.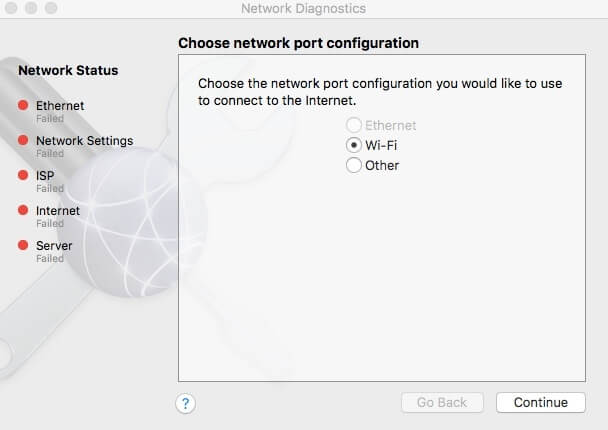 Way 4: Clean Up Mac
If your Mac computer runs slow, you will not get a fast browsing speed. Thus, it is a good habit to clean up Mac and increase the overall speed. You can run Aiseesoft Mac Cleaner to find and delete large & old files flexibly. It is also supported to clear browser cookies, caches, logs, downloads and other unwanted stuff.
Way 5: Use an Ethernet Cable
The long distance between you and the router can slow down the Wi-Fi speed on Mac. You can use an Ethernet cable to connect Mac to the wireless router directly. As a result, you can get considerable Wi-Fi speed boost on Mac.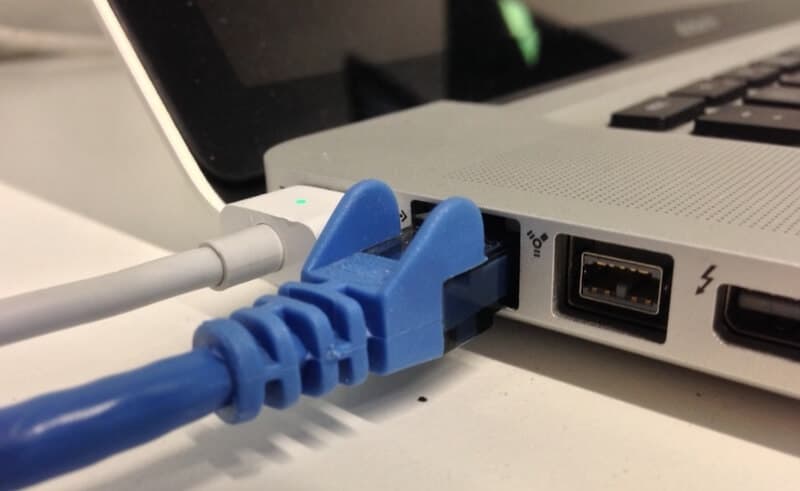 Way 6: Remove the Existing Wi-Fi Preferences
Step 1. Quit all apps that require the internet connection. Turn off the Wi-Fi adapter.
Step 2. Create a new folder on desktop. You can set the name as Preferences Backup or other names you like.
Step 3. Press Command, Shift and G keys on the keyboard.
Step 4. Copy and paste /Library/Preferences/SystemConfiguration/. Click Go to move on.
Step 5. Make a copy with your new folder. Now find and delete the following 5 command lines.
- com.apple.airport.preferences.plist
- com.apple.network.eapolclient.configuration.plist
- com.apple.wifi.message-tracer.plist
- NetworkInterfaces.plist
- preferences.plist
Step 6. Restart Mac and reconnect to the same Wi-Fi to fix Wi-Fi issues on High Sierra.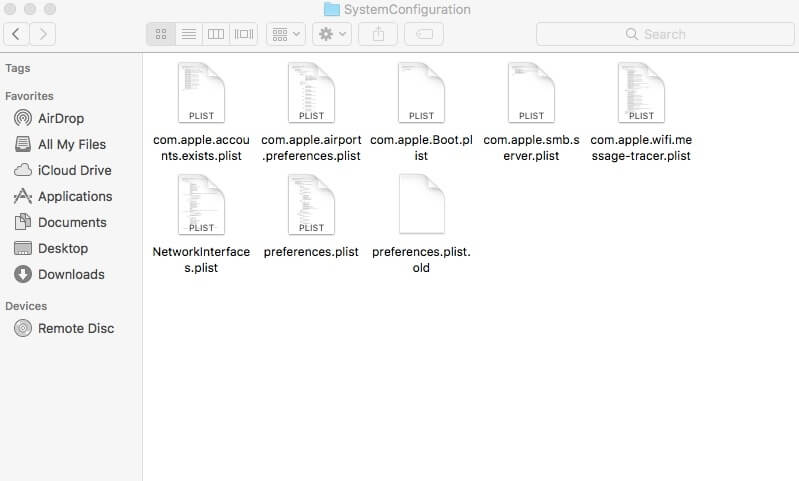 Conclusion
You can try any method mentioned above to fix slow Wi-Fi on Mac. No matter the Internet on Mac is slow all of a sudden or all the time, you can bring it back to the normal state. Well, remember to run a Wi-Fi speed test with Aiseesoft Mac Cleaner. Because the maximum Wi-Fi speed also depends on what plan you choose.