How to Delete Snapchat Pictures Permanently from Chat and Memories
Snapchat is one of the most popular social network applications throughout the world. It gains your favorites because it can let you share your life within 10 seconds. All the photos included in the conversation has a lifespan of up to 10 seconds and then disappear from Snapchat automatically.
However, are the photos deleted as claimed on Snapchat automatically?
If you think so, then you are wrong.
Continue reading and get the answer why and how to delete Snapchat photos permanently.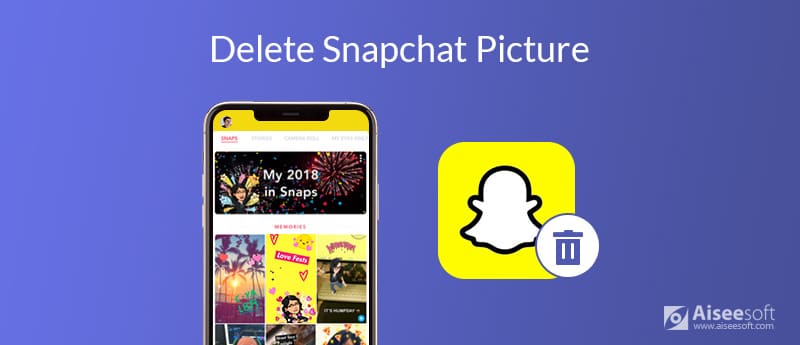 Part 1. Why Are Snapchat Photos Not Deleted as Claimed?
Though Snapchat claimed the photos will be deleted automatically after 10 seconds after the receiver read it. However, the Snapchat photos are deleted from Snapchat server, not deleted from sender's cell phone truly.
A forensics firm has confirmed that the pictures sent on Snapchat are still stored in the sender's device and the Snapchat photos can be easily recovered as well. That will put your phone at the risk if you have very important and private pictures on Snapchat.
Deleting the Snapchat photos from the sender's phone is necessary.
Part 2. How to Delete Snapchat Photos from a Conversation
For deleting the photos on Snapchat on the sender, you are given 2 ways. One is to delete the conversation that contains the pictures, and the other one is to uninstall the Snapchat app.
Delete Snapchat Conversation Containing the Pictures
Step 1.
Open the Snapchat app on your phone, and tap the
Settings
option at the top center.
Step 2.
Scroll down to find
Account Actions
and hit
Clear Conversations
.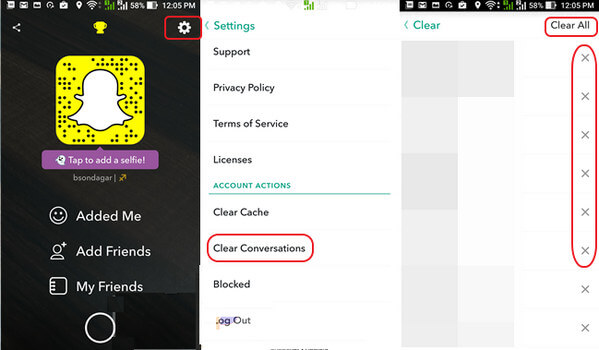 Uninstall Snapchat App
To uninstall all app on mobile phone is another way to clear Snapchat data. This way can also wipe all the photos, videos, and other cached data from Snapchat on your phone.
To delete the Snapchat app on iPhone, you should tap and press the icon of Snapchat from the home screen, and then your iPhone will jiggle, then just tap the small cross at the top-left corner to uninstall it.
iPhone users running in before iOS 13/14 and later will need to select Delete App after pressing Snapchat.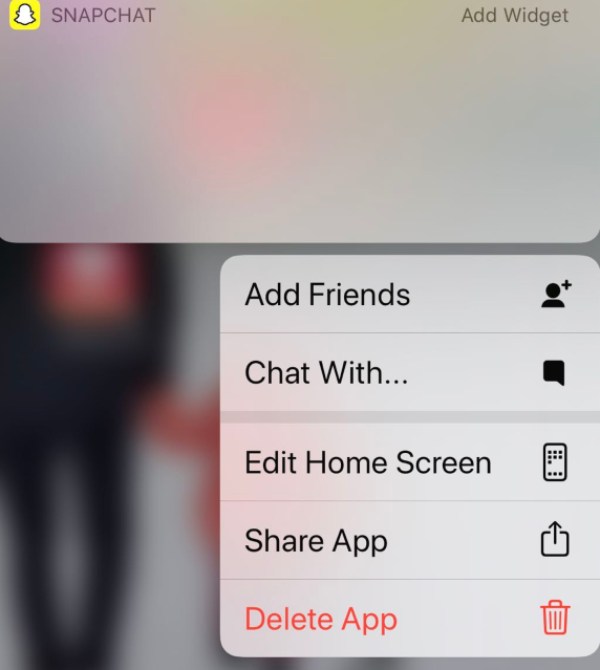 For uninstall app on Android, you should read this post.
Uninstalling Snapchat app does not delete your account. You can still receive photos, messages, videos, etc., through the app, and it will be waiting for you the next time you log in
Part 3. How to Delete Unopened Snapchat Pictures
It will be a nice tool to send some interesting or funny photos to your friends. However, once you sent some embarrassing pictures to your friends, but regret it, and want to undo the pictures, is it possible?
Yes. Only if the recipient does not open or read the Snapchat message with the photos, you can still undo it and delete the Snapchat pictures. The solution is to delete the Snapchat account.
Step 1.
Go to the account portal (https://accounts.snapchat.com/accounts/delete_account)) and enter your username and password.
Step 2.
Scroll down to the bottom to select
Support
.
Step 3.
Then go to
My Account & Security
to click
Account Information
.
Step 4.
Select
Delete my account
. Input your Snapchat account and password in the confirmation window.
Step 5.
Enter the security code send to your phone and click Submit.
Then your Snapchat account will be deactivated for 30 days. During the time, your friends cannot contact or send you messages on Snapchat. After 30 days, all the data will be deleted permanently, including the Snapchat photos.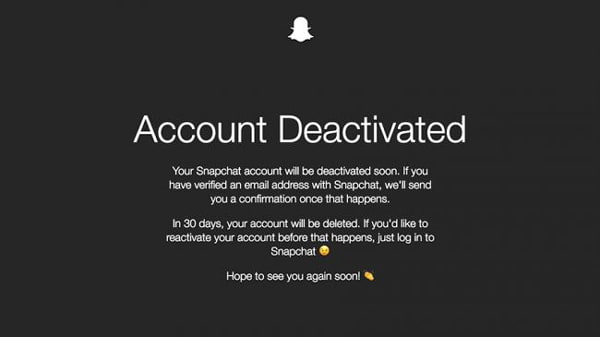 Part 4. How to Delete Snapchat Photos from Memories
Though Snapchat will delete the pictures in the chats automatically, however, it also opens the door to you. Snapchat memories allows you to save your favorite snaps, including the sent to others and saved pictures from your story in your post.
Once you saved a snap in your memories, you can view it whenever you want from Snapchat.
When you want to delete the Snapchat photos about your ex, embarrassing moments, or whatever else, do not forget to delete the snaps from memories.
Step 1.
Run Snapchat all on your phone and go to
Memories
tab.
Step 2.
Tap and select the snap or story that you want to delete.
Step 3.
Hit the options icon in the upper right corner.
Step 4.
Tap
Delete Story
or
Delete Snap
, and
Delete
again to confirm that.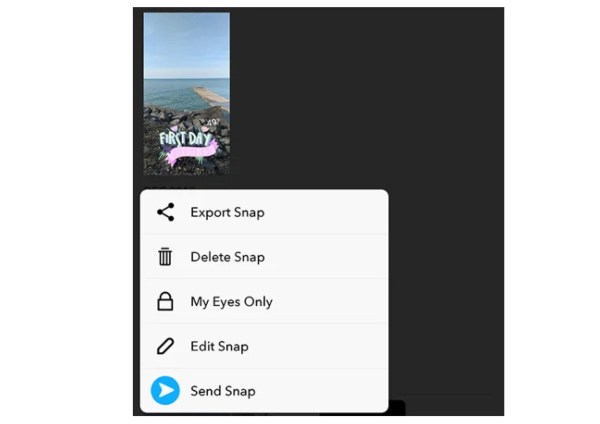 Part 5. How to Delete All Snapchat Pictures on iPhone Permanently
The above solutions to delete Snapchat pictures are done on phone via settings. However, for permanently erasing the photos from Snapchat forever, you will need the third-party software.
Aseesoft FoneEraser is the Snapchat app data eraser. It can remove the data and settings from iPhone, iPad an iPod. Using FoneEraser, the Snapchat data on your iOS device will be deleted thoroughly. And to protect your privacy, the erasing tool can wipe out all the content on your device and overwrite the deleted data to make sure that those files cannot be recovered anymore.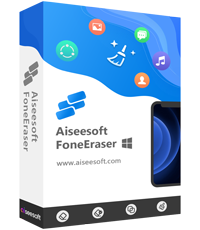 Downloads
Aiseesoft FoneEraser – Snapchat Photos Remover
Delete Snapchat photos from chats and memories permanently.
Delete the Snapchat pictures from more than one device instantly.
Erase iOS device in 3 optional security level as you wish.
Wipe all iOS devices like iPhone 12, 11, XS, XR, X, 8, 7, 6, 5, iPad, etc.
Now, let's check how to use this software to delete Snapchat photos permanently. In fact, it is quite easy to operate this software. Just follow the instructions step by step, and you will get all your data removed.
Step 1.
Free download this Snapchat picture eraser on your computer. Launch it after the successful installation.
Use a USB cable to plug your iPhone that contains the Snapchat photos you want to delete to the computer.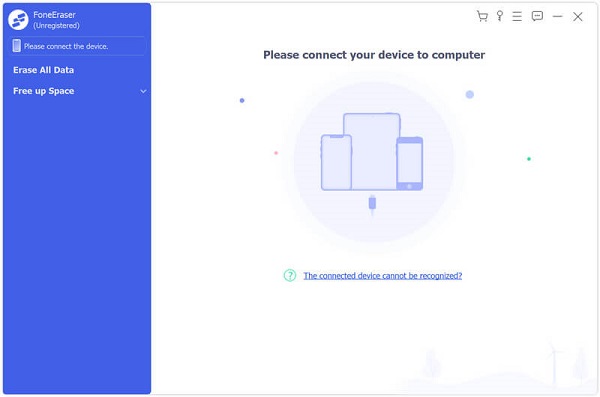 Step 2.
Once this software detects your device, you can see the default erasing level marked as
Low
.
You can change the erasing level from
Low
to
Middle
and
High
, or keep the original selection if you want a quick erasing process. Then click the
Start
button.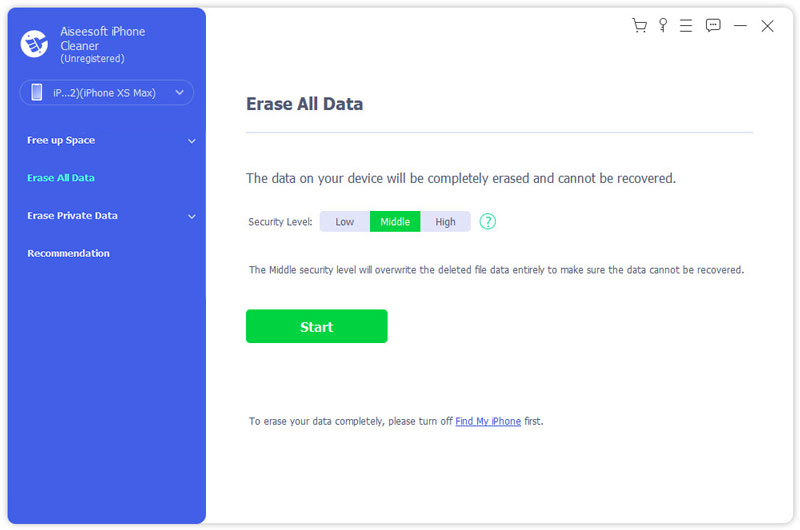 Step 3.
Input
0000
and click
Erase
to confirm erasing Snapchat photos permanently.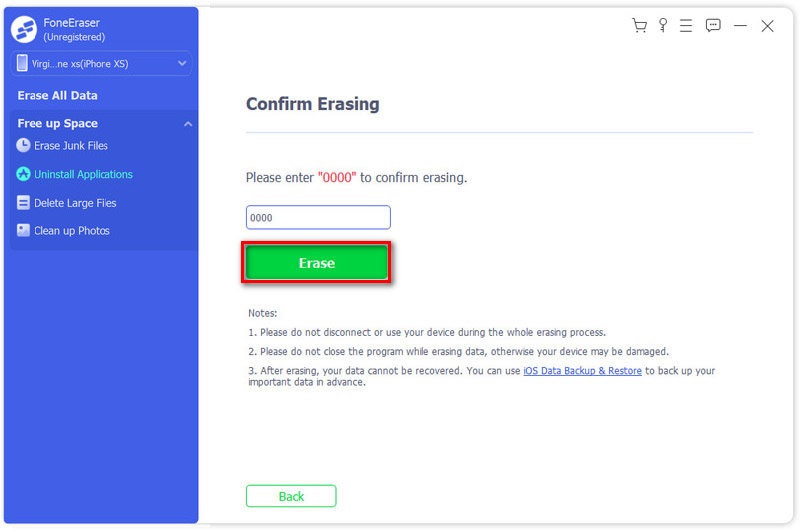 Part 6. FAQs of Deleting Snapchat Pictures
How to use Snapchat on PC?
There is no desktop version of Snapchat, but you can still use Snapchat on PC by using the Android emulators. Check this post to get the details to use Snapchat on PC.
Can I use a Snapchat filter on a picture?
Yes. Filter effects are the built-in features on Snapchat app. You can take a snap photo on your phone, and then swipe right or left along the screen to scroll horizontally through the different filter effects available in this app.
How do you upload a picture to Snapchat?
For Android users, you need to click the rectangular yellow button at the bottom-right of your screen to navigate your photo gallery, and then select an image to upload a picture in Snapchat for sharing. iOS users just need to open Camera Roll to pick up a photo and tap the Share icon at the bottom-left corner. Swipe through the icons and tap More tools to choose Snapchat to share the photo.
Conclusion
In this post, we mainly talk about the full guide to delete the Snapchat photos from your phone. You can uninstall the app, delete the Snapchat account and erase the while conversation to delete the Snapchat pictures. However, for erasing the Snapchat photos permanently, you will need Aiseesoft FoneEraser to help you.
Which way is your preferred one?
Let me know by leaving your comments below.

Leave your comment and join our discussion