Top 10 Best Text Message Readers for Android/iPhone - Listen & Reply My Text Messages Hands-Free
It is a common sense to people that reading text messages or texting back while driving is very dangerous, yet still a lot of people are getting accidents on account of this. Phone developers are trying their best to avoid this kind of situation. If you are using iPhone, Siri can read your last text messages with the command like "read my text messages" or "Read my messages". Similar with Siri, Google Now also supports reading text messages. Besides, many apps are provided to help your read text out loud, which is even better than Siri or Google Now.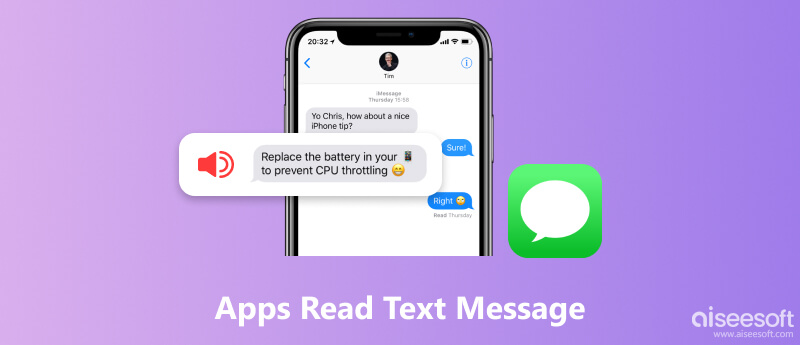 In this article, I have collected 10 best text messages readers that enable you to read text message hands-free on iPhone/Android.
10 apps to read my text messages hands-free
No.
Hands-free text app
Screenshot
Features
1

◆

Read the incoming SMS/callers name/notification from other apps like WhatsApp and Hangouts.


◆

Send voice reply for SMS/WhatsApp/Facebook Messenger/Gmail, etc.


◆

Text reading only when a Bluetooth device or a head phone is on.

2

◆

A safe texting while driving app that reads text messages (SMS) and emails in real time and automatically responds (auto-responder).


◆

Support 28 text-to-speech languages and has support for even celebrity voices.


◆

This app to read text messages is fully customizable and allows you to read things you want.

3

messageLOUD: Texts + Email aLOUD

◆

Total eyes-free experience: Read Android SMS, WhatsApp, Facebook messages and Email out loud so you can drive safer.


◆

Auto start when you get behind the wheel.


◆

Three distinct modes for you when you are driving, exercising or working.

4

◆

5-apps-in-a smart assistant: automatically saves your battery, auto-responds when you're driving, and allows only urgent calls and messages through when you're sleeping and more


◆

Configured to read SMS messages aloud, respond with voice, auto texting while driving & only respond to your own hand-picked list.

5

◆

A free text app to read the messages/emails to you while driving


◆

Works well with iPhone, Android and Blackberry and all hands-free devices like the amplifier of your gadget, Bluetooth headset.


◆

Easy to install and to use.

6

Dragon Mobile Assistant

◆

Using Nuance's accurate voice recognition technology, send and receive text messages/emails, post Facebook and Twitter updates all hands free.


◆

Set reminders, make appointments and search the internet without lifting a finger.


◆

Turn on Attentive Mode to wake up your assistant at any time.

7

SMS, my car and me

◆

Widget to activate with one touch, perfect solution for frequent drivers to read out messages.


◆

Voice commands for easy SMS speaking and writing back (online and offline, Bluetooth support)


◆

Use any language for TTS (text-to-speech)

8

◆

The best caller name announcer app and SMS reader app that reads out the SMS sender and messages.


◆

Filter Contact feature enables you to assign this App to a specific list of contacts that is to be announced.


◆

Different voice pitch feature enables you to set text message reading voice pitches.

9

◆

Handsfree voice reply to messages from WhatsApp, Facebook Messenger and more.


◆

Control your music with simple swipes and taps, no more tiny buttons.


◆

Any your favorite apps and shortcuts at easy reach.

10

vBoxHandsFree Messaging

◆

A hands-free message reader: Listen to your text messages while driving and respond with voice command by talking.


◆

Convert text to speech and speech into text that works with Gmail/Yahoo/Hotmail/AOL, etc.


◆

Works with any hands-free device: speakerphone, Bluetooth, in-car system.