How to Recover Data from a Failed SSD
Summary: Are you suffering the SSD failure and data loss? Want to find a reliable way to recover lost files on SSD device? This post introduces you with a professional SSD data recovery tool to help you restore lost SSD data.
Compared to the common hard drive, SSD has many advantages. For instance, it takes low power consumption, fast reading & writing speed, wide operating temperature range, shock and drop resistance and more. So when you look for reliability and speed, you may easily turn to solid state drives.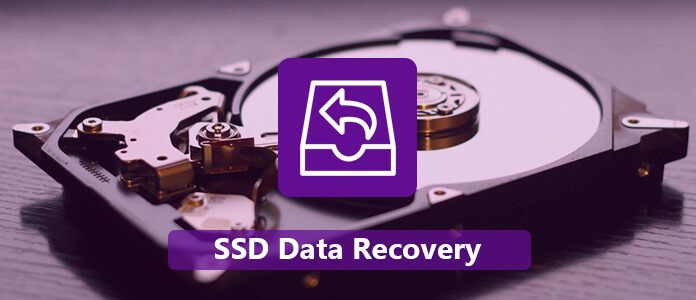 However, SSD may also crash now and then. Due to various reasons, SSD failure and data loss become a common issue. If you are facing the same situation, you can keep reading to find the best SSD data recovery to find your lost files back.
Part 1. What is SSD (Solid State Drive)
SSD (Solid State Drive) is a new kind of hard drive which carries solid-state electronic memory chips to read and write data. It is made of solid state electronic memory chip array. So it can offer faster data reading and writing speed. Similar to the regular hard drive, SSD perform the same functions.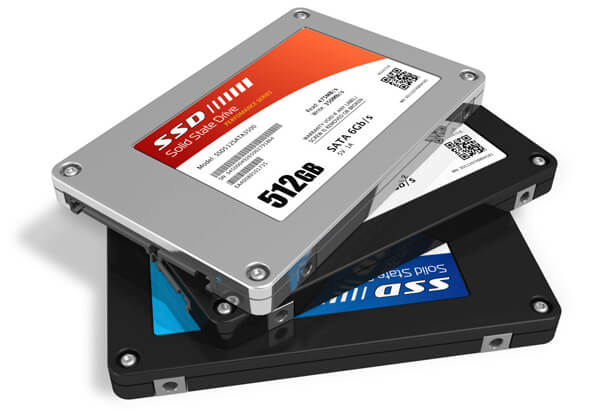 The difference is SSD can use low power consumption and give high-speed circuitry. It can extend the computer battery life, improve the read performance, and even decrease machine weight and so on. Because of these advantages, SSD is soon widely used to replace original hard disk drives.
Part 2. Reasons cause SSD data loss
Even though SSD brings better physical resilience to physical vibration, shock, and extreme temperature fluctuations, you may still encounter data loss during the daily usage of SSD. This part will list some common reasons that lead to data loss on SSD.
1. Improper operation: Mistakenly delete SSD data or format SSD.
2. SSD damage: Physical damage on SSD will easily lead to data loss.
3. System crash: Broken system may cause lots of data loss.
4. Partition loss on SSD: Lose all data on one SSD partition.
5. Virus infection: Virus attack is more likely erase many files on SSD.
Part 3. How to recover data with the best SSD data recovery
Now we back to the first question, is there any way to restore deleted/lost files on SSD?
The truth is, there are still ways to help you rescue the missing SSD files. To quickly get your target, here we sincerely recommend the powerful SSD Data Recovery.
SSD Data Recovery has the capability to any frequently-used data like photo, document, email, audio, video and more from SSD device. Moreover, it enables you to restore SSD data from computer, common hard drive, memory card, SD card, digital camera, etc. Within just a few clicks, you can easily find SSD data back.
Step 1 Run SSD Data Recovery
Double click the download button above to download and install this SSD data recovering software on your computer.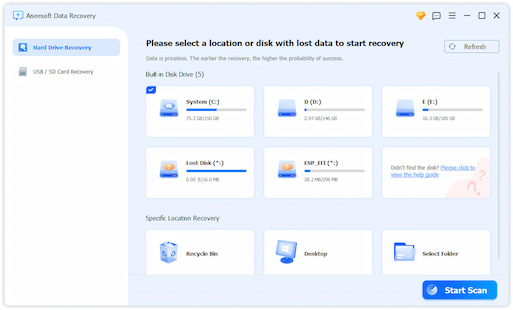 Step 2 Select data type and hard drive
When you enter the main interface, you can see many frequently used data types and drive locations are displayed for you to choose from. During this step, you need to choose SSD and specific data types you want to restore.
Surely you can select all data types. But accurate data type will save your time and let you quickly find your lost files.
Step 3 Scan deleted/lost data on SSD
Two scanning ways are offered by this SSD Data Recovery, "Quick Scan" and "Deep Scan". You can first use the "Quick Scan" to scan your lost SSD data.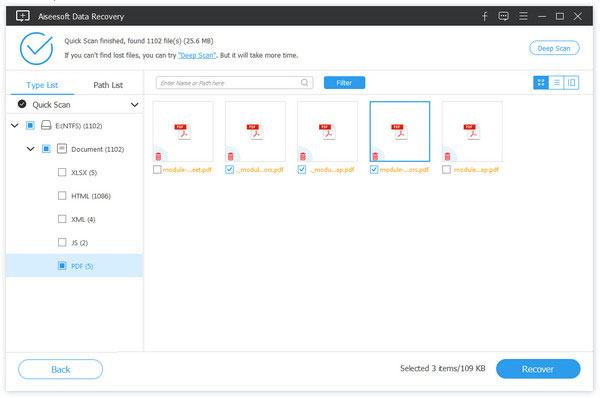 Step 4 Start SSD data recovering
When the scanning process is finished, all missing data will be listed in the interface. To quickly locate the files you want to recover, you can rely on the "Filter" feature. After you select all SSD data, you can click Recover button to start the SSD data recovering.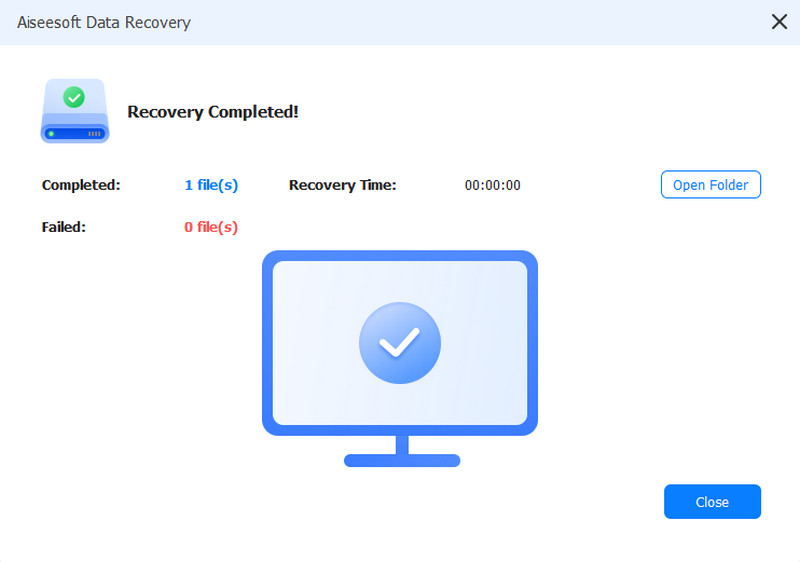 We mainly talk about the SSD data recovery in this post. We give you a basic introduction about SSD. We also show you some common reasons that may cause the data loss on SSD. In addition, we recommend an all-featured SSD data recovery tool to help you retrieve your lost SSD files. If you still have any question, you can leave us a message. Of course, if you have any better solution to recover SSD data, please tell us in the comment.