Best SD Card Recovery to Recover Your Lost Files on Android/Mac
Summary: Mistakenly deleted some important photos on your SD card? How to recover lost data from corrupted SD card? This post will show you some great SD card recovery tools to help you find your valuable files back. Whether you want to restore data from SanDisk SD card, or retrieve files from micro SD card on your Android device, you can find right SD card data recovery software here.
SD card is the helpful digital tool for storing data when you use the camera, or camcorder, even the Android phone. However, accidentally lost photos, videos or other data from your SD card due to the deleted, corrupted, damaged memory card, will panic you, right? If you are reading here. Then you come to the right place now.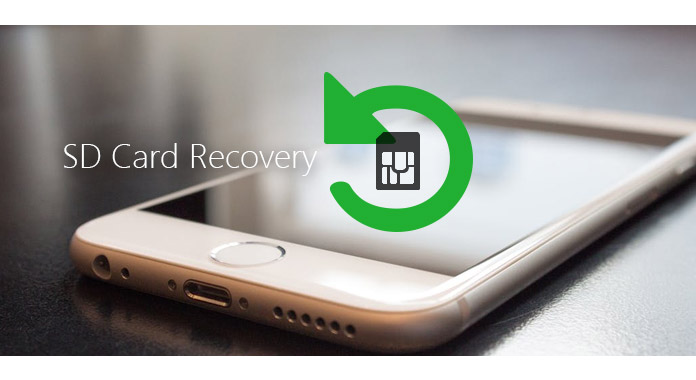 In the following description, we will show you corresponding solutions to help you make SD card recovery. 5 great SD card recovery tools are recommended to recover deleted data on micro SD card. What's more, a professional SD card recovering program will help you find and restore lost files with ease.
Best SD Card Recovery
First, we will show you the professional SD card Recovery, Aiseesoft Data Recovery. As the professional data recovery software, it enables you to easily recover lost files from SD card, even from the corrupted SD card. Surely, it has the capability to make micro SD card recovery, as long as you connect it with your computer with card reader.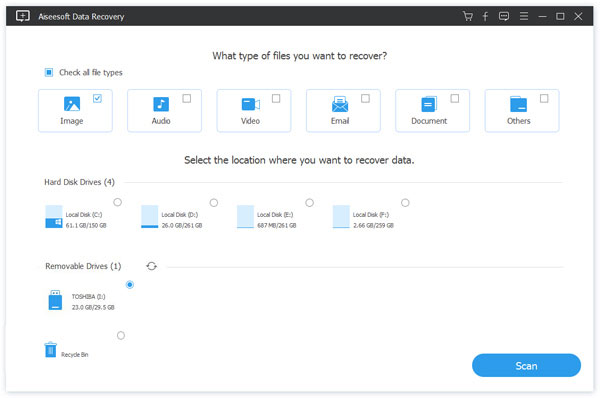 This SD card recovery can recover any frequently-used data type like photos, documents, emails, audio, videos and more. Besides SD card and micro SD card, it also can help you rescue data from computer, hard drive, flash drive, memory card, digital camera, etc. You really should give this powerful data recovery software a try.
Part 1. Best SD card recovery to recover deleted/lost data
This part will show you how to recover lost data with this SD card recovery software. When you lost SD card data, whether on normal SD card or micro SD card for portable device, you can take the following guide to find your files back.
Step 1 Run SD Card Recovery
With the download button above, you should first install this SD card data recovering software on your computer. Run it and connect your SD card to computer. When the SD card is connected, you can click on Fresh icon to ensure the SD card can be detected.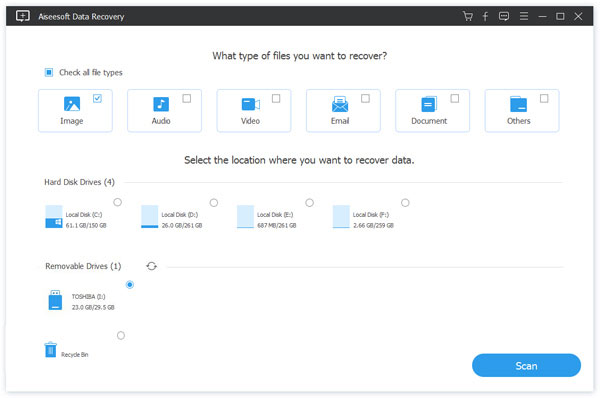 Step 2 Select data type and SD card
To quickly find your lost files, you should select the data type and lost file location. Here the location is your SD card. Make sure you mark the removable SD card device.
Step 3 Scan deleted/lost files on SD card
Two scanning ways are provided by this SD card recovery, "Quick Scan" and "Deep Scan". First, you can choose "Quick Scan" to try finding your SD card data.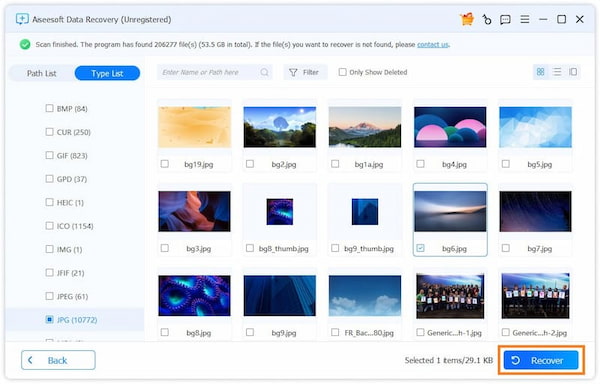 Step 4 Recover lost SD card data
All the lost files will be showed in the interface after scanning. You can use the "Filter" feature to quickly find your missing files. After selecting all deleted/lost data you want to restore, you need to click on Recover button. Then after a while, all the selected data will be retrieved to your computer.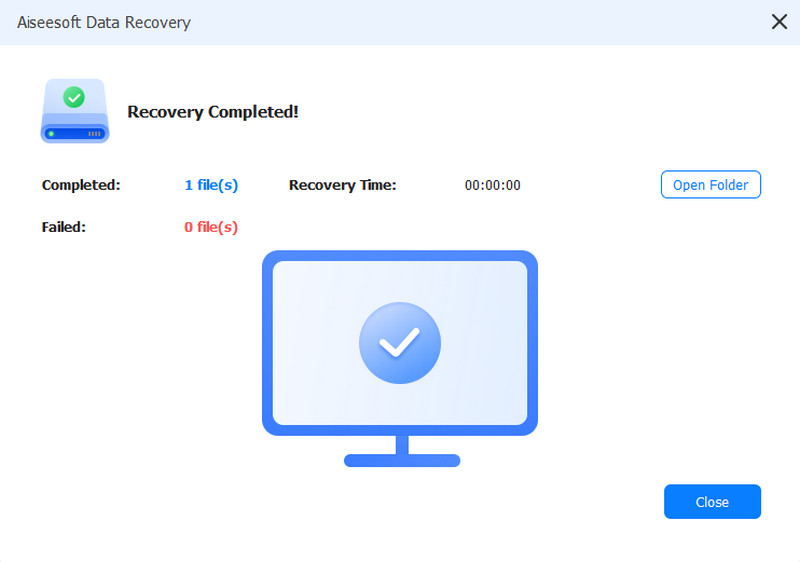 Part 2. Best 5 SD card recovery software (Micro SD card on Android)
No. 1- FoneLab for Android - SD card recovery for Android
FoneLab for Android is the powerful SD card photo recovery software for Android mobile. This tool enables you to retrieve the deleted videos, photos, documents, etc. from SD card to computer.
Platform: Windows, Mac
Price: $39.16
Feature:
1. Recover deleted files like photos, videos, audio, documents like WORD, EXCEL, ZIP, etc.
2. Extract data from Android SD card to computer (Windows and Mac).
3. Preview the data details before you recover from SD card.
4. Compatible with almost Android phone SD card data recovery like Samsung, LG, HTC, etc.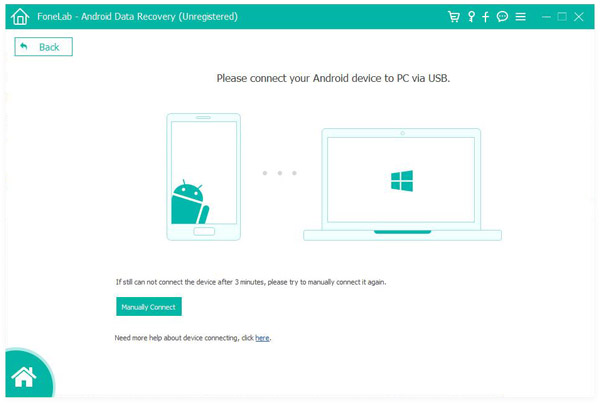 No. 2- CardRecovery - SD card photo recovery software
https://www.cardrecovery.com/
CardRecovery is the photo recovery software for memory card used by digital or phone. This app only works with JPG and RAW-format image files, and video and audio files like AVI, MOV, MP3, etc.
Platform: Windows

Price: $39.95

Feature:

1. It supports almost all memory card types like SD Card, MicroSD, SDHC, CF (Compact Flash) Card, xD Picture Card, Memory Stick, Flash Drive, etc.

2. Recover deleted photos due to formatting or "Delete All" operation.

3. Recover data due to memory card error, damage or corruption.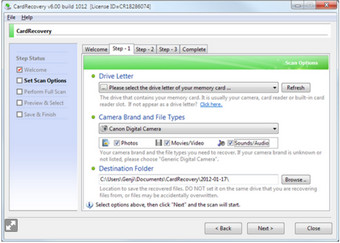 No. 3 - CardRescue - Camera SD card recovery for Mac
https://www.cardrescue.com/
CardRescue is the SD card photo recovery software for digital camera memory cards. This app enables you to restore lost pictures and movies from SD, CF, xD card, MemoryStick and more.
Platform:Mac OS X 10.8 or later

Price:$39.95

Feature:

1. It recovers deleted images like JPG, TIF, and ran image formats like Nikon NEF, Canon CRW, CR2, etc.

2. The software recovers lost photos and videos from phone micro SD and micro SDHC.

3. It lets you get back the deleted photos due to SD card format, reformat, damage, etc.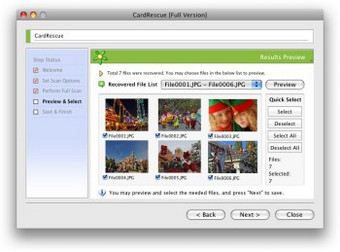 No. 4 - PhotoRec - Free cross-platform SD card recovery
http://www.cgsecurity.org/wiki/PhotoRec
PhotoRec is the mighty but free memory card data recovery app, which recover files from almost any device, whether or not it's mounted with a drive letter, has a partition or is even formatted.
Platform:Windows, Linux and Mac OS X

Price:Free

Feature:

1. It recovers more than 30 types of data like ZIP, Office, PDF, HTML, JPEG, etc. from SD card.

2. It recovers deleted data from from hard disks, CD-ROMs, digital camera memory, etc.

3. It retrieves files from FAT, NTFS, exFAT, ext2/ext3/ext4 filesystem, HFS+, even if the file system is damaged.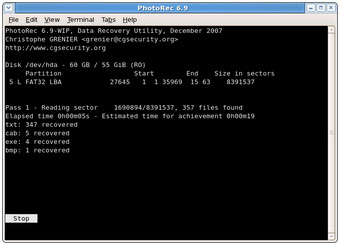 No. 5 - Disk Drill - Free SD card recovery app on Mac
https://www.cleverfiles.com/memory-card-recovery-mac.html
Disk Drill is the free SD card data recovery application for Mac, which will let recover you data from external or internal hard drives, memory cards and just about any formatted or raw, media.
Platform:Mac

Price:Free

Feature:

1. It recovers the deleted data about itself and its properties, like original file name, location, etc.

2. It is compatible with almost SD card like SDHC, SDXC, MicroSD, CompactFlash Cards, XD Cards, Sony Memory Sticks, MMC Cards, and virtually any other card your Mac.

3. In its free version, certain data are disabled such as bookmarks synchronization, folder synchronization, iTunes synchronization etc.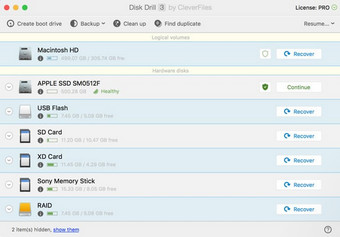 Part 3. How to recover deleted files from SD card
In this part, we will show you the steps of recovering deleted data(photos, videos, etc.) from SD card. Here, you need to download the FoneLab for Android first.
Step 1 Connect Android to PC with SD card
You need to install the SD card to your Android phone, and click "Android Data Recovery", and then plug your Android phone with SD card to computer.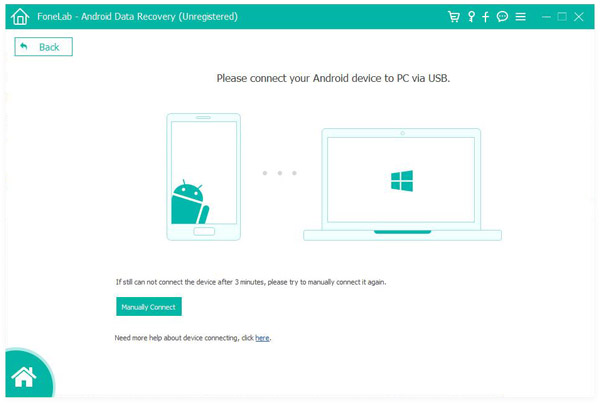 Step 2 Scan Android phone internal and SD card
After connecting your phone successfully, you could select data type to scan. And click "Next" to start to scan your phone and SD card.
Note:For connecting your phone successfully, you need to tap "Trust", and then debug USB mode.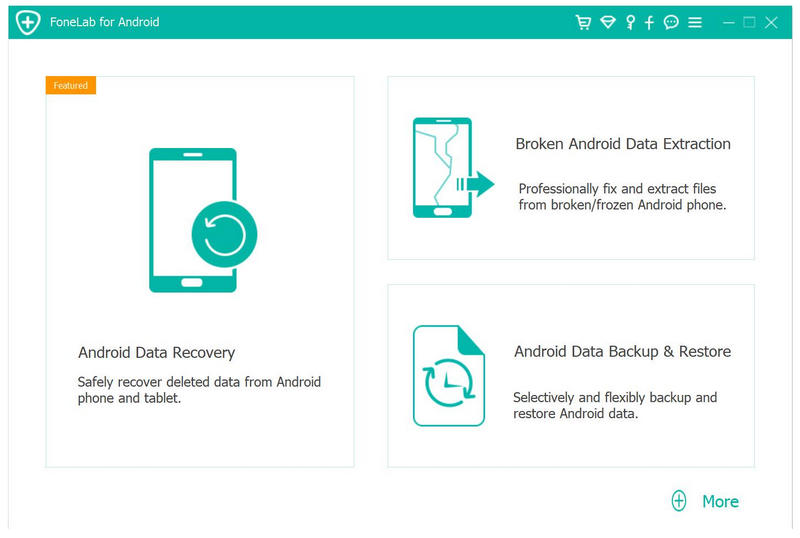 Step 3 Recover data on SD card
After the scanning process is complete, you could click the data type(photos, videos, etc.) on the left sidebar, and view the details on the right window. If you want to save the deleted data to computer, just click "Recover" to save them on your computer.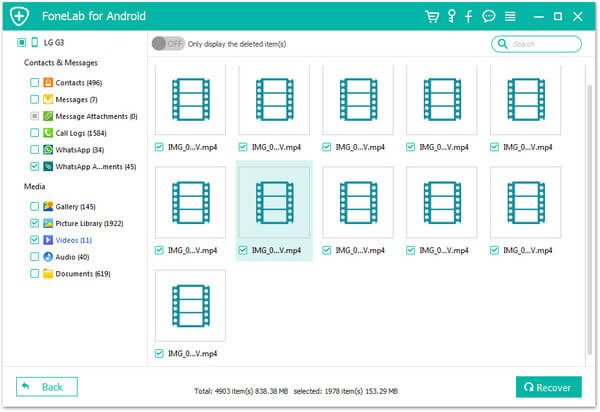 Part 4. How to fix corrupted SD card
Sometimes, the inappropriate operation will lead to your SD card corruption. At that point, you could take the simple solutions as below to fix the corrupted SD memory card.
1. Change another device to connect SD card again.
2. Reinstall the driver.
3. Format SD card to use it as new.
4. Use Sandisk built-in solution.
5. Assign a new drive letter.
6. Try "chydsk" command. Type "chydsk" followed by drive letter, colon and /f at the command prompt corresponding to that SD card and press Enter.
Here the conclusion about SD card recovery will be made here that different SD card data recovery software will help you to find back the deleted files from SD card on Android, Mac or PC. You just find the best one based on your own situations.
iPhone does fail to provide users SD card, but you can still recover the data with iOS data recovery software when your data is lost.
In this post, we mainly talk about how to make SD card recovery. We recommend a powerful SD card recovery to help you recover deleted or lost files from SD and Micro SD card. In addition, we list 5 great SD card recovery tools. You can pick your preferred one to recover missing photos, videos, audios, contacts, messages and more. We also show you detailed steps to recover deleted files from SD card and fix a damaged SD card. If you have any question or better solution, please leave us a message.