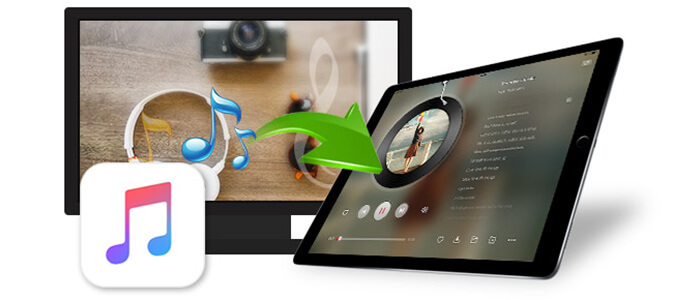 "I have saved over thousand songs on my PC, and prepare to copy some songs from computer to my iPad Air 2. I am not familiar with iTunes, so I really do not want to transfer music from computer to iPad by using iTunes. Is there any better way to transfer music from compuer to iPad?" - Arden
When you want to transfer music from computer to iPad, you may question yourself, "how do I transfer songs to iPad?", "Can I directly download music from computer to iPad?" "How do I copy music from PC to iPad without iTunes?"... A series of questions will arise from the bottom of your heart. Do not worry, this article will answer your questions one by one.
How to download YouTube music to MP3
Before you transfer music from PC to iPad, you must make sure you do have songs on your PC, and make sure the music format is MP3/AAC/WAV/AIFF/ALAC, because iPad only recognizes any one of those audio formats.
What you need:
PC/laptop and Music Downloader
Process of downloading online songs to PC
After downloading this music downloader, install and launch it on your PC.
Go to YouTube, find your favorite music video, play it.
Click "Paste URL", copy and paste the URL into the bar automatically, click "Analyze" to gain the source file info, after successful analysis, you can choose the iPad format from the drop-down list from "Automatically Convert to" at the left bottom > "OK" to download YouTube to MP3.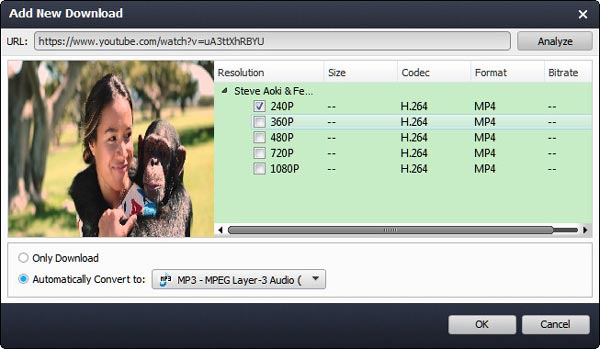 1. This music downloader software enables you to download online music from many sites, like YouTube, Vevo, Vimeo, etc. and save the downloaded files as the audio files.
2. You can use this program to convert YouTube music video to MP3/AAC/ALAC/WMV. If you want to set ringtones for your iPad, you can also choose M4R to create ringtones for iphone or iPad.
3. If you want to get free music from any music sites like SoundCloud, Spotify, Pandora, then you should use the best music recording app for iPad to download music from any sites with MP3 format.
Two Ways of transferring music from PC to iPad
In this part, we will show how to transfer local music files on PC to iPad. If the songs are purchased from iTunes, and only display on your iTunes playlist on computer, not on your iPad, then you could go to visit Apple's page for help: https://support.apple.com/en-us/HT201272.
How to copy music from iPad to computer with iTunes
After you download music from YouTube or other sites, you can start to copy music form PC to iPad. The process of copying music to iPad from PC consists of two procedures. You need to transfer songs from computer to iTunes library firstly, and then move songs from iTunes to iPad.
What you need:
iPad Pro, iPad mini/mini 2/3/4, iPad Air/Air 2
USB cable
PC or laptop
Latest iTunes on PC/laptop
Launch iTunes on your pc while connect iPad to PC with USB cable.
Click the music icon

on the top left menu, click

, on the let bottom to create "New Playlist", which can let you only sync your wanted songs from iTunes to iPad, click

on the right side to add the downloaded songs by dragging the songs from your local disk to the right window, then click "Done" to save the songs on iTunes library.
Click your iPad icon

, on the left top side, click "Music" from the left pane > "Sync Music" > "Remove and Sync" in the pop-up window > "Selected playlist, artist, albums, and genres" > checkmark your created playlist from "Playlists" option > "Apply", then one pop-up note will need your confirmation that if you are willing to erase your iPad music currently and sync with this iTunes library, you just click "Erase and Sync" to copy music from iTunes to iPad.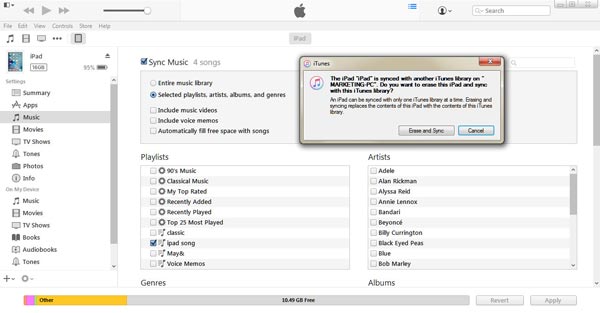 When you use iTunes to transfer songs from computer to iPad, you should keep the following notes in mind:
1. When you put music from iTunes library to iPad, you will delete the existing music on your iPad. So you must be cautious.
2. When you choose playlist to get songs from iTunes to your iPad, you are optional to transfer your music videos, and voice memos from PC to iPad.
How to get music on iPad without iTunes
"Transferring music from iTunes to iPad will delete my songs on iPad originally. I really want that happen, can I use an iPad music transfer tool to help me to keep both songs on my iPad? This is a request from an Apple user. While iTunes cannot meet your full needs, you can turn to a wonderful iPad music transfer, FoneTrans, which is powerful to transfer music between computer and iPad. It can get one-stop service of syncing music from computer 10/8/7 to iPad and keep iPad songs and imported music intact. In addition, it lets you transfer music that iPad cannot recognize from laptop to iPad. Why? Because it can convert iPad-non-compatible audio files to MP3/AAC/AIFF/ALAC/WAV automatically when moving songs. Get the following descriptions to use this software to put music on iPad from your Windows 10/8/7. Firstly free download this music transfer files to your computer.
Step 1 Connect your iPad to the Windows computer via a USB cable. Wait for seconds. Your iPad will be recognized and loaded to the program.
Step 2 Click "Media", and all the multimedia files are classified into different categories. If you just want to view the music files, click Music.
Step 3 Click "Add" > "Add File(s)" or "Add Folder" to choose music files on your computer and load them to your iPad.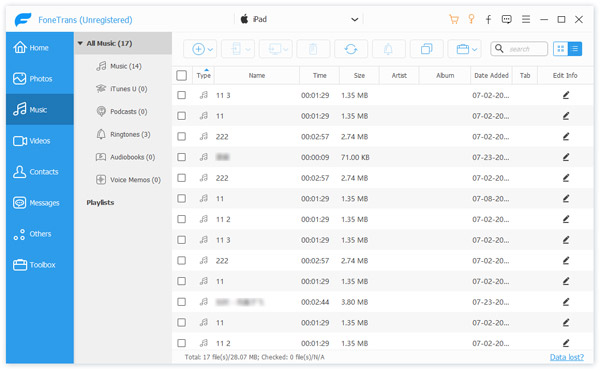 Now you can enjoy these music files on your iPad, if you have a tablet with Android operating system, you can find an easy way to transfer music from computer to Android Tablet.
1. The above way works the same on your iPhone and iPod. You can transfer music to iPhone in this way.
2. Not only transfer music from computer to iPad, it also lets you move iPad music to iTunes/Windows computer directly by click "Export to" > "Export to iTunes Library"/"Export to PC".
3. Beyond music, other files, like contacts, photos, books, SMS, books, and more, you can get an easy transfer and management.
The above ways of transferring songs from computer to iPad are helpful for you? If you run Mac, you can learn the way here to transfer music from iPad to Mac.