How to Transfer Android Music to iPhone
Have the need to transfer Android music to iPhone? If you are a new iPhone user and want to copy your favorite songs from the original Android phone to iPhone, you may feel hard to use iTunes. You can directly drag songs to iPhone. This post will show you the best way to transfer Android music to iPhone.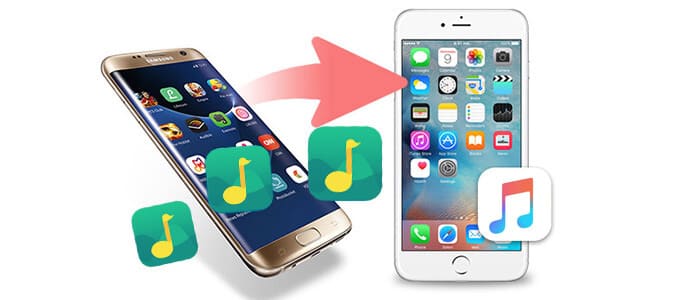 If you have changed your Android phone to an iPhone 5/5s/6/6 Plus, do you have music files you would like to transfer from the Android phone to iPhone? If you are looking for a convenient method to do this, search no more. In this article, you will learn how to transfer tons of music files from an Android device to iDevices. What we need is a phone transfer PC program called FoneCopy.
FoneCopy is specifically designed for iOS and Android device users to transfer phone files such as contacts, photos, music and other media files.
Follow these steps to transfer music from Android devices to iPhones.
Step 1 Download FoneCopy
Download and install FoneCopy on your PC. Run the application.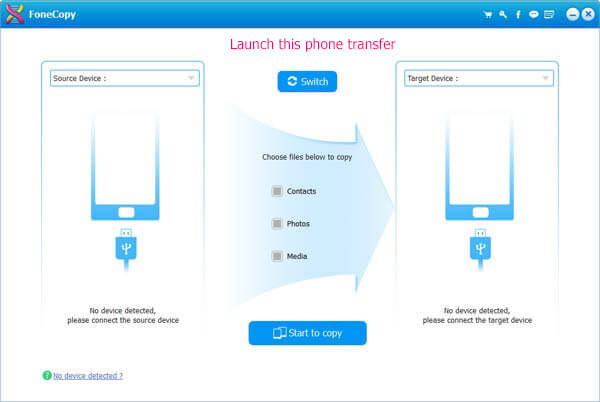 Step 2 Connect devices
Connect your Android phone and iPhone to your PC.
Step 3 Trust your Devices
Note that the devices' drivers might be required before communication can be established between your devices and PC. Also, "USB Debugging" must be enabled on your Android device. Follow the images below to enable "USB Debugging" mode.
Note that USB drivers for each device on your PC may be required.
For Android version 2.3 or earlier: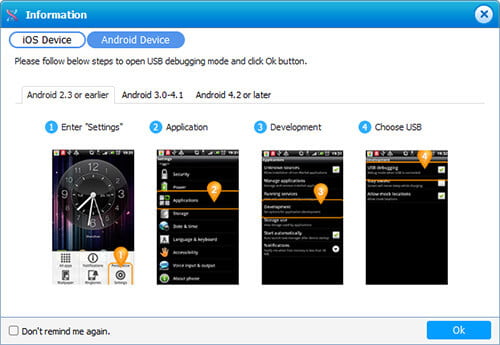 For Android versions 3.0 – 4.1: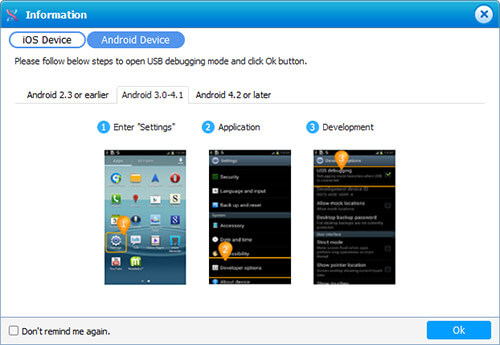 For Android version 4.2 or later: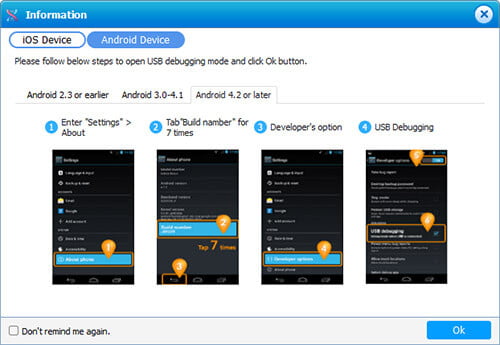 Click on "Ok".
The iPhone also needs to be trusted.
A pop up message will be displayed on the screen of your devices like the one in the image below. You have to tap "Trust" to continue. Make sure you unlock your device to see this message.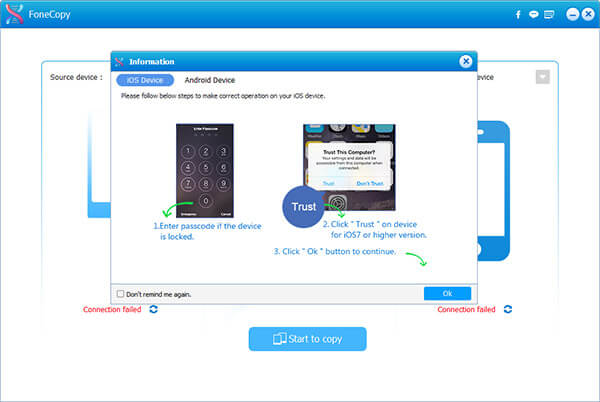 Click "Ok" button on your PC to continue.
Step 4 Start to transfer
By now, if the steps above were done correctly, you should have this display on your PC.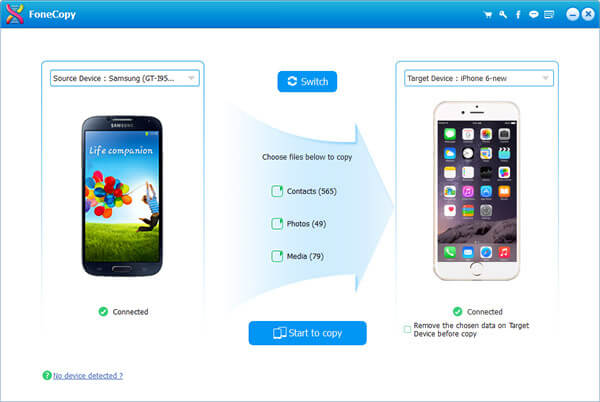 Your devices should now be connected. Make sure that the Android device is on the left so that the iPhone will be on the right. If it's not, click Switch to change their position.
Tick the "Media" check box and then "Start to copy" button. The music files, along with other media files, will be moved from your Android phone to iPhone within few minutes. Also, you can select "Photos" to copy Android photos to iPhone.