How to Transfer Android Contacts to iPhone
As an Android user, if you are going to change your Android phone to iPhone, the most important thing you should consider is the contacts in your old Android phone. All the time, people are searching for the best solution to transfer data from Android to iPhone, and it does have many ways to achieve that like transferring through iCloud. However, considering the convenience and safety, many people are more willing to find an alternative app or some easy ways.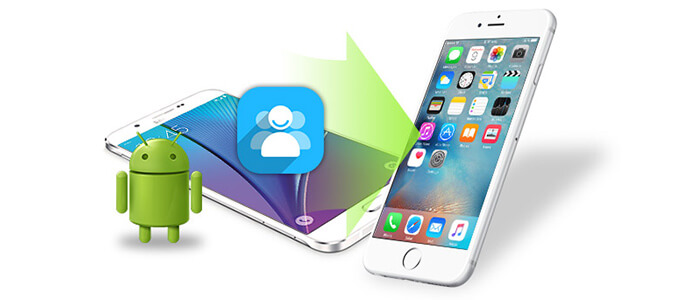 What's more, now copying or transferring your contacts from Android to new iPhone can be much easier than before. However, after reading this article, you will learn other simple methods to solve your problems.
Transfer Contacts from Android to iPhone via iCloud
If you want to move contacts from Android to iPhone through iCloud, you will want to know this method.
Step 1 Export contacts from Android devices
Tap the Contacts on your Android device and the bottom will come out "Export/Import" after tapping the Menu of your phone. Then you can choose "Export to SD card" and the vCard file (VCF) will be stored to your SD card.
Step 2 Transfer vCard file to your computer
Connect your Android phone to your computer via USB cable or plug your SD card to your computer and you can copy the VCF file to your computer.
Step 3 Import Contacts to iCloud
In this step, you need to access your iCloud from any browser that have internet connection. If you don't have the iCloud account, you can register one. Then you can login to your iCloud account with username and password. After entering the iCloud, just click the big Contacts icon and you can see a small gear icon on the bottom. Click it and choose the "Import vCard". So, choose the 0001.vcf that you just export into your iCloud. But, here. you should note that vCard import limits:Total number of vCards: 50,000, Maximum size of a vCard: 256 KB (photo + text), Maximum photo size for a vCard: 224 KB.
Step 4 Sync iCloud contacts wo iPhone
After you putting contact on iCloud, restore contacts from iCloud to iPhone. This method to transfer Android contacts to iPhone is a little time-consuming, but it is a free way.
Transfer Contacts from Android to iPhone with Gmail
If you have a Google account and want to adopt this way to copy your contacts from Android to iPhone, you must make sure you did copy Android contacts to Google first. Once you know it, the following step will be quite easy.
Step 1 Open your new iPhone
Step 2 Make the settings
After opening up your new iPhone, go to Settings > Mail, Contacts, Calendars and then tap Add Account. From these, you just choose Google. Now, you need to sign in your Google account and ensure that Contacts is enabled. Then you will find that all of your Google contacts that you want to move to iPhone are in your new iPhone.
Transfer Contacts from Android to iPhone without Gmail
If you do not back up Android contacts wit Gmail, hten eere, you are recommeded to learn export contacts from Android to iPhone with a Contact Transfer App. This program can support Android devices like Samsung Galaxy Note 6/5 /4/3/2, Galaxy S7/S6/S5/S4 edge, Sony Xperia Z5/4/3/2, Huawei Ascend P9/8/7/6, Mate 8/7/6/5, G8/7/6, etc. and iPhone devices like iPhone SE/6s/6s Plus/6 Plus/6/5s/5c/5/4S/4/3GS.
Step 1 Download and install
Download, install and run the Contacts Transfer Utility on your computer.
Step 2 Connect your Android phone and iPhone
After launching this app on your computer, you need connect both Android phone and iPhone to the computer via the USB cable. The software will recognize your Android and iPhone fast and load your info on the interface.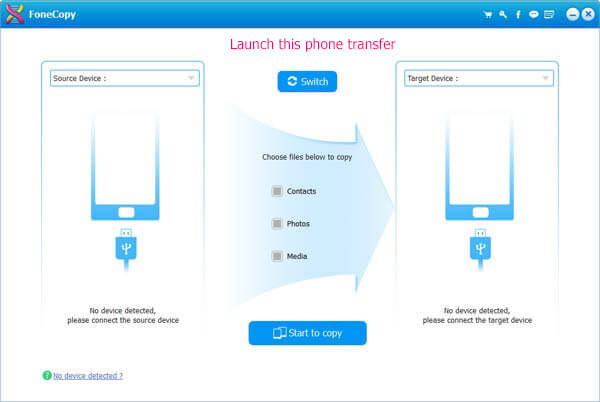 Step 3 Set the source and target device
After connecting the two phones, make sure the Android phone and iPhone on the right places. If the software recognizes the iPhone and Android at the wrong place, just click "Switch" button to change the place. The software will copy Contacts from the left Android phone to the right iPhone.
Step 4 Start to transfer Contacts from Android to iPhone
Here you can see there are 3 kinds of data you can export from Android to your iPhone. If you only want to move contacts from Android to iPhone, you can only check the little box before the "Contacts". In this step, you will note that there is a box on the bottom of the right corner. If you want to save the old contacts on iPhone after transferring, then you can't check this box. After that, you can click "Start to Copy" button. You will transfer contacts from your iPhone to Android soon.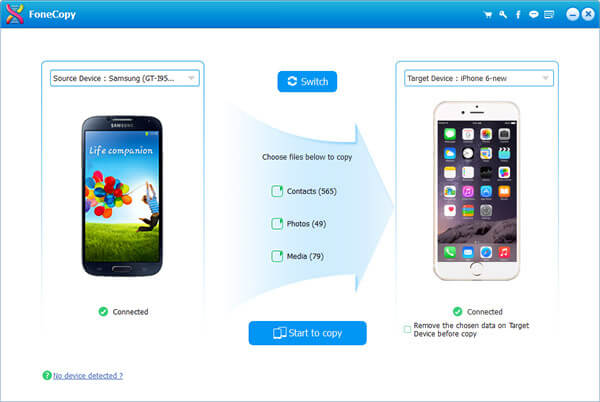 Waiting several seconds, you will export the Contacts including the phone number, contacts' names, Email, Addresses, and Notes in your Android phone to your new iPhone losslessly.
With the help of this program, you can simply sync contacts between iPhones if you plug two iPhones to your computer. What's more, this software can move all contact details such as emails, websites, contact photos, addresses, phone number types, and notes from Android phone to your new iPhone.
About both ways introduced above, you can choose one based on your requirement. If you have the Gmail and want to transfer Android Contacts to iPhone with it, you can follow the method of Gmail. However, with this way, you may take potential risk because all of your contacts and other information will be saved on this account. While if you want transfer contacts from Android to iPhone simply and conveniently, Just choose the Contact Transfer App. Compared the two ways above, using the Contact Transfer Utility will offer you the easier and safer way to move your data from Android phone to your iPhone.