Best App Locks for Android You Can Use
We have privacy messages, contacts or other personal files. Also, you may store tons of photos or video and don't want other people to access them. You may want to lock the significant information in case of data leakage. Different with iOS devices, where you need to be jailbroken to lock apps with Touch ID, Android smartphones may need you to download applocks for app security, which enable you lock one particular or apps via PIN, a password , fingerprint scanner or some really special ways.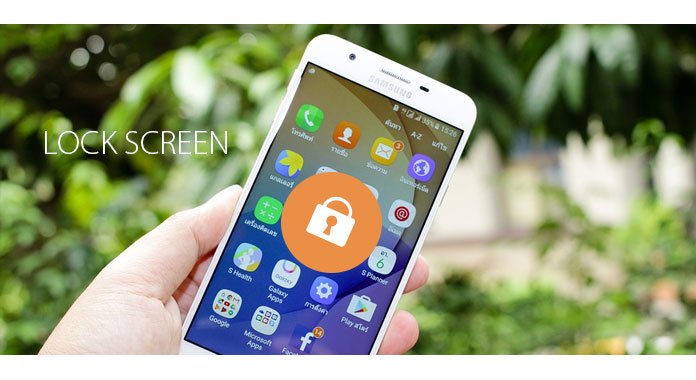 The applock takes a greatly important role for app and data security. This feature protect your privacy messages, contact, gallery photos, banking apps from prying eyes. As there are so many Android applock applications overrunning the Google Play Store, which ones are worth downloading and using? Carefully read this article and find a best app locks for Android.
You will also like reading: How to Carrier Unlock Android Phone.
Part 1. 5 Best app locks for Android
In this part, we would like to show you 5 app locks for Android for you to choose from.
1. Applock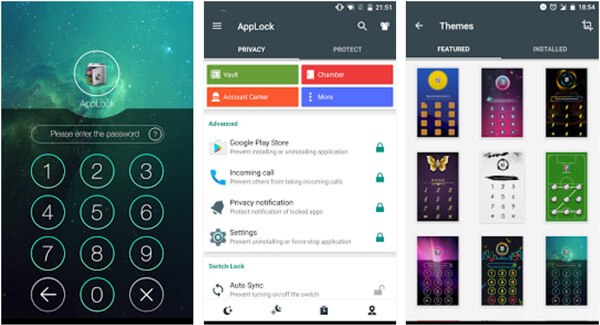 Applock is totally one of the most popular app locks for Andorid out there. Besides basic features like other locking apps, Applock enables you to lock up particular photos and video files. In addition, Applock has uninstalling protection and it supports fingerprint. You can even lock other information like Bluetooth, incoming calls and uninstalling applications. Applock is a free application for you to download from Google Play. But you need to pay for premium version for the ads removel. Applock is a really useful app locks for Android.
2. AppLock – Fingerprint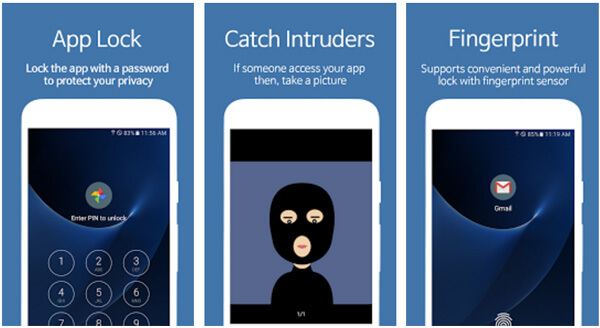 AppLock - Fingerprint is another free app locks for Android with in-app purchases. It has numbers of great features like fingerprint scanner support and PIN support. Also, you can set different passwords special for different applications. In addition, you can set up profiles and ensure the app locks activations at a certain time, or just via Blutooth connection and WiFi network. You can personalize the lock system settings, rotation and home screen as well. AppLock- Fingerprint has advertisements but you can remove them via an in-app purchase. Overall, AppLock - Fingerprint can be a good app locks for Andorid.

3. Vault
Vault is an great Andorid applock that provides lots of functionality for app and information security. Vault can help you lock text messages, videos, photos, contacts, call history, and other information. In addition, Vault provides you with a privacy browser and cloud backup for you to protect SMS and data transferring services. This applock can create fake vaults that are able to confuse those who want to snoop, and offer a hidden mode for other to harder to locate and break in. Vault can be a good app locks for Android.

4. App Locker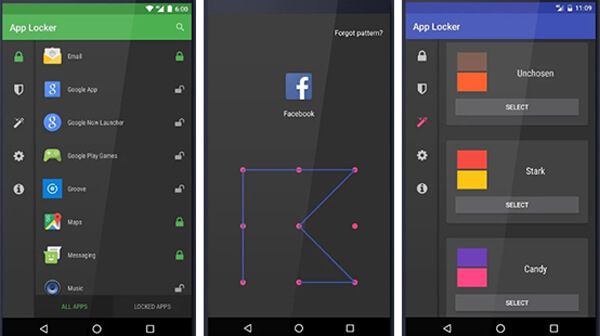 App Lock is an easy app locks for Android but it works very well. App Locker is able to support pattern and fingerprint locking. It has the basic features like keeping setting and apps in a safe mode, and protecting your photos and videos as well. App Locker follows the Material Design guidelines well. The user interface looks great and there are multiple themes for you to choose from. The developers do warn that it might not work on some Huawei and Xiaomi devices so do beware of that. Additionally, thieves can bypass this given enough time.

5. Smart AppLock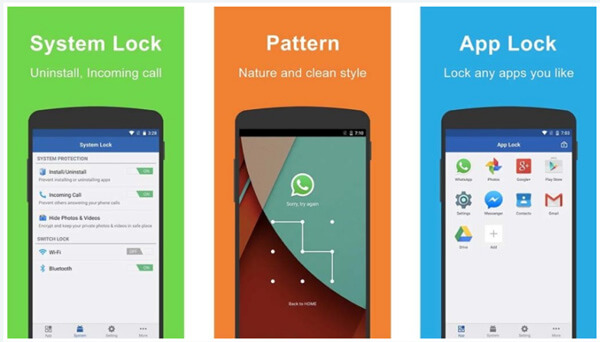 As another useful Android app lock. It has decent user interface. Smart AppLock is able to lock up your application on Android device. It can protect your settings, phone logs and toggles to keep all information safe. Smart AppLock disguises itself as a lock screen to make people think they've been bounced back from the home screens. Besides, this application offers auto-start upon reboot, delayed app locking, break-in alerts, and fingerprint scanner support for Samsung smartphones. But this app lock has a drawback that it can be easily uninstalled.

Part 2. Other app locks for Android
| No. | Screenshot | Keyboard App |
| --- | --- | --- |
| 1 | | |
| 2 | | App Lock: Fingerprint Password |
| 3 | | |
| 4 | | |
Bonus tip: Best way to recover Android files
FoneLab for Android
FoneLab for Android is the professional Android data recovering tool, which fixes disabled phone to normal and recover deleted data from Android phone.
Recover deleted or lost data from Samsung phone.
Rescue data from password-forgot, disabled phone.
Fix system crashed phone to normal.