5 Best Free Equalizer Apps to Better Enjoy Audio
As more and more of people are using smartphones and PCs to enjoy the audio. Free equalizer app should be the best choice to fix or improve the music quality that you hear in your smartphones and PCs. Apart from the wonderful presets with these free equalizer applications, they also help to customize the audio in your phone. Go through this article, you will know the top 5 free equalizer apps for Android as well as the best music and sound equalizer for Windows. Just find out the best app to suit your device.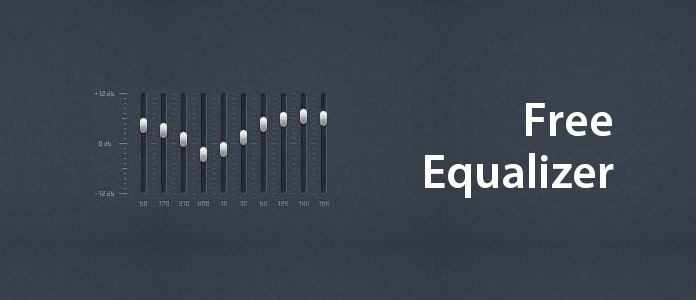 Part 1: Top 5 best free equalizer app for Android
Equalizer

Equalizer is a reliable but older option among these free equalizer apps for Android. It is an easy to use equalizer that equipped with some custom presets, including an improved bass boost, 3D surround sound, a sound amplifier and its 11 presets (Normal, Classical, Dance, Flat, Folk, Metal, Hip-Hop, Jazz, Pop, Rock, and Latin). In its free version, so you will enjoy a wonderful listening experience in your Android device. And those custom presets are easily to save, edit and delete. What is more important, you do not have to root the Android in order to use the free equalizer APK. If you want to access all its best features, you will need to buy the pro version.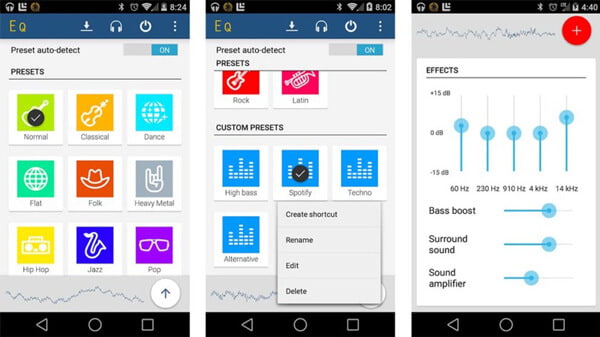 Equalizer FX

Equalizer FX is a free equalizer app for Android with relatively clear and modern design. The background of Equalizer FX is clean and comfortable to use. It involves 12 presets, like most, as well as widgets and some useful tools that offer amazing listening experience. In addition, it allows you to add equalizer widget to your home screen, making it easier to use. But the latest version does not work with FM radio now. All in all, it's a positive experience. And the paid version removes ads.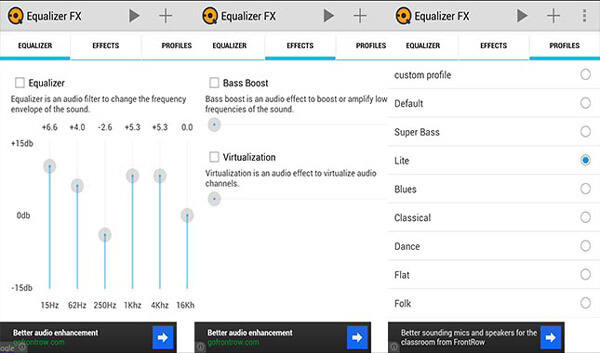 AnEQ Equalizer Free

If you are an amateur or beginner who use equalizer first time, AnEQ Equalizer Free is the best choice for you to easily manipulate. It is a free and professional equalizer app to add a bass boost and virtualizer. It has both a free version and a paid one, with the difference being nothing more than ads. The free equalizer app for Android provides a powerful 5-band Equalizer, allowing you to create, store and manage custom EQ presets easily. What is more, you can also combine it with media player like rocket. It works pretty well, so just enjoy the program with your Android tablets now.
Equalizer and Bass Booster

Equalizer and Bass Booster is a free equalizer app to improve Android sound and music. It lets you adjust sound effect levels that you can get the best audio and music from your Android phone. There is a five-band equalizer helping you to strengthen or weaken the frequency of your sound. 10 presets give you an awesome listening experience and the bass booster enhance the bass effect on your music. While you are listening with equalizer application, turn on the visual full screen version, you will find the effect impressive. And it supports most of the music players and all types of headphones can work with it.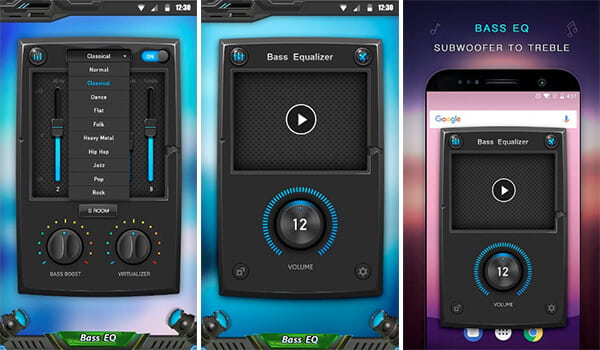 Music Equalizer

Music Equalizer is one of the highest rated apps among these free music equalizer apps for Android. It has a 5-band EQ controller, a bass booster, 10 presets, a 4x1 widget, notification shortcut available for quick access and so on. And Music Equalizer app also has virtualized effect, lock media volume, volume slider, work with most play sand with streaming music to let you enjoy yourself. Like most, it allows you to create your own custom presets with those useful tools. You can get one for free to improve the quality of the sound in your phone or tablets. You can also buy the paid version that removes ads to enjoy a better experience.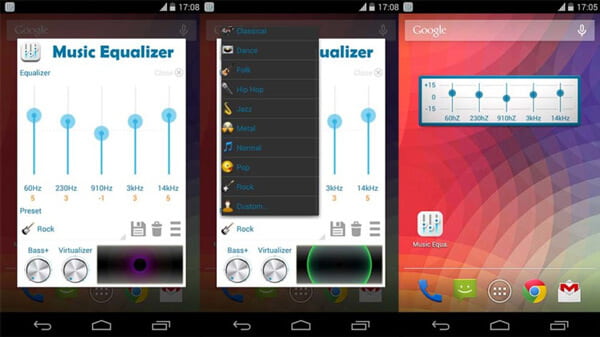 Part 2: Best music and sound equalizer for Windows
Video Converter Ultimate is an equalizer app for both Windows and Mac. It is able to external audio track and multi-audio track, add external subtitle to video, improve video quality and video visually energetic, and reduce video shaking to stabilize wobbly sound and audio. What is more, rotate and flip videos to the right angle, support HD/4K UHD and 3D converting. Now it supports all encoding formats, including H.265/HEVC, H.264, MPEG, Xvid, VP8, VP9, etc. It should be the best music and sound equalizer for Windows.
How to use free equalizer program
Step 1 Download and install equalizer app
Install the latest version of Aiseesoft Video Converter Ultimate on your computer. And then register the program if you have already purchased the software.
Step 2 Add music files to the program
Click "Add File" button to load music file to the equalizer app for Windows. Choose the output format from the "Profile" list. You can click "Browse" button to check the best format to your device accordingly.
Step 3 Equalize the audio format
And then you can click Setting to equalize the audio format, the Equalizer is able to adjust the audio codec, bitrate and other parameters in order to output the best audio file.