Best 10 Online Video Editing Tools to Create Video Online
As more and more people like to post videos to their social network, they may need to find an easy-to-use video editing tool to do some basic functions of video edit. Since like lots of users, you are not professional video editor, so you may not need the professional video editing software, in this case, online video editing tool would be most suitable for armatures as you can easily upload the edited video to your social network. In the following, let's check 10 free online video editors which can offer you simple but powerful editing functions to create customized videos.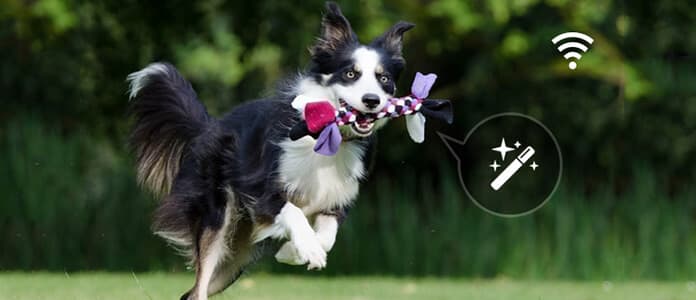 PowToon
www.powtoon.com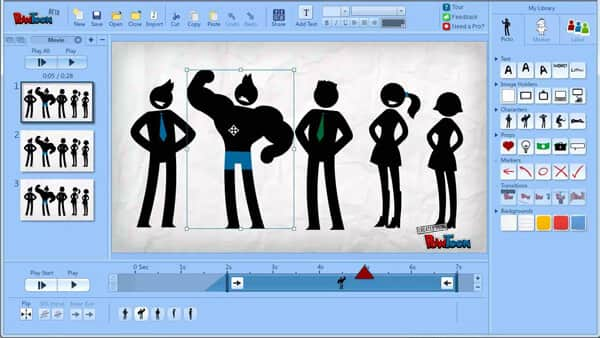 PowToon is a free online video editor to help your create animated videos and presentations. It offers lots of templates to make it easy for everyone to make animated videos. Although you can use PowToon to make attractive animated videos, you cannot get a watermark-free edited video for its free version.
Key Features for free version:
➤ Offer animated charts and graphs, 46 royalty free music and 11 royalty free styles;
➤ Watermark cannot be removed with basic video quality and resolution;
➤ Just offer 100Mb storage and without full privacy control settings;
➤ Export to PDF and PPT, but cannot download as MP4;
➤ Not support collaborating with other users and max length is up to 5 minutes;
➤ Without commercial rights and 24/7 premium support;
➤ Business and pro version can offer more functions.
www.wevideo.com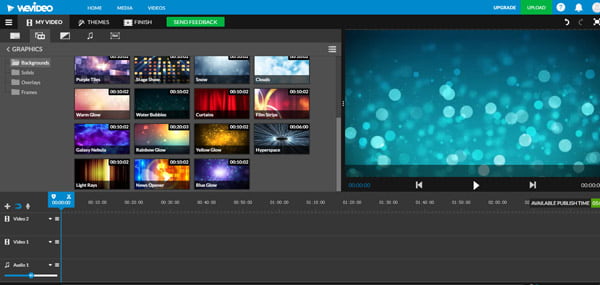 WeVideo is a powerful and easy-to-use cloud-based collaborative video editor to let several people working on a project at any given time. Since it has a simple interface with advanced video editing features like scene transitions, motion effects, green screen and more, you don't need to be a professional to make great movies.
Key Features for free version:
➤ Provide 1GB cloud storage and 5 minutes every month publish time;
➤ Output edited video resolution up to 720p;
➤ Only offer 22 songs on music library;
➤ Edited movies can be downloaded to computer;
➤ Not support watermark removed, customized watermark, advanced editing features, screen recording, email support and call-to-action;
➤ Offer Flex, Personal and Unlimited version to have more functions like priority processing, multi-user collaborating, etc;
➤ iOS and Android video editing version available.
Video Editor
www.youtube.com/editor/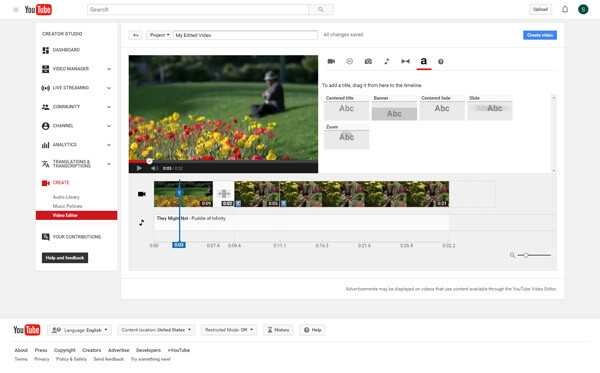 If your videos are mostly uploaded to YouTube, you would love to use YouTube own Online Video Editor. This online movie making tool offer you a lot of great features like video trimming, multi-video combining, music and special effects adding, etc.
Key Features:
➤ Combine with video manager to let your manage video files on your YouTube account;
➤ Support adding photos to the editing video;
➤ Offer royalty free music and transition to make video more interesting;
➤ Simple title effects and timeline editing functions available;
➤ Offer split video clips on the timeline.
Magisto
www.magisto.com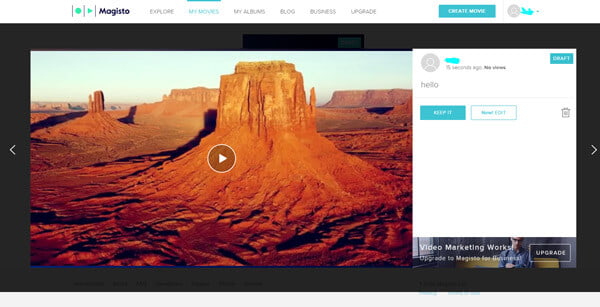 Magisto can make your videos and photos into your personalized movies. You can easily add music, themes and effects to your video clips to create a great movie and share it with your family and friends. This online video editor also has download version for iOS and android system.
Key Features for free version:
➤ Support up to 10 videos and 10 photos per movie without exceeding 1000MB and 15 minutes;
➤ Offer limited number of editing styles and soundtrack music options;
➤ Upload your own music as soundtrack is also available;
➤ HD downloads, logo and text adding, custom branded colors and fonts, high quality stock footage, business editing styles available on higher version;
➤ Provide upgrading to premium +, business, marketers versions.
Wideo
wideo.co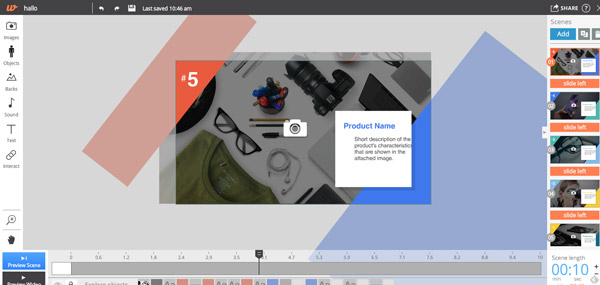 Wideo is another online animated video creation platform which aims on helping people to make professional online videos. Even though you do not have any video editing experience, you can still use Wideo to achieve high-quality animation within minutes. What you need to do is just register for a free account.
Key Features for free version:
➤ With clean interface which allows drag-and-drop technology;
➤ Offers media libraries, backgrounds, animated effects and music with limited quantities;
➤ Share new edited animated video to YouTube, Facebook and Twitter;
➤ All the functions can be tried for 7 days;
➤ Support upgrading to Pro, Agency or Premium version.
VideoToolBox
www.videotoolbox.com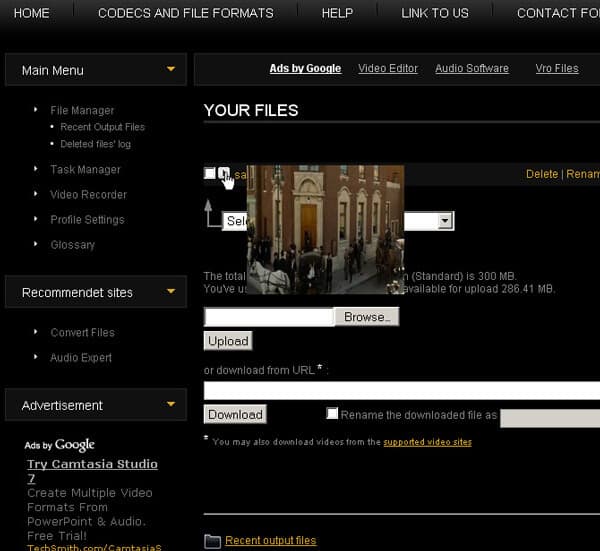 VideoToolBox is an online video editing app with a totally free advanced file manager which can help you upload to video streaming sites. It would be very easy for you to edit some social network videos without first downloading to your own computer.
Key Features:
➤ Support processing video files up to 600MB;
➤ Convert video files to popular formats, such as MP4, MPG, VOB, WMV, MOV, AVI, etc.
➤ Offer adding text watermark, cutting, cropping, merging video clips functions;
➤ Extract video, audio or subtitle text from a file;
➤ Be capable of recording video from webcam or other movie device.
MovieEditor
www.creaza.com/movieeditor/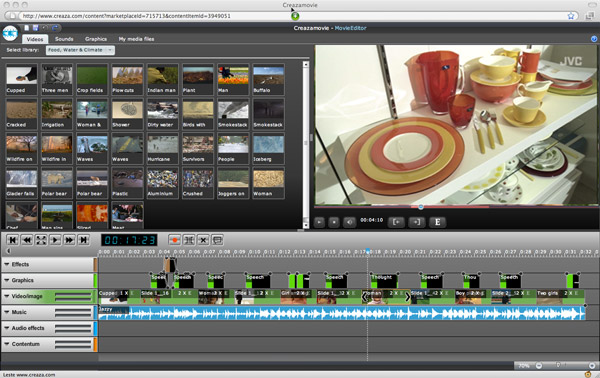 MovieEditor is an online video editing tool to make movies with titles, transitions, effects, animation, music and narration. It is also a timeline-based video editor with a similar interface to the traditional desktop-based video editing programs.
Key Features:
➤ Support uploading any format of video and audio file;
➤ Use multiple audio and graphics tracks on top of the video track;
➤ With advanced effects, animated titles and transitions functions;
➤ Export edited video clips to MP4 format.
Shotclip
www.shotclip.com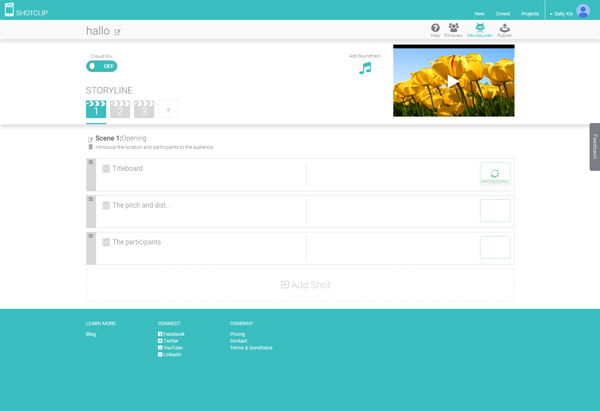 Shotclip is a social movie maker which can let you make movies by yourself, with friends or with a lot of people together. You can invite friends to collaborate and make movie together from all your friends' video clips. This online social movie editor also has iOS and Android app version.
Key Features for free version:
➤ Offer 5 Renders/month with film crew size up to 5 persons;
➤ Support output video resolution for 1080p after editing;
➤ Watermark and logo cannot be removed;
➤ Premium, event and partners version is available.
Kizoa
www.kizoa.com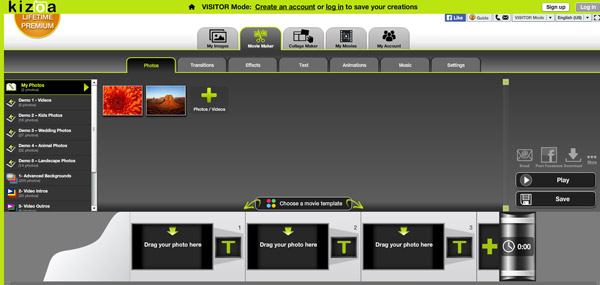 Kizoa offers an online video editor which also can be called as movie maker and slideshow creator. It can put photos, videos and music together and share the edited video through email, download as video or burn to DVD for preservation.
Key Features for free version:
➤ Offer dozens of templates and all of the templates are customizable;
➤ With hundreds of effects and animations;
➤ Support still or animated text adding and GIFs adding and creating;
➤ With 1GB storage space and download movies up to 1 minute in 600p resolution;
➤ Premium VIDEO, Premium DVD and PRO version is available.
Loopster
www.loopster.com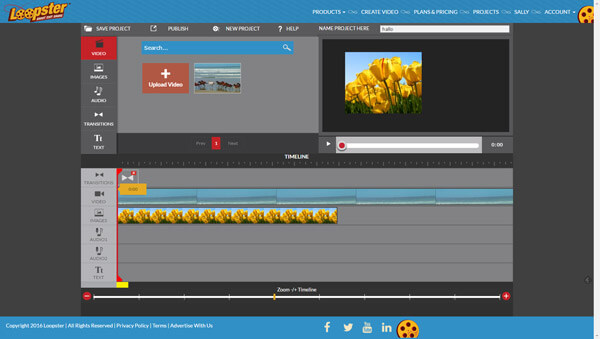 Loopster is an easy-to-use online video editor which offers to professional and amateur filmmakers. It is cloud-based online video editing software that can assist you to edit video clips by splicing footage, adjusting angles and adding music and sound effects. This online video editing program also has iOS and Android version.
Key Features for free version:
➤ Support collaborating movies with users with intuitive interface;
➤ Offer interactive tools and 600+ free sound effects;
➤ With 1GB cloud storage and 1GB max upload file size;
➤ Output edited movies up to 480p resolution and 10 minute timeline;
➤ Loopster watermark and intro trailer cannot be removed;
➤ Plus membership, movie producer membership, education package, business package is available.
No matter you are a start-learner or a skilled video editor, the above free online video editing software can help you while doing some simple video editing or sometimes some advanced editing before sharing with your friends and family.