Get Best 8 Video Editing Software to Make Your Own "Hollywood" Video
Summary: What is the best video editing software for PC? Find the answer in this page to select the best one and start to edit your video.
Feel amazed by the super video vision in Hollywood movies? Do not envy. You can also edit your video effects to create an admirable video with the best video editing program.
The question is what can be regarded as the best video editing software? Just as the proverb says, "What is suitable is the best." So you should find the video editor according to your needs from the best 8 video editing software.

Best Video Editing Software for Windows and Mac
Part 1. What makes the best video editing software?
If you only want to edit your video to get simple effects, then you will not select Pinnacle Studio 16 Ultimate, AVS Video Editor, or Adobe Premiere Elements 11 with huge of money to get the difficult editors.
If you want to edit video on Mac, then you will not download Windows Movie Maker for cropping. Different editing software functions differently.
Though the reasons for picking up the best video editing software are different, we still gather the basic points that massive users cannot miss when she or he edits a video file:
1. Support various formats for importing the editor. Like MP4, MOV, ASF, AVI, MP2, MP2V, MPE, MPEG, MPG, MPV2, WM, WMV, MKV, and more are the common formats that should be acceptable for a video editing app.
2. Various formats that can be used to save the exported video file, like WMV, MOV, AVI, MP4, M4V, ASF, FLV, etc.
3. Edit background audio and subtitle. The background audio or subtitle will be the point because it will make your video understood by others.
4. Basic editing features like clip, crop, watermark, rotate, and combine, should become the must-have points for editing.
5. Adjust video effects like video saturation, contrast, brightness, etc. Such adjustmens will make your video file create a special effects.
6. Interface should be as easy as possible for beginners.
7. Advanced editing features like audio equalizer, plenty effects like blur, sharpen, gray, sketch, canvas, mirror, sculpture, emboss, etc.
8. Share the output video online directly.
Part 2. What is most widely used video editing software? (8 options)
For getting the best editing software for you, we list best 8 video editing software, which are either free or good but costing, and either professional or costing but easy to use software for your reference in the following description.
TOP 1. Video Converter Ultimate – Most recommended video editing software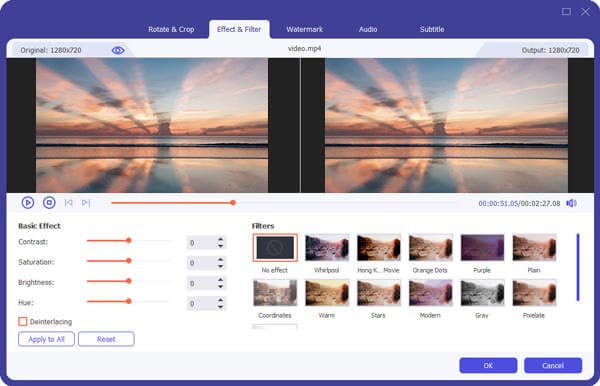 Price: $34.30
Platform: Windows, Mac
Video Converter Ultimate
For Mac
It supports over 300 formats for importing and exporting.
Its intuitive interface focuses on editing video with the easiest and clearest operations.
It supports any video (HD and 4K are included) for inputting and outputting.
Rotate in 90 clockwise/counterclockwise and flip video vertically and horizontally.
Trim a video into parts, and merge parts into one new video file.
Pan and zoom for video to get a close-up or get rid of letterbox.
You can add text or image to make your video logo.
The effects function enables you to adjust video or audio for getting a horrible or nostalgic video file.
It can be as the 3D video editing software to turn 2D to 3D for watching with VR helmet.
You are optional to convert your video file to animated GIF for entertainment.
Reduce video shaking, remove video noise, adjust the video brightness, contrast, etc. automatically.
Step 1. Launch Video Converter Ultimate on your computer. Then, Click Add File or directly drag multiple video and audio files to this program.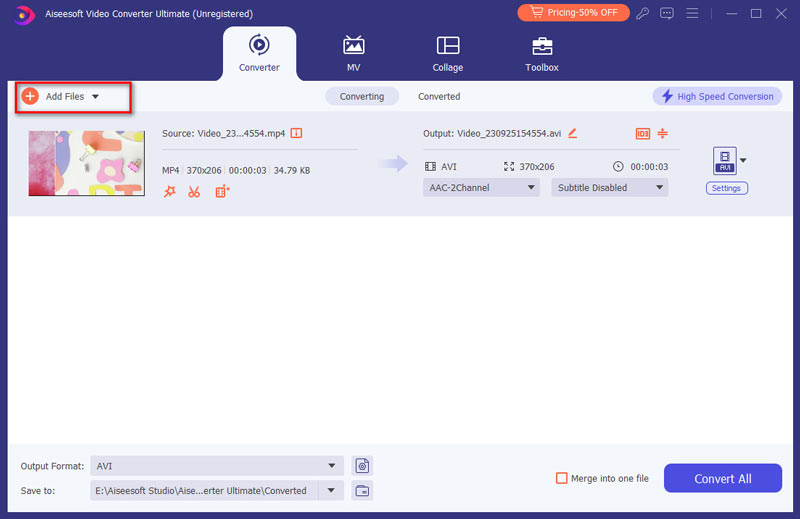 Step 2. To edit the video, click the edit icon.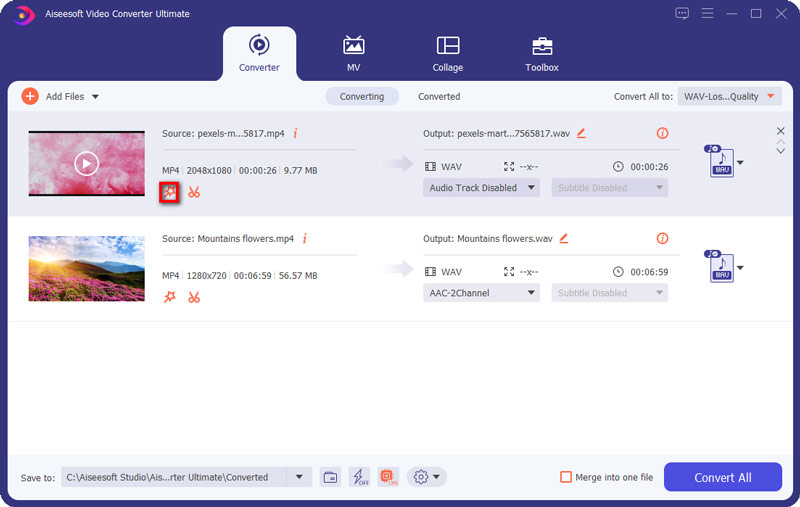 Then, you will enter into the Edit window. Here you are provided with five options to edit your video.
In the Rotate & Crop tab, you can flip video vertically and horizontally, rotate 90 degrees, rotate 180 degrees or rotate 270 degrees.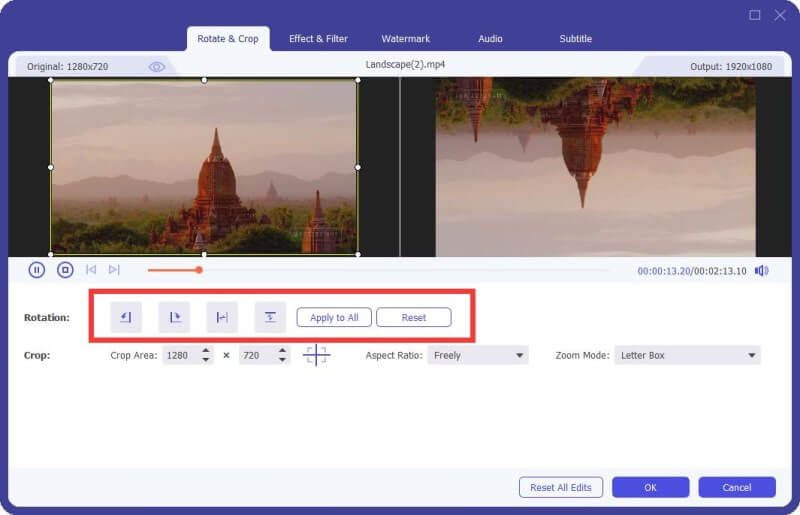 It also offers different Aspect Ratio, like 16:9, 4:3, 1:1 and 9:16, and you can customize the crop area and choose the zoom mode as you like.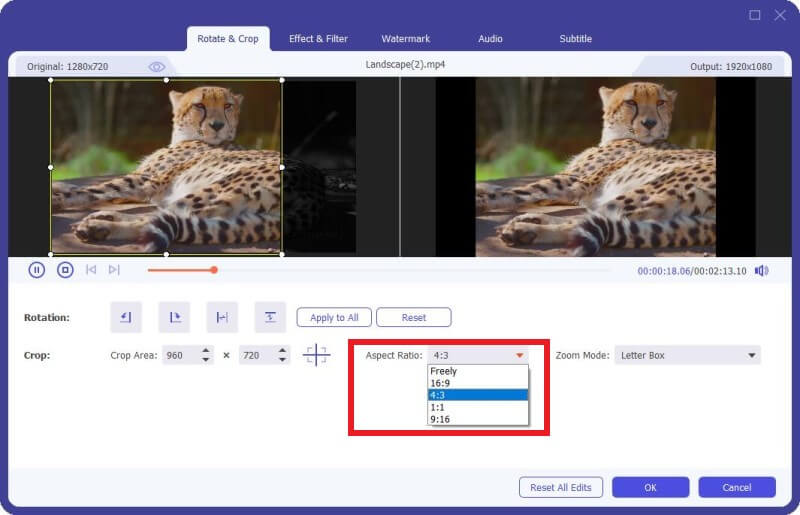 In the Effect & Filter tab, you can adjust brightness, contrast, saturation, hue, etc. and choose a filter to perfect your video.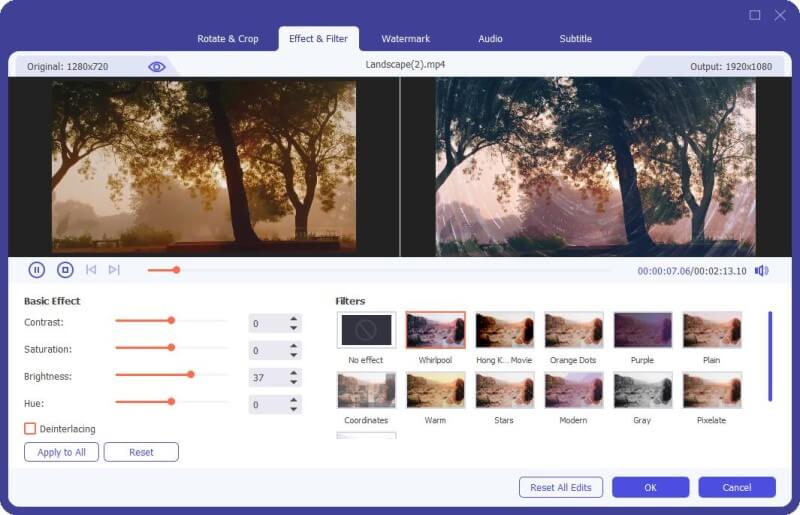 In the Watermark tab, you are able to add a text or image watermark.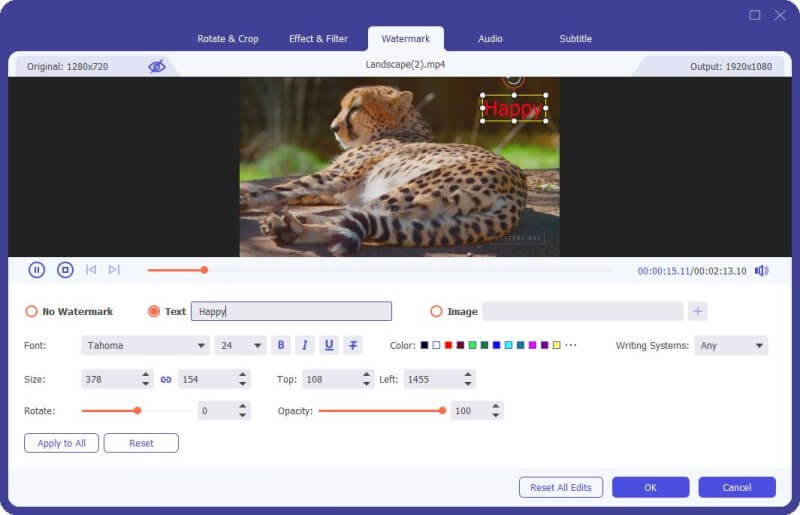 In the Audio tab, choose the audio track, or add a new audio track according to your needs. Here you can also adjust the audio volume and the delay time.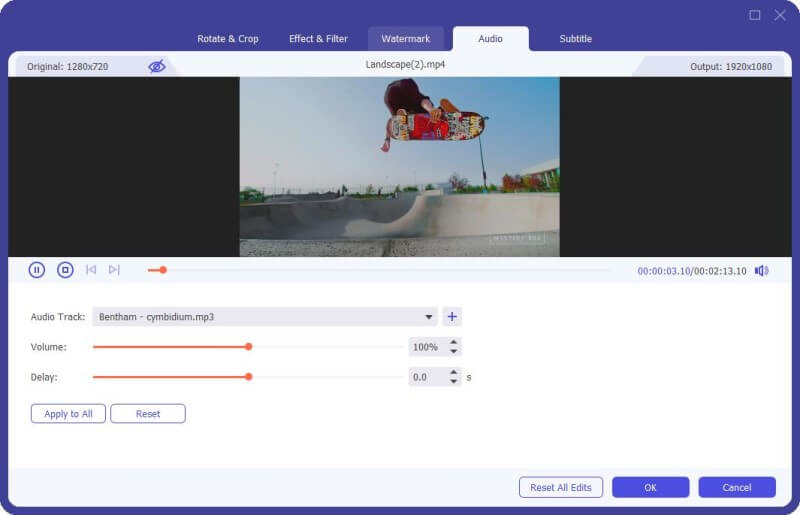 In the Subtitle tab, import the subtitle file and change the position, font, color, opacity, delay time and outline.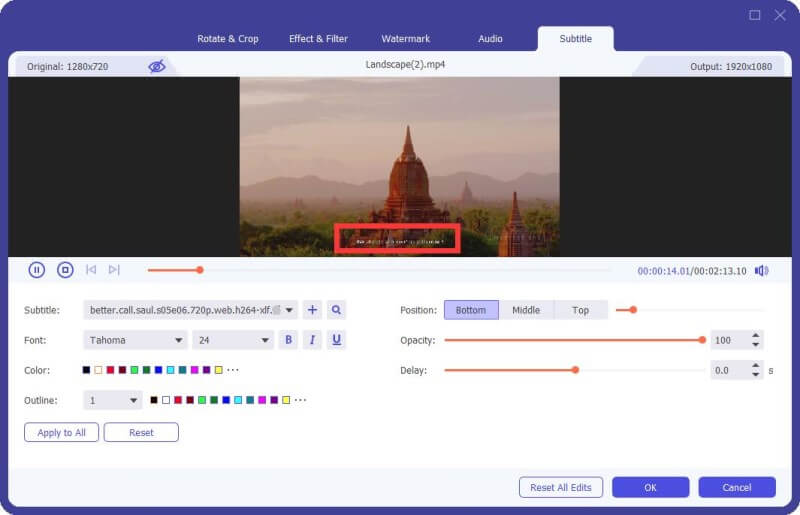 To cut the video, click the cut icon on the main interface.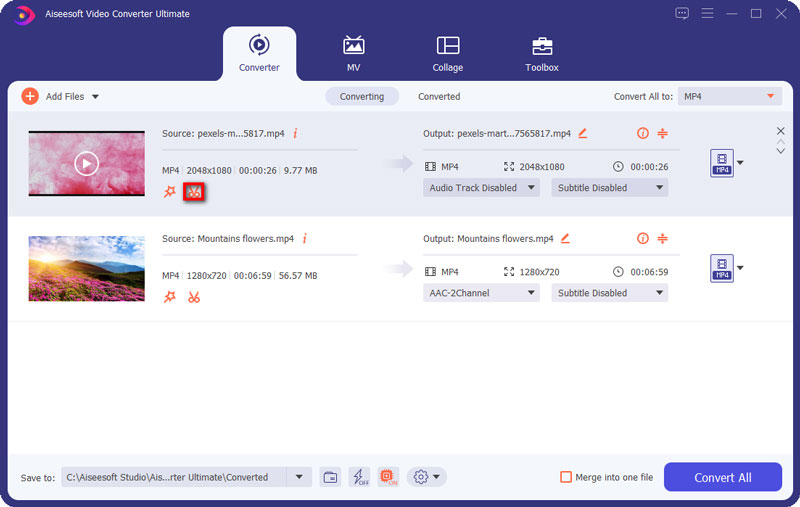 Then, you can cut off the unwanted part to save the important part by dragging the clipper or entering the start time and end time.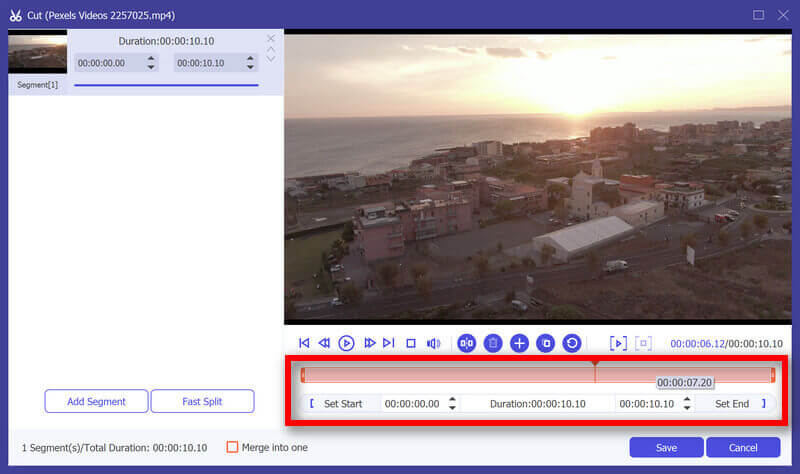 Step 3. Click on the format icon and choose the desired format to save your video.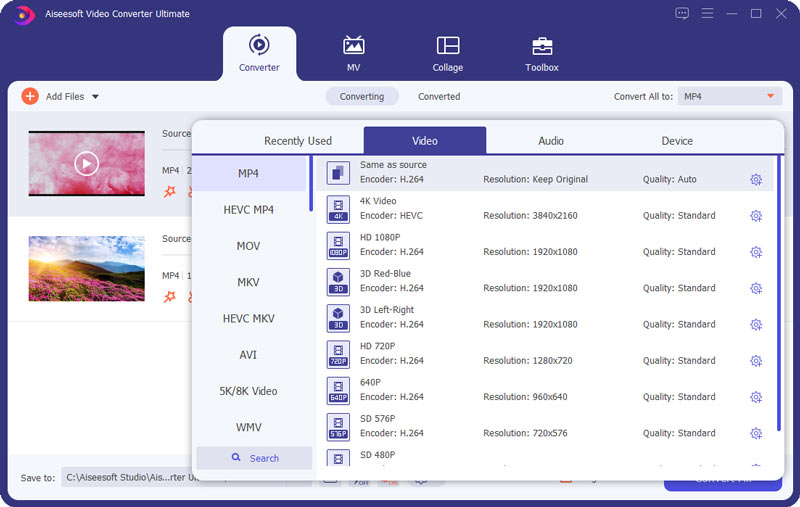 Step 4. Then, decide the path for the edited video and then click the Convert All button to start converting your video.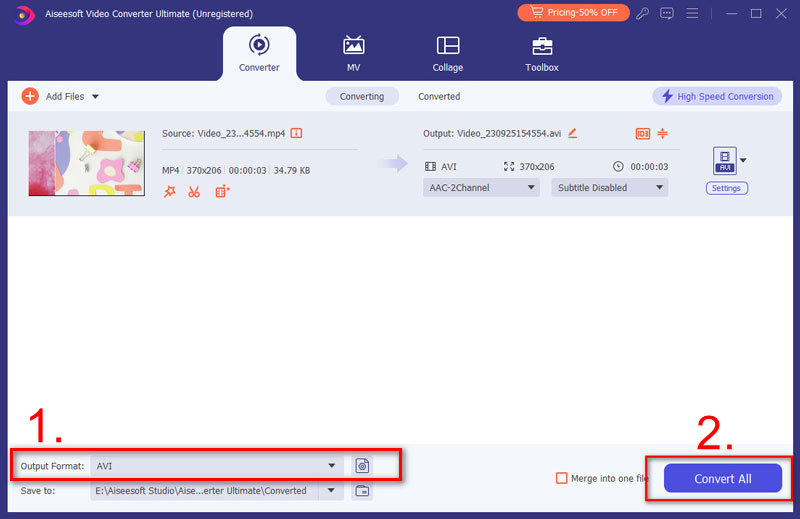 Check the video tutorial to start to edit your video on Windows and Mac: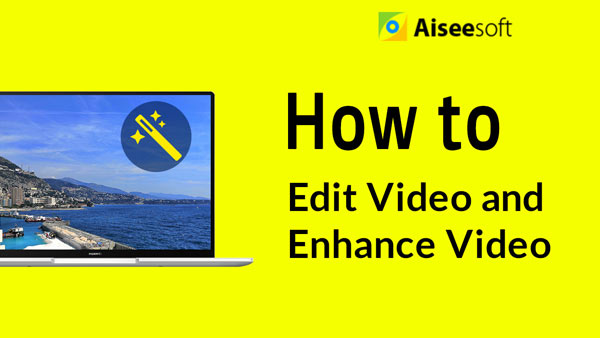 TOP 2. Free Video Editor - Free video editing program for Windows and Mac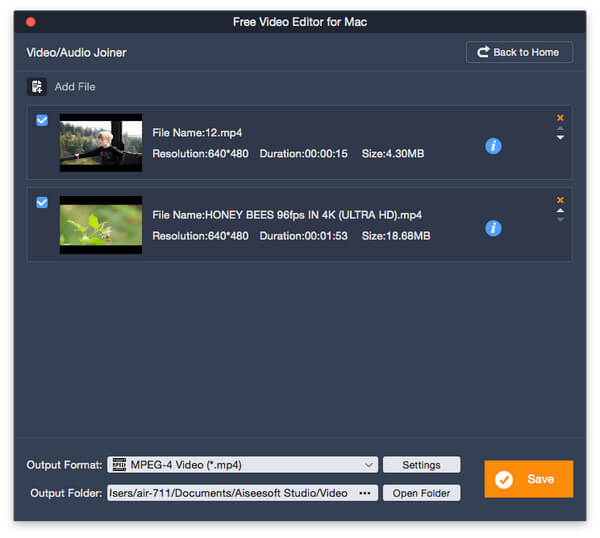 Free Video Editor is the simple freeware to edit videos on computer easily.
Price: Free
Platform: Windows, Mac
Features:
Rotate and flip video on your computer.
Crop video to cut down the unwanted parts of a video file.
Adjust video effects like saturation, brightness, contrast, etc.
Watermark video by adding text or image file to your video file.
Clip video and join video in one click.
It is freeware to edit video effects on computer.
TOP 3. Movie Maker – Free and simple video editing software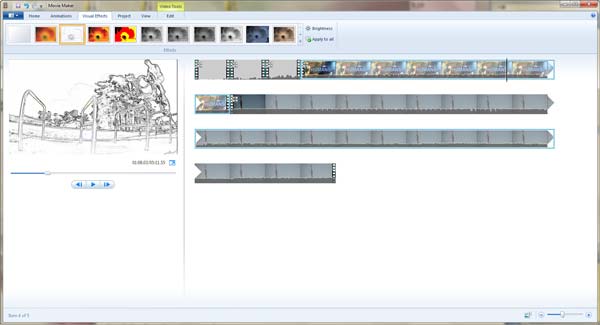 Windows Movie Maker, also named as Windows Live Movie Maker on Windows 7, is undoubtedly in the list when it comes to the old video editing software. For years, it has been used for many video editing beginners to edit video.
Price: Free
Platform: Windows
Features:
It has editing functions to let your video fade in/out, trim or split video in one click.
It provides various options like animations, visual effects, title-adding, snapshots, etc.
Save the edited video file as WLMP on your computer.
This free movie editor has limited version for downloading. (Windows 8.1/8/7 users for Movie Maker 2012, Windows RT 8.1 and Windows RT for no version)
Learn more Windows Movie Maker here.
TOP 4. Free OpenShot Video Editor – Functional but little hard video editor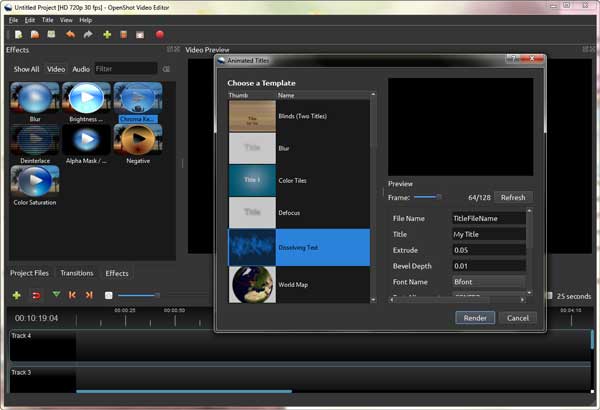 Free OpenShot Video Editor is the open resource, free and feature-rich video editing software. It lets you import video files or your own created project for further editing. OpenShot strikes just the right balance between features and complexity.
Price: Free
Platform: Windows
Features:
This video editor integrates two fabulous functions, 3D and vector-editing to let you edit your video carefully vector by vector.
It has many features like 3D animation, curve-based camera motion, compositing, transitions, audio mixing, and vector titles.
You are capable of trimming and arranging videos, adjusting audio levels, transitions between videos, compositing multiple layers of video, chroma-key/green screen effect, etc.
When you edit video as a new hand with these features, you need to see a clear guide video online for learning.
One shining point is that you could import any video and get a video in Blu-ray/AVCHD, DVD or device compatible formats like Apple TV, Xbox 360, etc.
TOP 6. Movavi Video Editor – Good companion for amateur in video editing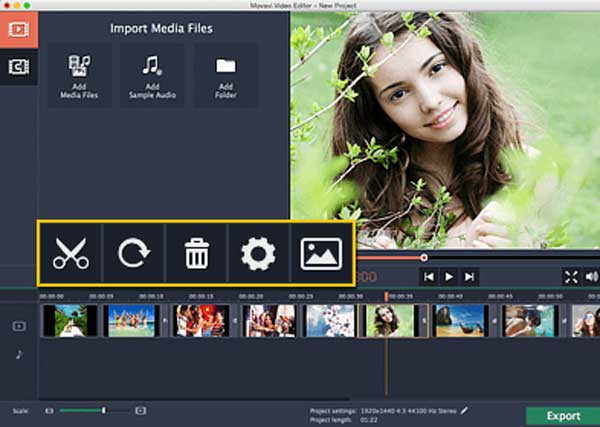 Movavi Video Editor for Mac is the free video editing and photo creation software on Mac. Personally, this video editor for Mac is a great helper for home movie. It is the good-to-use free video editing software for non-professional users.
Price: Free
Platform: Mac
Features:
It is very easy to use. You just import video files or folders into this program, and then click Timeline to edit video files.
You could use Scissors to clip videos into two parts, rotate a video with 90 clockwise, use Waste bin to remove the selected clip from the Storyboard, and set up 90+ animated transitions between clips.
This video editing software is also good for setting your audio.
You can use this video editing software to improve image quality automatically with Magic Enhance on iMac.
More than 60 special effects like flying object, pop art, retro, mosaic, etc. will liven up your video greatly.
After making all editing settings, you could save your movie in any video format compatible with Mac OS X: AVI, MPEG-4, MOV and many more.
Alternatively, you could upload the edited video to video hosting services.
TOP 7. VideoBlend – A simple and free editor with fabulous downloader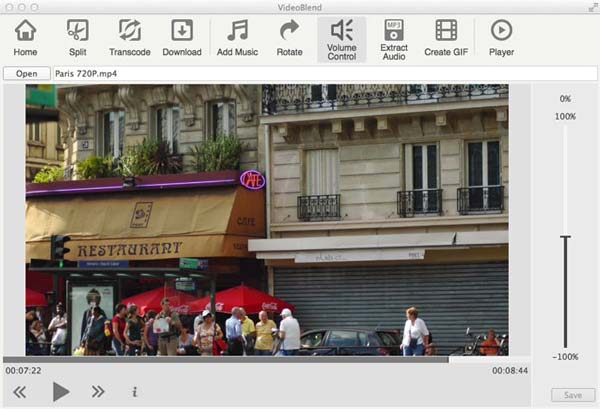 VideoBlend for Mac is a free video editor and player designed for Mac OS X. VideoBlend may be not the best, but the basic video editing software on Mac.
Price: Free
Platform: Windows, Mac
Features:
It splits video by trimming or combing video clips, rotates video clips with 90 degrees, adds watermark to customize your video, and supports various themes for your video.
Like other good editing software, you could add music files or adjust audio level to create a different video background.
The different feature compared to Macintosh video editing,it lets you to get video clips to your Mac for keeping easily.
The video after you edit on your Macbook can be transcoded to different formats with different resolution as you wish.
TOP 8. YouTube Video editor - Video editing software for Windows/Mac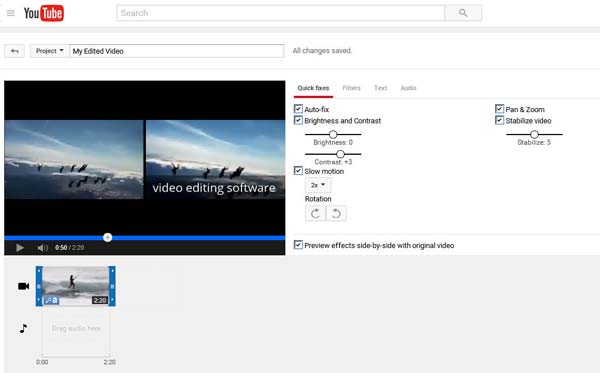 Apart from the editing software you need to download to your Windows computer or Mac, other video editing programs that enable you to edit video effects on both Windows and Mac meanwhile are online video editors.
Price: Free
Platform: Online
Features:
You need to create your own YouTube account, and then upload the video that you want to edit.
This online editor allows you to add various filters effects like HDR-ish, Festival, Black and White, etc. to create special video effects.
You could add text to display on your video just like the subtitles appeared in the news report.
Its quick fixes let you auto-fix the brightness and contrast or manually to adjust if you are professional.
It also provides left or right rotation. Pan & Zoom is available for your needs.
The stabilized level is supplied for you to get a de-shaky video.
For audio, you could get treble/bass/volume/pan settings freely.
After making all video editing settings, you could preview the video through side by side with original video.
Share your video on YouTube.
The above video editing software are for Windows and Mac users or for both. Maybe they are not the function-strong, but you can find the most suitable for you.
If you use iPad iPhone frequently, you should seek for the best video editing apps for iPhone iPad.
Part 3. FAQs of video editing software
Can I edit video on my phone?
Yes. There are many mobile video editing apps you can use like Quik, Adobe Premiere Clip, InShot, KineMaster, Videoshop, VideoShow, iMovie and more.
Does Google have a video editor?
Yes. Google Photos is an enhanced video editor for Google users. Open Google Photos app on your phone. Tap Album and select Videos. Open the video you want to edit and tap Edit. Then you can stabilize or rotate your video in Google Photos.
What does YouTuber use to edit their videos?
The top 3 popular programs for YouTuber are iMovie, Adobe Premiere Pro CC, and Final Cut Pro X.
If you have any questions about this page, just leave your comment below.