WeVideo - Video Editor to Make Life Easier
When mentioned video editor, one app you cannot miss is WeVideo. About WeVideo, there are many confusions, like;
Where to download WeVideo?
How to use WeVideo?
What is WeVideo review?
Is there any similar app to WeVideo?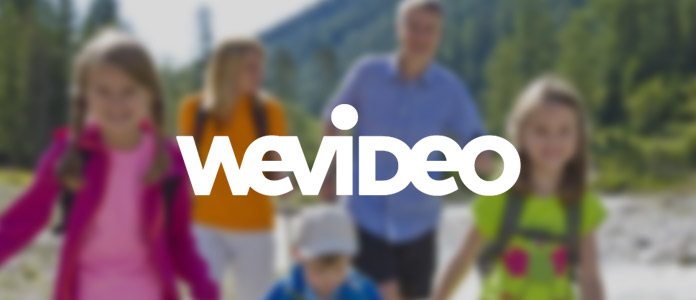 In this page, we will help you to remove the barriers to use WeVideo easily.
Part 2. How to log in WeVideo?
Part 3. How to download WeVideo app?
Part 5. What is the review of WeVideo?
Part 6. What are WeVideo alternatives?
Part 1. What is WeVideo?
WeVideo is the software as a service company that provides a collaborative video editing platform. It is the online video editor to capture, create, view and share your movies at up to 4K for playback anywhere. Apart from online video editor, it also supplies you with WeVideo app for Android, iOS and Windows computer, so that you can download the app on your portable device easily.
WeVideo is not free to use. You need to pay $4.99 - $7.99/month for different bill plan.
Part 2. How to log in WeVideo?
For using WeVideo online or on your apps, you need to create the WeVideo account firstly. You can sign up with Google or Facebook account or your own email to sign up or sign in your WeVideo account.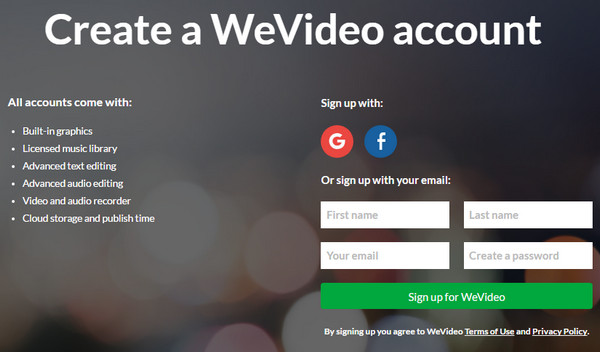 Part 3. How to download WeVideo app?
WeVideo also provides the Android, iOS and Windows versions for you to use. You can download the app from its official link:
Download WeVideo from App Store:
https://itunes.apple.com/us/app/wevideo-video-editor/id615796920?mt=8
Download WeVideo APK from GooglePlay:
https://play.google.com/store/apps/details?id=com.wevideo.mobile.android&hl=en
Download WeVideo software to your Windows computer:
https://www.microsoft.com/store/apps/9mt7x2km8zsg?ocid=badge
After downloading WeVideo app, you could install and run it on your computer. Aldo, for using it, you need to sign in the WeVideo account created in Part 2.
Part 4. How to use WeVideo?
In this part, we will show the simple WeVideo tutorial to use this software.
1Go to https://www.wevideo.com/, click "Log in" on the right side to sign in your WeVideo account.
2Click "Create New" to enter the media editing interface. Click the upload button > "BROWSE TO SELECT" to import music, videos or photos to create a video. Here you are able to import video from social sites like Facebook, Google Photos, etc. Also, you could add media files from your local disk. The uploading speed is based on your internet connection.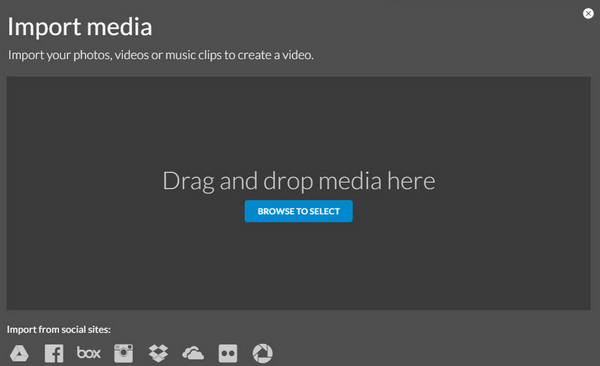 3After importing the video to online WeVidep, you could start to edit your video file.
Add theme: it provides you different colors for your video theme.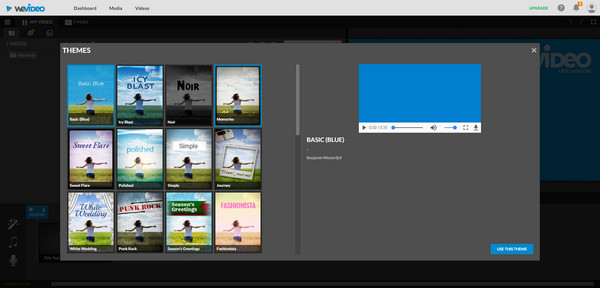 Audio: you could select different sound effects like animals, events, hospital. or use free music from its music list.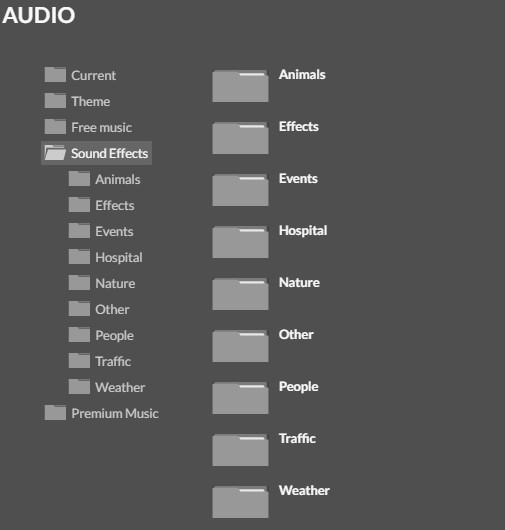 Recorder: you could also use the recorder to record or replace audiover.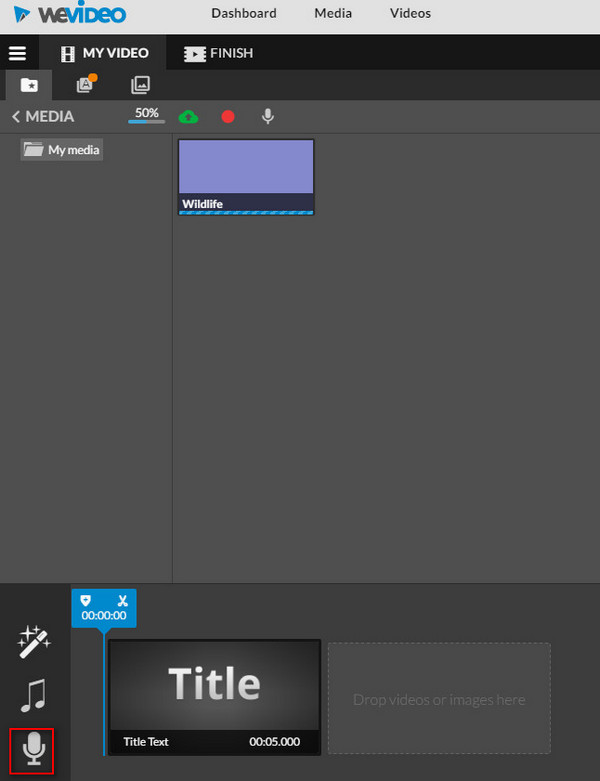 Text: you are able to select the different font, styles for your titles display.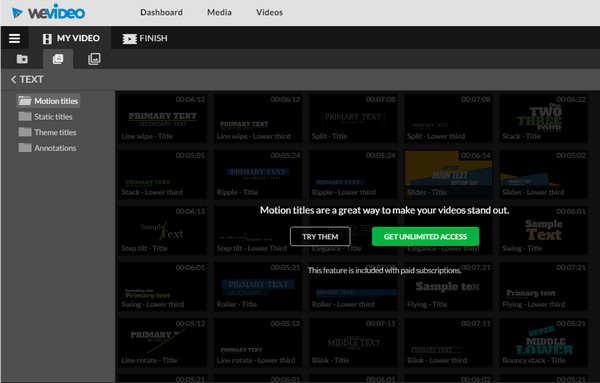 Graphics: it provides backgrouns, solids, overlays and frames to insert your video and makes it look like wonderful.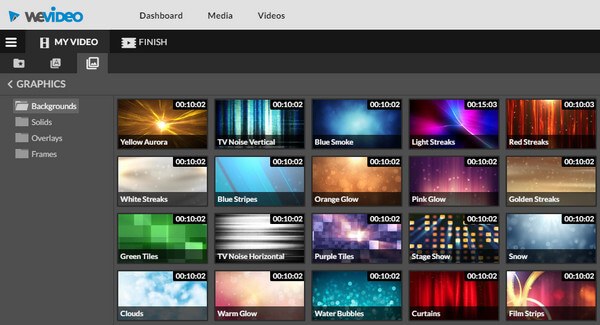 4 After you made all changes, click "FINISH" to finalize your video. Here you are able to select 480p for Standard user or HD or 4K for upgraded account.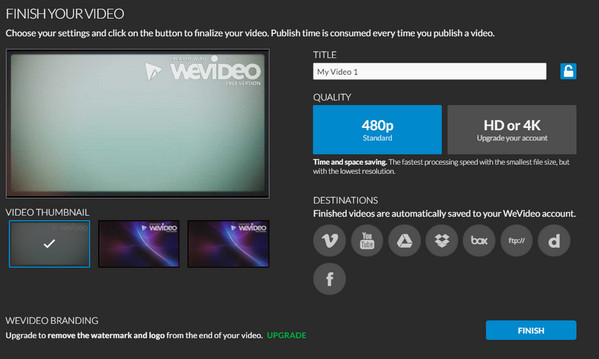 After you finish editing the video, your video file will be published on WeVideo site. And you can also click "DOWNLOAD VIDEO" to download the video as MP4 to your computer.

1. WeVideo provides you free 1GB storage for publishing your video file.
2. The free account to edit video online will leave the watermark on your video.
Part 5. What is the review of WeVideo?
About WeVideo review, they are various. Here we only collect the most spoken voices online.
Pros of WeVideo
Cons of WeVideo
1. WeVideo is available to use for Windows, Mac, Android, and iOS, so you don't have to worry about device compatibility.
2. Don't be fooled with WeVideo's simple layout - the editor contains some advanced editing tools used by the pros.
3. WeVideo offers 22 licensed songs free to use, and bumps it up to 100 songs when you subscribe to their paid packages.
4. For a seamless editing experience between your devices, you can upload clips to the cloud and access them anytime, anywhere, from another gadget.
1. Unfortunately, if you want your videos to be rendered in 1080p, you would have to subscribe to WeVideo's most expensive plan, or pay an additional cost.
2. While offering a free plan for anyone to use is great news, you can only publish video with a total of 5 minutes per month.
3. The app lacks any sort of audio-editing features, which makes it almost impossible to sync with music.
4. A tool for adjusting video and audio speeds would be a welcome addition, as would be customizable themes.
5. Terrible! you run out of time before you can even finish it and then you can't big screen the video!!!
Part 6. What are WeVideo alternatives?
WeVideo, as the video editor, has its pros and cons. Also it also has many competitors. Every competitor has its disadvantages and disadvantages. So here we only list its replacements when you feel WeVideo is not easy to use.
WeVideo alternative for computer users
Free Video Editor
Aiseesoft Video Editor is the most professional video editing tool on Windows and Mac. As the best video editor, it enables you to rotate, cut, trim, crop, watermark and convert videos freely.
Cut or trim video clips to get unwanted video parts out of your original videos.
Rotate and flip video with any degree.
Crop video to get rid of the unnecessary black bars around videos with optional four modes.
1 Download, install and run this software on your computer.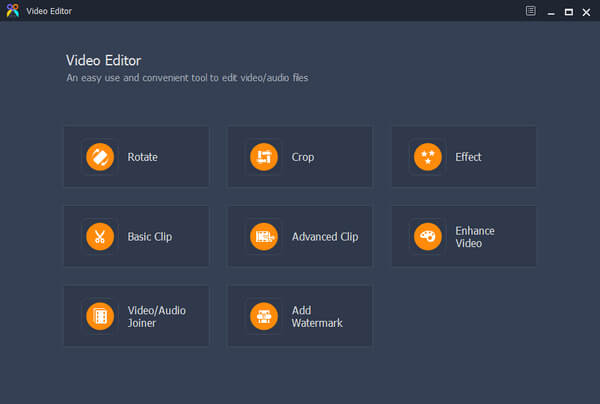 2 Select and click one editing feature > "Add File" to import the video or audio file.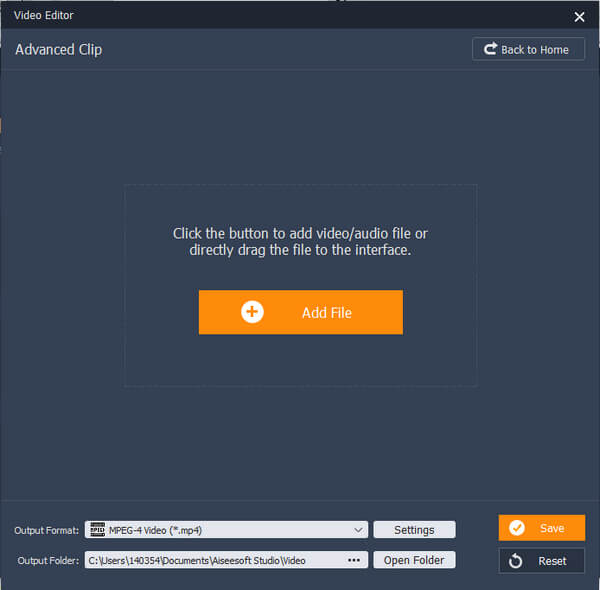 3 Apply the video editing features, and click "Save" to save the editing video to your computer.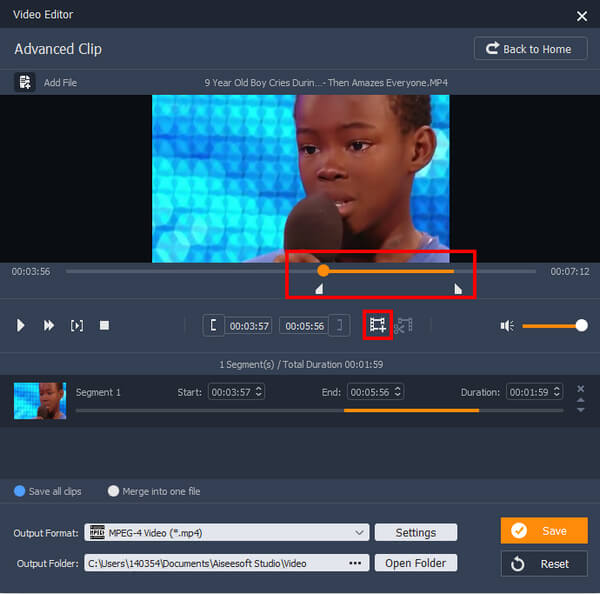 If you seek for more WeVideo replacements for Android, iOS and online, then you should extend your reading from the following three articles.
Best video editing apps for iPhone iPad
Free online video editor you cannot miss
This page aims at showing the problems and solutions about WeVideo you may get in life. More advices are welcome to improve this article to help more users like you.