6 Best GoPro Video Editor Software to Edit GoPro Footage on PC/Mac
GoPro Video Editor has become like a necessity to GoPro video makers. After you've taken some killer footage using your GoPro, you'll definitely want to edit it and make it look more professional before sharing it with your friends and family. After all, no one wants to watch a random collection of your clips, with shaky images, lousy noise, etc.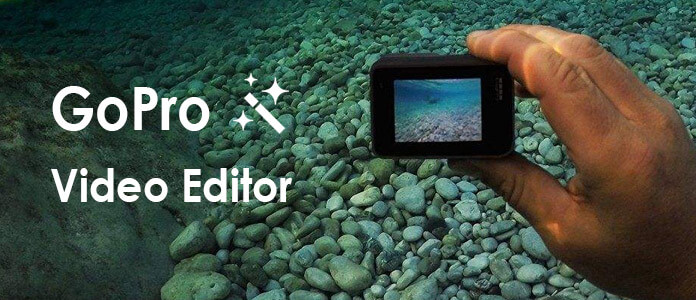 The problem is, there are so many different video editors out there for you to edit your GoPro footage, sometimes it's hard to know which ones are the most suitable and will result in the highest-quality movies. On account of that, you can check this post. I have listed six best GoPro video editors for PC/Mac, I'm sure you can find what you like.
Part 1. How to choose the right video editor for GoPro
Before you decide on one GoPro video editor, here are several elements you need to consider:
1. Video editing functions: This is probably the most important thing. Check the software key features, and make sure that it has all the commonly-used functions for GoPro video editing, including video stabilization, effects & transitions, video denoise, etc.
2. Easy to use: Some multiple-functional GoPro video editors would come with a very confusing user-interface, so be sure that you can understand how to use the GoPro video editor.
3. Price: If you don't want to spend money on the video editor for GoPro, you can try to choose a free one. But there may be some limitations for freeware.
4. Platform: Choose GoPro video editing software for Mac/PC according to your own platform.
Part 2. 6 best GoPro video editor for PC/Mac
Here is our recommendation list of the best GoPro video editor options.
No 1. Best GoPro Video Editor - Video Converter Ultimate
Price: Free trial with in-app purchase
Platform: PC/Mac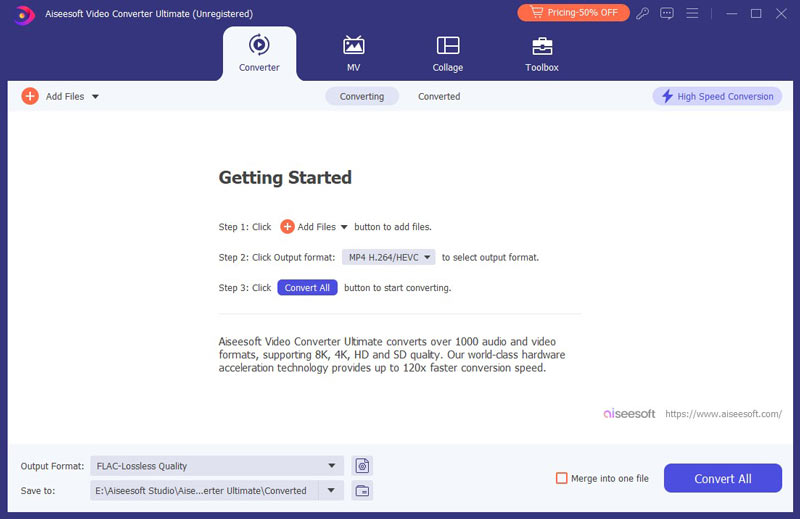 Video Converter Ultimate is the most professional video editing software developed by Aiseesoft. It offers you a great solution to edit and convert GoPro videos.
• Edit/enhance/crop/trim/merge GoPro videos easily.
• Apply time lapse effects with GoPro video, add stylish transitions, watermark, and filters.
• Stabilize and rotate video, equalize sound, and more.
• Remove fisheye effects from GoPro videos and photos.
• Support GoPro videos from all cameras in the GoPro Hero line (including GoPro Hero5/4/3).
You can free download this program and learn how to edit GoPro videos with this tool here.
No 2. Best GoPro Video Editor - GoPro Studio
Price: Free
Platform: PC/Mac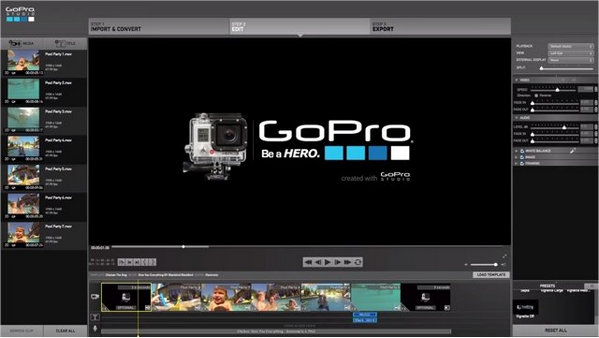 As the official GoPro video editor, which is designed with a beginner user in mind, GoPro Studio is probably the most used program for editing GoPro video footage.
• User-friendly interface, with only three simple steps (View&Trim, Edit, Export).
• Impressive presets along with easy trim, merge features.
• Advanced settings enables you to change frames per second, format or apply slow motion, time lapse effects.
• Upload edited videos to social media platforms like Vimeo, YouTube, etc. directly.
Note: Please be aware that GoPro studio is not available as a single produce now. It is combined into the Quik package, which will be introduced in the following article.
No 3. Best GoPro Video Editor - iMovie
Price: Free
Platform: Mac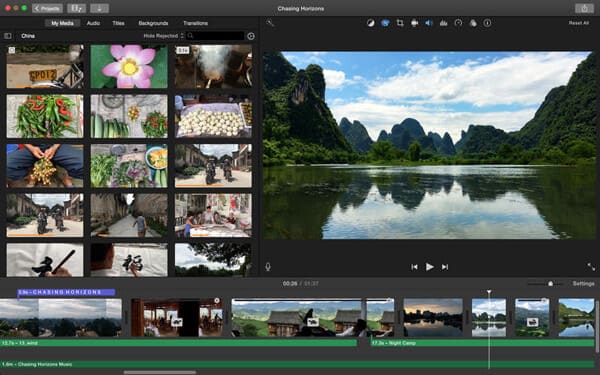 iMovie is the video editing software owned and developed by Apple to run in Mac and iOS device, and it is a great video editor option for GoPro, whether you are a beginner or a pro.
• Simplest GoPro app for Mac that leads to ultimate video editing facility with easy drag-and-drop.
• Easy-to-use editing features help you merge/clip/crop GoPro videos, adjust video speed or add titles to get stunning result.
• More advanced functions include: picture-in-picture effect, split screen effect, GoPro stabilization and more.
• Multiple movie trailer templates make your GoPro Hollywood style.
• Straight sharing your GoPro video through email, YouTube, Facebook, Vimeo, etc.
No 4. Best GoPro Video Editor - Windows Movie Maker
Price: Free
Platform: Windows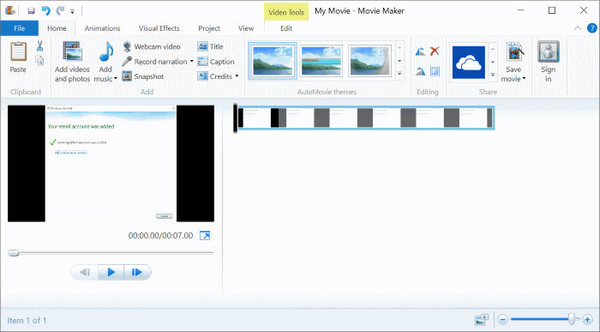 Windows Movie Maker is a basic movie editor for GoPro on Windows. It's not super fancy, but it provides you all the basic editing tools you need.
• Support basic video editing functions like cropping, splitting, and cutting videos, adding background music, subtitle and watermark to your movies.
• Apply lots of effects like time-lapse, slow motion, stop motion, etc. Apply many templates, themes and transition effects.
• Offer both storyboard mode and timeline mode to make you edit GoPro video as easy as possible.
No 5. Best GoPro Video Editor – Quik (Desktop)
Price: Free
Platform: PC/Mac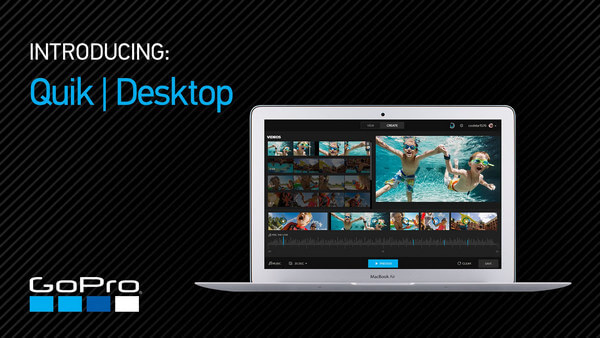 Quik is the newly upgraded GoPro video editor app, it combines the main features of GoPro Studio, allowing you to import and enjoy your GoPro footage and create beautiful videos easily.
• Automatically import and organize your photos and videos, add photos and time lapse sequences to your videos, and see them come to life with panning effects.
• Create awesome videos synced to music with just a few clicks.
• Auto upload to the cloud and unlock additional soundtracks when you subscribe to GoPro Plus.
• Add gauges and graphs that show how fast, far and high you went.
• Update your GoPro products with the latest features for optimal performance.
No 6. Best GoPro Video Editor – Adobe Premiere Pro
Price: $19.99/month
Platform: PC/Mac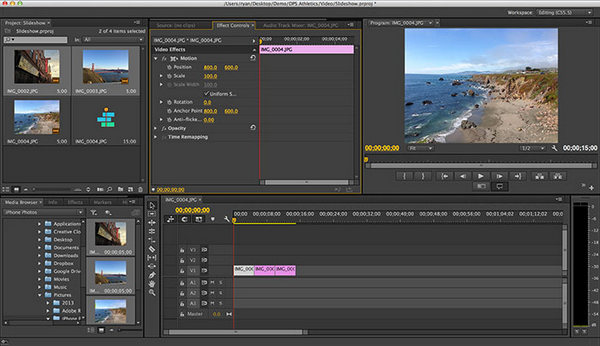 Adobe Premiere Pro is one of the most famous video editing software, as well as the representation for professional GoPro video editor. If you are really video expert, you can consider this one.
• Most advanced GoPro video editing tools designed for professionals.
• Built-in codecs support the format that GoPro videos are shot, bring your video to editing part directly.
• Straightforward editing process, with quite a variety of different settings, plug-ins and editing options that you'll be able to use.
• Top-rated stabilizer tool makes your videos look smoother and more stabilized, the color correction and effects helps you adjust colors, saturation, hues and the overall look of your GoPro footage.
If you want to select a GoPro camera, you can read this post to check GoPro comparison and alternatives.
In this article, we have mianly introduced you how to choose the right video editor for GoPro, along with recommedations for 6 best GoPro video editors. Still have more questions? Feel free to leave your comments down below.