Best Minecraft Screen Recorder to Capture Minecraft Game Video with High Quality
Summary: Want to be the next Stampy or Diamond Minecart? Want to share the interesting Minecart game moments with others? This post will introduce you with the best Minecraft screen recorder to capture anything happened in your Minecraft game.
"I want to record myself playing in Minecraft, but I don't know which screen recorder I should use. I tries several screen recorder for Minecraft, but all of them lag my game too much, and outputted low quality videos. I can't get fluent game experience and nice captured files. I am using a windows 7 Dell laptop. Is there any good Minecraft screen recorder?"
"Anyone help me find a free screen recorder for Minecraft? Is there an in-game screen recorder mod or something to capture a game video? I don't care if there is a 30 or 60 day trial. I used some online screen recorder, but only got bad experience. I prefer a free screen recorder with no computer administrator permission. Surely I don't want it bother my game playing."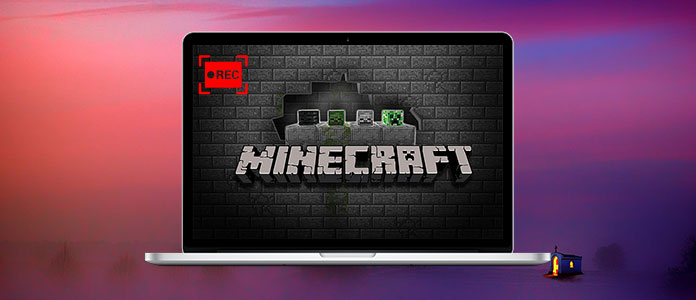 As one of most popular sandbox games, Minecraft gaming platform attracts millions of players all around the world. While playing, there are always many moments you want to share with friends or other players. For that reason, you may start to think about recording the Minecraft game playing process.
However, you have to admit that, many Minecraft screen recorders, including most online free screen recorder tools for Minecraft, they can't offer you a smooth game recording.
That's way there are still many player looking for a good Minecraft screen recorder. Some of them even suggest that, Minecraft should put one screen capturing feature to the next version.
For now, you still get no in-game screen recorder in Minecraft. To help you capture best moments of Minecraft, here we list some great Minecraft screen recorders. You can choose your preferred one to save your wonderful Minecraft game time.
Part 1: Best Minecraft screen recorder for Windows PC and Mac
Minecraft can be played on many platforms like windows PC, Mac, iPhone, iPad and Android devices. Considering that most players used to play Minecraft on computer, at the first part, we will show you the best Minecraft screen recorder for PC/Mac. It can guarantee you a great image/sound quality after recording. More importantly, the recoding work will not lag your game experience.
Aiseesoft Screen Recorder
For Mac
Aiseesoft Screen Recorder is the professional video and audio recording software, which can help you record Minecraft games, online videos, podcast, webinars, lectures, presentations, Skype calls, online conference, webcam videos, songs, etc. with high-quality image and sound quality.
Provide "Blu-light" real-time HD video encoding technology to ensure excellent image and sound quality for YouTube videos.
Record streaming audio, online audio, microphone voice with high sound quality.
Capture any sound on your computer from system audio or microphone according to your need.
Support capturing pictures from screen.
How to record Minecraft game screen
In the following guide, we will take capturing Minecraft screen on PC as an example. If you are using a Mac, you can take the similar steps to complete the Minecraft game recording.
Step 1 Double click the download button above to free install this professional Minecraft recorder on your computer. Launch it and prepare for the recording. As you can see, besides capturing Minecraft screen, it also enables you to record audio only. While during this step, Screen Recorder is still the function you should use.

Step 2 Click on Screen Recorder option and enter the video recording interface. This powerful Minecraft screen recorder allows you to capture full-size screen or customized size based on your need. Moreover, you can capture sound from system audio or microphone. Here you can only turn on the System Sound.

Step 3 After all these settings, you can click REC button to start recording. You can start to record first and then open the Minecraft game.
This all-featured Minecraft screen recorder enables you to preview and clip the captured video to only save the necessary parts. What's more, you can select any frequently-used output format like MP4, MOV, AVI, MKV, and more.
With this Minecraft screen recorder, you can handily capture the Minecraft video playing process with high quality. Some shortcut keys ensure that you can get full control of the Minecraft game recording. While recording, you are allowed to take snapshots and add labels and so on. Just free download it and give a try.
Part 2: Minecraft Screen Recorder for iPhone/iPad
As we all know, iOS 11 bring a cool screen recording feature. So if your iPhone, iPad or iPod touch are running an iOS 11 or higher version. You can easily capture Minecraft screen.
Before the Minecraft screen recording, you should first add the Screen Recording function to your Control Center. To do that, you need to open Settings app and tap Control Center > Customize Controls > Add icon.
Step 1 Arise Control Center and tap on Screen Recording icon to capture anything on the screen.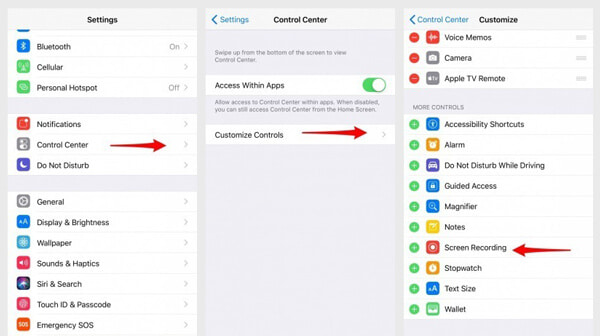 Step 2 Open Minecraft and wait for the three-second countdown. If you want to capture sound while recording, you can tap Screen Recording icon and turn on Microphone Audio.
Minecraft Screen Recorder for iOS 10 or lower version
In case you are using an old iOS device running iOS 10 or lower version, here we introduce you with another great Minecarft screen recorder, iOS Screen Recorder.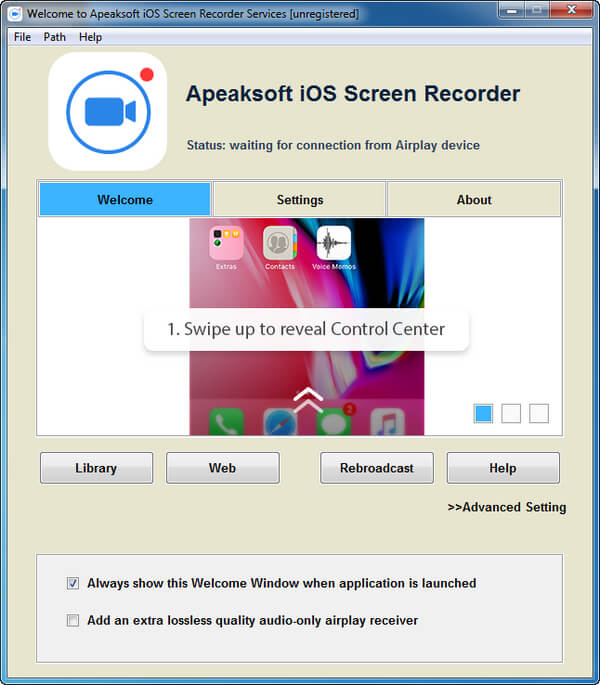 iOS Screen Recorder is a very popular iPhone/iPad/iPod screen recording app. It has the capability to mirror your iOS screen to your computer. Then you can capture the Minecraft game playing process with ease. It highly supports any iOS version, from iOS 7.1 to the latest iOS 12. Check here to learn more about how to record iPhone screen.
Part 3: Minecraft Screen Recorder for Android
For Android users, we also prepare a great Minecraft screen capture, AZ Screen Recorder.
When it comes to installing new app and recording video on Android, you may think about the root issue. The good thing is, AZ Screen Recorder is able to capture Minecraft screen without rooting.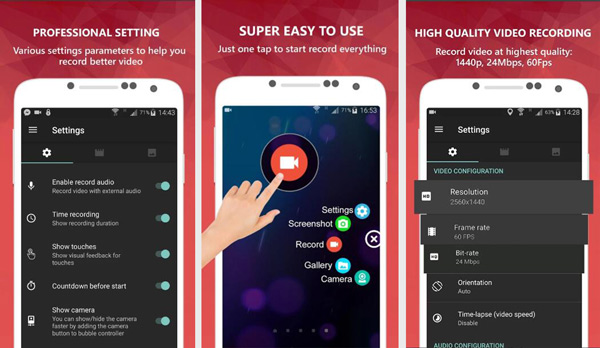 As a free Minecraft video capture for Android, AZ Screen Recorder won't leave any water mark for the recorded video. In addition, it can capture screen with HD image quality. But while using this apk, you have to endure the annoying ads and crash down problem.
Part 4: About Minecraft
Minecraft is one of most popular sandbox video games which developed by Swedish game develop company Mojang AB. Minecraft was released in 2011 and sold to Microsoft at $2.5 billion in September 2014. Two months after that, Minecraft: Story Mode had been released.
It is a game about placing blocks and going on adventures. When you step into the Minecraft, you can build your world with a variety of different cubes in a 3D.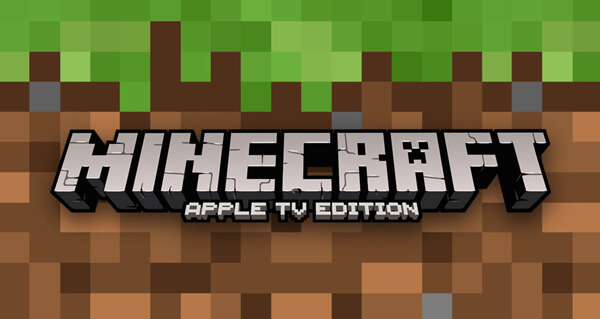 Different modes you are playing in, you may fight for your survival against hunger, danger and bad guys. As a player, you can create the game yourself by manipulating the world within it. The open-ended model allows you to create structures, creations and artwork on various multiplayer servers or your own single player maps.
After reading this page, you should find a suitable way to capture the Minecraft video. Whether you want to record Minecraft game on computer or iOS/Android device, you can find your preferred Minecraft screen recorder and detailed steps. Leave us a message if you still have any question.