Ultimate ShareX Review and Alternatives
If you have looked for free screen recording program online, you must have heard of ShareX more or less. ShareX is a free and open source screen capture, file sharing and productivity tool that enables you to capture any area of your computer screen as a video or screenshot that can later be shared on various platforms. As an open source program, ShareX has been under constant and active development for over 11 years. In this article we will write a complete review about ShareX and recommend some best alternatives to this screen capture tool.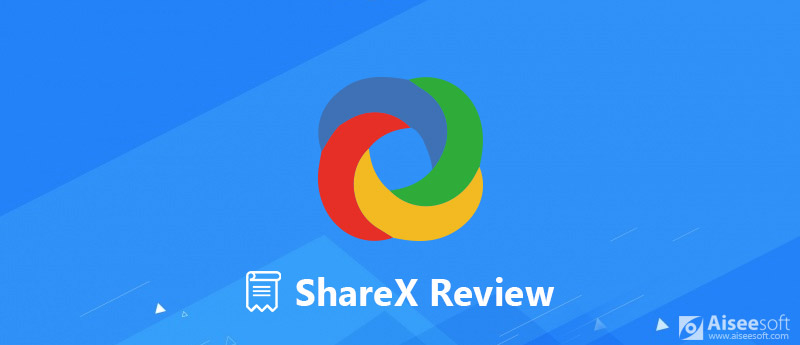 Sharex Review
Part 1. ShareX Review: Features, Pros and Cons
ShareX is a very lightweight, free and functional screen capture program for Windows users. It's a small-installation based program with just a little over 5MB in terms of size. Compared to other similar functioning software that often goes even to hundreds of megabytes, ShareX will free up more space for your computer. You can download the latest version of ShareX 12.4.1 from https://getsharex.com/ or Microsoft Store.
Features:
• Multiple capture modes. ShareX provides quick and hassle-free methods for you to take screenshots of any window, region, or the entire screen.
• Video recorder. Besides taking screenshots, you can also record your screen in the form of video or GIF.
• Image editor. There is a built-in image editor in ShareX that allows you to manually edit the screenshots you take. Thus there is no need to use other image editors like Microsoft Paint, or Photoshop, etc.
• Easy screen capture sharing. ShareX enables you to share any screenshot, video or GIF you have captured with an automatic upload feature that uploads them online instantly and copies their link to the clipboard.
• Various upload options. ShareX allows you to upload your screenshots or recorded video to more than 80 different hosting services such as Google Drive, Imgur, FTP, Dropbox, Mega and Pastebin.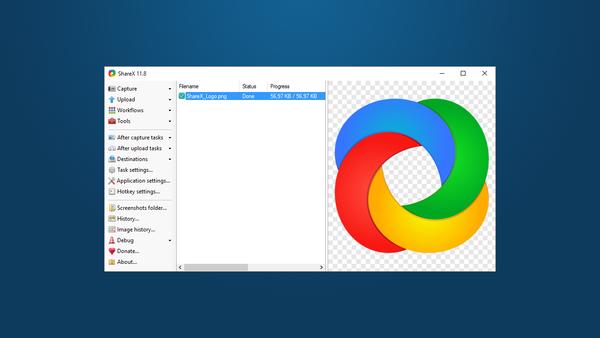 PROS
Absolutely free for all features.
Simple interface that's easy to navigate and comes with a lot of important and useful features.
You can customize the shortcut key to bind your command to, as well as what host it uploads the file to.
Take screenshots, record screen video audio or GIF in one or multiple monitors at your will.
The auto upload feature lets you upload all your screenshots, GIFs, videos to their server or your own server for quick means of sharing.
CONS
Not available for Mac users.
The shareable links to the images you have uploaded will expire over time.
Although with a simple interface, ShareX is still a little complicated and cumbersome for beginners to use, as it has a wide variety of options. Therefore some users suggest that it'd be better to add a small tutorial at the beginning of the program's use, and some tips for better understanding of software features are also necessary.
The scrolling window capture does not always work as expected.
Part 2. Best Alternatives to ShareX
If you find that it's difficult or complicated to use ShareX, or it doesn't work as you expected, you can try these best alternatives to ShareX below.
Screen Recorder
Aiseesoft Screen Recorder provides an easy but professional way for both Windows and Mac users to record your computer screen and take snapshots. It can work as a good video game recorder, Skype call capture and more to capture any area of your screen. While recording screen, you are able to edit video/snapshot and draw new labels to output file.

Features:
Whether you want to record videos, capture webcam calls, make teaching tutorials, save gameplay, record songs or take screenshots, this ShareX alternative can always offer help.
• Record screen video with full screen or customized screen size with high quality.
• Record online, streaming audio, radio, audio call and more from system audio or microphone voice at your will.
• Take a screenshot of the screen at any customized size you need in order to quickly save the useful part.
As one of the best ShareX alternatives, Aiseesoft Scree Recorder focuses more on screen recording and screenshot capture, and it's easy to operate even for beginners. Moreover, it is equipped with powerful editing functions to help you adjust the recorded video or snapshot image effect. For example, you can add your personal labels like rectangle, arrow, line and text to the output image. You are also allowed to customize screen recording ways, hotkeys and other output settings according to your need.
Snagit
Snagit 2019 is also a good ShareX alternative that enables you to create custom screenshots and recordings in an easy manner. It offers you a one-stop solution to capture your screen, edit images, and deliver results.
PROS
It's easy and intuitive to capture images or record video with Snagit. There are also multiple capture modes available for you, you can capture full screen desktop, region, window or scrolling screen at your will.
Snagit is equipped with a full suite of editing tools, with which you can edit the captured screenshots or build custom graphics with arrows, text, highlights and more.
Snagit makes it easy to add your screenshots or videos to email, training materials, documentation, blogs, social media. Or you can also get a URL to share your screenshots or recordings.
CONS
This alternative to ShareX is not free to use.
Snagit is only available for Windows version, if you want to record Mac screen, it is not your choice.
It does not allow you to edit recorded video after recording.
Conclusion:
In this article we have made a complete introduction to ShareX, hopefully you will have more knowledge about its features, advantages and shortages. We have also provided the download methods of ShareX in the post, you can give it a try if you have any need of screen recording or file sharing. If ShareX didn't work as you expected, the two best alternatives to ShaeX we have recommended also deserve a try.

Leave your comment and join our discussion