Top 10 GIF Screen Capture Software for Windows and Mac Users
By creating GIF from screen capture, you can turn the recorded video clips into loop GIF animations. It is a good way to show others how to use the certain program or do something. You may wonder that is it necessary to record a GIF? Well, if you save the same content as MP4 or other formats, the file size will be much larger. That's why you need a GIF screen recorder.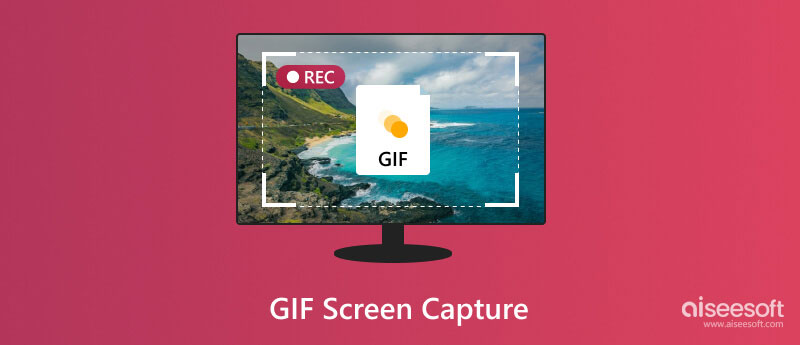 Then here comes the question, what is the best software for screen capture, especially for the screen GIF capture tool? This article collects top 10 screen recorders to record screen to GIF on Mac and Windows. You can capture screen motions into animated GIFs with ease.
Part 1: Top 10 GIF Screen Capture Software for Windows and Mac
1. Aiseesoft Screen Recorder
If you are looking for an easy-to-use and powerful GIF screen recorder, Aiseesoft Screen Recorder can be your first choice. You can capture any activity with the customized screen area. Your computer will not slow down or crash due to screen recording. Later, you can save the captured screen video as GIF format directly. With the built-in editing features, you can clip, trim, add labels and apply more effects within Screen Recorder.
Pros
Get smooth GIF recording without lagging or crashing.
No time limit.
Use hotkeys to control the whole screen recording process.
Offer the built-in screen drawing tools to add personal labels.
Intuitive, clean, safe and easy to use.
Available for both Windows and Mac users.

Aiseesoft Screen Recorder is a lightweight GIF screen recorder for Mac and Windows. Want to know how to screen capture animated GIF with it? You can move to Part 2 to get the complete GIF screen capture tutorial.
2. ScreenToGIF
It is a free and open source GIF screen recorder with no ads. You can make a GIF screen capture on Windows by using ScreenToGIF. There are 3 different modes to record screen video, include Screen, Webcam and Sketchboard. You can edit while recording screen on Windows. Moreover, you can even edit GIFs by adding text, subtitle, title frame and more. Many users report that ScreenToGIF crashes on Windows 7. You can visit its official site to figure out how to fix.
Pros
Record screen GIF flexibly.
Apply basic drawing tools to create contents while recording.
Record your screen and save as GIF on PC for free.
Cons
ScreenToGIF does not show up in the Windows Start menu or apps list.
Support Windows only.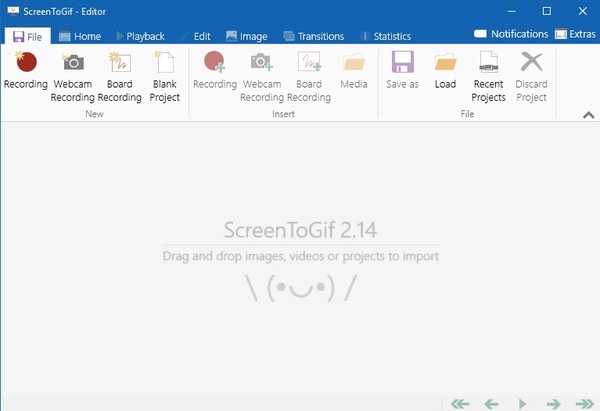 3. ShareX
ShareX is capable to save screen capture as GIF on Windows 10/8.1/7. Of course, you can record screen and save as MP4, MKV and other video formats too. ShareX is an open source screen capture tool for PC. You can get many capture methods and upload/output methods from the GIF screen capture freeware.
Pros
Screen capture Windows screen with no cost.
Get over 50 image, text and file uploading methods.
The interface is easy to understand.
Cons
You need to download and install FFmpeg before screen recording with ShareX on Windows. Since ShareX is an open source screen recorder, there is no warranty to record screen to GIF with ShareX.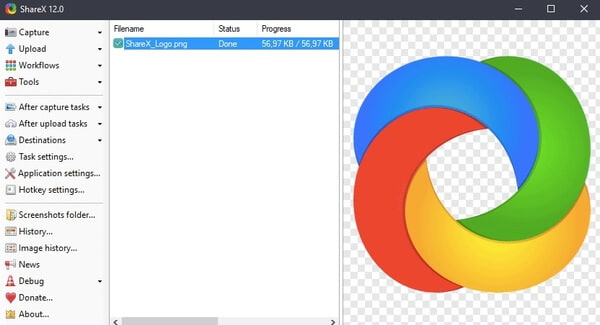 4. Recordit
Recordit offers the GIF and Twitter support for both Windows and Mac users. Well, you can record screen to GIF for free no more than 5 minutes. Your recorded screen video will be uploaded to the Recoverit online server by default. In addition, you can create a URL to share the GIF screen capture. Thus, others can download the GIF animation via social network directly.
Pros
Get free GIF screen capture within 5 minutes from Recordit.
There is a preview window for the recorded video and audio file.
Upload the recorded GIF file to Recordit online database automatically.
Cons
Users need to upgrade to Recordit Pro to screen capture GIF with 4fps and higher frame rate.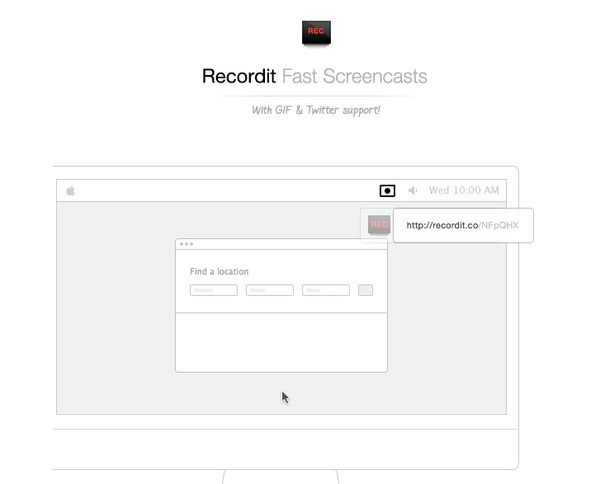 5. LICEcap
You can capture any part of your desktop and then save as GIF format. LICEcap is similar to ScreenToGIF and Recordit. If you are familiar with those two screen recorders, you can create GIF through screen recording by LICEcap easily too. It is true that LICEcap's interface is kind of outdated. If you are good at developing, you can contribute and improve its performance.
Pros
Draw on the screen to capture any area on your computer.
Create animated GIF screen capture on Mac, Windows and Linux.
Support mouse button press recording support.
Cons
There is no 64-bit version. You can get the basic screen recording features from LICEcap only.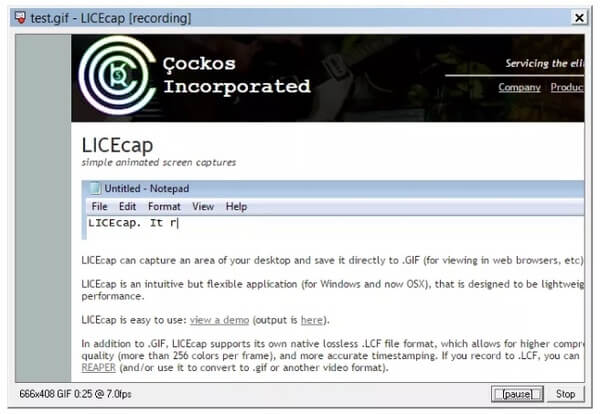 6. GifCam
GifCam allows users to screen capture GIF on Windows for free. You can record screen with different frames and dimensions. With the draw green screen feature, you can create part moving part easily. Moreover, you can create smooth GIF with 10 FPS, 16 FPS and 33 FPS. Be aware that some websites bundle GifCam with malware or adware. Thus, you need to be careful.
Pros
Add text to your GIF screen recording.
Create smooth GIF animation with 3 frame rate options.
Get the Gigabyte Memory usage limit in case of slowing down the whole performance.
Cons
It is hard to tell which site offers the clean version of GifCam. If you really want to use GifCam as your GIF screen capture software for Windows, you had better install virus cleaning software in advance.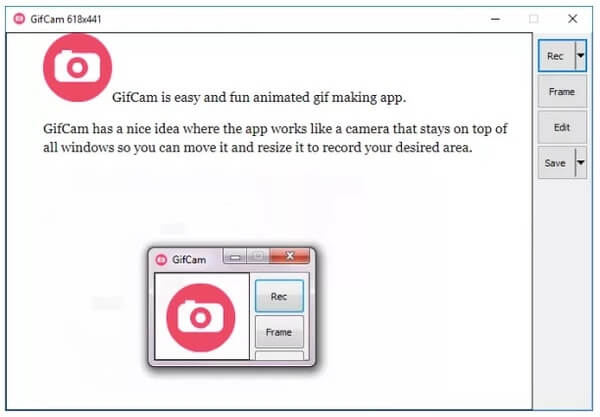 7. Icecream Screen Recorder
The GIF screen capture app is available on Windows, Mac and Android. You can record any area with webcam and save as .gif. The Zoom In feature can help you enlarge the certain part while recording. Well, your GIF video will be more professional than before. Furthermore, you can add your logo or other watermark to the screen recording. Thus, you can protect your work while uploading your recording file to YouTube or elsewhere.
Pros
Screen capture GIF with no watermark on multiplatform.
Save the recorded screen video as GIF and other formats.
Take screenshots while recording.
Cons
Iceacream Screen Recorder will slow down your computer the first few seconds you start recording. The cursor keeps blinking.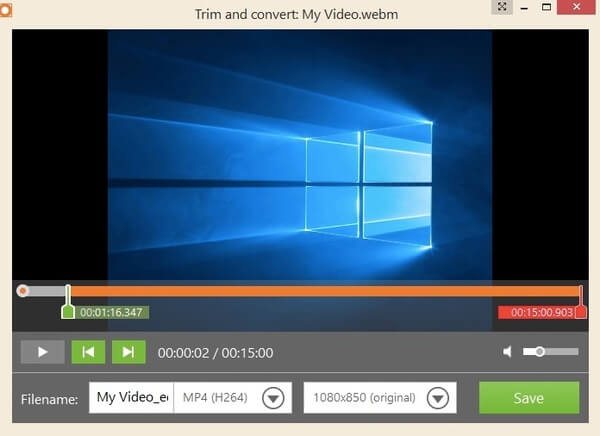 8. Gyazo
You can get HD Gyazo GIF to capture screen on Windows, Mac, iOS and Android. After you drag the certain area on the screen, you can start recording and make GIFs quickly. The free version does not offer editing tools. Thus, you need to upgrade to its Pro version to unlock more features. For Windows users, Gyazo offers a replay mode. Thus, you can record and capture live stream gameplays on Windows as animated GIFs too. Read more to get best game recording software here.
Pros
Choose whether to capture the entire screen or the specific area.
Insert notes, arrows, texts and more in your GIF screen capture.
Share your screenshot on social channels, your website or send by email.
Cons
The Gyazo free version is limited. You need to buy its full version to record screen video and audio.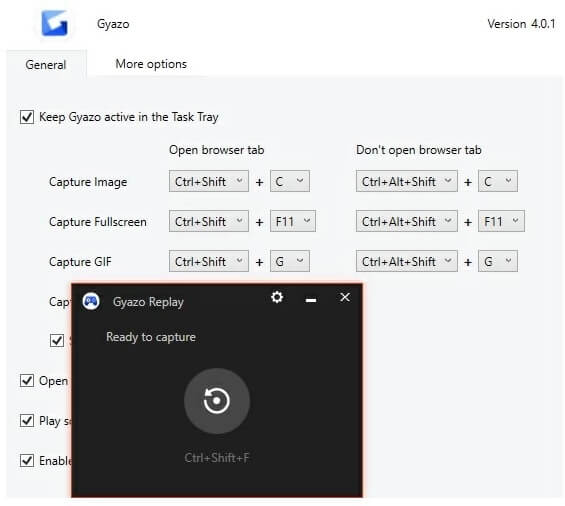 9. GIPHY Capture
GIPHY Capture is a screen capture GIF maker for Mac. You can record screen into GIF animations with clicks. Moreover, GIPHY Capture allows users to trim the recording into clips. You can apply special effects to the animated GIF too. Actually, GIPHY Capture is also a search engine for GIF collections. You can save GIFs to your GIPHY account. What's more, you can share GIFs with friends via a robust GIF keyboard.
Pros
Screen capture GIF on Mac straightforwardly.
Create GIFs with the detailed editing tools.
Grab the last 30 seconds of the video with the new capture live feature.
Cons
There is no Windows version for GIF screen capture. What's more, some user interface elements of GIPHY Capture are nonstandard.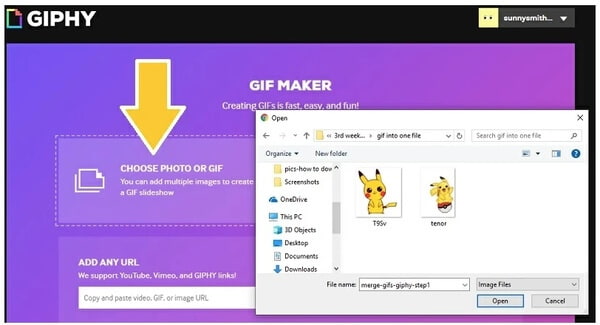 10. Fraps
Fraps is a game recording tool with a long history. You can record screen video as MP4 or AVI format. Well, you need to convert video to GIF manually. The Fraps free version allows users to record screen no more than 30 seconds. If you want to record a short screen video, you can run Fraps and then convert to GIF. Generally speaking, you need to combine Fraps and a GIF converter to get the GIF screen capture for Windows software. You can get top five Fraps alternatives to record video here.
Pros
Record up to 120 frames per second.
Record in resolution up to 7680 × 4800.
A lightweight screen recorder for newbies.
Cons
Fraps takes a lot of system resources during screen capture, especially for gameplay recording. Well, Fraps has not been updated since February 20, 2013.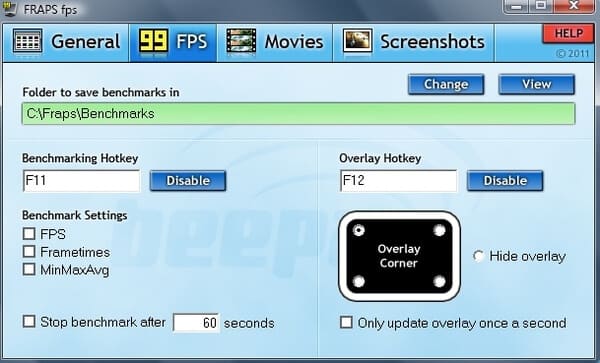 Part 2: How to Capture Screen and Make GIF
If you want to get the one-stop GIF screen capture service, there is no doubt that Aiseesoft Screen Recorder can be the winner. You can take GIF screen capture on Windows and Mac smoothly and freely. The well-designed interface and easy-to-use filters are friendly to all users.
Here is the tutorial for how to screen capture animated GIF on Windows. You can download the Mac version and make GIF animation on Mac with ease too.
Step 1.
Free download, install and launch the GIF screen capture software.
Step 2.
Click "Video Recorder" in the main interface.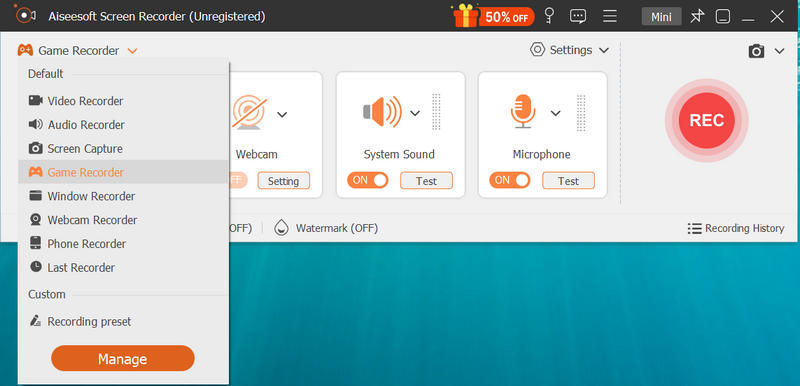 Step 3.
Click "Settings" to get the "Preferences" window. You can set GIF as the output format in the "Output" section. Of course, you can set hotkeys and other preferences for GIF screen capture too.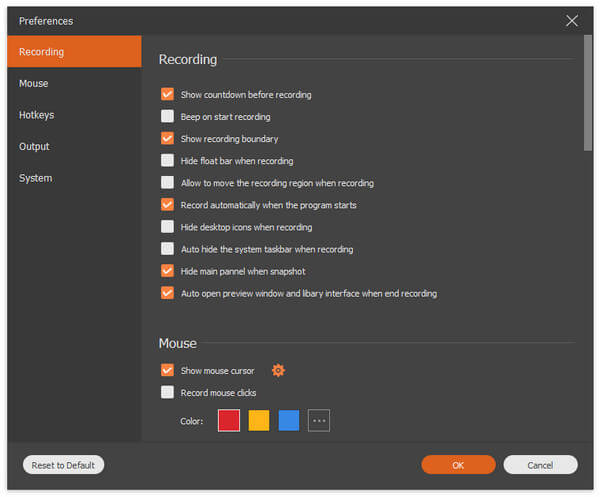 Step 4.
Set the display screen. Enable the webcam based on your need. Later, you can click "REC" to start recording.

Step 5.
After recording, you can click "Save" and "Next" to capture animated GIFs on Windows.
You can combine GIFs to make several recording files into a new file. If you cannot open GIFs, you can install a GIF player on Windows, Mac, iOS and Android. That's all for top 10 GIF screen recorders. You can also get the complete tutorial to record screen to GIF on Mac and Windows here. Please share this post to help more people if it helps.
Part 3: FAQs of GIF Screen Capture
Can I record a GIF on my Mac screen?
Aiseesoft Screen Recorder is available for Mac. Use the Mac version of Aiseesoft Screen Recorder if you need to capture animated GIFs on Mac.
Download Aiseesoft Screen Recorder for Mac
What is the best Google Chrome extension for capturing animated GIFs?
Chrome Capture is a Chrome extension that allows users to capture GIFs directly from online websites.

Leave your comment and join our discussion