How to Use Windows 10 Secret Screen Recorder
In many occasions we will have the need to record screen on our computer to make a video for different purposes. So it's necessary to have a good screen recorder tool on our computer. Many Windows 10 users don't know that there is a secret screen recorder being introduced in the Windows 10 as one of its new features. It's named as Gamebar, but as for its feature of screen recording, it's also called "Secret Screen Recorder Windows 10 tool."

Secret Screen Recorder
Part 1. What is Windows 10 secret screen recorder
In order to find the secret screen recording tool on your Windows 10, please press "Win+ G". And here is how it looks like:

Features:
1. You are able to capture screen and record screen with this secret screen recorder.
2. The Xbox button on the left will take you to the Xbox app.
3. The Settings button enables you to adjust many settings as you like and do other stuff as well.
4. The 3 bars on the right side of Gamebar allow you to drag the Gamebar tool anywhere on the screen.
Please note that the Gamebar itself is not an application, it's an extra feature rather than an app. Gamebar is a feature of the Xbox app, which is already built in Windows 10. Therefore, you can directly share your screenshots and the screen recording works over the Xbox Network. That's why we call the Gamebar extension as Windows 10 secret screen recorder.
Part 2. How to use Windows 10 secret screen recorder
What you can do with Windows 10 secret screen recorder
1. Take a screenshot by clicking the Camera icon or using the Hotkeys "Win+Alt + PrtScn".
2. Record Windows 10 screen by clicking the Red Dot or just pressing the Hotkeys "Win + Alt + R".
3. Open the Xbox App by clicking on the Xbox icon on the left.
4. Change the Gamebar settings and other recording settings by clicking the Settings icon.
How to take screenshots with Windows 10 secret screen recorder
There is something you need to know before using the Windows 10 Gamebar to capture screen or record Windows 10 screen.
The Gamebar will only appear when there are applications running in the background. It will not open on desktop or while switching between applications. What's more, the application should be the target application of which the screenshot or recording will be made. The application can be a game or any other apps.
When you know the basic knowledge of Windows 10 secret screen recorder, we can start to learn how to take screenshots now.
Step 1 Open the app that you want to take a screenshot of, then open Gamebar by pressing Hotkeys "Win + G". Then it will pop up a message asking you "Do you want to open Game bar?" Just check "Yes, this is a game" to open the Game bar.

Step 2 To take a screenshot, just click the Camera icon, then you will be notified that a screenshot has been taken of the target app. The screenshot will be saved to "This PC > Videos > Captures" by default.

How to record screen with Windows 10 secret screen recorder
Step 1 Open the target app of which you want to record screen, then open Gamebar with Hotkeys "Win + G".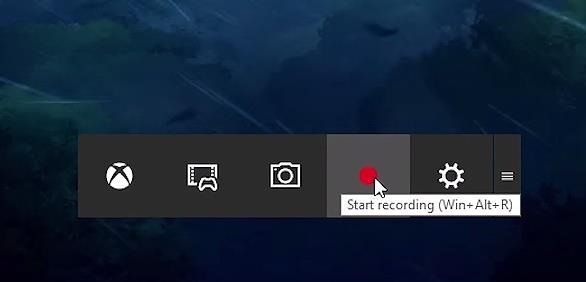 Step 2 Click the Red Dot icon to start recording. The recorded video will also be saved to "This PC > Videos > Captures" by default.
How to make settings to the Gamebar on Windows 10
Step 1 Click the Settings button on the Gamebar.

Step 2 Make the settings as you like on the page shown as below: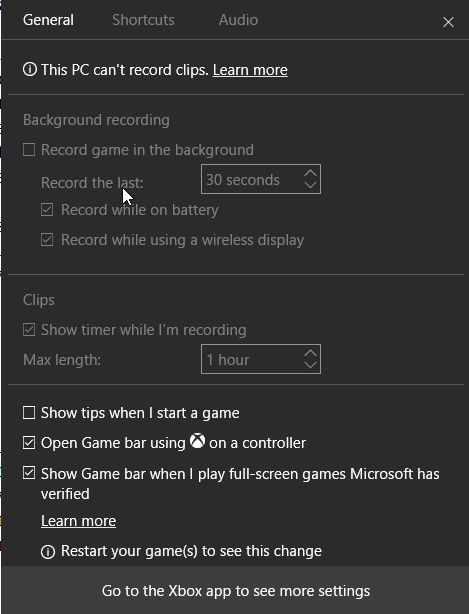 Step 3 Click "Go to the Xbox app to see more settings" if you want to make DVR settings.
You will be lead to the page like below: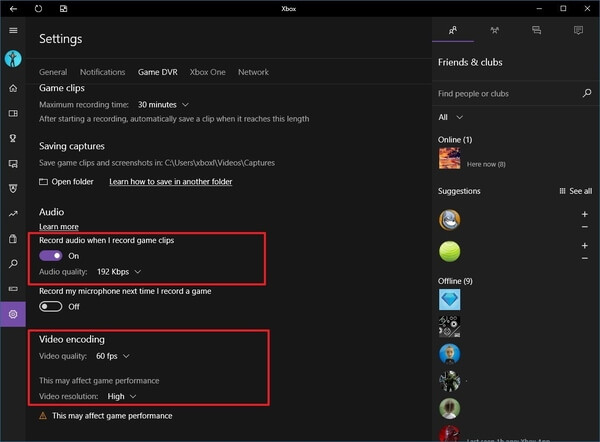 You can make all settings related to screenshot taken or video recording, as well as shortcuts, hotkeys and other stuff.
After you learn these tips, you can start to record video on your Windows 10 screen now.
Part 3. The best alternative screen recorder for Windows and Mac
Windows 10 secret screen recorder can meet the basic needs of recording games or videos on your computer. However, if you want to edit the recorded video, or if you are not a Windows 10 user, what tool you can use to record screen on your computer?
Aiseesoft Screen Recorder is the best screen recording software we recommend for you to capture any activity on your computer or Mac. You can use it as a good video game recorder, Skype call capture, app, and more to capture any area of your screen. Last but not least, it allows you to edit video/snapshot while recording and draw new labels to the output file.

Features:
1. It has both Windows version and Mac version.
2. You can take a snapshot with this alternative Windows 10 secret screen recorder at any customized size you need to save the useful part quickly.
3. You are able to record any online music, radio, audio call and other kinds of audios from system audio or microphone depends on your needs.
4. Aiseesoft Screen Recorder enables you to record video with full screen or customized screen size with high quality.
5. You can edit the recorded video and add annotations during or after the recording.
6. It supports various output formats, including HD formats. You can choose the one you like without further converting.
How to use Aiseesoft Screen Recorder
1. Install and run Aiseesoft Screen Recorder on your computer.
2. Click "Video recorder" if you want to record both video and audio, set recording area and source audio according to your demand.
3. Click REC to start recording on your computer. You are allowed to edit video and add text, line, as well as specific labels to the captured video.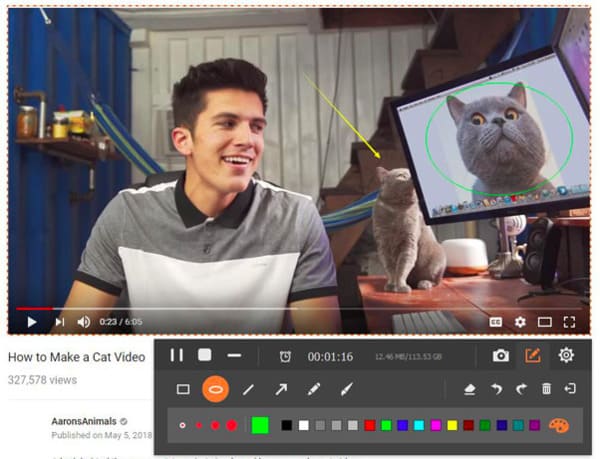 Part 4. FAQs of secret screen recorder
How do I secretly record my iPhone screen?
Does Windows 10 have a built-in screen recorder?
Does Windows 10 have an audio recorder?
Yes. You can record audio in Windows 10 using the Microsoft Voice Recorder app. You can also export, trim or delete the audio file within this app.
If you only need to record screen on Windows 10 for basic purpose, Windows 10 built-in secret screen recorder is enough for you. But if you are a Windows 7/8/ or Mac user, or you have more demands such as customize recording area, edit recorded video etc. rather than only record screen, Aiseesoft Screen recorder will be more suitable for you.