How to Use QuickTime Slow Motion With Ease
While playing movie on Mac, you may frequently have the need to slow down video. All kinds of slow down video editor tools on the internet can help you slow down a video. Moreover, many players can help you directly slow down your video. In fact, QuickTime Player is one of that kind of programs which can fit your need with ease.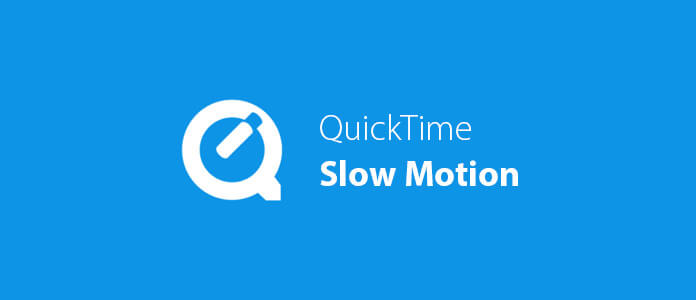 It's easy to overlook the power of the steady and dependable QuickTime Player. Besides video/audio file playing, various key features are designed in QuickTime to help you deal with your media files. When you want to slow down video, you can use QuickTime slow down feature. Just keep reading to find how to slow down movie in QuickTime Player.
Steps to slow motion video in QuickTime
QuickTime Player supports the function of playing video in slow motion. To do that, you can take the following steps.
Step 1 Press and hold on to the play-pause button for about 5 seconds to arise the rate changing menu.

Step 2 In the rate changing menu, you can slow down the video playback rate without losing on the video quality. Surely, you can use it speed up the video playback as you want.
How to disable QuickTime slow motion feature
Whether you want to speed up or slow down video, adjusting the playback speed can suit your need. When you are satisfied with your video playback speed on QuickTime, you can disable the QuickTime slow motion feature.
Step 1 Click "Windows" on the top menu bar, and then click on "Show A/V Controls".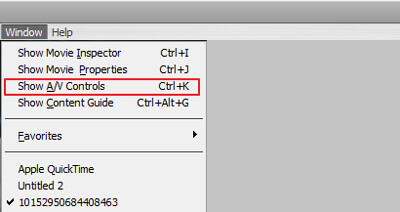 Step 2 Slide the playback slider to the left or right in the new pop up window until you are satisfied with the new playback speed. Close the A/V Controls the video is no longer running in improper motion.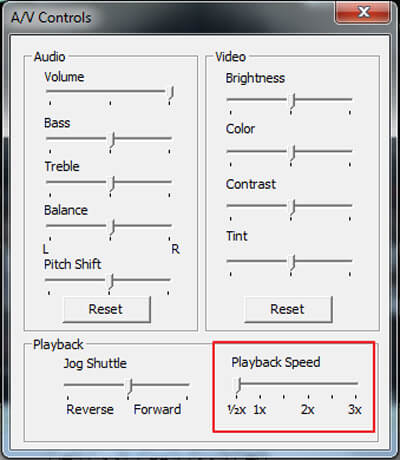 Step 3 Press "CTRL + S" or "CMD + S" on your keyboard to save the new video.
Within just a few clicks, you can successfully disable slow motion on QuickTime Player.
Best Media Player you may want to know:
When you want to use QuickTime slow motion, you can use the methods above. If you want to handily play your video, the powerful Media Player can also a good choice. You can free download it and have a try.
Blu-ray Player
For Mac
Blu-ray Player is a powerful player that could play Blu-ray disc, Blu-ray folder, Blu-ray ISO file and common media files and videos smoothly.
It has upscale to play Blu-ray disc/folder/ISO file, k ultra HD videos, HD, SD video files.
As a media player supports HDR, you can get the best image experiences.
This blu ray playing application is compatible with a wide range of media formats.
Play popular video/audio formats including MP3, AAC, OGG, MP4, AVI, MKV, MOV, etc.
Keep original 1080p HD/4K video quality.
Support 3D video playback.
In this post, we mainly talk about QuickTime slow motion. We show you how to play video with QuickTime slow motion feature. In addition, we tell you a simple way to disable the video slow motion playing on QuickTime. Hope you can better enjoy your movies after reading this article.