Can't Find Restrictions on iPhone? Where Is Restrictions in iOS 12/13/14
Restrictions is missing on your iPhone and can't find it after updating to iOS 12/13/14? Where is Restrictions on iPhone?
Restrictions, also known as Parental Controls, provides a simple way to monitor and manage various apps on your iOS device. It can limit the app using time and avoid some certain content. If you have shared your iPhone/iPad/iPod with your family members, you probably use this Restrictions feature.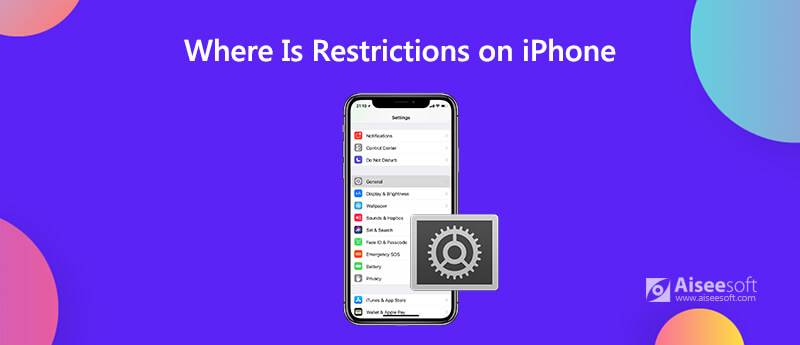 However, many iOS users can't find the Restrictions after updating to iOS 14 or iOS 15. Are you one of them? If you want to set up Parental Controls but can't find Restrictions on iPhone, you are at the right place. Here in this post, we will show you where to find the iPhone Restrictions in iOS 12/13/14.
Part 1. Where Is Restrictions on iPhone in iOS 12/13/14
If you have updated your iPhone from iOS 12 to iOS 13, iOS 14 or iOS 15, you may find that the Restrictions is missing and no longer at the original place. So where is the Restrictions on iPhone?
In fact, Restrictions have been moved to the Screen Time section in the Settings app. When you enter the Settings app, you can scroll down to choose the Screen Time option. Then you can see an option named Content & Privacy Restrictions. You can tap on it to use the preview Restrictions feature.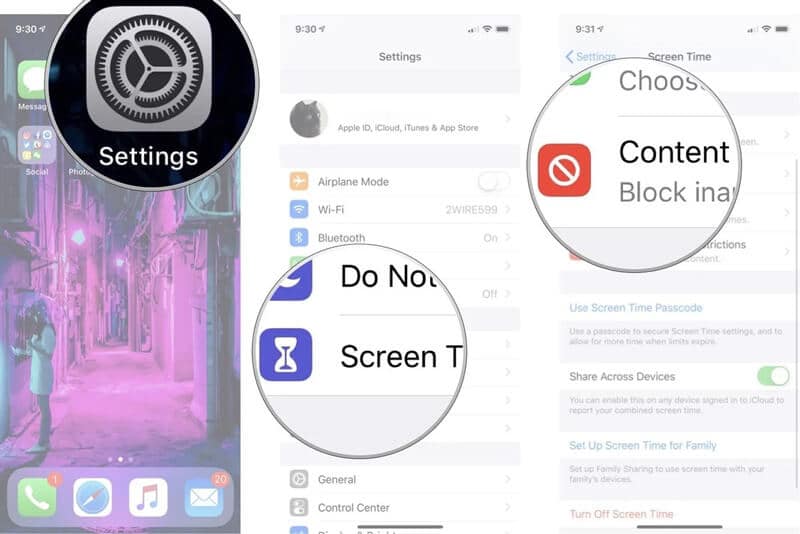 Part 2. How to Set up and Use Restrictions on iPhone
After your find the Restrictions on your iPhone, you can enable and use this feature. In case you don't know how to Set up and Use Restrictions on iPhone, here in this part, we like to give you a simple guide.
Step 1.
Unlock your iPhone and go to
Settings
app. Scroll download to find the
Screen Time
section, tap on it.
Step 2.
You should turn on the
Screen Time
function if you are using iOS 12. Then tap the
Content & Privacy Restrictions
option. In iOS 13/14, you can directly tap on the Content & Privacy Restrictions option and then turn on the feature in the next interface.
Step 3.
After turning on the Content & Privacy Restrictions, you are required to enter a passcode for Screen Time. Here you can set a 4-digit password for it. Then re-enter the passcode to confirm the operation.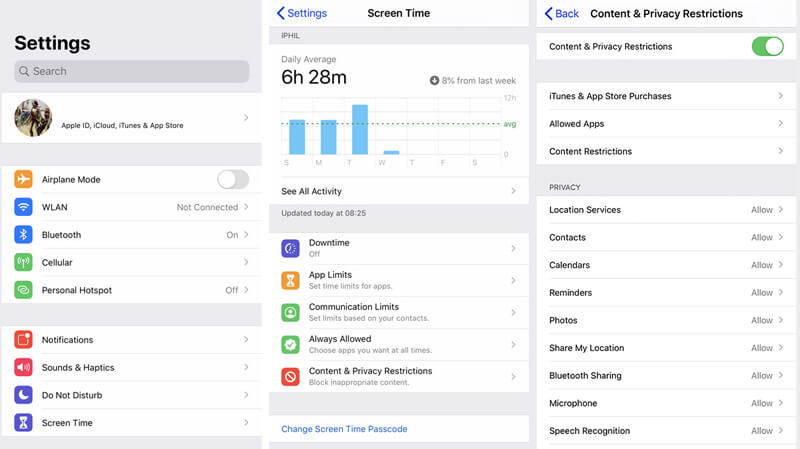 Step 4.
Now you can handily custom various settings and limits in Restrictions feature. If you want to set
Parental Controls
on your child's device, you can back to the main interface of Screen Time and then choose
Downtime, App Limits
or
Communication Limits
to add these limits. Learn
how to reset Restrictions password
here.
Part 3. How to Turn Off or Remove Restrictions Passcode on iPhone
It's quite common that you forgot the Restrictions passcode due to it is separated to the iPhone lock screen password. So how to turn off or remove the Restrictions passcode if you can't remember it? Here we strongly recommend an easy-to-use Restrictions passcode removing tool, iPhone Unlocker for you to erase the Screen Time password with ease.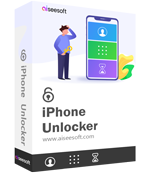 Downloads
iPhone Unlocker - Easy Remove Restrictions Passcode
Remove any passcode (4/6-digit, Face/Touch ID) including Screen Time passcode on iPhone, iPad and iPod.
Recover or unlock restrictions password when you forget the Screen Time passcode.
Safely recover or turn off Restrictions/Screen Time passcode without any iOS data loss.
Support multiple iOS devices like iPhone/iPad/iPod and iOS versions like iOS 15/14/13/12/11.
Step 1.
Double-click on the download button above to free install and run this Restrictions passcode removing software on your computer. Choose the Screen Time feature to erase your Restrictions passcode.
Step 2.
Click the Start button and then connect your iPhone it with a USB cable. After connecting, you can see some basic information like model, type and iOS version on the window. Click the Start button again to move to the next step.
Step 3.
If your device is running on iOS 12 or later, and Find My iPhone/iPad is disabled, this program will immediately starts unlocking the Screen Time passcode on you device.
If your device is running on iOS 11 or earlier and your iTunes backup is not decrypted, you are able to retrieve Restrictions passcode directly. But if your iTunes backup has been encrypted, you need to enter the password to decrypt the backup to continue. After waiting for a while, the Screen Time passcode will be removed.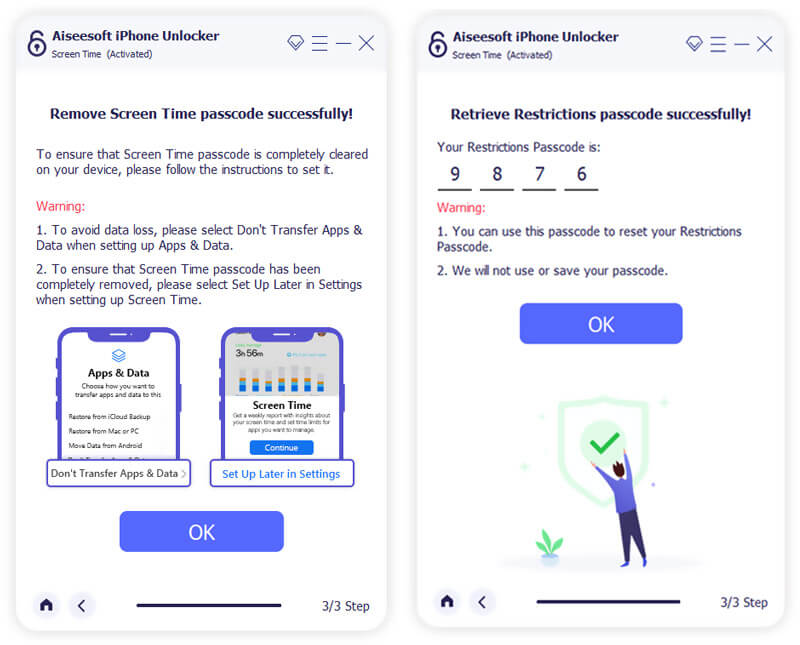 Now you can back to the Screen Time feature on your iPhone to set a new passcode and custom various settings.
Part 4. FAQs of iPhone Restrictions
What is Screen Time?
Screen Time, also known as Restrictions in the previous iOS versions, is a very useful feature to control various app usages on iOS device like iPhone, iPad and iPod touch. Screen Time is one kind of new feature that introduced with the release of iOS 12. It can give you a clear app screen usage time report. What's more, it carries the old Restrictions feature to set up various limits on iOS device.
Screen Time helps iOS users to better manage how long they use their iPhone screen. What's more, it makes the detailed activity reports, statistics, and graphs that showing the total time you spend on each app. It gives a great way to manage activities and enhance the device performance.
Is Screen Time a setting or an app?
Screen Time/Restrictions is one feature or settings on iOS device. It is not an app. You won't find the Screen Time icon on the Home Screen. Screen Time is just one part of your Settings app.
How to disable Restrictions on iPhone, iPad, or iPod touch?
When you want to turn off the Restrictions feature on iOS device, you need go back to the Screen Time. Here you can tap Content & Privacy Restrictions and then enter your Screen Time passcode to disable the Restrictions.
We have mainly talked about where the Restrictions is on iPhone in this post. You can easily find Restrictions from Screen Time in Settings app. Also, we show you how to set up and use this feature on your iPhone, iPad and iPod touch. Leave us a message in the comment part if you still have any questions.

Leave your comment and join our discussion