11 Best Screen Recorder Apps for iOS Device, Android Phone and Windows PC
Screen reorder app can be very helpful and useful if you want to record a how-to video to show others how to record a game, a tutorial, use an app or prepare for a presentation.
With these screen recorders, you can create a video of whatever you are doing on your mobiles, save your recordings as the video files and send them to your friends.

Best Screen Recorder Apps
There are many apps that record your screen on the websites. Here, I will share the best 10 screen recording apps, which can help you record every action you make on your Android and iPhone/iPad. When you have the need to record your screen on Android, iOS or Windows, you can pick one screen recorder app to do that.
Part 1. Top 5 screen recorder apps for iPhone/iPad/iPod device
Along with iOS devices become more and more popular, issues about how to make the screen recording on iPhone/iPad become more and more common. About this topic, users of iOS devices tend to use the simulator on your Mac to record the video about what is happening on the screen of your iOS devices like iPad Pro, iPad 4/3/2/Air/Air 2, iPad mini 4/3/2, iPad mini and iPod touch 6/5, iPhone XS/XS Max/XR/X/8/7 Plus/7/SE/6s/6s Plus/6 Plus/6/5s/5c/5/4S/4.
Here, we will talk about the screen recorder app for recording your screen on iPhone/iPad.
1. Record Directly on iPhone or iPad
Screen Recording is the built-in feature on iOS 11 and above for iOS devices. Without jailbreak, you are able to record your screen without any cable or computer.
You just need to add Screen Recording to Control Center and press the record button on iPhone, and then find your iPhone screen recording on Photos app.
Learn here to record iPhone screen directly.
For iPhone or iPad users that runs iOS version before iOS 11, you will need to jailbreak iOS device, and use a program like the Display Recorder app on Cydia. Several options allow you to define the video/audio format, the framerate, and whether to show "taps" or if the phone is used in portrait or landscape mode.
Note: You can't record system audio on iPhone.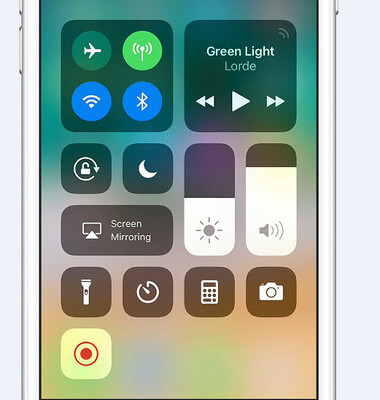 2. Elgato
Now people know that it is simple and easy to record your iOS device with the QuickTime player. However, before that, people used one of the game capture devices which was called as Elgato which is mostly known to game players.
Regarding this screen recorder app, it comes with Elgato Game Capture HD, Quick Start Guide, USB cable, HDMI cable, PlayStation 3 cable and Component adapter. Besides, its supported output format is HDMI and Supported resolutions are 1080p60, 1080p30, 1080i, 720p60, 720p30 as well as the advanced H.264 Encoding.
With this recorder, you can capture the game you like and the recording video you recorded can be shared on YouTube, Facebook and Twitter with the flashback recording feature.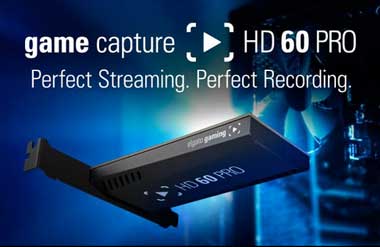 3. Reflector
At the very beginning of recording the screen, people also used an screen recording app named Reflector to record your screen. It is also used for specific videos when shooting live. Currently, Reflector 2 costs $14.99 and it can help you record what's happening on the screen of your iOS devices.
The bonus about the Reflector is that it does not require any cable: just your iPhone (or iPad) and your Mac.
Reflector can enable you to record your iPhone screen at up to 60 FPS. This screen recorder app can make you include device frames when recording. But, it is impossible to record with a resolution as high as that made by QuickTime player (1080 × 1920 with an iPhone 6 Plus for example).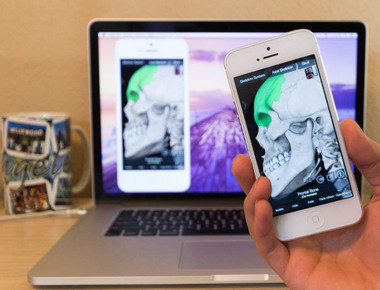 4. ScreenFlow
ScreenFlow provides a similar way to record your screen of iOS device, like QuickTime. The advantage of this screen recorder app is that you can edit the video within the program. Besides, ScreenFlow is also a better tool to capture video. At this point, QuickTime can be choppy. However, considering that QuickTime is free, you should try this screen recording app first. And if QuickTime doesn't work well, then you can try ScreenFlow.
Before doing this job, you just need simply connect your iOS device to your Mac with the USB cable and run ScreenFlow. This tool will automatically detect your device and give you the option to record that screen. And you can make screen recordings of your iPhone devices including iPhone XS/XS Max/XR/X/8/7/SE/6s/6s Plus/6 Plus/6/5s/5c/5/4S/4.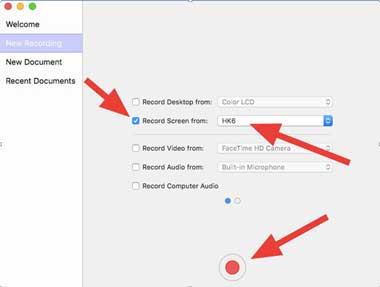 5. QuickTime Player
This screen recorder app just can support an iOS 8 or later and a USB cable of the iOS devices. About this program, you needn't the third-party app and any additional hardware.
About this screen recorder utility, it is easy and convenient to use. With it, you needn't download any programs and you can directly edit your video before saving it. In this way, you can keep the relevant part of your recording.
When you recorded the screen and saved the video as MOV file, you find that your player can just support AVI format. Then you need find the program on the website to convert the MOV file to AVI format.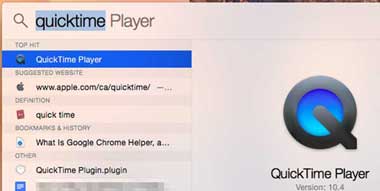 Part 2. Top 5 screen recorder apps for Android phone
With the increasing development of the Android devices, more and more people tend to use the Android phones. However, as Android users, people find that there are difficulties in recording screen on their devices. Where to find some apps that record your screen? Here we introduce you with top 5 best screen recorder app to capture the activities on Android.
1. Shou
Although Shou is still in its early phase, this screen recorder app provides you a lot of features that most screen recording apps don't offer at present. You can use Shou to make screen recording with stereo sound, even take a screen shot simply by shaking your Android device. You need to join their Google+ community before you can download this screen recorder app from the Play Store.
When you use Shou, you will find it doesn't have the time limitation on recording. You can select your source engine, encoding engine, orientation, resolution, and bitrate. Don't be afraid of the number of permissions it requires, as the screen recording app carries a lot of other features that requires such permissions.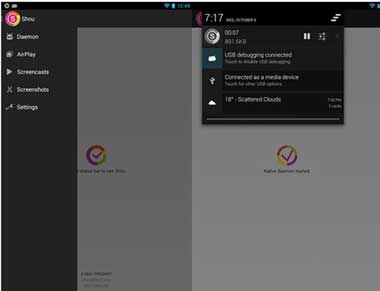 2. SCR Screen Recorder Free
SCR is another screen recorder app that allows you to do some free screen recordings for up to 3 minutes and promises you to add a watermark to your video. Although this app doesn't have a main interface, it consists of an overlay of a small rectangular box that will include 3 buttons: one for recording, one for accessing settings, and another to exit the app. Once you start recording, you will notice that an overlay at the right side of your screen indicates the app is currently recording.
To stop the recording, you can turn off your screen for 2 seconds or just re-open the app again. There are plenty of features you can try from the app settings page, such as choosing your video encoder, resolution, image transformation using GPU or CPU, indicating bitrate, choosing a frame rate (which is limited by hardware capabilities) and many others.
When you completed the recording, the video will be saved as MP4 file automatically. At this time, if you just want audio file like MP3, you can just convert MP4 to MP3 file with video converter on the website.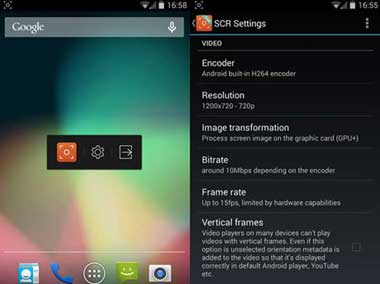 3. Screen Recorder for KitKat
Screen Recorder for KitKat is a simple and easy screen recording app which can make you download free through the Google play store. With this program, you can enable to set up your preferred resolution, adjust the bitrate and rotate the video. Besides, this app can let you record for up to 180 seconds. You can start recording by tapping "Record" after opening the app.
While recording, you'll be able to see your recording status via your Android notification bar. A sound and vibration notification will make you know when the recording is finished. All of the recordings will be available in your Screen Recorder folder or SD card.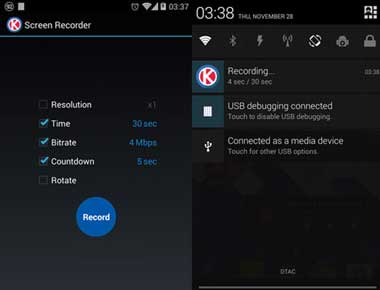 4. Rec.
Rec. is the professional screen recording app for Android which has the simple and elegant interface. When you open this app to record phone screen, you can adjust the bit rate and duration based on your preference. Then you can tap "Record" at the bottom.
Once you tap "Record", this app will count from 1 to 10. So, during this period, you have enough time to prepare. Besides, you can stop the recordings by tapping "Stop". About the free version, you can record only 5 minutes and the audio recording only last for 30 seconds. If you want to record longer, you can update to the paid version.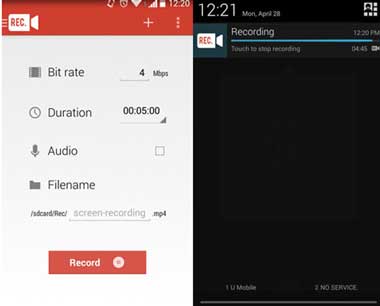 5. AZ Screen Recorder - NO Root
AZ Screen Recorder is the best Android screen recorder app to record various activities on screen. With this program, you can record screen of your android devices like Samsung Galaxy Note 6/5/4/3/2, Galaxy S7/S6/S5/S4 edge, Sony Xperia Z5/4/3/2, Huawei Ascend P9/8/7/6, Mate 8/7/6/5, G8/7/6, etc. Moreover, it does NOT require root access, no time limit, no watermark, ad free and very easy to use with one action to start and stop recording.This screen recording app will let you make beautiful screencast videos by providing every feature that you need in a simple and elegant user experience design.
AZ screen recorder lets you record your screen to HD and Full HD videos and it is the only screen recording app in the Android market for now that can be paused and resumed while recording.
Part 3. Best screen recorder apps for Windows PC
Apart from the apps that record your screen on Android and iPhone/iPad introduced above, you may also want to find the screen recording app for Windows. When you want to record screen of what is happening on your desktop on PC, an easy-to-use screen recording app can be a good helper. Maybe the software Screen Recorder will give you a hand.
Aiseesoft Screen Recorder
Aiseesoft Screen Recorder is professional screen capture software which can capture online videos, games, podcast, webinars, lectures, presentations, Skype calls, online conference, webcam videos, etc. in full screen or customized screen size with ease.
Record game for sharing.
Screencast webcam videos.
Support capturing pictures from screen.
Record streaming audio, online audio, microphone voice with high sound quality.