Top Sound Recorders to Help You Record Audio from PC/Mac/iOS/Android
Summary: How to record audio on Mac, PC, Android and iOS device? Here we list some best sound recorder tools to help you record sound with high quality.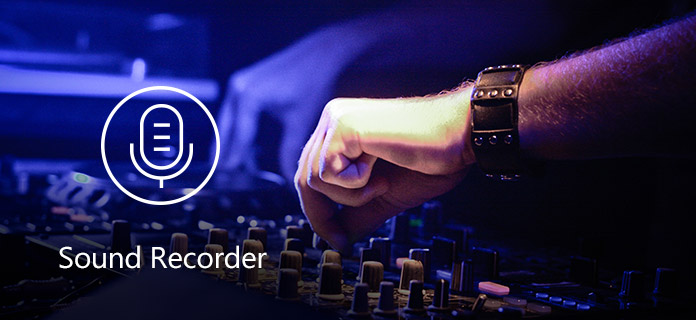 Under many circumstances, you will have the need to record audio. Sometimes, you want to extract the audio track from videos on PC/Mac. Also, you may want to capture some audios with your portable iOS or Android device. Actually, many sound recorders can help you get the job done. The question is, which audio recorder you should choose.
Sound recording is a very useful function which enables you to record a sound and save it as an audio file on your Mac, PC, iPhone, iPad, iPod and Android devices. You may always want to download streaming audio on computer or capture a voice call on mobile device. In this article, we will recommend some great sound recorder apps to help you do that.
Best Sound Recorder
What is the first concern when you choose a sound recorder?
Besides the smooth audio recording, you may also pay attention to the output sound quality and format. Considering that, here we first show you the professional Sound Recorder. This audio recording software has the capability to record any sound on your computer and save it as a frequently-used audio format with high audio quality. You can check the basic features of this Sound Recorder.
Aiseesoft Sound Recorder
1. Aiseesoft Sound Recorder is the professional audio recording software which enables you to any sound on your computer with high quality.
2. You are free to choose to record system audio or microphone audio.
3. The recorded music & audio can be saved as MP3, WMA, AAC or M4A files according to your setting.
4. While recording a video, you are able to capture any frame and save it as screenshot.
5. You are able to complete the screen capturing automatically. You can set the end recording time to stop the recording process based on your need.
Check how to record audio with this Sound Recorder: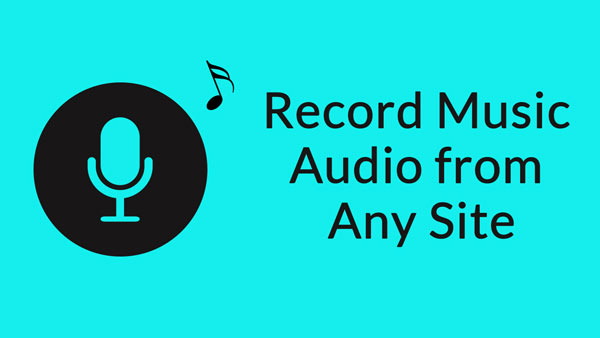 Part 1. Online sound recorder
If you prefer not to install any audio recording software on your computer, online sound recorder can be a good choice. In fact, when you search for "sound recorder" on Google, you can also find out some online audio recorder sites. This part will show you two useful online tools to help you capture sound or voice on computer.
Vocaroo - Online voice recorder
https://vocaroo.com/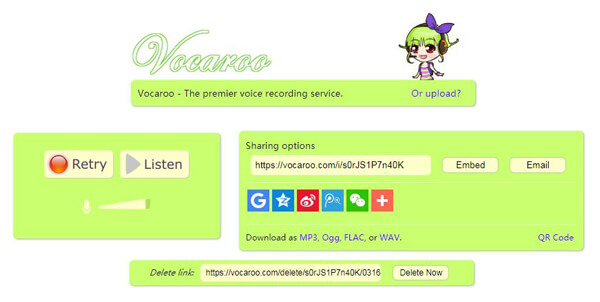 Vocaroo is a very popular free online voice recording site. It is designed with a quite concise interface. When you need to record audio and enter its site, you can directly start your audio recording. This sound recorder claims that it is a shiny new service for sending voice messages across the interwebs. It is still under development and may have some problems. We tested this app for recording audio and it worked well. After the sound recording, you can easily download the audio file as MP3, OGG, FLAC or WAV file to your PC/Mac.
SpeakPipe voice recorder - Free online voice recorder
https://www.speakpipe.com/voice-recorder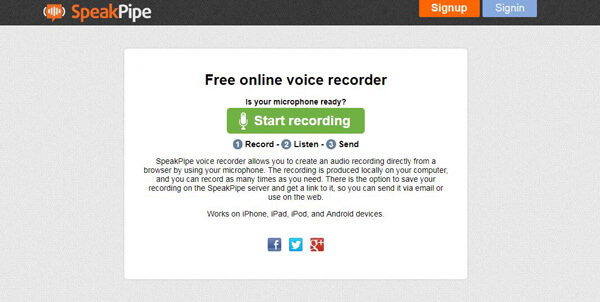 SpeakPipe voice recorder enables you to record audio directly from a browser by using your microphone. The sound recording is created locally on your computer. Through our tests we find out that, it doesn't allow you to save the recorded audio files to local disk. These audios are saved at its server. You can record as many times as you need with this voice recorder. But the max time is limited to 5 minutes. After recording, you will get a link for sending it via email or use on the web.
Part 2. Sound recorder for Windows PC
As Windows 10/8/7/Vista/XP computer owns a large user base, so we will show you how to record audio on PC. Whether you want to save audio or capture important voice messages, you don't need to buy a real digital audio recorder, just use the sound recorder we suggest to get the audio.
Microsoft Expression Encoder Screen Capture
As a Windows user, the first thought in your mind is using Microsoft Expression Encoder Screen Capture to capture audio. It allows you to record sound from systematic audio and microphone. Here are the steps:
Step 1 Download Microsoft Screen Capture from its Microsoft official site.
Step 2 Click the "Record" button to start the audio recording on Windows.
Step 3 When the recording is completed, click "Stop" the audio recording.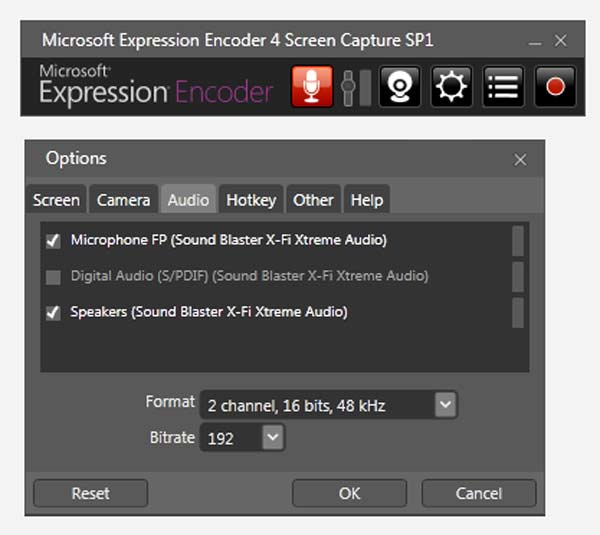 Other features about this sound recorder
Besides the sound recording, it can capture the screen at the same time.
After recording, it allows you to play and edit the recorded audio and video.
The recorded file will automatically be saved as XESC video, so you may need a free video to audio converter to extract the recorded sound from video.
Aiseesoft Screen Recorder
As you can see from above, if you choose to use Microsoft Screen Capture to record sound from PC, you will finally get an XESC video file. For ordinary users, you barely know about this format. So if you want to get a frequently-used format, you should try the professional Sound Recorder. First, you should download and install it on your computer.
Step 1 With the download button above, you can handily download this audio recorder. Then install and launch this audio recording software on your computer.
Step 2 You can see two recording ways are offered for you, Screen Recorder and Audio Recorder. Click "Audio Recorder" option to enter the "Record Audio" window.

Step 3 You are free to choose recording sound from system audio or microphone. To guarantee the sound quality. You are suggested to turn down the microphone and capture sound from system audio. Then click "REC" to start the audio recording.
Step 4 Click "Stop" button at the same place when audio recording is finished. The recorded audio will be saved as MP3, WMA or other audio files according to your setting.
Part 3. How to record audio on Mac
If you are a Mac user and want to capture audio on Mac, you should check this part. As we all know, QuickTime Player is a popular media player. More than that, it also can work as a great HD audio recorder. And in this part, we will show you how to record audio on Mac with QuickTime Player.
Step 1 Launch the QuickTime Player on Mac and click "File" on the left side of menu bar.
Step 2 Select "New Audio Recording" and a new active window will appear on the screen.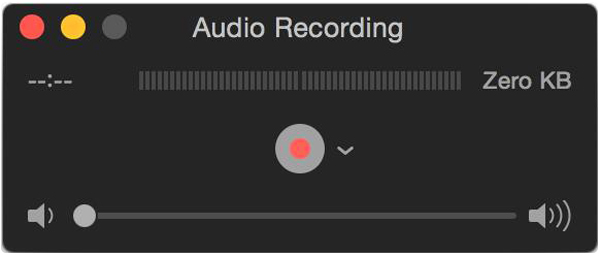 Step 3 Click the "red point" to start the sound recording.
Step 4 When you want to end the recording, just click the "grey point" in the same place. And then you can save it on Mac.
1. It only allows you to free record audio from internal microphone.
2. Apart from audio recording, it can help you to capture the Mac screen video.
3. The recorded sound will be saved as an M4A audio file.
Part 4. Sound Recorder for Android - Capture voice on Android phone
If you are using an Android phone like Samsung Galaxy S8/S7 edge/S7, Note 8/7/6/5, LG G5/V10, Sony Xperia Z5/C5/M4, HUAWEI P10, P9/Mate 8, etc. and want to record audio, you can download Voice Recorder from Google Play to help you capture sound on Android.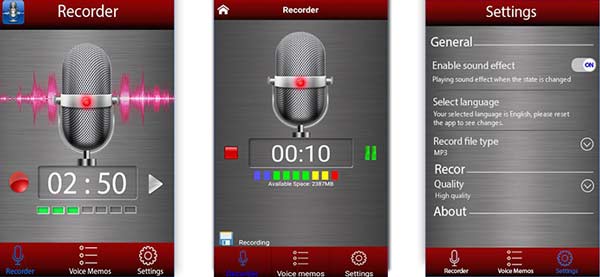 Step 1 After you download and install this Android audio recorder, open it on your Android phone.
Step 2 Click the red "Record" icon to begin the audio recording.
Step 3 Click the "Stop" icon at the same place to complete the process.
After recording, you can free choose to save the captured voice or not.
1. This voice recording app for Android enables you to record HD quality sound.
2. You can save the audio as MP3 or OGG file.
3. It allows you to easily send your recorded voice to others with E-mail, Facebook, WhatApp and more.
Part 5. Audio Recorder for iOS - Record audio on iPhone/iPad/iPod
Along with the development of mobile phone technology, you can do lots of things on your iOS or Android device rather than PC and Mac. And in daily life, when it comes to sound recording, you may use this function more often on cell phone. When you need to record voice, you definitely don't just record a short voice message like WeChat or VoiceMemos. You are looking for a professional tool. So we recommend Audio Recorder to you. First, you should find and download this app from App Store.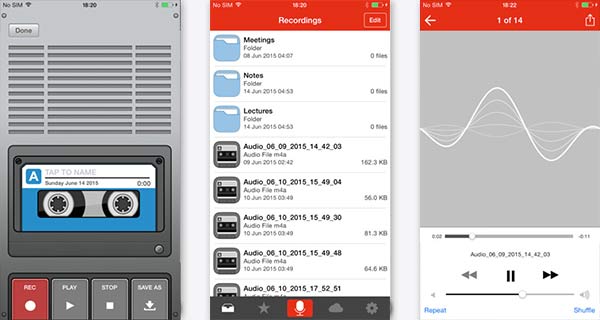 Step 1 Install this sound recorder app and then open it on your iPhone, iPad or iPod.
Step 2 Click the red "REC" button to start recording voice.
Step 3 Tap "STOP" to finish the sound recording and click "SAVE AS" to save the recorded audio.
1. The recorded voice will be automatically saved as the format of M4A.
2. It provides unlimited recording time.
3. It enables you to edit the audio file and share with friends on Facebook and Twitter.
You may need: Top 5 voice recorders to capture voice while playing music.
We mainly talk about sound recorder in this page. A good sound recorder can always be a great helper. We recommend some easy-to-use audio recording apps for you to record audios on Mac/PC, iPhone, iPad, iPod and Android devices. If you still have any questions about these audio recorders, you can leave us a message.