Free/Online/Professional Audio Recorders to Help You Record Audio from Mac, PC, iPhone and Android
Summary: This post shows you how to record audio on Mac, Windows PC, iPhone and Android device. Many free online voice recorders and professional audio recording software are recommended for you to capture sound.
"I want to download music from SoundCloud but it doesn't allow me to do that. I know that some audio recorder apps can extract MP3 songs from SoundCloud. What kind of sound recording software I should choose? Any suggestion?"
"Is there any good audio recording software on Mac that can record voice effectively? I tried some online voice recorders, but didn't get good quality output audios."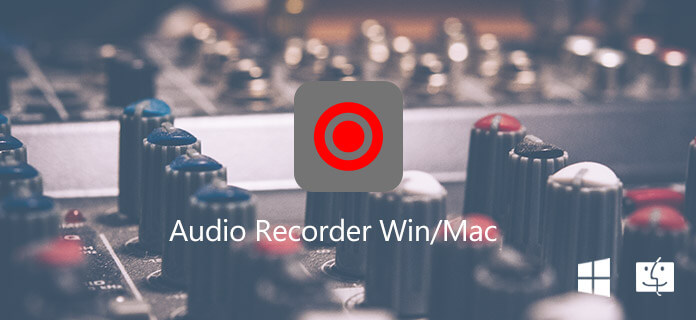 Are you looking for the best audio recorder? If you are, you are at the right place.
For different reasons, you want to record audio on Mac, PC portable iPhone or Android phone. For instance, you may be eager to download some beautiful BMG from online sites, or have the need to keep some important voice calls. This article will introduce you with some useful audio recorder apps. They are very helpful, especially when you record audio from computer.
Best Audio Recorder
In case you just want to quickly find the best audio recording software, here we first recommend the professional Audio Recorder. It has the capability to capture any sound on your computer. The recorded audio files are keep exactly the original sound quality. Moreover, you can save these audios in any popular audio format you like.
Aiseesoft Audio Recorder
1. Aiseesoft Audio Recorder is the professional audio recording software which enables you to any sound on your computer with high quality.
2. You are free to choose to record system audio or microphone audio.
3. The recorded music & audio can be saved as MP3, WMA, AAC or M4A files according to your setting.
4. More than a audio recorder, it also a powerful screen capture tool to help you download YouTube video, capture Skype video calls and more.
5. While recording a video, you are able to capture any frame and save it as screenshot.
6. You are able to complete the screen capturing automatically. You can set the end recording time to stop the recording process based on your need.
Check how to record audio with this Audio Recorder:
Part 1. Free audio recording software to record audio on Mac and PC
When you want to record audios on Mac or PC and search for the solutions on Google, you will see many results are related to audio recorder online. That means many users prefer to capture voice with free online tools. If you are one of them, you should pay more attention to this part.
Voice Recorder Online
https://online-voice-recorder.com/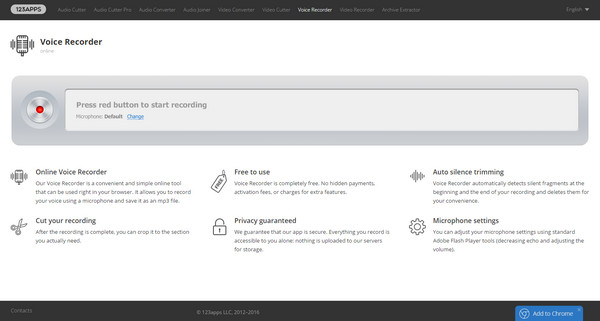 Voice Recorder Online is a convenient and simple online audio recording tool that can be used right on your Windows PC or Mac. It can help you record your voice using a microphone and then save it as an MP3 file. This audio recorder can automatically detect silent fragments at the beginning and the end of your recording and deletes them for your convenience. In addition, it allows you to cut your recording.
Free Online Audio Recorder
https://www.apowersoft.com/free-audio-recorder-online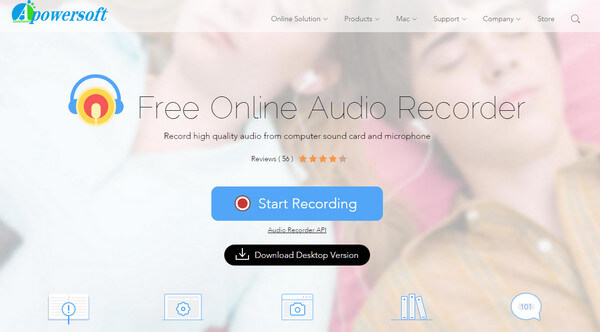 Free Online Audio Recorder is an easy-to-use voice recording app which enables you to record streaming audio on Windows or Mac computer straightly. Though it claims that you don't need to install plug-in or subscribe to any service, you still have to install a launcher before the audio recording. You can choose to record audio from system sound or microphone with this voice recorder online.
SpeakPipe voice recorder - Free online voice recorder
https://www.speakpipe.com/voice-recorder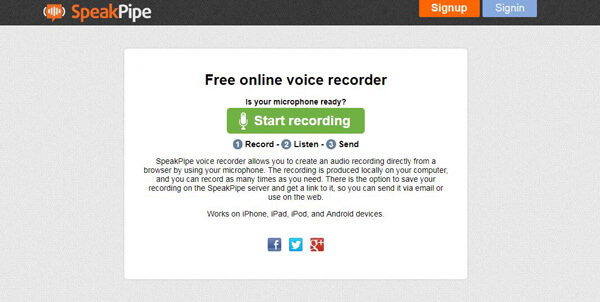 SpeakPipe voice recorder can help you capture sound directly from a browser through your microphone. The voice recording is created locally on your computer. This free audio recording software doesn't allow you to save the recorded audio files to local disk. You can only save them at server. You can record as many times as you need with this audio recorder. But the max time is limited to 5 minutes. After recording, you will get a link for sending it via email or use on the web.
Clyp audio recorder
https://clyp.it/online-voice-recorder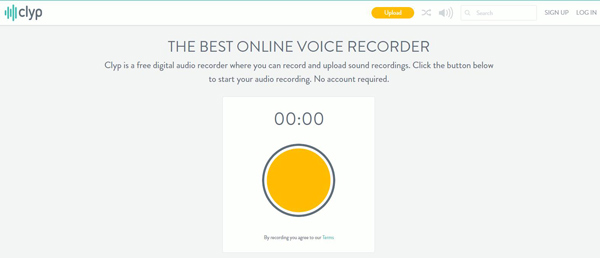 Clyp is a free online digital audio recorder where you can record and upload sound recordings. It is designed with a very concise interface which helps you easily record audio from your computer. Besides recording voice on PC and Mac, this voice recorder also provides Android and iOS app versions for you to record audio on iPhone and Android. Compared with other sound recorders, it can give you better sound effects.
Vocaroo - Online voice recorder
https://vocaroo.com/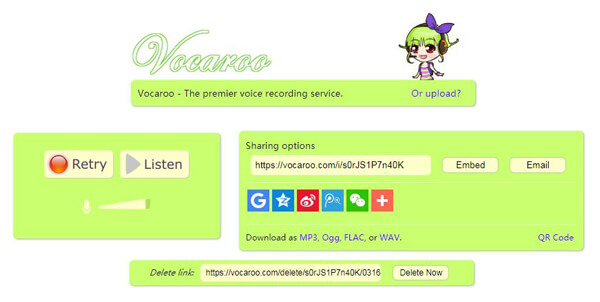 Vocaroo is quite a popular free online audio recording app. It is designed with a very user-friendly interface. When you need to record audio and enter its site, you can directly start your audio recording. This sound recorder claims that it is a shiny new service for sending voice messages across the interwebs. It is still under development and may have some problems. We tested this app for recording audio and it worked well. After recording audio on your computer, you can easily download the audio file as MP3, OGG, FLAC or WAV file.
Part 2. How to record audio on Mac
If you want to capture sound on Mac, you don't need to download any voice recording software. QuickTime Player can work as a great audio recorder for Mac. Although QuickTime is viewed as a media file player, it has powerful recording functions like including screen, video, and audio recording. What's more, it also supports some audio editing features.
Step 1 Launch QuickTime from the "Finder" > "Applications" on your Mac. Then click "File" on the left side of menu bar.
Step 2 Select "New Audio Recording" and a new active window will appear on the screen.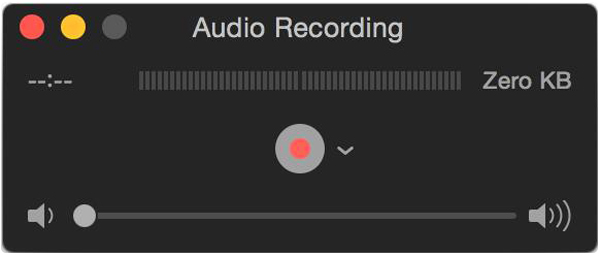 Step 3 After clicking "New Audio Recording", there shows one simple interface. You can click the red button to record sound from the microphone. Click the "red point" to start to record audio from your Mac computer.
Step 4 When you want to end the recording, just click the "grey point". Then you can save the recorded audio on Mac. The recorded sound will be saved as an M4A file.
Part 3. Audio recorder for PC to record sound from Windows computer
How to record streaming audio from websites on PC?
If you are using a Windows computer and have the need to capture sound, you can directly go to the Best Audio Recorder. This part will show you how to use this powerful sound recorder.
Step 1 Download, install and then launch this professional sound recording software on your computer.
Step 2 When you enter the main interface, you can see two recording ways are provided for you, Screen Recorder and Audio Recorder. Click "Audio Recorder" option to enter the "Record Audio" window.

Step 3 You can choose to record audio from system audio or microphone. To guarantee the sound quality. You are suggested to turn down the microphone and capture sound from system audio. Then click "REC" to start the audio recording.
Step 4 When the audio recording is over, you can click "Stop" button at the same place. The recorded audio will be saved as MP3, WMA or other formats based on your setting.
We talked about audio recorder in this post. Various sound recording apps are recommended for you to capture audios from computer. If you want to record audio on iPhone, you can directly use its built-in function. Some online audio recorder tools also offer iOS and Android versions for you to record voice. If you still have any question, you can leave us a message.