10 Best Audio Recorder to Record Audio from Mac/PC/iPhone/Android
Is there any good audio recording software on Mac that can record voice effectively? I tried some online voice recorders, but didn't get good quality output audios.
Sometimes you may need to record audio on your computer or smartphone for various reasons. Maybe you want to get the background music of your favorite shows. Or you may be interested in recording your own voice to make a tutorial. If so, then you should use a professional audio recorder to help you capture any sound you want without quality loss.
This article will introduce you with some helpful audio recorders. Please read on.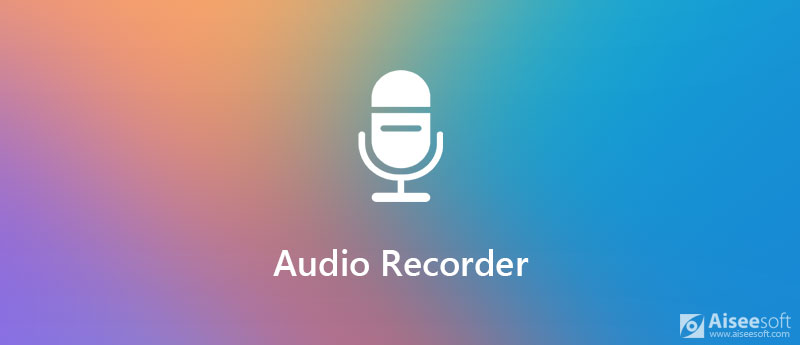 Part 1. The Best Audio Recorder Software on Windows & Mac
If you are looking for a powerful audio recording tool for your computer, you have come to the right place. The first one we are going to recommend to you is Aiseesoft Audio Recorder, a multi-functional audio and screen recorder program designed for both Windows PC and Mac. It has the capability to capture any sound on your computer. The recorded audio files will keep the original sound quality. Moreover, you can save these audios in any popular audio format you like.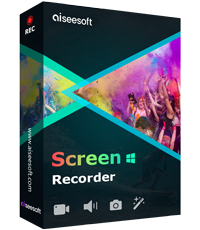 Downloads
Free to choose to record system audio or microphone audio as you like.
Save sound as MP3, WMA, AAC, or M4A files according to your need.
Trim the recording and adjust the time length without any hassle.
Set the hotkeys to control the recording process effortlessly.
How to record audio with Aiseesoft Audio Recorder on PC/Mac?
Step 1.
Download, install and then launch this professional sound recording software on your computer. When you enter the main interface, you can see several recording options are provided for you. Click the
Audio Recorder
option to enter the audio recording window.

Step 2.
You can choose to record audio from system audio or microphone. To guarantee the sound quality, you are suggested to turn down or even off the microphone and capture sound from system audio if you want to download the streaming music. Then click
REC
to start the audio recording.

Step 3.
When the audio recording is over, you can click the
Stop
icon at the same place. Then click the Save button to save the recording. The recorded audio will be saved as MP3, WMA, or other formats based on your setting.

Part 2. Top 4 Audio Recorder Apps for iPhone/Android Phone
If you want to record audio on your smartphone, you may need to download a third-party audio recording app. Because not every Android phone is equipped with the recording feature. And even if you are using an iPhone, it only provides a voice recorder to record voice from your phone microphone. So, this part will share some useful recorders for iOS/Android users.
App 1. Smart Recorder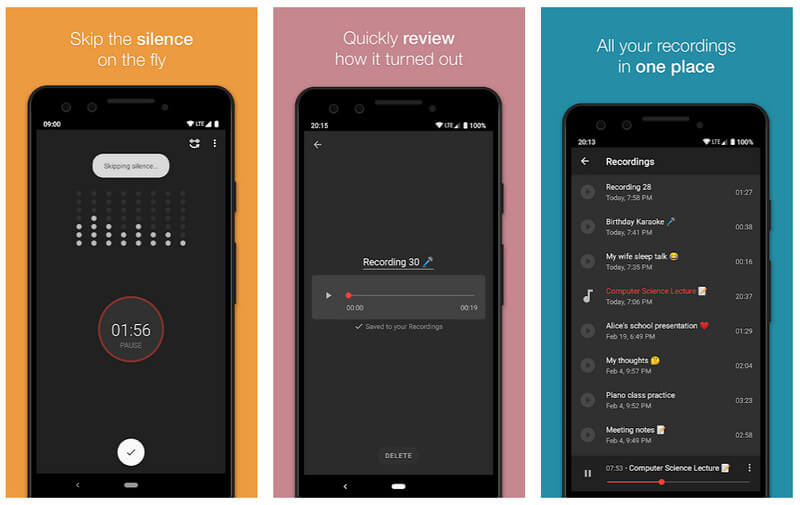 This easy-to-use audio recorder for Android can handle high-quality and long-time recording. And with a simple user interface, you can shorten the recording process at ease. It allows you to record in the background. There is no time limit as long as you keep the recording file under 2GB. And it goes easy on the battery. Some may use it to catch their night sleep talks and even snoring.
Platform: Android
Price: Free
Note: Contains ads & offers in-app purchases
App 2. Voice Recorder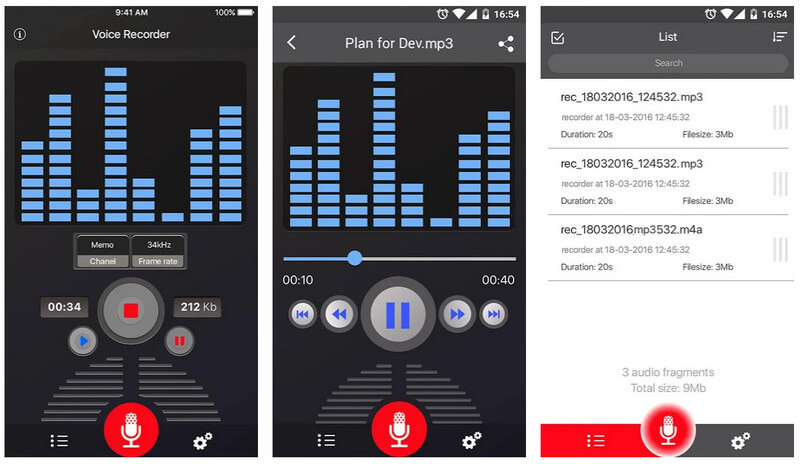 Voice Recorder is free and easy to use. It enables you to record meetings, notes, speeches, songs, etc. with high quality. It supports MP3 and OGG as the output file format. You can easily send and share your recording to email, SMS, Facebook, Skype, Instagram, Twitter, and more. No time limit. But it doesn't support call recording.
Platform: Android
Price: Free
Note: Contains ads & offers in-app purchases
App 3. Rev Voice Recorder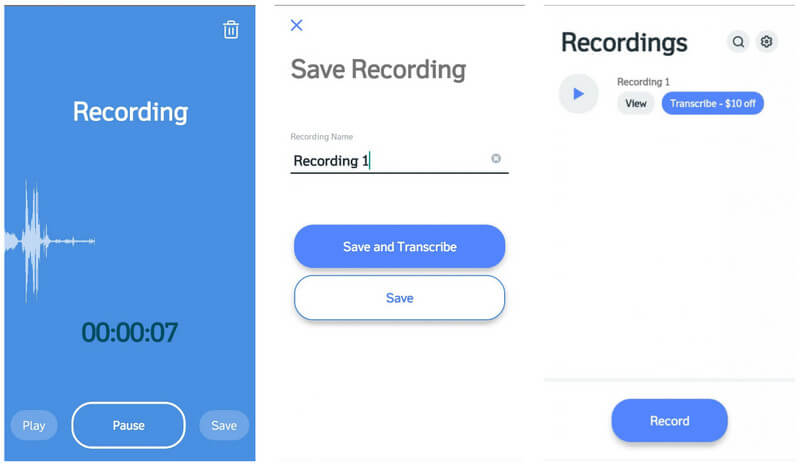 As a customer-oriented voice recorder app, Rev Voice Recorder is quite popular among users. It is completely free to use. All you need to do is tap on the Record button to start the recording. And it even offers the transcribing feature in case you want to transcribe the recorded voice track to text. The fee for transcribing is $1.25 per audio (up to 30 minutes at a time).
Platform: iOS & Android
Price: Free
App 4. Voice Memo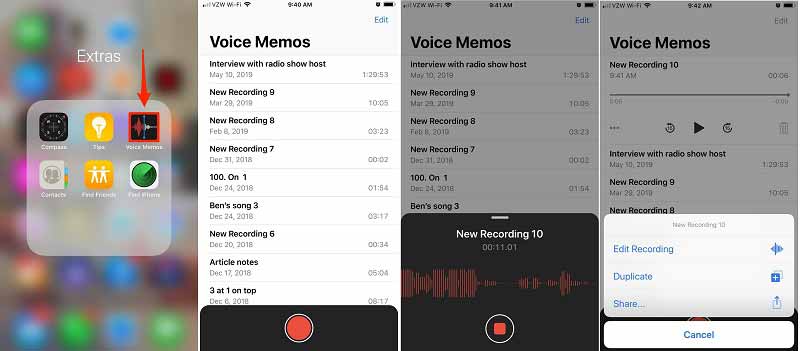 As mentioned, iPhone offers users a pre-installed voice recorder called Voice Memos. You can easily find it under the Extras group on your home screen. With the intuitive interface, you can easily record audio on your iPhone and trim the recording. And it is compatible with Apple Watch.
Platform: iOS
Price: Free
Part 3. 5 Online Audio Recorder to Capture Sound for Free
When you want to record audios on Mac or PC and search for the solutions on Google, you will see many results are related to audio recorder online. That means many users prefer to capture voice with free online tools. If you are one of them, you should pay more attention to this part.
1. Aiseesoft Free Online Audio Recorder
Aiseesoft Free Online Audio Recorder is an easy-to-use voice recording tool that enables you to record streaming audio on Windows or Mac computer straightly. After installing a launcher, you can choose to record audio from system sound or microphone with this voice recorder online. The recording will be saved as an MP3 file, which is compatible with most platforms and devices.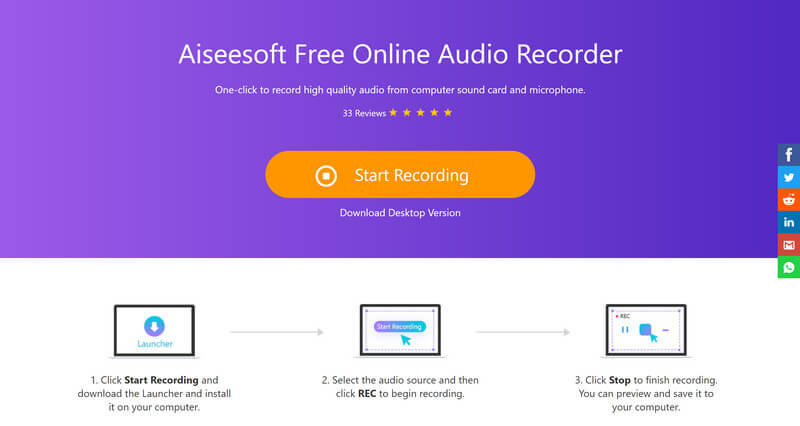 2. VirtualSpeech Online Audio Recorder
Online Audio Recorder from VirtualSpeech is quite popular. It is designed with a very user-friendly interface. When you need to record your voice from a microphone, you can directly start your audio recording by clicking a button simply. We tested this app for recording audio and it worked well. After recording audio on your computer, you can easily download the audio file as an OGG file.

3. 123Apps Online Voice Recorder
Voice Recorder Online is a convenient and simple online audio recording tool that can be used right on your Windows PC or Mac. It can help you record your voice using a microphone and then save it as an MP3 file. This audio recorder can automatically detect silent fragments at the beginning and the end of your recording and deletes them for your convenience. In addition, it allows you to cut your recording.

4. SpeakPipe Free Online Voice Recorder
SpeakPipe voice recorder can help you capture sound directly from a browser through your microphone. The voice recording is created locally on your computer. This free audio recording software doesn't allow you to save the recorded audio files to a local disk. You can only save them at the server. You can record as many times as you need with this audio recorder. But the max time is limited to 5 minutes. After recording, you will get a link for sending it via email or use it on the web.

5. Clyp Online Voice Recorder
Clyp is a free online digital audio recorder where you can record and upload sound recordings. It is designed with a very concise interface which helps you easily record audio from your computer. Besides recording voice on PC and Mac, this voice recorder also provides Android and iOS app versions for you to record audio on iPhone and Android. Compared with other sound recorders, it can give you better sound effects.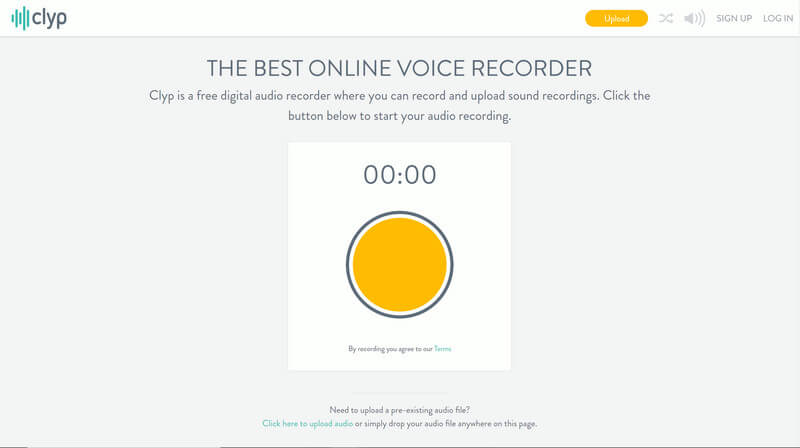 Part 4. FAQs of Audio Recorder
1. How long can I record audio on my phone?
It depends. If the app you are using doesn't set a time limit, then you can record audio for hours as long as the phone still has power and space.
2. Can a voice recorder record phone calls?
Usually, the voice recorder app on your phone doesn't support call recording for legal reasons. But using a third-party app may help you with that. Or you can use another device to record calls on your current phone.
3. Does Windows 10 have an audio recorder
Yes, Window 10 has an audio recorder indeed. Just search for the Voice Recorder in the searching box from the taskbar below. You can save, cut, or delete the audio recording file within the app.
Conclusion
In this post, we have recommended various sound recording apps for you to capture audio from a computer and smartphone. For PC/Mac users, just try Aiseesoft Audio recorder, which can bring you the best recording experience. If you want to record audio on iPhone, you can directly use its built-in function. Some online audio recorder tools also offer iOS and Android versions for you to record voice. If you still have any questions, you can leave us a message.

Leave your comment and join our discussion