How to Sign Out of iCloud with or without Password in iOS 12/13/14/15/16
There are many similar questions like "If I sign out of iCloud on my iPhone, will I lose everything?". Will your house be empty when you go travelling? Well, the answer is No. Signing out of iCloud account means you just want to say goodbye to iCloud temporally. Someday you log into iCloud again, you can access all the iCloud data in the original place.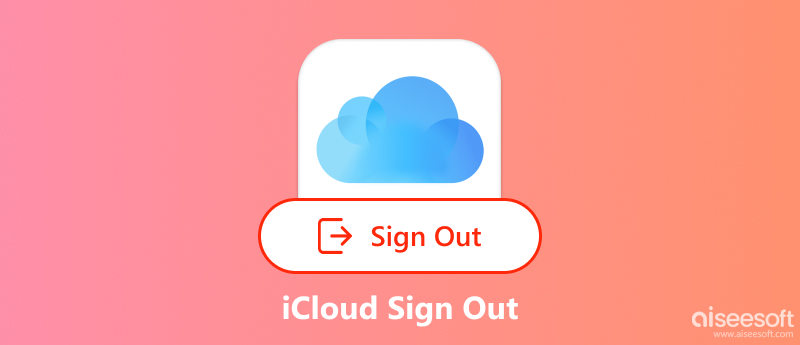 What happens if you sign out of iCloud? During this time, you cannot use iCloud Mail and iCloud Drive because you just deregistered iPhone from iCloud. The iCloud syncing feature will be inactive. You have the choice to delete or keep the data in your iOS device. Thus, all your photos, videos, notes, contacts and other related files will be safe.
Part 1: How to Sign Out of iCloud without Losing Anything
You will not lose the previous personal data when you sign out of iCloud on iPhone. Others cannot use your iCloud account and access your iCloud data too.
Step 1.
Power on your iPhone. Open the Settings app.
Step 2.
Tap your name on the top of the screen.
Step 3.
Scroll down and tap "Sign Out" in red.
Step 4.
If you have activated Find My iPhone before, you will be required to enter the Apple ID password. Tap "Turn Off" to disable this feature.
Step 5.
In the "Keep a copy of your data on this iPhone" dialog, you can decide whether to keep contacts, calendars, reminders and Safari or not.
Step 6.
Tap "Sign Out" and confirm to sign out of iCloud in iOS 12/13/14/15/16.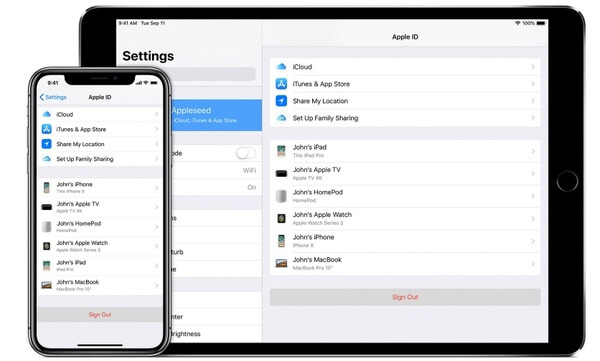 Note: If you want to sign out of iCloud on Mac, you need to click "Apple menu" > "System Preferences" > "iCloud" > "Sign Out" > "Keep a Copy"/ "Keep on This Mac". You can still access photos in iCloud, as well as videos, contacts and more.
Part 2: How to Sign Out of iCloud without Knowing Apple ID Password
What if you forgot your Apple ID password? Is it possible to sign out of iCloud without password? You can follow the steps below to delete iCloud account from iPhone and iPad without password.
Step 1.
Open the Settings app on iPhone. Find and Choose "iCloud" from the list.
Step 2.
Enter a password in random number under "iCloud Account Information". Tap "Done" to move on.
Step 3.
Definitely iCloud will tell you that you entered an incorrect iCloud username or password. Tap "OK" followed by "Cancel" to open the iCloud page.
Step 4.
Choose your iCloud account again. Remove the description and then tap "Done".
Step 5.
Now you will be in the iCloud page without password required. Tap "Delete" on the bottom. Later, tap "Delete" again to sign out of iCloud account without password.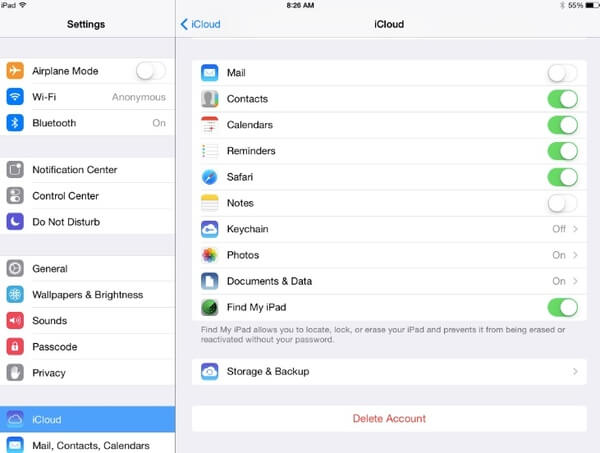 Part 3: Permanently Erase All iCloud Files and Settings on iPhone after Signing Out of iCloud
If you want to erase all iPhone content and settings permanently and thoroughly, you can run FoneEraser to clean everything on your iPhone and iPad. There are three data erasing levels you can choose. Even you resell your old iPhone or iPad on eBay or elsewhere, you can also protect your privacy without any possibility of recovering. In a word, the iPhone Eraser is a direct but ultimate tool you can use after signing out of iCloud on iPad and iPhone without Apple ID password.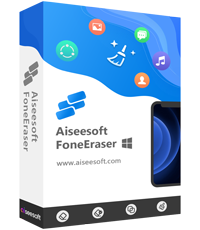 Downloads
Permanently erase contacts, messages, photos, videos, music, notes, Safari history and more files from any iOS device.
Erase iOS data with low level, medium level and high level to overwrite data in different times.
Remove all files and settings on more than one iDevice simultaneously.
Support all iPhone, iPad and iPod devices running iOS 16/15 and more.
Conclusion
When you sign out of iCloud, you will also sign out of all iCloud related services, such as App Store, Find My Friends, Game Center, iCloud backup, iCloud drive and more. Of course, you can make a copy of important files before signing out of iCloud account with or without a password. If you do not want to use iCloud on this iPhone or iPad any more, you can use FoneEraser to erase all downloaded files, personal settings and caches. Those erased files are unrecoverable.

Leave your comment and join our discussion