6 Ways to Fix Bluetooth Not Working on Mac in Different Aspects
Bluetooth is a good tool to transfer files between iOS devices and Mac computers without USB connection. The short-distance file transferring method is popular. Sadly, you may encounter Bluetooth not available or working errors when you try to pair Bluetooth accessories. Why Bluetooth is not available on Mac? These are most possible reasons.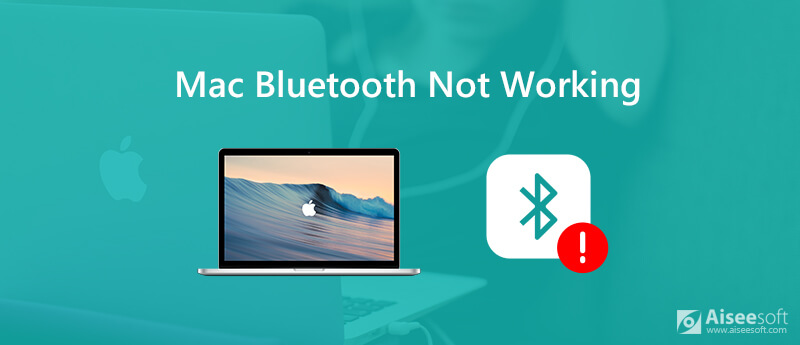 The Bluetooth device is not turned on.
The long distance between Bluetooth devices.
Bluetooth is not working because your Mac is running out of space or battery.
Corrupted Bluetooth files due to system errors.
Internal glitches.
Well, rebooting Mac is always the first choice to troubleshoot all Mac errors, including Bluetooth not working on Mac. If the Bluetooth problem still exists, you can do as the following paragraphs show.
Way 1: Check If You Enabled Bluetooth on Mac
Maybe you just turn Bluetooth off and forgot to turn it on. You can find the "Bluetooth" icon on the top toolbar of your Mac screen. Make sure the state of Bluetooth is "On". Of course, you can turn Bluetooth off and on to have a second try. If it does not work, you can reboot Mac and reconnect Bluetooth peripherals to fix Bluetooth not available on Mac.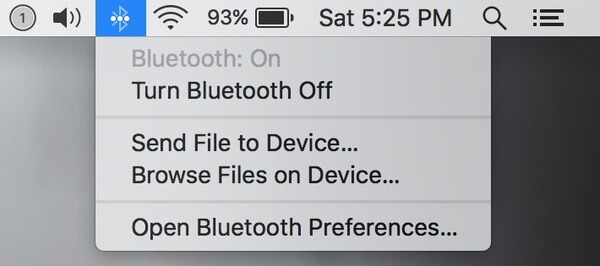 Way 2: Disconnect All USB Drives When Bluetooth Is Unresponsive
Sometimes the unresponsive keyboard, trackpad and other connected devices can cause Bluetooth not working on Mac error. Firstly, you need to reboot Mac to remove small glitches. Later, you can connect the mouse, USB keyboard and external drives back to Mac one by one. Through this way, you can find out the incompatible device quickly.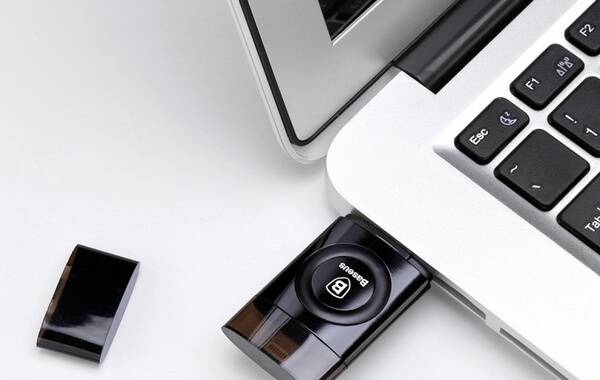 Way 3: Reset the SMC to Troubleshoot Mac Bluetooth Issues
By resetting the SMC (System Management Controller), you can troubleshoot Mac hardware or software errors effectively. The whole process depends on the type of mac you are using.
Reset the SMC on Mac without removable batteries:
Step 1:
Turn off the Mac.
Step 2:
Power Mac into the power adapter.
Step 3:
Hold and press "Shift", "Control", "Option" and "Power" keys together for about 10 seconds.
Step 4:
Release those keys at the same time. Then boot up Mac as usual.
Reset the SMC on Mac with removable batteries:
Step 1:
Power off the Mac. Remove the battery.
Step 2:
Disconnect the power adapter from the Mac computer.
Step 3:
Hold and press "Power" for about 10 seconds, then release it.
Step 4:
Reconnect the battery and power adapter.
Step 5:
Power on Mac to see if Bluetooth can work normally or not.
Reset the SMC on iMac, Mac mini and MacBook Pro:
Step 1:
Shut down the Mac.
Step 2:
Remove the power cord.
Step 3:
Keep pressing "Power" for about 5 seconds.
Step 4:
Reconnect the power cord to Mac. Then power on the Mac.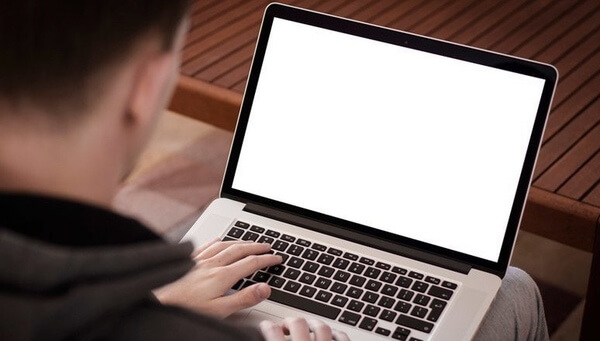 Note: You can reset the SMC to fix USB flash drive not showing up on Mac too.
Way 4: Delete Plist File in Bluetooth If Bluetooth Doesn't Work
Files with .plist (Property List) are used to store personal preferences, such as keyboard, mouse and more. In some cases, .plist files can influence Bluetooth connectivity. Thus, you can delete Bluetooth.plist files when MacBook Bluetooth doesn't work.
Step 1:
Close all apps that may use Bluetooth on Mac.
Step 2:
Open Finder. Press "Command", "Shift" and "G" keys simultaneously.
Step 3:
Enter "~/Library/Preferences/" in the blank. Then click "Go" to move on.
Step 4:
Find and delete the com.apple.Bluetooth.plist file.
Step 5:
Try to connect your Bluetooth accessory to see if it works.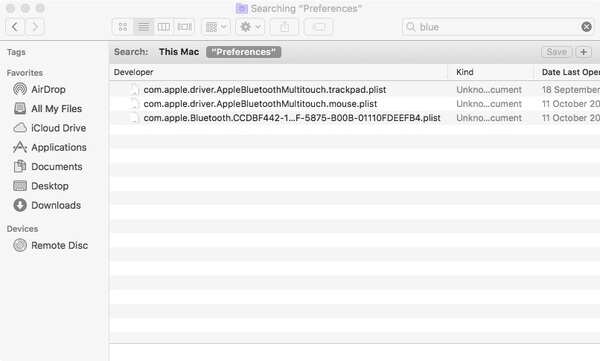 Way 5: Remove Recently Installed Apps and Downloads on Mac
Some malware, bundleware or even downloaded files may corrupt Bluetooth configuration. Thus, you need to delete any recently installed apps or downloaded files because of Bluetooth not working on Apple Mac. To easily clean up Mac, you can try Aiseesoft Mac Cleaner. You can remove any unwanted app or file on Mac within few clicks.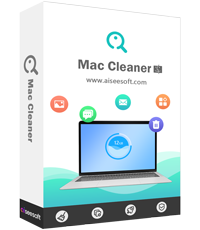 Downloads
Clean both visible and invisible junk files.
Find and delete duplicate photos, videos, music and more.
Uninstall apps on Mac and delete related logs completely.
Mange all extensions and clean up browser data.
Monitor Mac performance in multiple aspects.
Step 1 Free download, install and launch Mac Cleaner. In the "Status" section, you can check the Mac system status, including CPU, memory and disk.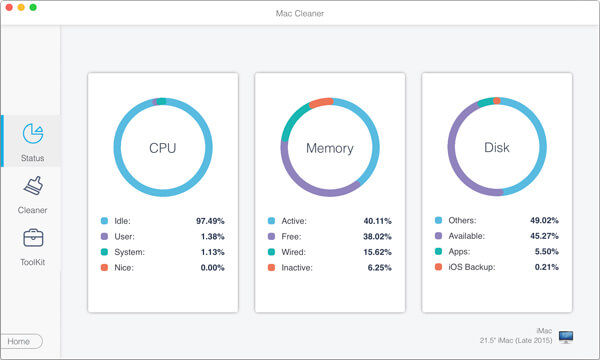 ---
Step 2 Choose "Large & Old Files" in the "Cleaner" section. Click "Scan" to scan for those useless files. Later, click "View" to check large Mac files in different file sizes and days. You can click "Clean" to delete the selected junk files.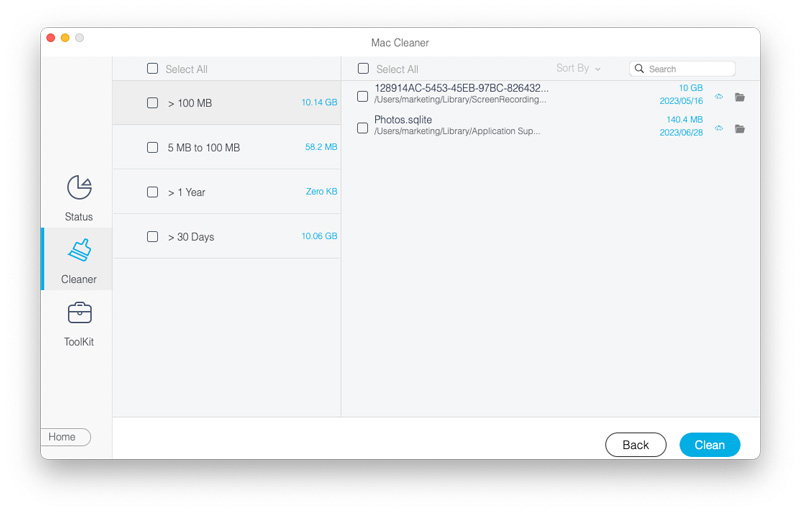 ---
Step 3 To uninstall an app on Mac, you can click "Toolbox" followed by "Uninstall". After that, you can uninstall the Mac app and delete the associated files completely.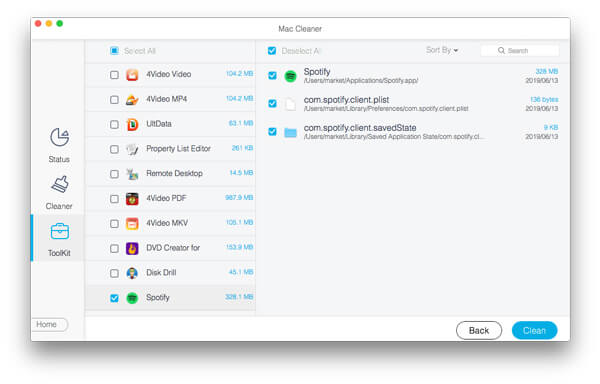 Note: You can uninstall Safari on Mac with the above steps too..
Way 6: Reset the Bluetooth Module When Mac Bluetooth Not Working
The final way to fix Mac Bluetooth not working after update or else is resetting the Bluetooth module. Just read and follow the steps below.
Step 1:
Hold and press "Shift" and "Options" keys. Unfold the "Bluetooth" list on the top Menu bar.
Step 2:
Choose "Debug" and then select "Remove all devices".
Step 3:
Choose "Debug" again. Later, click "Reset the Bluetooth module" from its submenu.
Step 4:
Restart Mac. Repair Bluetooth devices manually.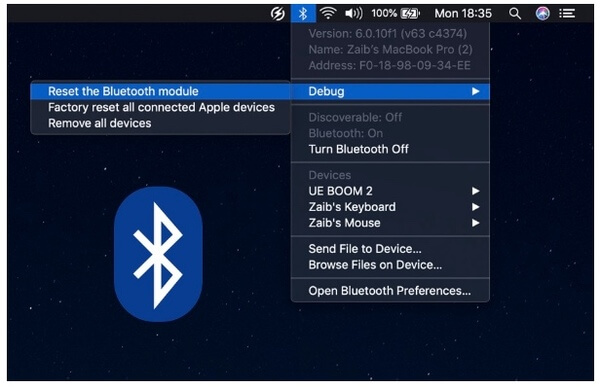 If Bluetooth is still not available on Mac, you need to check if it is the hardware issues. Well, you can seek help from AppleCare and authorized third-party Apple specialists nearby. By the way, you can contact the accessory too. Can you solve Bluetooth not working issues now? You can share your experience in the comments below.

Leave your comment and join our discussion