How to Make Facebook Contact Sync on iPhone/Android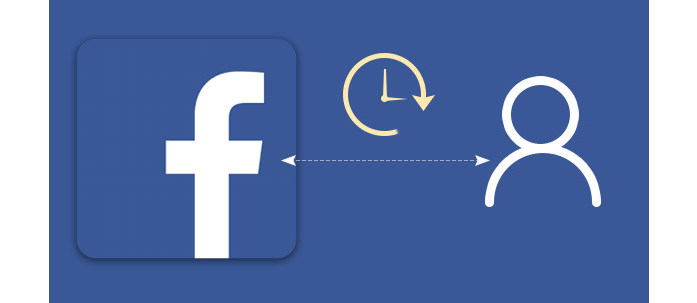 How to sync Facebook contacts to phone? Contacts are of great importance since the smartphone is always your communication hub. Along with everyone around you is using Facebook, Facebook contacts turn to be essential to you. Here comes the question, how to make Facebook contact sync? In this article, we will tell you the best way to sync Facebook contacts on iPhone and Android phone.
How to sync Facebook contacts to iPhone
If you are an iPhone user and want to sync Facebook contacts to iPhone, you should pay more attention to this part. You can learn a simple way to make iPhone contact sync. Moreover, you can find 3 great apps to help you sync contacts from Facebook.
Sync Facebook contacts by using Settings
You can use iPhone Settings app to sync Facebook contacts with iPhone. After log in to your Facebook account, you can get easily access to and synchronize Facebook contacts and Calendars. Keep reading the following steps.
Step 1Unlock your iPhone and open Settings app. Scroll down to find Facebook tab.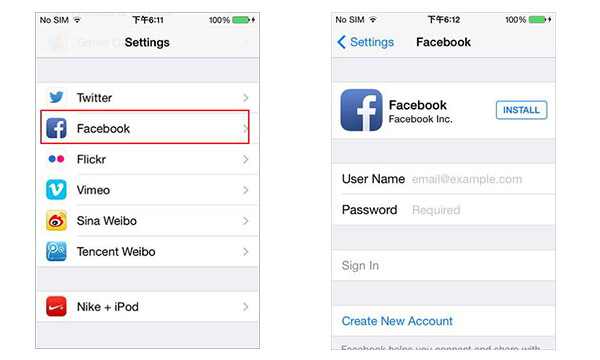 Step 2Input your Facebook User Name and Password. Tap Sign In.
Step 3Slide Calendars and Contacts to ON.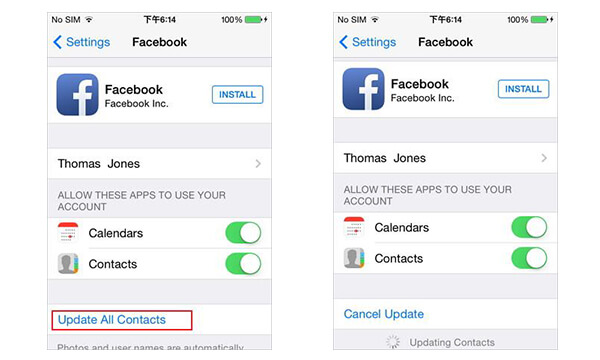 Step 4Tap Update All Contacts to sync Facebook contacts to iPhone.
Sync iPhone contacts with FoneTrans
If you want to sync your iPhone contacts to PC/Mac or another iOS device, you can rely on the professional iOS Data Transfer. Besides contacts, it also allows you to transfer other iOS data like videos, pictures, songs, call logs and more. It can be considered as the best alternative to iTunes. You can free download it and have a try.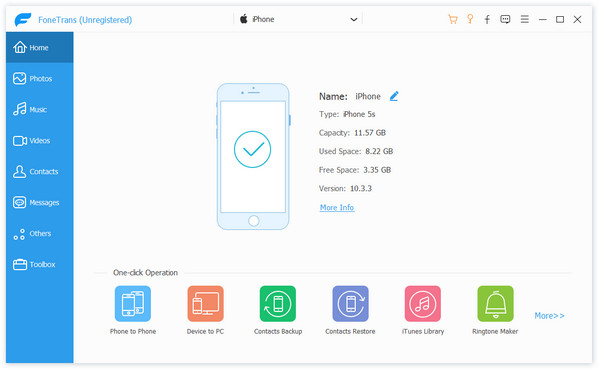 Top 3 Facebook contacts sync apps for iPhone
Various Facebook contacts sync apps can also help you make Facebook contact sync. Here we introduce you with 3 best ones to sync Facebook contacts to iPhone.
Sync.ME for Facebook, LinkedIn & Google + Contacts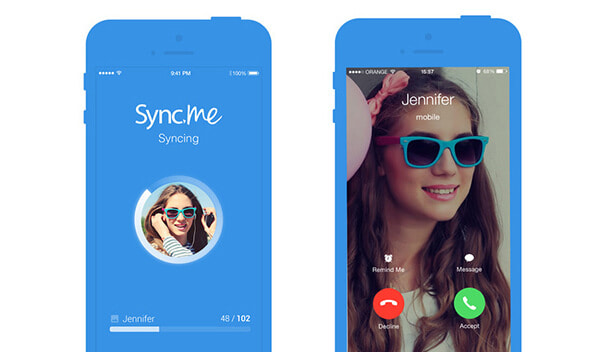 Sync.ME for Facebook, LinkedIn & Google + Contactsis a user-friendly iPhone application, which enables users to sync contacts, including photos and detailed information from Facebook, Linkedln and Google + to iPhone with ease.
Contacts XL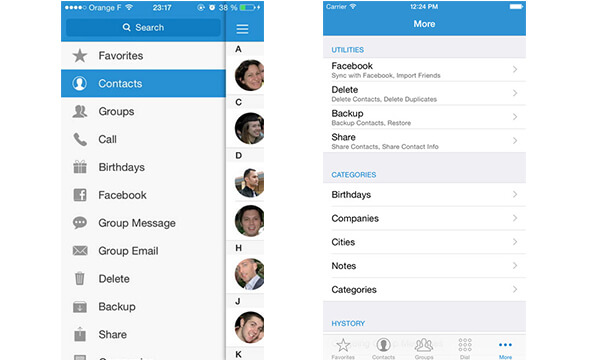 ContactsXL is also a full-featured Facebook contacts manager app, which allow users to sync Facebook contacts, including profile picture and phone number. Besides, the app is smart to recognize and remove duplicate contacts.
FaceSync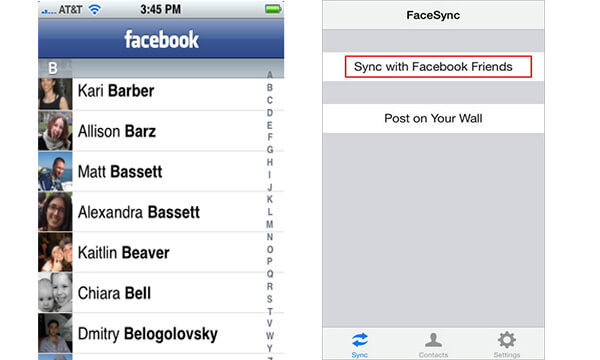 As its name indicates, FaceSync is designed to sync Facebook contacts. This app can help sync almost information of a contact, like the phone number, contact profile picture, company, birthday and so on. When you lost your contacts, you could also restore the Facebook contacts from the backup easily.
How to sync Facebook contacts with Android phone
Want to sync Facebook contacts with Samsung Galaxy S7/S5, LG G5 or other Android phones? This part will show you how to sync Facebook contacts to Android phone.
Sync Facebook contacts with Facebook app on Android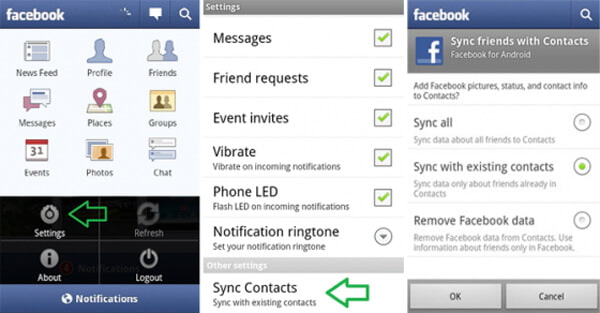 Step 1Launch Facebook app on your Andorid phone.
Step 2Click Menu > Settings > Sync Contacts.
Step 3Choose Sync all contacts or Sync with existing contacts.
Step 4Click OK button to make the Facebook contact sync.
Top 3 Facebook contacts sync apps for Android phone
In this section, 3 powerful Facebook contacts syncing apps for Andorid are introduced.
Sync.ME for Android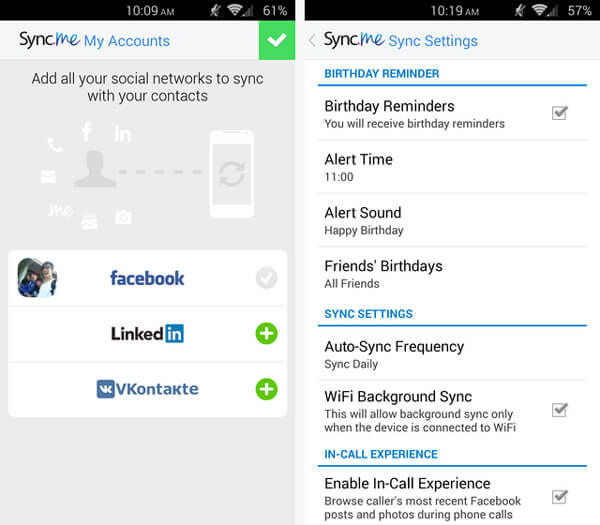 Sync.ME also has its Android version. With its clear and non-ads interface, Sync.ME acquire many users' love. Apart from Facebook account, it can be used to sync Google contacts, LinkedIn contacts and so on.
UberSync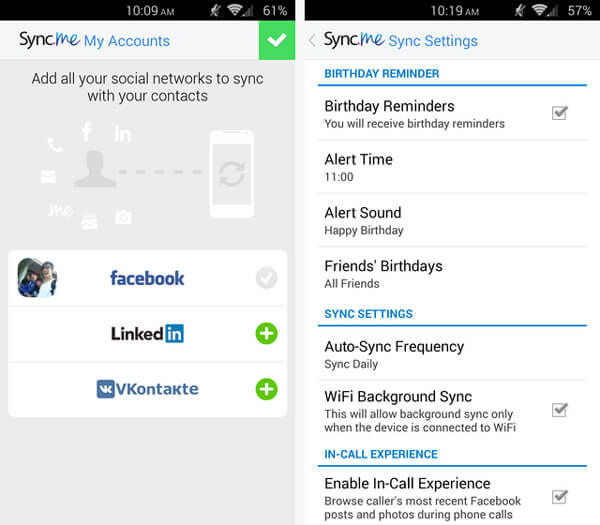 UberSync is a simple application to sync Facebook contacts, sync only friends that match existing contacts or match existing contacts also by using Facebook ID. However, there will be some annoying ads popping-up when using the app. UberSync can only sync Facebook contacts in WiFi network. It cannot sync event reminders and birthday.
HaxSync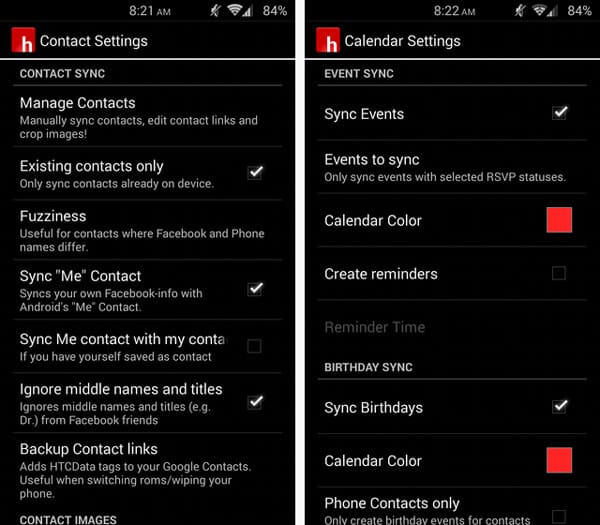 You can create a HaxSync account, and the app can help to connect each contact to the one existing in your phone Address book. With HaxSync, you can import Facebook profile picture, events reminder and birthday information. Besides, it offers contacts and calendar settings, so that you are allowed to customize Facebook contacts and calendar with HaxSnc.
Don't Miss: How to sync contacts to WhatsApp
In this article, we mainly talk about how to sync Facebook contacts. Whether you are using iPhone or Android phone, you can find the suitable way or app to help you sync Facebook contacts to phone. Hope you can handily make the Facebook contact sync after reading this post.
FAQs of syncing Facebook contacts
1. How do I find my Facebook contacts?
As you log into Facebook account on web page, all your contacts will be shown as list on the right side. If you have grouped your friends before, you can check Friend Lists on the left side.
2. How do I upload my contacts to Facebook?
Open Facebook app on iPhone or Android. Tap three horizontal line icon and tap Friends. Tap Upload Contacts on the bottom banner, then tap Get Started. Once you turned on mobile contact uploading, your contacts will be uploaded to Facebook
3. How do I stop Facebook from syncing my contacts on iPhone?
Tap the three horizontal lines icon on the bottom right of Facebook app. Find and tap Settings & Privacy > Settings. In Media and Contacts section, tap Upload Contacts and turn the slider off.
4. How to recover Facebook contacts?
If you accidentally deleted Facebook contacts, you can recover Facebook contacts with a professional tool. Install and launch iPhone Data Recovery on your computer, and click Start Scan to scan all the deleted data. After scanning, click Contacts on the left pane, and choose the Facebook contacts to recover.