Part 1: The 3 Best iPad Cleaner Applications
Compared to manually clearing iPad junk apps and files, iPad cleaner apps are more convenient and efficient. We concluded the three best iPad cleaner apps on the market.
No. 3 iPad Cleaner: Cisdem iPhone Cleaner for Mac
Though named iPhone cleaner, Cisdem iPhone Cleaner is a very smart iPad cleaner app, too. Based on macOS 10.10 or later, it can quickly scan out the useless cache, temp, and many other junk files together with those super large but long-forgotten files on your iPad and iPhone. After cleaning your iPad with this smart cleaner, you do not need to wait a long time when you unlock your iPad or open an app anymore. More than just free up space for your iPad, it also helps you backup your important documents, media, and other types of data.
Pros
The scanning process is 40% faster than other tools.
It is easy to use without additional configurations.
Cons
This program hasn't been updated for a long time. The latest update was for iOS 10.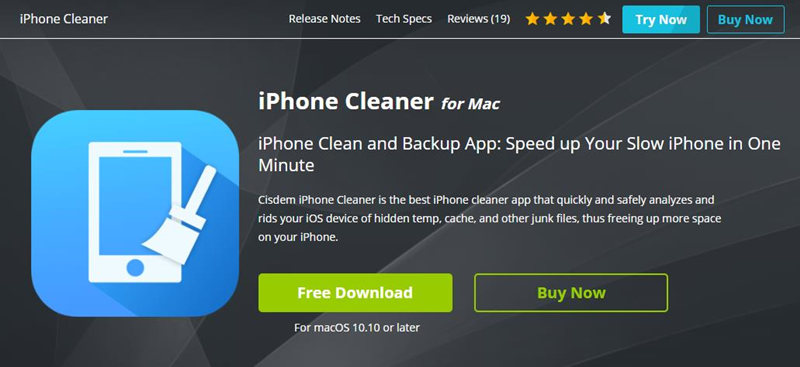 No. 2 iPad Cleaner: Dr.Fone - Data Eraser
Whether you use Windows 10, 8, 7, Vista, XP, or macOS 10.8 and higher, you can install Dr.Fone - Data Eraser on your computer to clean up your iOS devices such as iPhone, iPad, and iPod touch. The latest iOS 15 is also supported. More than caches and temp, this cleaner can also clean your iOS SMS, call history, and contacts intelligently. It is also a handy tool to manage your photos and videos. You can back up the photos and export them to other devices.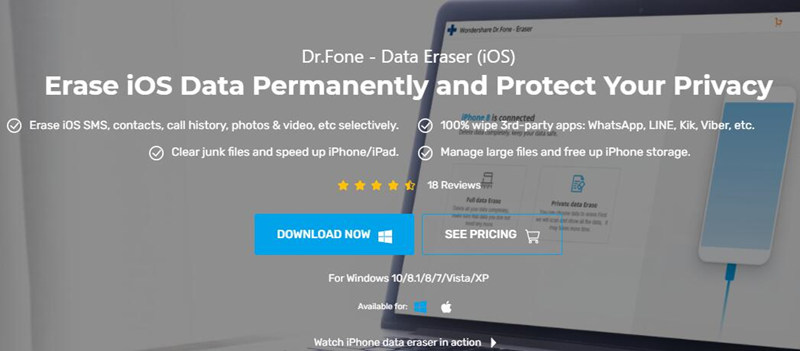 Pros
Supports to work on both Windows and Mac. And the interface is user-friendly.
Erased data will be overwritten and cannot be retrieved permanently.
Cons
Only includes three functions, which are simple. Moreover, the scanning is a little slower.
No. 1 iPad Cleaner: Aiseesoft iPhone Cleaner
Aiseesoft iPhone Cleaner supports all iOS devices including iPhone, iPad, and iPad Touch. It works based on your Windows computer and allows you to clean unnecessary data on the latest iOS 15. Aiseesoft iPhone Cleaner includes not only all the functionalities you would expect for a good iPad cleaner but also the data erasing and restoring features, which you can hardly find in other iPad cleaners.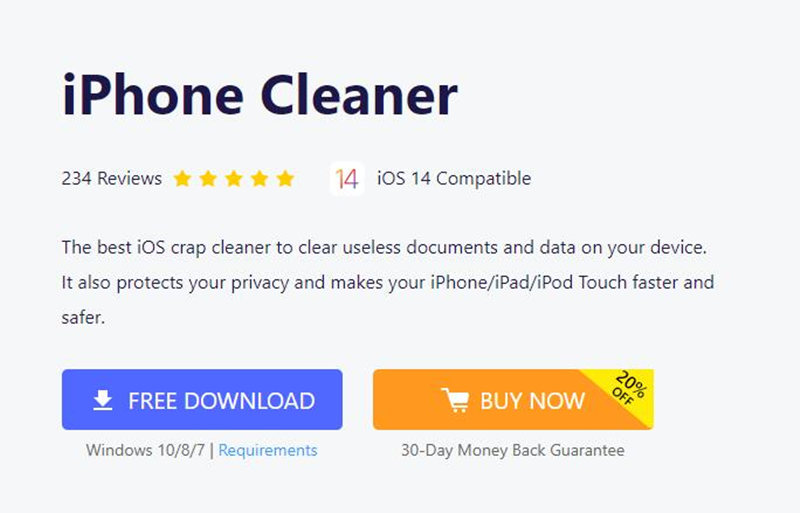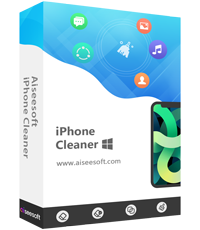 Downloads
Available for iPhone 12/11/X/8/7 and the latest iOS 15
Unique

Backup and Restore

feature to back up iPad files.
Process with 70% faster scanning and deleting speed.
Automatically detect and clean duplicate files and apps.
It offers continuously update versions for users.
Part 2: How to Clean iPad Safely and Easily
If your iPad storage is getting full, you can clean your iPad manually or free up it with all-in-one iPad cleaner apps. Here are both methods:
Steps to clean iPad in iOS settings:
Step 1.
Enter the
Settings
app, tap the
General
button, and check into the
iPad Storage
.
Step 2.
On the
iPad Storage
page, you can see how much space each app takes and which apps you do not use very often.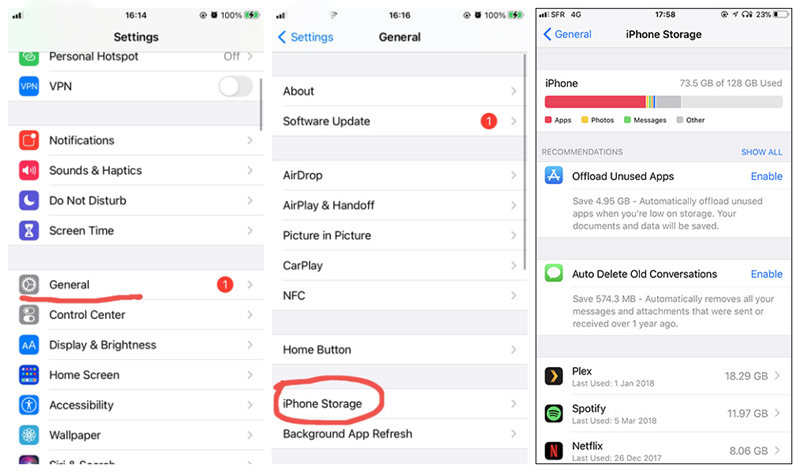 Step 3.
If you want to delete or offload an app, just tap it. Then you will see the two buttons for the corresponding operation.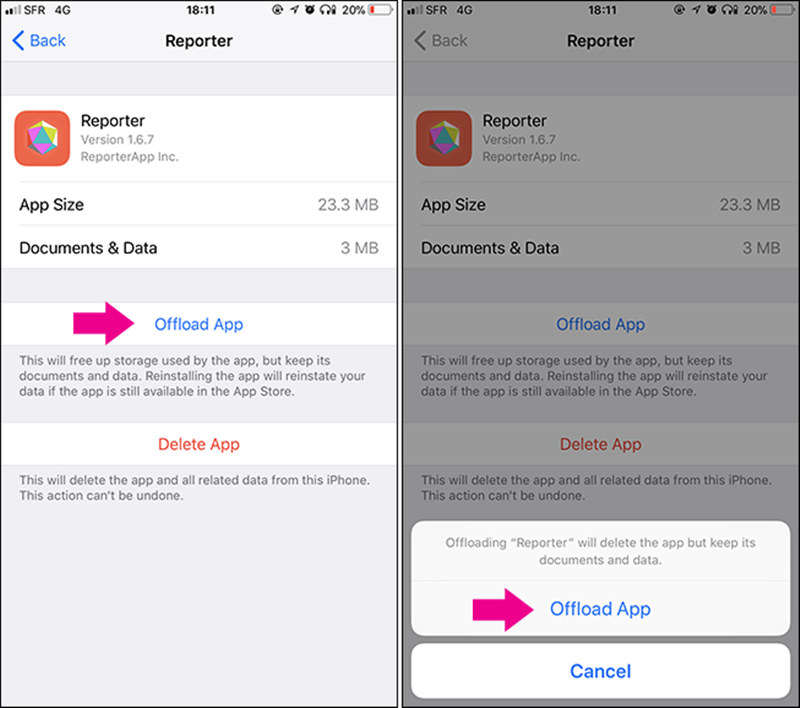 Note: To offload an app will delete the app but keep its data such as documents and game progresses.
Steps to clean iPad more thoroughly and efficiently
Step 1.
Free download, set up and launch the
Aiseesoft iPhone Cleaner
on your Windows computer. Then you need to connect your computer and iPad with a USB-to-lightning cable.
Step 2.
Click the
Quick Scan
button in the middle of the iPad cleaner program. Wait for scanning to complete. It usually takes less than 2 minutes.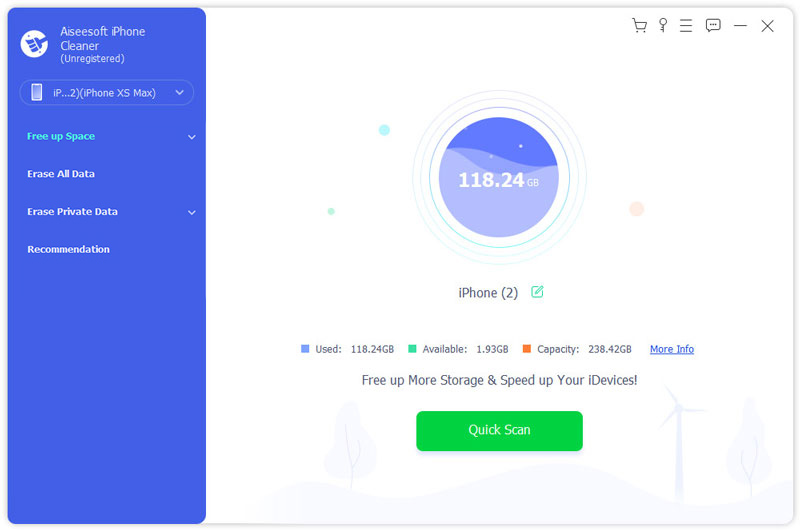 Step 3.
When the result comes up, you can see four categories:
Erase Junk File, Uninstall Applications, Delete Large Files
and
Clean up Photos
. We will go through them one by one.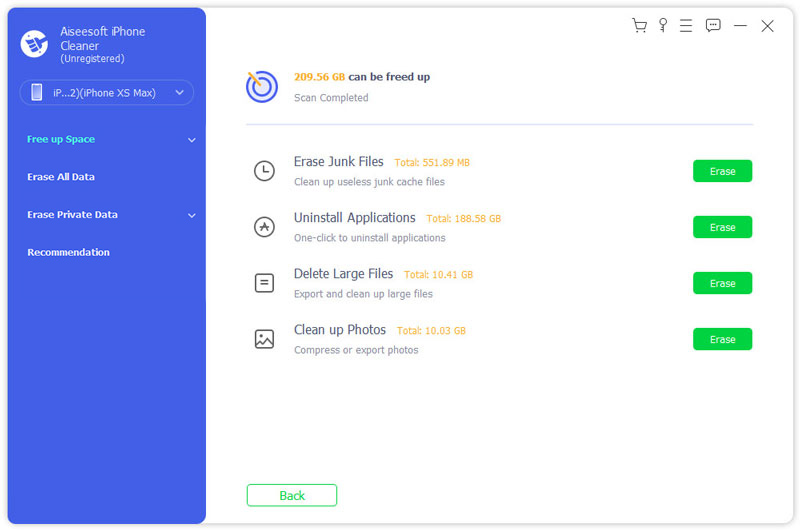 Step 4.
Click the first
Erase
button. Make sure the five boxes, respectively for
Image Cache, iTunes Cache, Invalid Files, Downloaded Temporary Files,
and
Crash Log Files,
are checked. Then you can click the
Erase
button on the bottom right.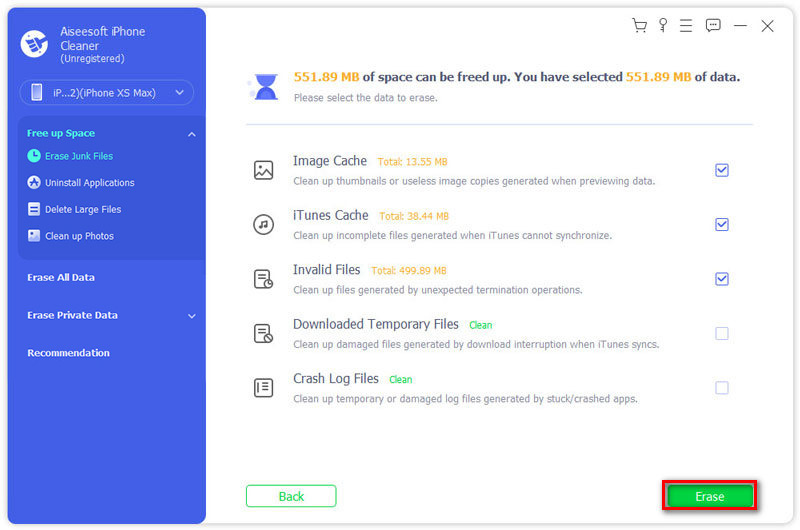 Step 5.
Back on the scanned out result page, click the second
Erase
button and you will see all the apps on your iPad along with the space they occupy. If you want to uninstall one of them, just click the
Uninstall
button on its right.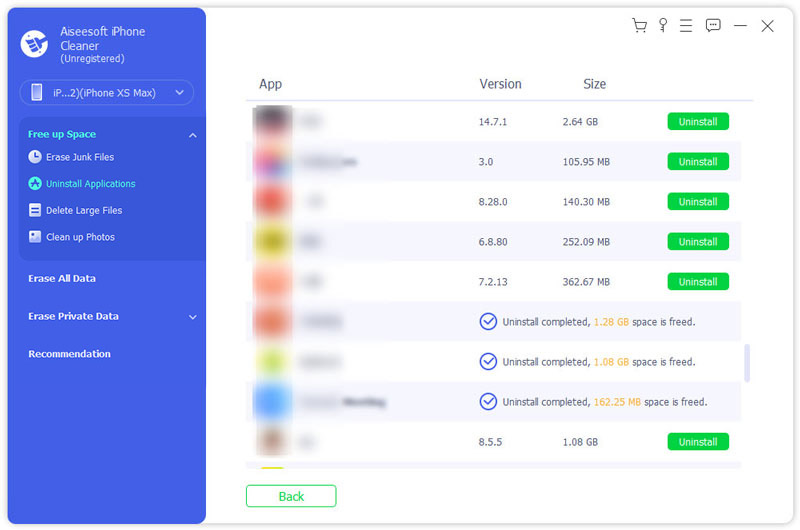 Step 6.
When you enter the
Delete Large Files,
you will see the list of large files on your iPad. Go through them and decide which you want to delete by checking the box for them on the left. At last, you need to click the
Erase
button at the bottom right.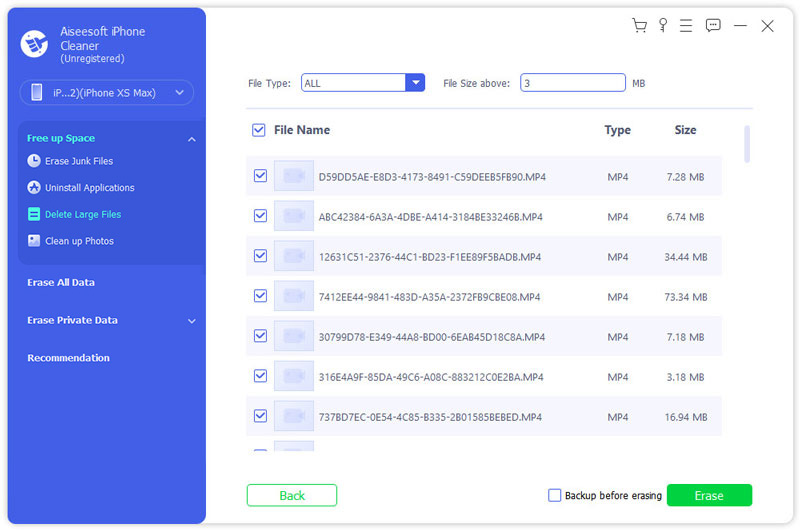 Step 7.
In the
Backup & Compress
feature, you can select the photos to compress. Before compressing, you can check the
Backup original photos
box.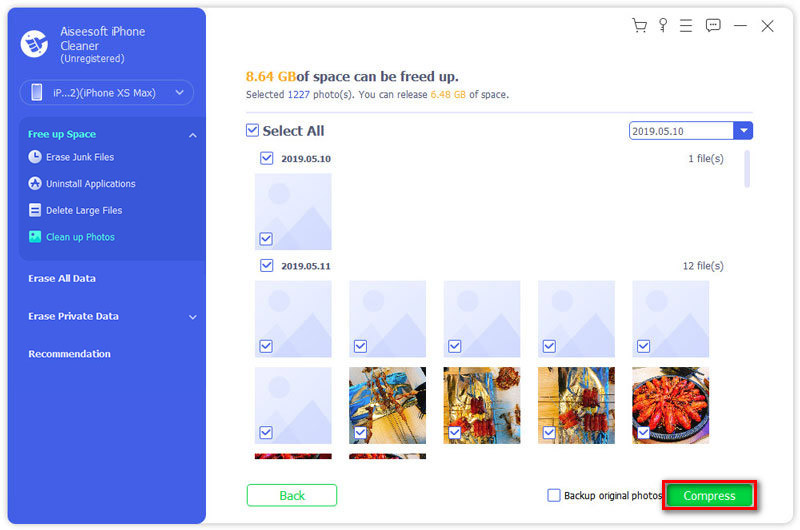 Step 8.
On the
Export & Delete
page, you can select the photos by checking the boxes for them. Then you can choose to click the
Export
or the
Delete
button on the bottom right.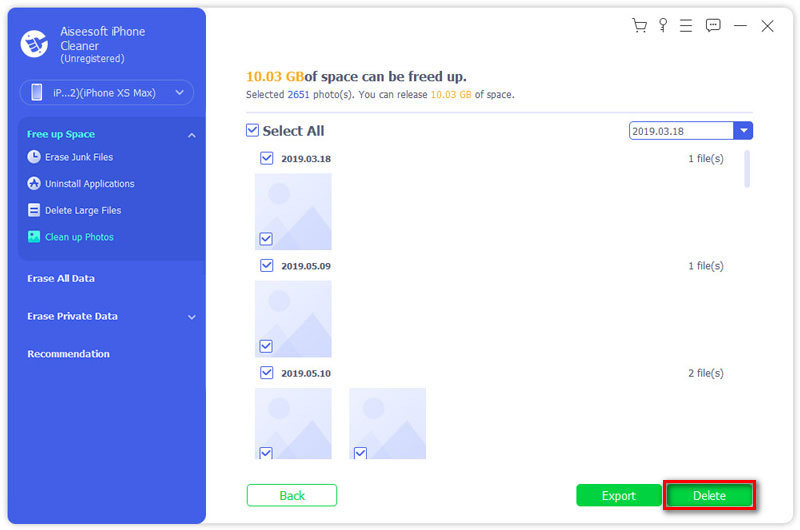 Part 3: FAQs about Cleaning iPad
How to release the RAM of my iPad?
Long press the power button and don't release it. After 5 seconds you will see the slide to power off screen. Then you just press and hold the home button till the Enter Passcode screen pops up. Now your RAM is released.
How often should I free up my iPad?
It depends on whether your iPad is short for storage. If you are not in urgent need of free space on your iPad, it's better to clean your iPad twice a year.
Can I expand the memory of my iPad?
No, you cannot physically expand the memory of your iPad or iPhone because they don't support micro SD cards or flash drives. However, you can enable the iCloud service to save native storage. See how to recover data from SD card.
Conclusion
This article concluded the three best tools to clean your iPad. They are Aiseesoft iPhone Cleaner, Dr.Fone - Data Eraser, and Cisdem iPhone Cleaner for Mac. Aiseesoft iPhone Cleaner, which can backup and restore your iPad, is your best choice without saying. Moreover, you can also clean up your iPad manually in the iOS settings by offloading and deleting used applications.

Leave your comment and join our discussion