Tutorial to Fix Volume on iPhone 14/13/12/11 and Earlier Models
Apple improves smartphone technology continuously. That makes the performance of new iPhone models attractive. Volume controls, for example, are pretty straightforward on iPhone. The volume buttons control the ringer volume and the multimedia playback volume. And users could also adjust the volume in Settings app. But there is still some problems about volume: call volume is too low, or in some cases music volume is too loud. To help you get perfect experiences, we are going to talk about how to fix volume on iPhone. With the solutions in this post, you can get your iPhone running properly.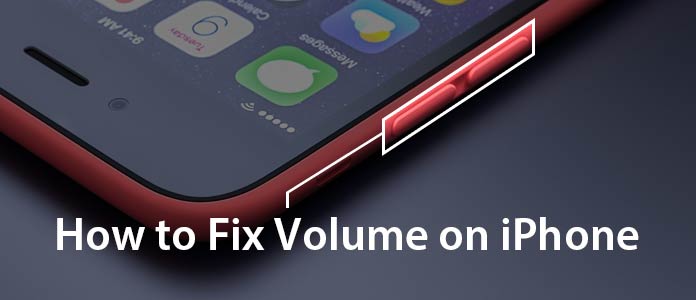 How to fix iPhone with no sound bug after iOS 13/14 upgrade
If the audio on your iPhone is not audible after upgrading to iOS 13/14, here is the best way that you can follow to fix the problem. To solve iPhone with no sound bug, FoneLab iOS System Recovery could help you a lot. It is a professional tool to fix various iPhone problems. Its key features include:
1. It could fix various factors that may cause iPhone volume stops working or not working properly.
2. This iPhone toolkit offers recovery mode and DFU mode to make iPhone running correctly.
3. More importantly, this program does not collect or damage your personal data on iPhone during repair.
4. Every iPhone user could use this program, because it is compatible with all iPhone models.
5. With iOS System Recovery, you can fix your iPhone in one click.
6. And FoneLab offers one version to Windows and Mac respectively.
In a word, this software is a necessary toolkit for iPhone users.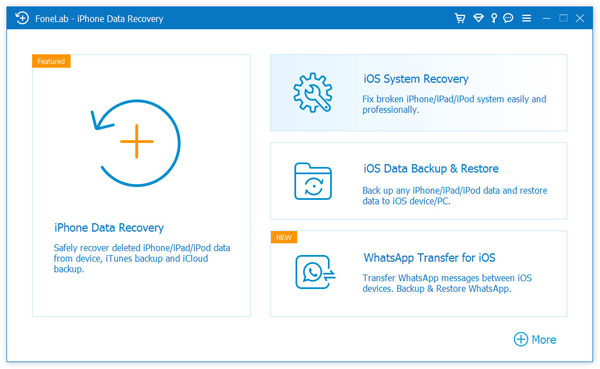 How to fix iPhone Volume with iOS System Recovery
Step 1 Free download and install the latest version of FoneLab. And then launch the program on your computer.
Step 2 Plug in the iPhone into computer. Choose "iOS System Recovery".
Step 3 The software is able to detect all the problems for the iPhone, such as volume abnormal issues of iPhone. You can click the "Start" button to scan the iPhone and fix volume on iPhone accordingly.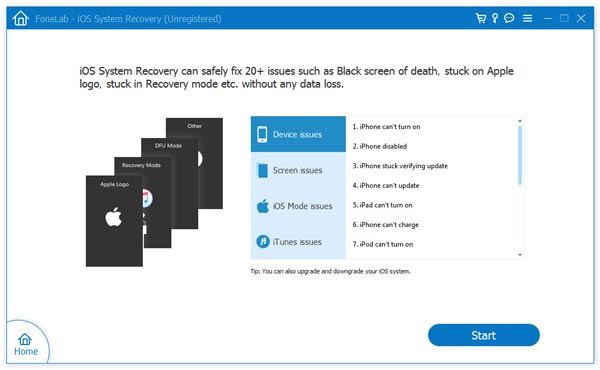 Step 4 You need to confirm the information of the iPhone. During the downing process, do not disconnect iPhone, and click "Repair" if it works well or select the exact information manually before repair.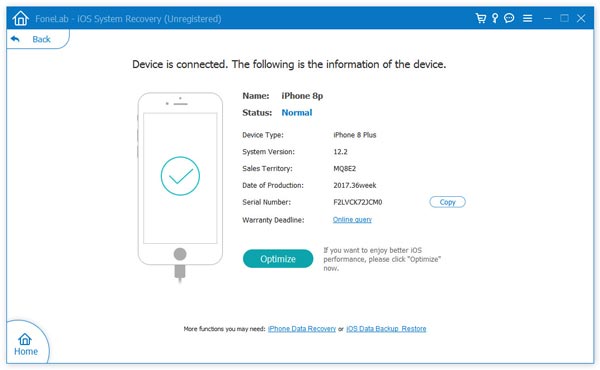 Step 5 Download firmware and fix
Then the firmware will soon be downloading. Quickly, your iPhone volume issue will be solved with iOS System Recovery.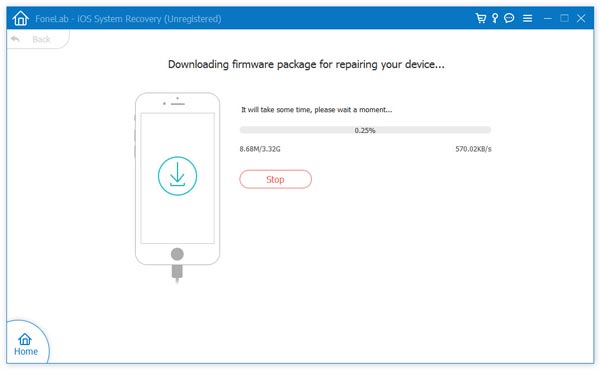 What if the call volume on your iPhone is low?
A few people reported that the call volume on their iPhones was low. That can be a frustrating problem. Especially when you are communicating with business partners or colleagues, you have to keep asking them to repeat themselves again and again. The following is the solution of how to fix volume on iPhone if the call volume is low.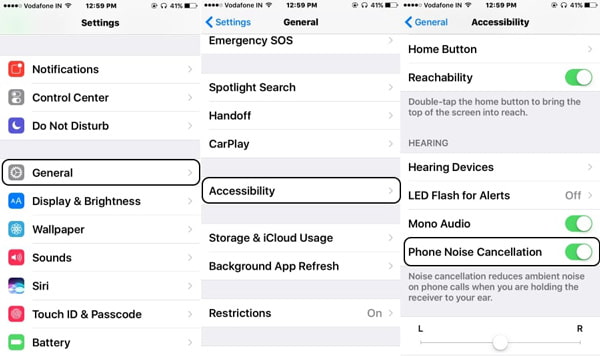 Step 1 Open the "Settings" app on home screen and go to "General" > "Accessibility".
Step 2 Scroll down and find out the "Phone Noise Cancellation" option. Then turn the switch from right to left to disable this option.
That will make you phone to ignore any interruptions during phone call and improve the call volume effectively.
What if the music volume on your iPhone is too loud?
If the volume on your iPhone is too loud when listening to music, it is not only frustrating, but also harmful to your health. When you still cannot figure out how to fix volume on iPhone after trying the volume button and volume settings, our solution may be feasible.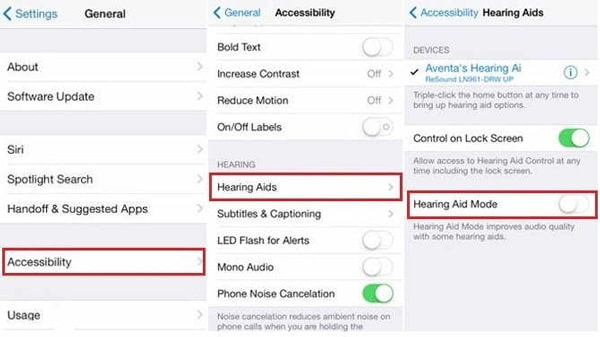 Step 1 Go to Settings app and navigate to "General" > "Accessibility" > "Hearing Devices".
Step 2 Swipe the "Hearing Aids" slider right to turn on this mode. Then you will discover that the Phone Noise Cancellation option is turned off automatically and the speaker volume is optimized.
What if sound is not working on iPhone?
Several people complaint that the sound was not working on their phones suddenly. Actually, many reasons could lead to this problem, so the solutions of how to fix volume on iPhone, if sound stops working are complex.
Solution 1: Check Do Not Disturb settings
If you have turned on Do Not Disturb mode intentionally or accidentally, your phone will become silence. So, once you disable this mode, sound will come back. There are two ways to set Do Not Disturb: (See what to do if "Do Not Disturb" not working)
Method 1: Go to "Settings" > "Do Not Disturb". And then turn off the "Manual" option to disable the Do Not Disturb mode.
Method 2: Swipe upward from the bottom of any screen and touch the "Do Not Disturb" option on "Control Center" to turn it off.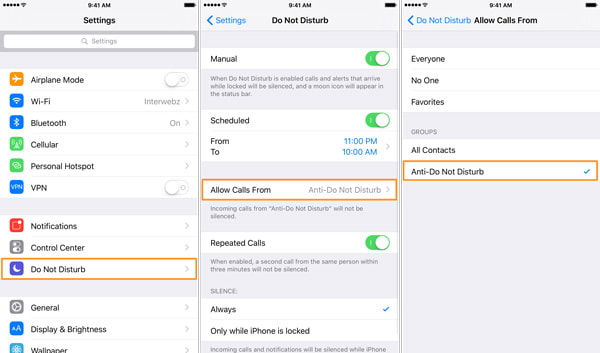 Solution 2: Check another app
If there is no sound in a video game app, you can try another app, like iPhone Video app. Sometimes, it is the problem of certain app but not your phone.
Make sure to turn off the silence mode, which is next to the volume buttons. And then you can try to adjust volume settings in all multimedia apps on your phone. If the volume is set to zero in an app, your entire phone may be influences too.
Solution 3: Remove headphones
After you remove headphones, the sound stops working. That means your iPhone is stuck in headphone mode. If you can get rid of headphone mode, the problem of how to fix volume on iPhone is solved.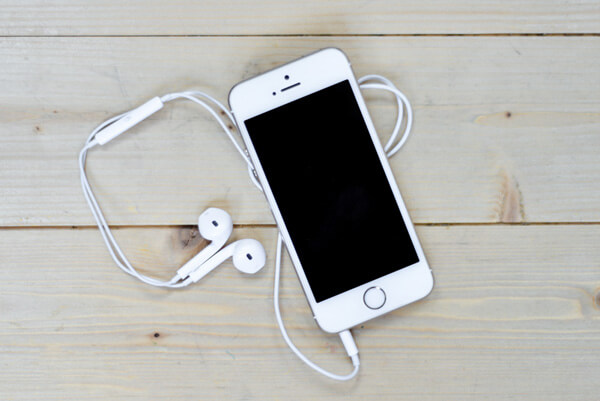 You can insert the headphones to your phone and get out it again. Repeat it several times, then your iPhone may notice what you want.
Solution 4: Disable Bluetooth
Today, many people prefer to listen to music through Bluetooth speakers. When you forgot to turn off Bluetooth after listen to music, the sound will go to the external device. So, when you found that sound stops working, you should check and disable "Bluetooth" in your "Settings" app.
Solution 5: Restart iPhone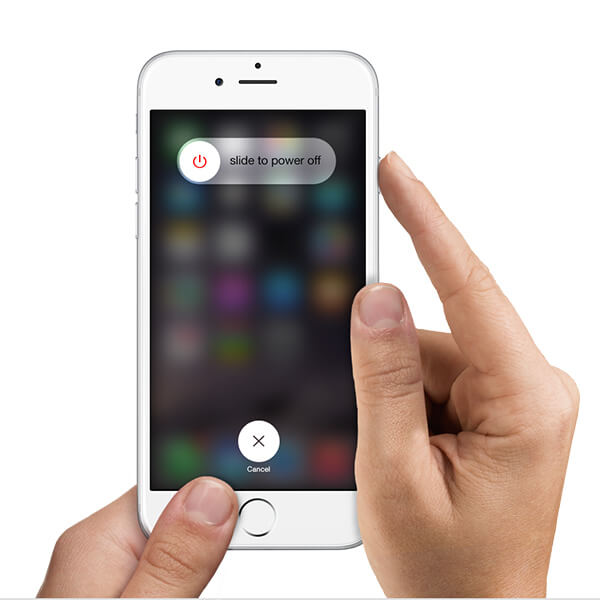 Restart is another effective solution of how to fix volume on iPhone. It could clean up cache data and get CPU cool quickly. When you prepare to restart your iPhone, press both the "Power" and "Home" buttons until you see Apple logo on the screen.
Solution 6: Do factory reset
Default settings reset is another solution about fixing volume on iPhone. It only recalls the default settings but not interrupt personal data.
Go to "Settings" > "General" > "Reset" and touch the "Reset All Settings" option to start resetting. A few seconds later, all iPhone settings will back to the status when you bought it.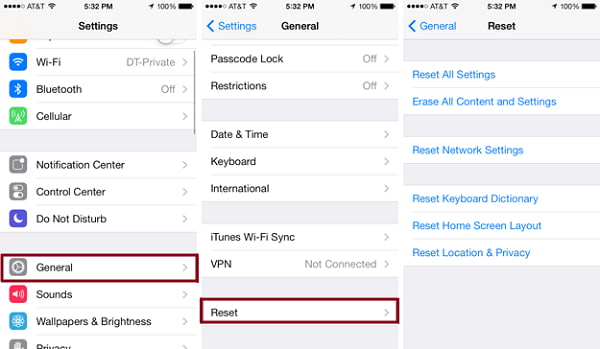 Conclusion
In this tutorial, we have talked about how to fix volume on iPhone under different situations. We increasingly rely on our handsets. According to our research, people said they cannot live for one day without their mobile phones. And it is true especially among young people. However, if there are some problems about volume on your phone, it is not only upsetting but also bringing troubles to our work and life. Anyway, you can get multiple detailed solutions to fix volume issues on iPhone in this post. And FoneLab iOS System Recovery is the all-in-one solution.