Best Hotmail Recovery to Restore Hotmail Account and Emails
Summary: This post will show you how to access Hotmail account when you forget password and security questions. Moreover, a great Hotmail Recovery will be recommended for you to recover deleted Hotmail emails and messages.
"I can't remember the password for my Hotmail account. What's worse, it seemed like that I had removed it from my email managing tool. I really need to enter this account and check some old emails. Is there any way to recover Hotmail account?"
"I removed many emails while managing my Hotmail. By accident, I deleted some useful ones at the same time. I can't find them back from the trash. The truth is, I also cleared up the whole trash folder. How to recover deleted Hotmail emails? Any help?"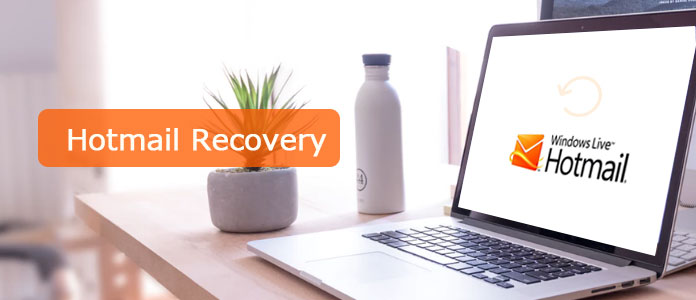 With so many passwords you need to remember these days, it quite common to forget some ones. The good thing is, there are still many ways can help you reset the passcord and re-access your account. While in some cases, you may also forget the security questions and more. What should you do to recover your Hotmail then?
Also, due to various reasons, especially mistakenly deletion, you may easily remove some valuable emails on your Hotmail. You can restore them with ease if they're still in your Deleted Items or Junk Email folder. What if you even empty the trash folder?
Whether you want to recover Hotmail account, or make the Hotmail emails/messages recovery, you can find effective solutions here.
Part 1. How to recover Hotmail account
Firstly, we will tell you how to recover Hotmail account when you can't remember the password.
Step 1 Open your browser and navigate to www.hotmail.com. You are required to input your account.
Step 2 After entering your email address, click the next step and then click I forgot my password.

Step 3 Click on Reset your password > Next > I can't use any of these options.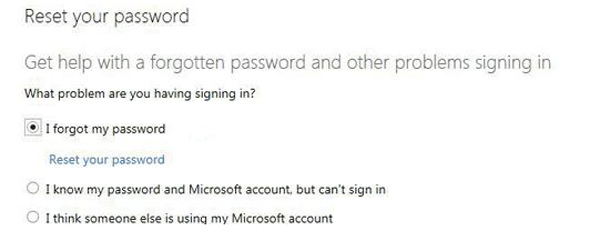 Step 4 Input your alternative E-Mail ID under the Contact email address when the Recover your Microsoft account appears.
Step 5 When you enter the Account Info page, you need to fill the details regarding your account to recover your Hotmail account.
Part 2. How to recover Hotmail emails (Regular Way)
This part will show you how to make the Hotmail recovery when these deleted emails/messages are still in the Deleted Items or Junk Email folder. Now you can take the following guide to recover your Hotmail emails.
Step 1 Open your Hotmail and locate the Deleted Items folder or the Junk Email folder in the left pane.
Step 2 When you enter the trash folder, choose the messages or emails you want to restore.
Step 3 Click on Recover or Not junk button to get the deleted emails back to original condition.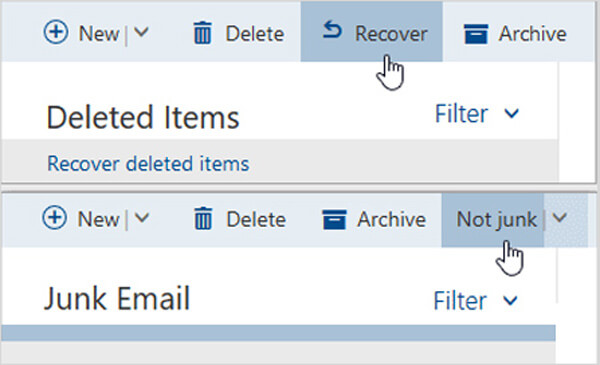 Note: If your Hotmails are disappearing for archiving, you do not need to recover them, but find out archived emails.
Part 3. How to recover Hotmail emails (Professional Way)
In fact, you won't search for the Hotmail recovery method if these deleted emails are still in your Hotmail account. If you can't find them from anywhere, you should pay more attention to this part. Here we sincerely recommend the professional Hotmail recovery software to help you recover deleted/lost emails and messages.
This Hotmail emails recovering software is specially designed to restore missing emails and various documents from computer, hard drive, external hard drive, SD card, digital camera and more. It can handily handle all types of data loss situations, you can free download it and follow the next steps to find your Hotmail emails back.
Step 1 Free download, install and run this powerful email recovering software on your computer by double clicking the download button above.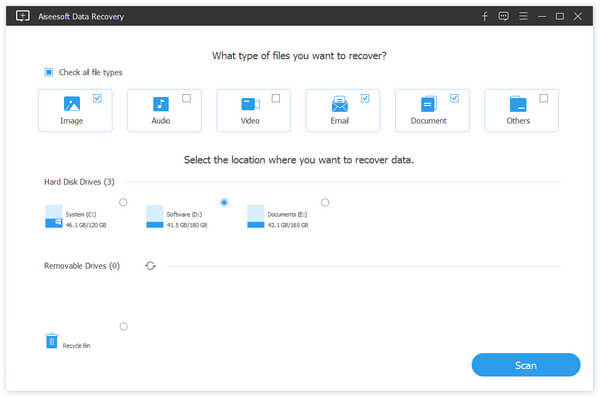 Step 2 As we said before, it highly support many data types recovering. So when you step into its main interface, you can see many file types are listed here. As you want to restore Hotmail, here you can choose Email as the target data type. Then you need to select the specific location where you want to restore these missing Hotmail emails. If you can't sure which location you should pick, you can select all locations.
Step 3 Click Scan button to start scanning Hotmail emails and messages. This data recovery tool is equipped with two scanning ways, "Quick Scan" and "Deep Scan". You will first take the quick way to look for your Hotmail files.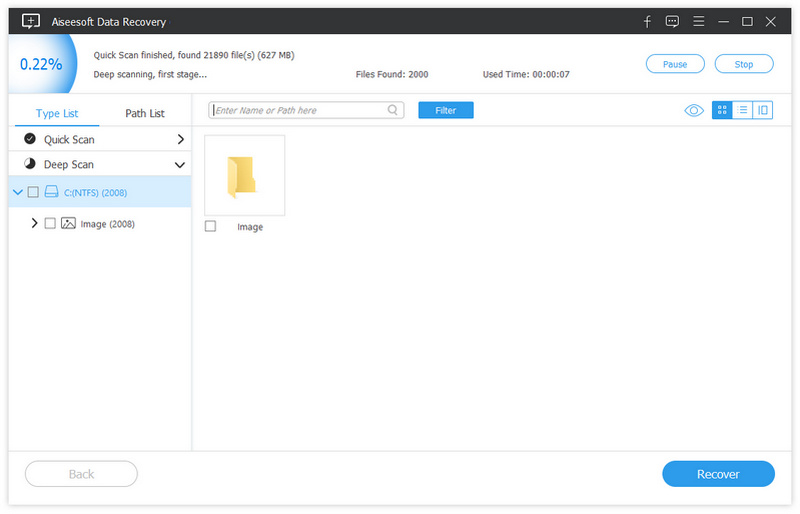 Step 4 When the scanning process is complete, you can rely on the "Filter" function to quickly locate the lost Hotmail emails. When you choose all emails you want to retrieve, click Recover button to begin the Hotmail recovery.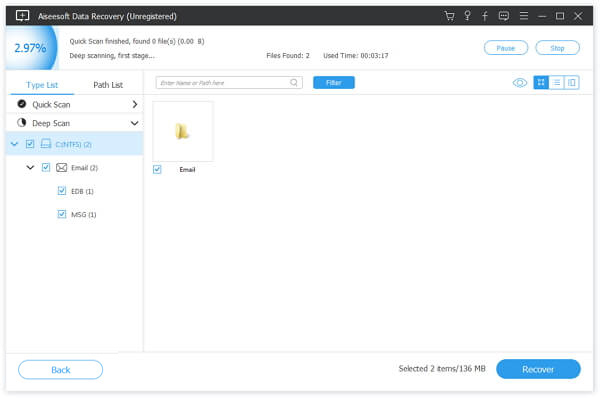 We mainly talked about Hotmail recovery in this article. Whether you mean to recover Hotmail password, or retrieve the deleted/lost emails from your Hotmail account, you can find right solutions here. If you have any better method, you can leave us a message.