Facebook Slideshow - Make a Picture Slideshow with Music on Facebook
Summary: Facebook slideshow app provides a simple way to make a picture video on Facebook. While for many users, they still don't know how to create a slideshow on Facebook. This post will give you a basic introduction about Facebook slideshow. Moreover, you can get detailed steps of how to use Facebook slideshow.
"How do I make a slideshow on Facebook? I saw some interesting Facebook pictures video from my friends, and want to know how to directly create a same kind of picture slideshow on Facebook. Any help?"
Facebook wants users hang more time on its platform, and video is a great way to kill time. So Facebook encourages people post more videos on it. Moreover, it even creates them for you, or offers a good picture video maker for you to make a slideshow on Facebook, Facebook Slideshow.

Facebook Slideshow provides a simple way to create quick videos with your mobile images. Using different themes and music, it allows you to combine photos, texts, and songs together into a great picture slideshow.
Creating a slideshow on Facebook is easy. But for many users, they just can't find the Slideshow feature. If you are one of them, you can follow this page to start making Facebook picture slideshow with music.
Part 1. How to make a slideshow video on Facebook
Making a picture slideshow on Facebook is simple and takes only a few minutes. Now you can take the following guide to create Facebook slideshow on portable iOS/Android device and computer.
Create a Facebook slideshow on iPhone/Android
Step 1 Unlock your phone and open Facebook app. Log into your Facebook account.
Step 2 There is an input box named What's on your mind, tap it to arise a new post window.
Step 3 Scroll down to locate the Slideshow option. Tap on it to open the Slideshows page.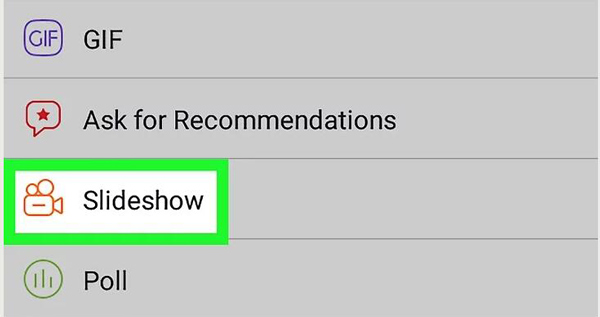 Step 4 Tap PHOTO and then tap ADD PHOTO button to choose the pictures you want to make Facebook slideshow. You need to select at least 3 and up to 10 pictures. You can also tap the Camera icon to take new photos. Then tap Done.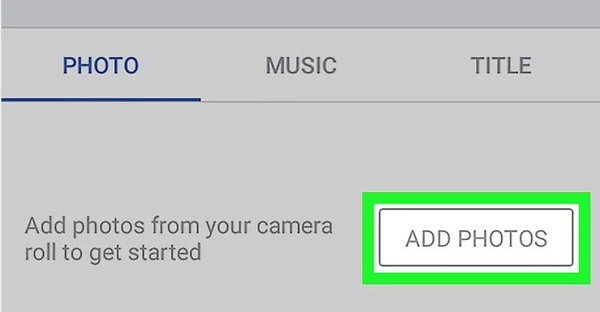 Step 5 Tap Next on the top-right corner and then move to the MUSIC tab.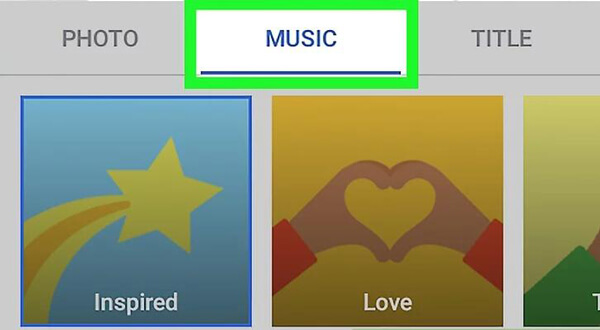 Step 6 When you enter the Music interface, you can choose a suitable theme for your Facebook slideshow. This theme will decide both visual presentation of the slideshow and audio track.
Step 7 Tap the Title tab to add a title for your picture slideshow. Then tap Next to move to next step.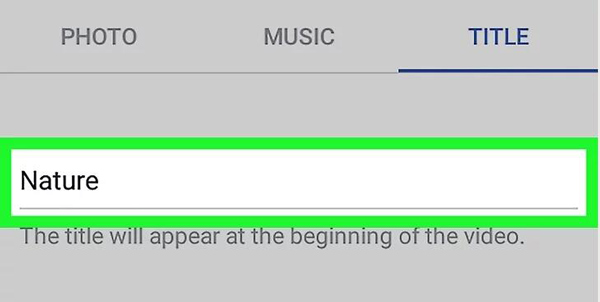 Step 8 When you enter the Select Destination interface, you can set Timeline and other settings. Then tap Post button on the top-right corner to post a slideshow on Facebook profile page.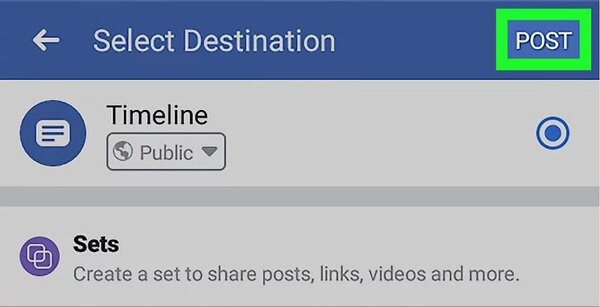 Create a Facebook slideshow on computer (Facebook slideshow ads)
If you want to create Facebook slideshow on PC/Mac, especially the video ads, you should pay more attention to this part. The steps below will show you how to make a slideshow ad from a Facebook page in details.
Step 1 Navigate to Facebook site on your browser and sign in your account. Then open a Facebook page you manage and want to add a slideshow ad on it.
Step 2 Click Share a photo or video and then click on Create a Slideshow.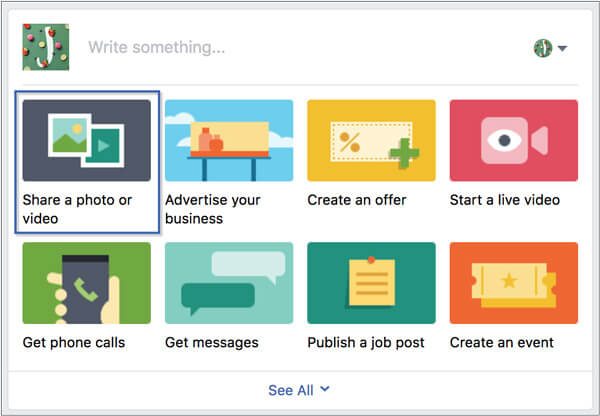 Step 3 Click Add Photos button to add the pictures. You are allowed to import 3-10 pictures. Make sure you pick high-resolution pictures. During this step, you can also adjust various settings for the Facebook slideshow ad, such as Aspect Ratio, Image Duration and Transition.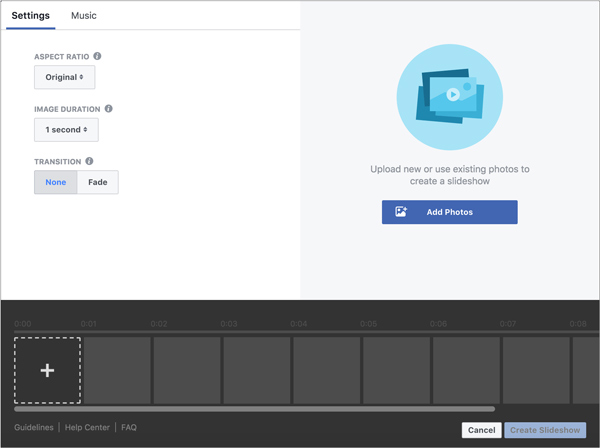 Step 4 Click Music to add audio track for the picture video. Some frequently-used audio format like WAV, MP3, M4A, FLAC and OGG are supported.
In addition, you can click Edit Photo option to add a caption, text and so on to the output Facebook slideshow ad. Click Save to confirm all the operations.
Step 5 Click Create Slideshow to finish the slideshow ad creating process. You need to enter a message to accompany the ad.
Step 6 To select your audience, budget and duration, you can click Boost Post option. Then click on Set Budget to confirm this step.
Step 7 When all settings are done, one simple click on Publish will post this created Facebook slideshow ad on the page.
Best Slideshow Maker you shouldn't miss:
For various reasons, you will have a need to make a slideshow. For instance, you may want to make a picture slideshow for wedding, graduation, end of the year, child, birthday and more. You may notice that, this kind of slideshow will carry more than just 10 pictures. To give you more control of the slideshow creating, here we sincerely recommend the free Slideshow Maker for you. Just free download it and give it a try.
Aiseesoft Slideshow Creator
Aiseesoft Slideshow Maker is the professional but easy-to-use Facebook slideshow video making software which can help you make a Facebook picture slideshow with ease.
Offer three slideshow making modes: Easy Mode, Storyboard and Advanced Mode.
Add any music to your Facebook slideshow.
Compatible with various music formats like MP3, MP2, AAC, WAV, FLAC, OGG, RA, WMA, AU, etc.
Support audio editing and audio effects adding for pictures.
Easily share the created Facebook slideshow to YouTube and Facebook.
Here's the video about making slideshows for you. Click it to check.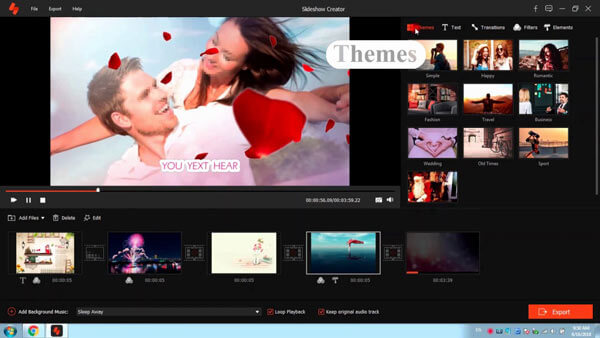 Part 2. Facebook slideshow and slideshow ads
Facebook Slideshow enables you to easily turn multiple photos, text, and music into a short picture video. It offers a more powerful way to capture your audience's attention and tell a story.
You can customize Facebook slideshow with different themes and music. Actually, as long as you take more than 5 photos in the last 24 hours, this slideshow feature will automatically create a slideshow on Facebook. Here you can also click on Try It to make a Facebook slideshow by yourself.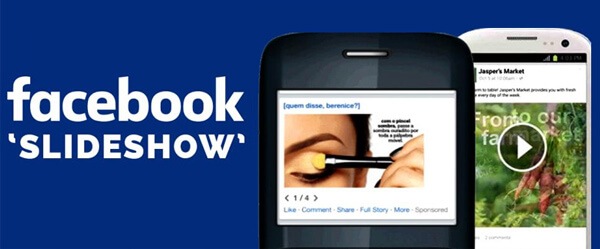 Slideshow Ads is more like one kind of Facebook slideshow. It can combine many photos or a single video to tell the story. Many ad formats like Slideshow, Single Image, Canvas, Video, Carousel, and more are supported in Facebook. You can put the created slideshow ads on Facebook, Instagram, Messenger, and Audience Network.
After reading this post, you can easily get the simple method to make a slideshow on Facebook. Whether you want to create Facebook slideshow on portable iOS/Android device, or make and post Facebook slideshow ads on computer, you can find detailed steps to do it. If you still have any question about the Facebook slideshow, don't hesitate to leave us a message in the comment.