How to Easily Make A Reddit Slideshow with Photos And Music
Reddit is an American social news aggregation, web content rating, and discussion website. As a member of Reddit, you can post images, texts, etc., these subjects will be voted up or down by other members. If you receive enough votes, your post will ultimately on the site's front page.
When you are browsing Reddit, you'll see people always like to post a text with a photo. There are many topics with different photos. Some people just want to browse the pictures of the topic they like. Is there any way to make it easier to browse those pictures in one time?
Yes, there is. We will show you how to do that.

Part 1. How to browse images in Reddit as a slideshow
Step 1 Log in your Reddit account.
Step 2 Choose the topic you want to browse as a slideshow.
Generally speaking, when you browse one topic in Reddit, the URL should be "reddit.com/r/topic name". Once you adding a letter "p" in the URL like "redditp.com/r/topic name", it will show the pictures as a slideshow.
Now we take puppy as an instance. If you want to browse the photos as a slideshow, just add a "p" to your URL:
Before: reddit.com/r/puppies
After: redditp.com/r/puppies
See, it is easy, right? Now you can browse the photos from any topic you want as a slideshow.
Browsing images in Reddit as a slideshow is an amazing feature. There is no need for you to left-click the photo so that you could go to the next one.
But there also are many shortcomings:
You can just browse the photo from the first member to the last one who posted it with the same topic. If you posted some photos and just want to browse them, it is hard for you to find them out.
You cannot edit the photos like rename, add filter, etc.
You cannot save it directly to the location you like.
You cannot browse the images as a slideshow without internet connection.
You cannot play back the slideshow.
Now you have learned how to browse images in Reddit as a slideshow, and also known what the shortcomings of it are. Anyway, browsing pictures as a slideshow is a wonderful way for people who want to browse the photos of the topic they like, isn't it?
Today, most of us like to take photos and share them to our friends, family. Or we just post them to the social website like Flickr – it is a pleasure for us to receive favorable comments from other members.
How can you win appreciation from others? Making an attractive slideshow is the exact answer.
We will show you how to make a photo slideshow with music in Part 2.
Part 2. How to make a photo slideshow with music
When it comes to making a photo slideshow with music, we have to recommend Aiseesoft Slideshow Creator.
As a Slideshow Creator, it is powerful and easy to use. Not just making a photo slideshow, it also provides several themes for you.
And there are varies of output formats, which enables you to play your slideshow in everywhere.
Below are steps for you, just following the steps and making your photo slideshow.
Step 1 Launch Aiseesoft Slideshow Creator on your computer.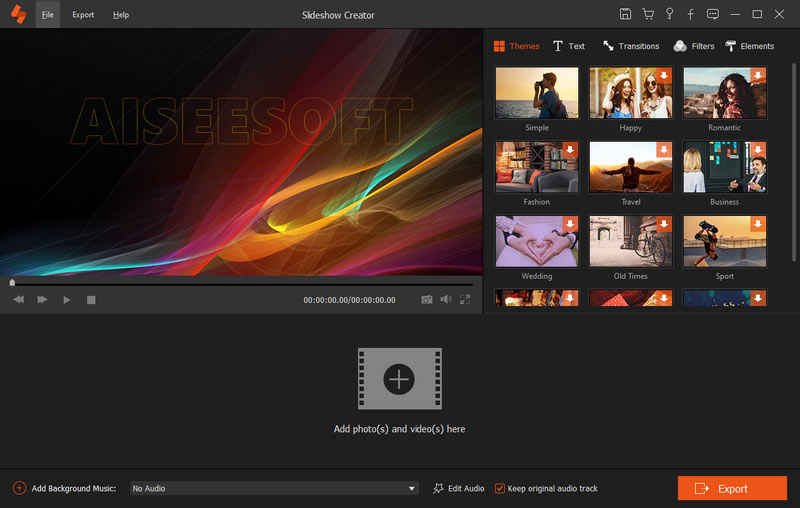 Step 2 Click "File" > "Add File", then you will see there are options for you to add your media files.
You can also drag your photos or videos directly to the blank area in the middle of "Add File" window.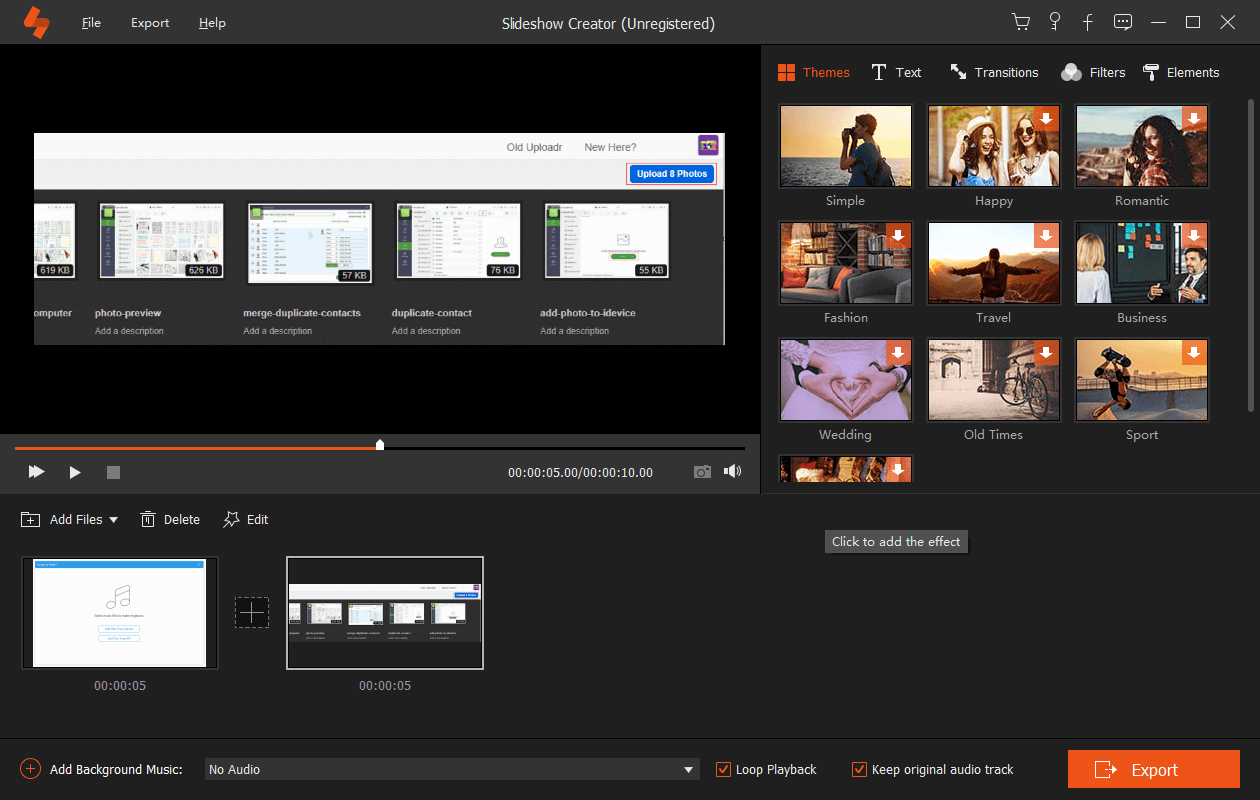 Step 3 Edit your slideshow.
You can click "Theme" in the right panel, you will go to the Theme window.
Here are several themes for you, such as Travel, Business, Happy, etc. You can pick the one you like to create your slideshow.
Click "Text", then you will be allowed to change your text's style.
Click "Filters", you can select one filter to your photo.
Click "Elements", you can add the element you like to your photo.
Click "Edit", you can rotate your photos, also can crop your photos as you like.
Click "Add Background Music", you can add a music to your slideshow.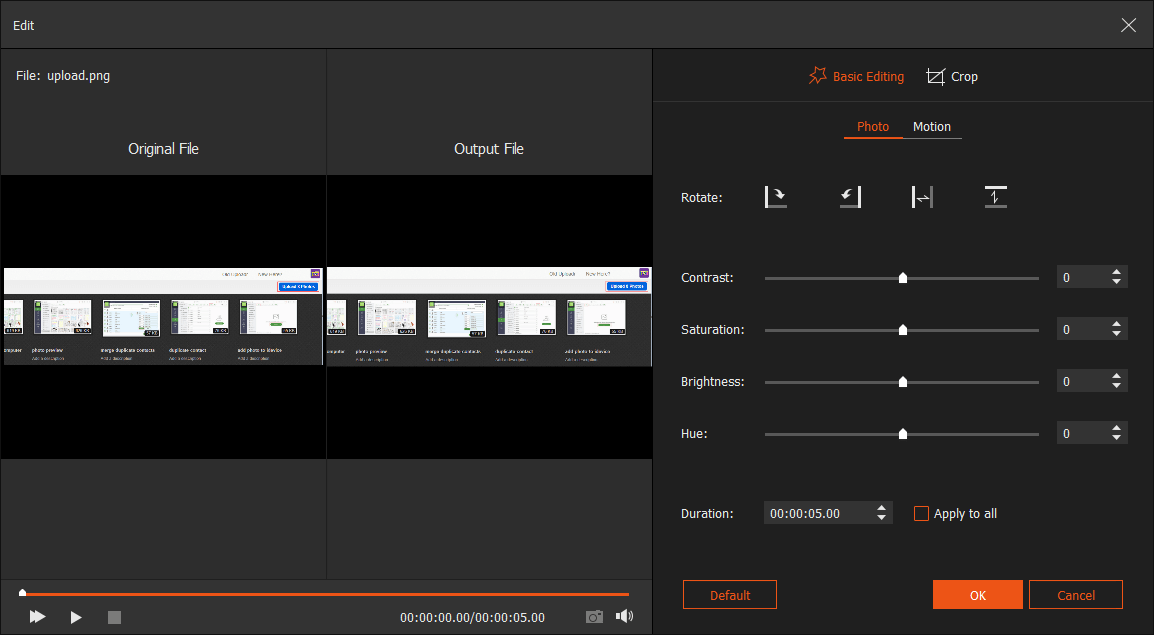 Step 4 Click "Export" button, you can set the output format of your slideshow here. You can also rename your file's name, and select a location to save it.
For the further setting, just click the gear-alike icon, and there will be a pup up window, you can change the encoder, channel, sample rate, and bit rate of your video and audio here.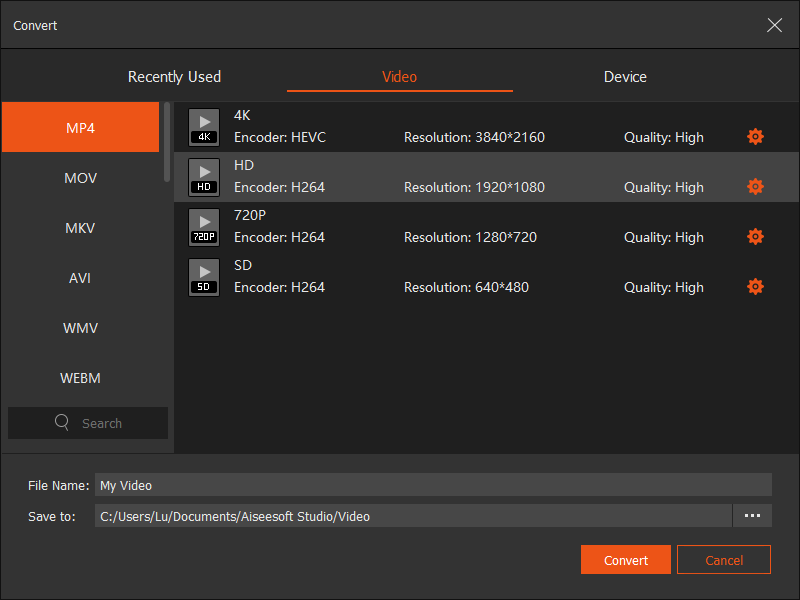 Step 5 Click "Convert" button, and wait for minutes until it finishes.
Here's the video about making slideshows for you. Click it to check.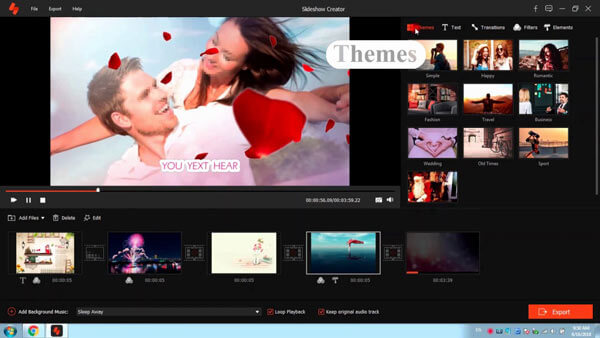 Do you know how to make a photo slideshow with music now? Does this article help you? If it does, enjoy your moments of sharing attractive slideshows to others.