How to Make a Simple AMV in Windows Movie Maker
This post shows you detailed steps to make AMV with Windows Movie Maker. If you are looking for a simple and free way to create your own anime music videos, you can rely on the default video editing software. Moreover, we recommend a great AMV maker to help you make a better AMV on computer with more fantastic effects.

Can you make AMVs on Windows Movie Maker? I just installed Windows Movie Maker on my Windows 7 HP laptop and want to make an AMV about One Piece with it. Is that simple just to import anime clips and background song, and the work will be done?
You can see lots of AMVs about different anime series shared on YouTube and other sites. If you have one favorite anime and want to create an AMV by yourself? Actually, it's quite easy to make an AMV, especially there are many AMV video editing tools like Sony Vegas, Adobe Premier Pro, iMovie, etc. can help you do that.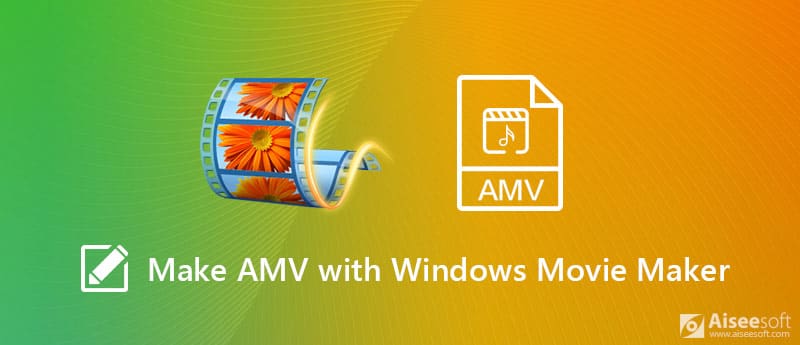 Make AMV with Windows Movie Maker
AMV is one kind of music video which combines one or more anime clips, and accompanies with an audio track. If you are a Windows user, you can easily create an AMV in Windows Movie Maker. Here in this post, we will show you how to make AMV with Windows Movie Maker in detail.
How to Make AMV with Windows Movie Maker
Windows Movie Maker is the default video editing software for Windows users to edit and create videos, also known as Windows Live Movie Maker in Windows 7. This free video editor offers a simple way to quickly turn anime video segments and audio into one new AMV. For more details, you can check the steps below:
Step 1. Download and launch Window Movie Maker
First, you need to download and install Windows Movie Maker on your computer. After that, open it to start the AMV making.
---
Step 2.Load file
When you enter the main interface, click the "File" > "Add Videos or Photos" to import the anime clip you want to edit. Then the media file will be loaded to Windows Movie Maker and you are allowed to preview it.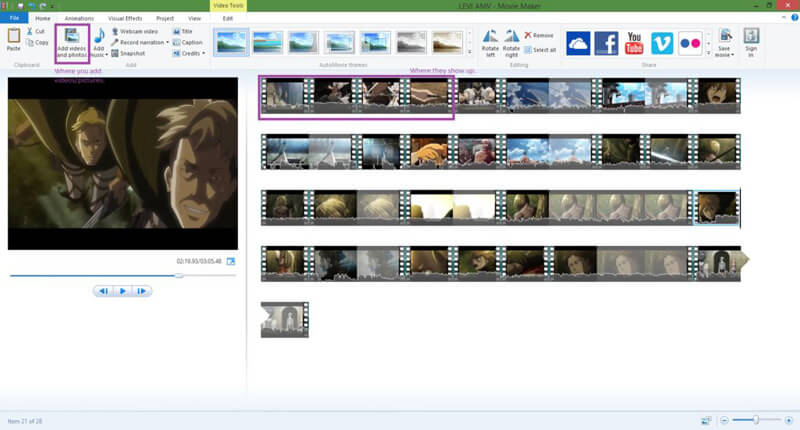 ---
Step 3.Trim anime video
In most cases, you need to clip the imported anime video clip. To do that, you can click "Edit" and then choose the "Trim tool" option. While trimming video, you can drag the sliders to set the starting and ending point separately. Here you are also allowed to select a start point and end point with specific time.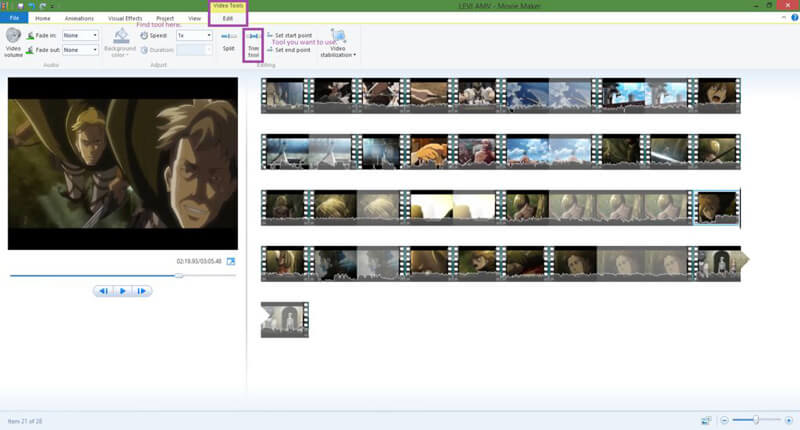 ---
Step 4.Remove original sound and add new audio track
To make an AMV in Windows Movie Maker, you may need to remove or turn down the source audio of the added video. Click "Edit" and then hit the "Video volume" icon to adjust the source audio based on your need.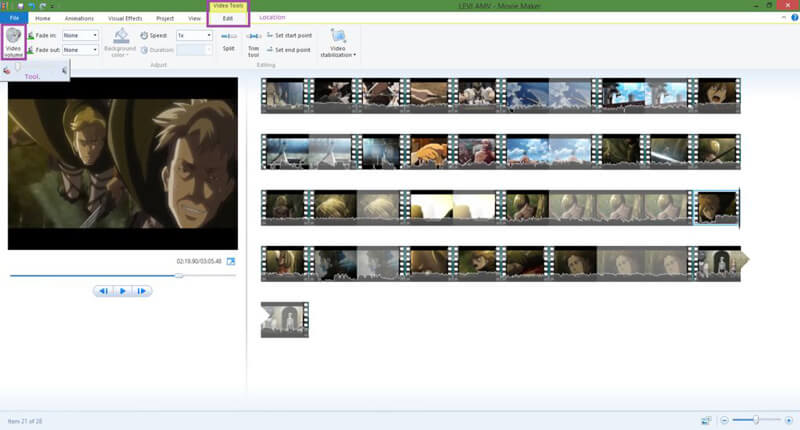 Click the "Add Music" button to add an external audio track to the AMV. If you want to edit or custom the loaded music, you can click "Music Tools" and then hit "Option" tab.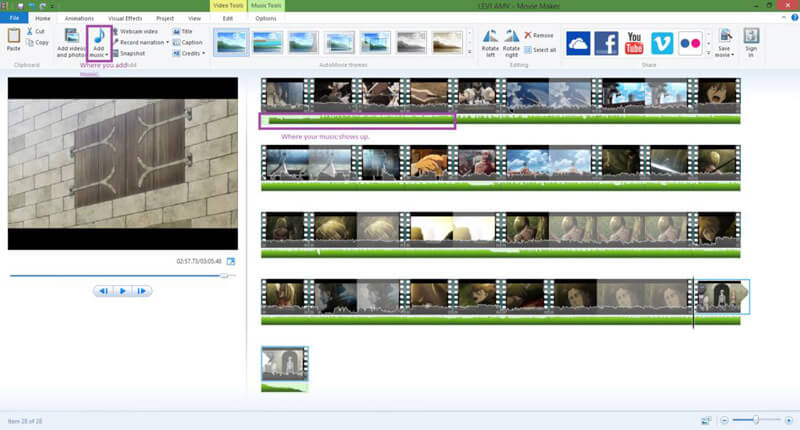 ---
Step 5.Add transitions and effects
You can directly output the AMV if you don't need to add transitions or effects to it. But if you like to add some transitions or effects, you can click the "Animations" and "Visual Effects" options.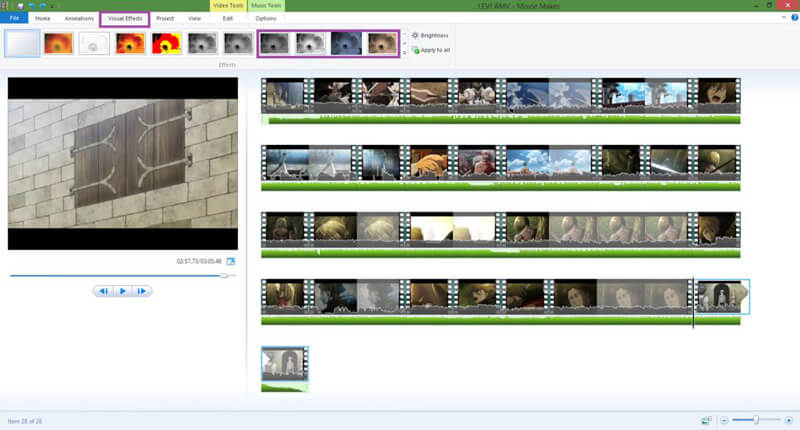 ---
Step 6.Output created AMV
After editing, click "File" and then choose the "Save Movie" option to export your created AMV. Also, you can choose "Publish Movie" to share the AMV to OneDrive, Facebook, Vimeo, YouTube, and Flickr.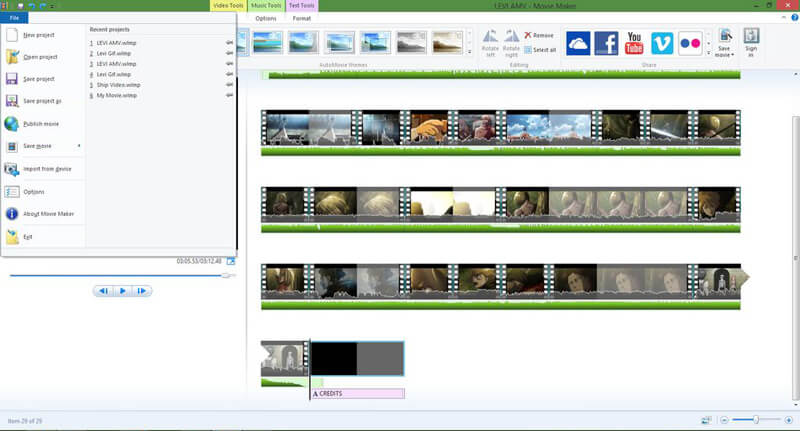 Best Windows Movie Maker alternative you may like to know:
Windows Movie Maker is the stand out application of Windows Essentials. It carries many useful editing features to make sure you can edit and create video. You can rely on it to make an AMV if you are using Windows 7 or earlier OS version.
However, now Windows Movie Maker is no longer available for download. Even though many free versions provided on the internet claim that they can be used in Windows 10, they may contain malware, viruses, or hidden costs. Considering that, here we introduce you with a better AMV maker to help you create AMVs on all Windows computers, such as Windows 10/8/7/XP/Vista PCs. You can free download it and give a try.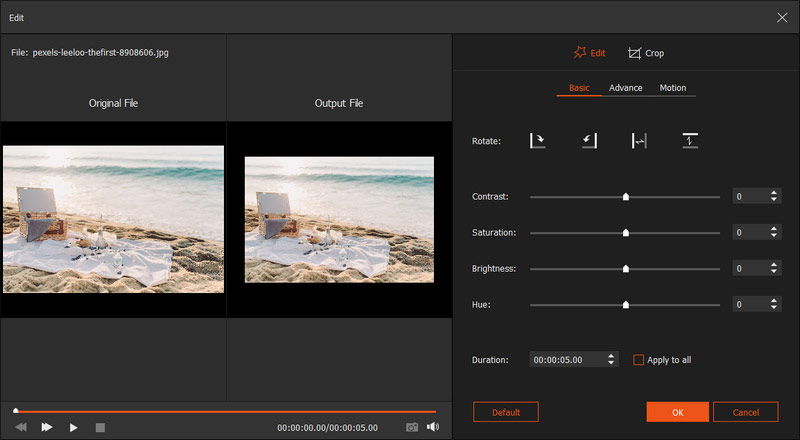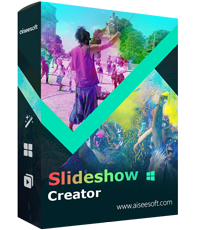 Downloads
Slideshow Creator - Best AMV Maker
Make an AMV with anime clips, images, audio and various transitions/effects.
Easy make anime music videos with ready-made themes.
Many editing features offered to edit video/audio based on your needs.
Add Themes, Text, Filter, Elements to your video to make it more attractive.
Highly support any popular video/audio/image formats.
Here's the video about making slideshows for you. Click it to check.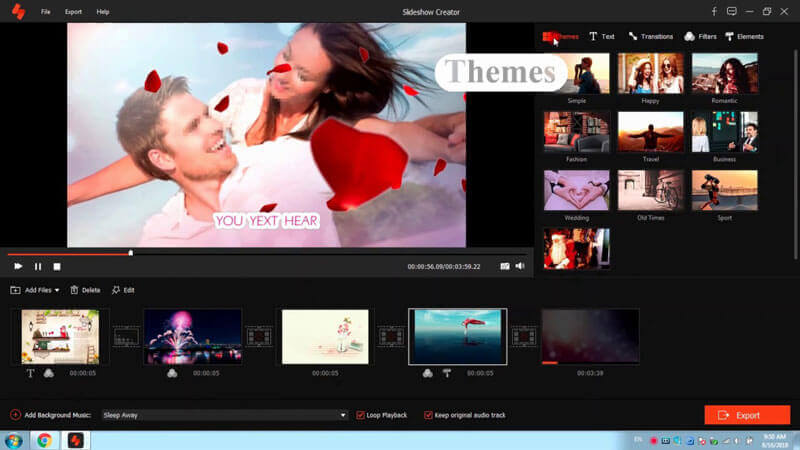 We mainly talked about how to make an AMV with Windows Movie Maker in this page. The detailed steps are offered to ensure you can get full controls of the AMV making process. In addition, we recommend a great Windows Movie Maker alternative, Slideshow Creator to help you create anime music videos on all windows 10/8/7/XP/Vista computers.

Leave your comment and join our discussion