How to Make an AMV on Computer with Best AMV Maker
Want to make an AMV on computer but don't know how? This post shows detailed information to make an AMV with iMovie, Windows Movie Maker and other tools. The professional AMV maker is recommended to help you edit and create anime music videos with ease.

How to create an AMV video? I know how to trim and combine videos, but don't have any transitions, filters or suitable songs for the AMV. Is there any good AMV maker to easily edit anime videos, add music and do other basic editing?
AMV stands for anime music video which is typically created by anime fans. You can take AMV as a slideshow of anime clips, pictures, music and various transitions. But when it comes to making an AMV, you may feel hard to create a good one.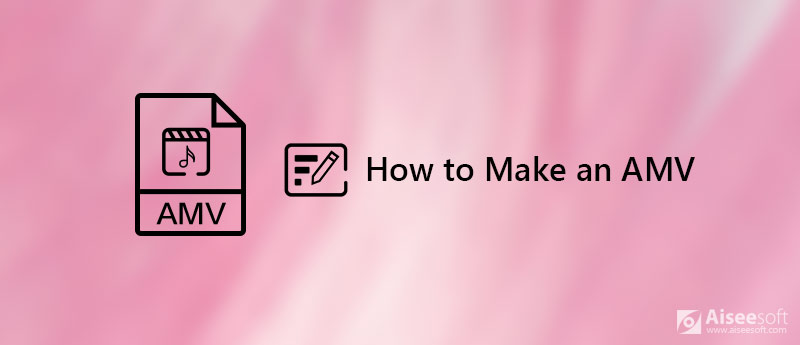 How to Make an AMV
Actually, many AMV makers or video editors can help you create your own AMVs. This post will show you detailed steps to make an AMV on computer, with Windows Movie Maker, iMovie, and powerful AMV maker. So whether you are a Mac user, or using a Windows 10/8/7 PC, you can find suitable method here to make an AMV.
Part 1. How to Make an AMV with Professional AMV Maker
It's quite easy to make an AMV as long as you get a good AMV maker. As we mentioned above, an anime music video is more likely a slideshow which combines anime clips, music and some transitions. So you can choose a slideshow creating tool to help you make an AMV. Here we introduce you with an easy-to-use slideshow creator to do the AMV making job.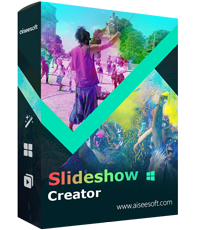 Downloads
Slideshow Creator - Best AMV Maker
Make an AMV with anime clips, images, audio and various transitions/effects.
Easy make anime music videos with ready-made themes.
Many editing features offered to edit video/audio based on your needs.
Add Themes, Text, Filter, Elements to your video to make it more attractive.
Highly support any popular video/audio/image formats.
Steps to make an AMV
Step 1.
First, you double click the download button above to free install this powerful AMV maker on your computer. Then click its icon to launch it.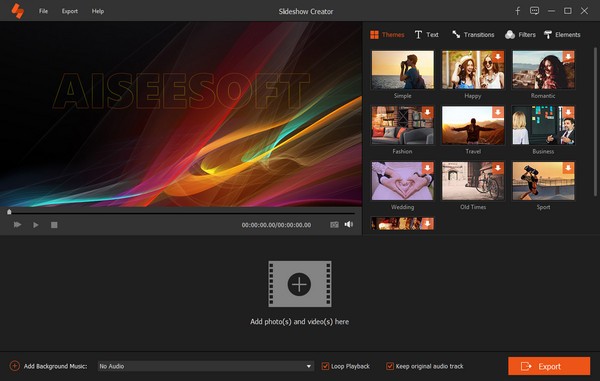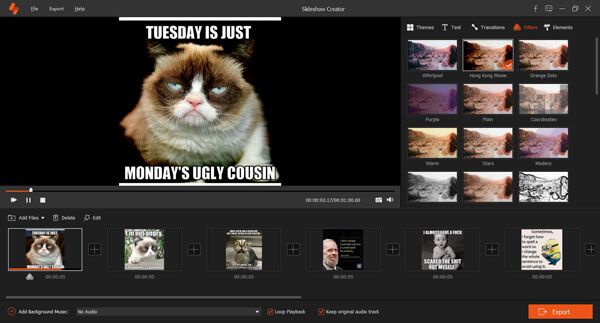 Step 3.
Some basic themes like Travel,Christmas, Business, etc. are provided in this AMV maker. You can try them one by one to quickly add effects to your anime video. For each theme, you are allowed to adjust/change filter, transition and other elements with ease. What's more, you can customize the materials to create your own theme.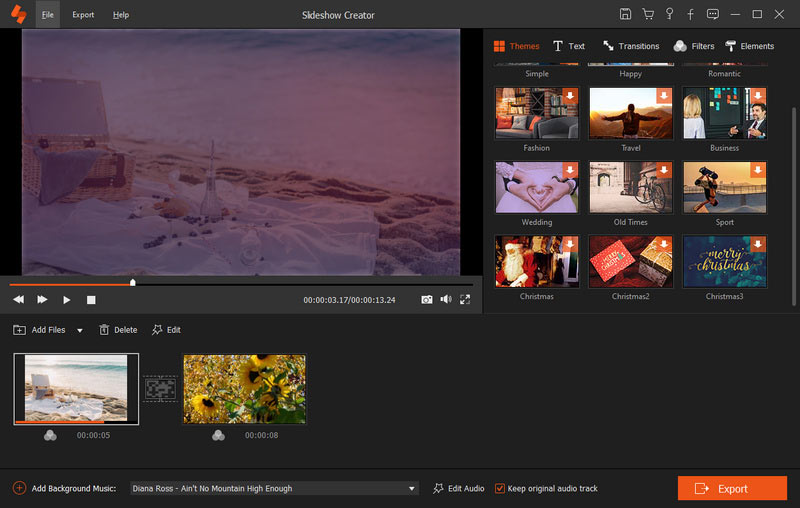 Step 4.
You can click "Edit" to quickly get many editing functions like crop, trim, merge, rotate, speed up/slow down video and more. Also, you can adjust contrast, saturation, brightness, hue and volume for the AMV video.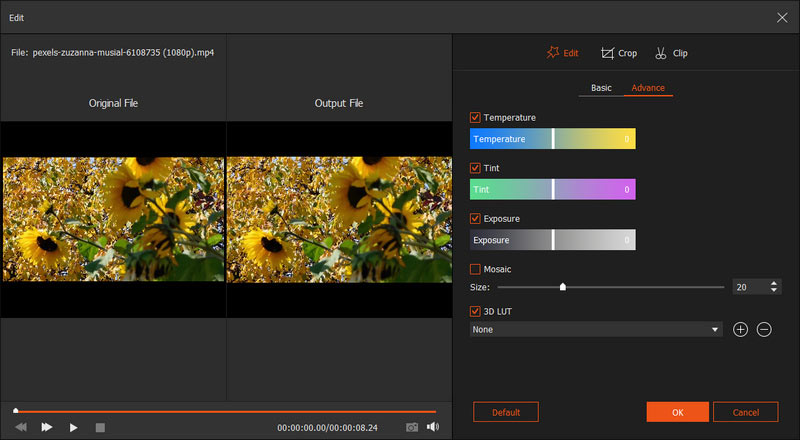 Step 5.
Click "Add Background Music" to add audio track to your AMV. Here you can click "Edit Audio" button to edit the music length and loop playback or not.

Step 6.
After editing video, you can click "Export" button to export the created AMV to your computer. Here you can select a suitable destination file folder for the output AMV. During this step, you can select the supported device like iPhone or Android phone, preferred output format and resolution.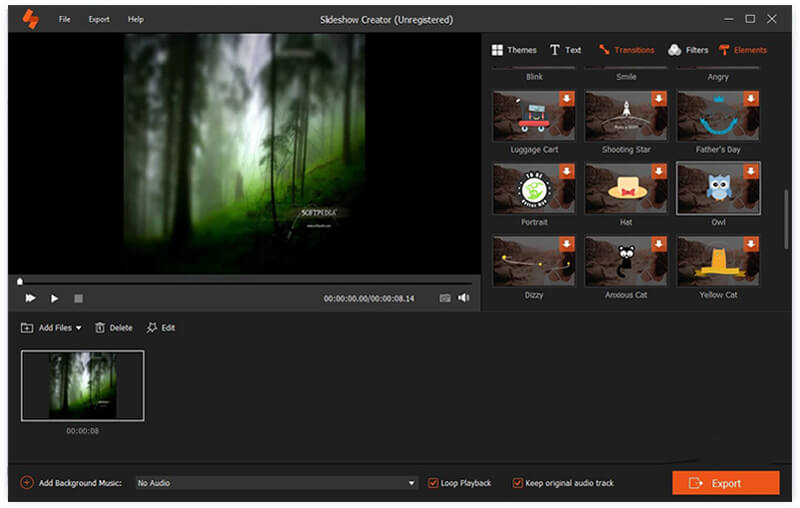 Here's the video about making slideshows for you. Click it to check.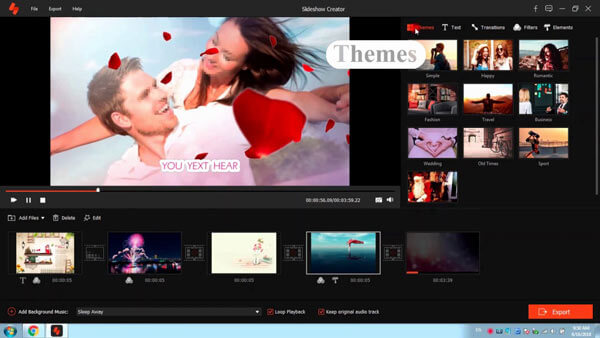 This AMV maker offers a simple way to turn anime videos, pictures and audio into one AMV. It carries all necessary editing features to make sure you can easily make an AMV. Just free download it and have a try.
---
Part 2. How to Make an AMV with Windows Movie Maker
If you are a PC user and want to make an AMV on Windows 10/8/7 computer, you can also rely on the default video editing software, Windows Movie Maker. This part shows details about how to make an AMV with Windows Movie Maker.
Step 1.
Launch the Windows Movie Maker on your computer. When you enter the main interface, you need to load the anime video(s) you want to make AMV. You can click the "Add videos and pictures" on the top-left corner to do it.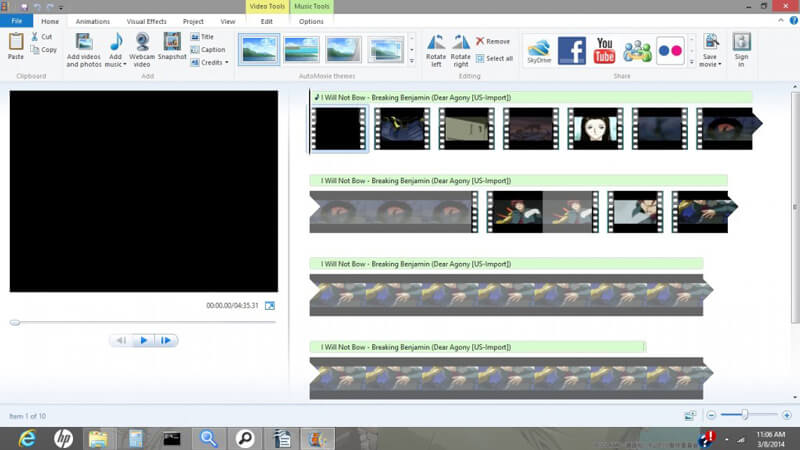 Step 2.
Click "Add music" to load background music to Windows Movie Maker. After that, you can click "Edit" and then edit audio like adjusting volume, setting play speed, fade in/out effect and more. Here in this step, you may need to shut down the original video sound.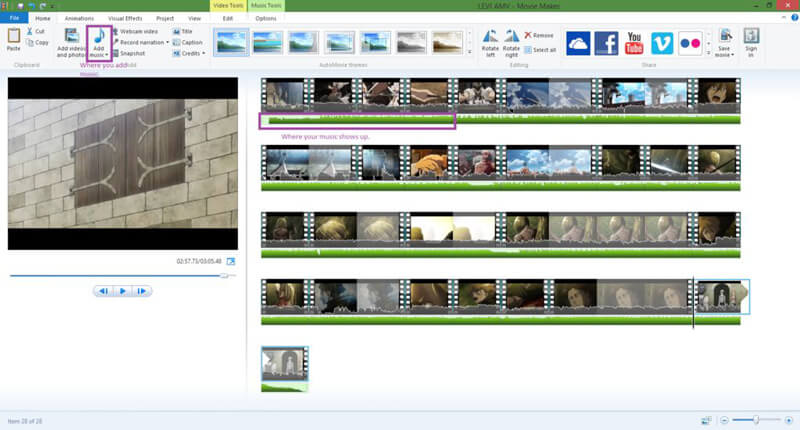 Step 3.
Right click on the anime clip you added and choose specific options to edit it. You can choose to trim video, remove useless parts, set start/end point and more.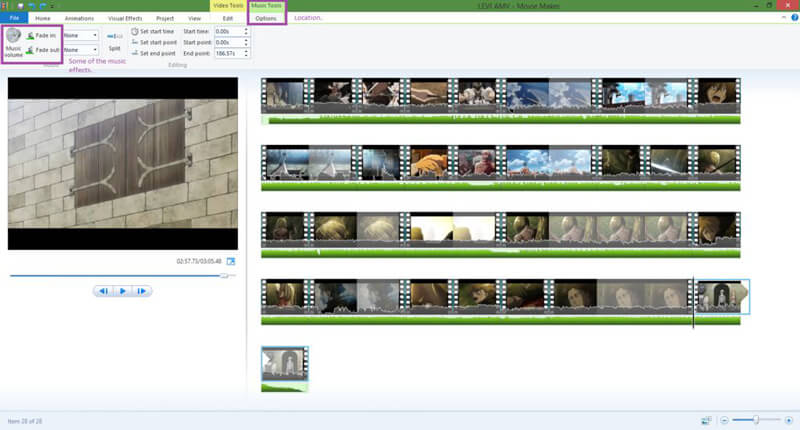 Step 4.
Use "Visual Effects" and "Animations" features to add more fantastic effects to the output AMV. You can try each option one by one and then apply suitable effects to your anime music video.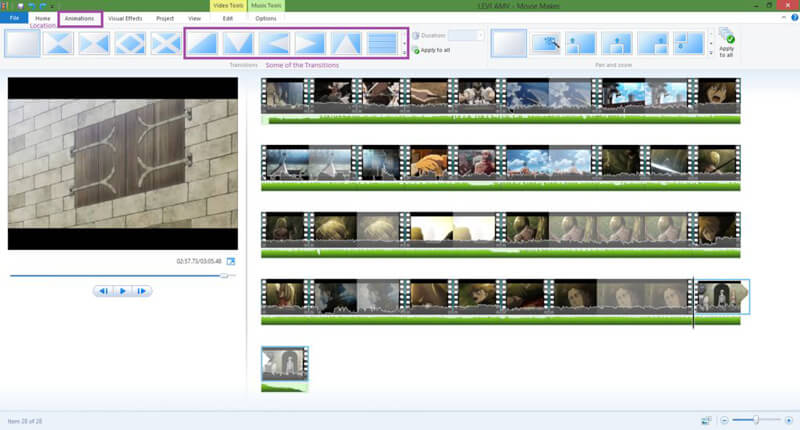 Step 5.
You need to constantly edit video and adjust various effects until you get a desired AMV. Then you can publish and save the created AMV on your computer.
---
Part 3. How to Make an AMV on Mac with iMovie
You can use Windows Movie Maker to make an AMV on Windows computer. If you are using a Mac, the video editor will be the iMovie. iMovie is a free Mac video editor which can help you make AMVs. You can take the following guide to create an AMV with iMovie.
Step 1.
Open iMovie on Mac and click "Create New" to start a new project.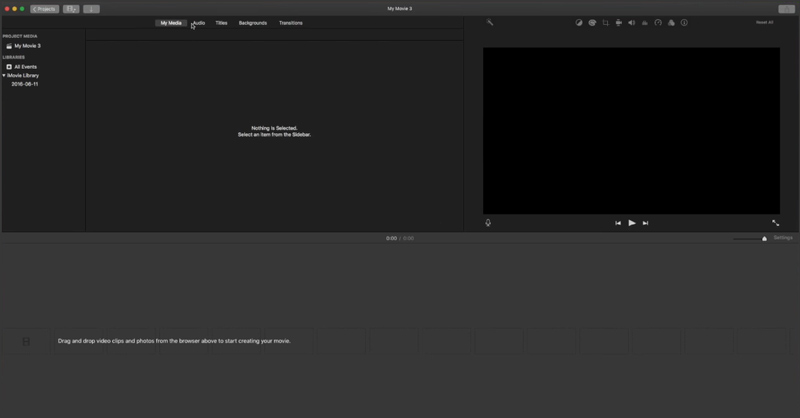 Step 2.
Add the anime video to iMovie. You can directly drag it to the interface of iMoive to load it.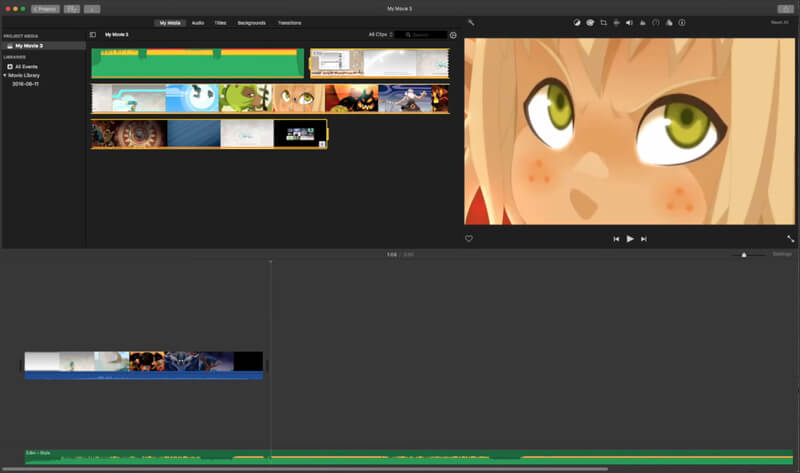 Step 3.
Click "Modify" on the top menu bar and then choose "Split Clip" option from the drop-down list to only keep the useful parts of the loaded anime video.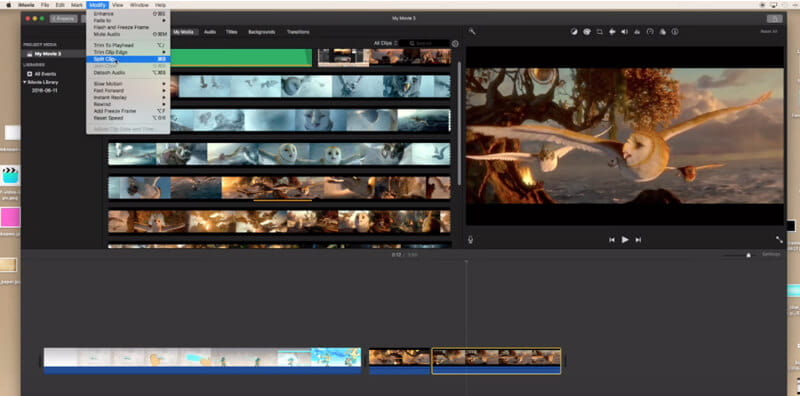 Step 4.
iMovie provides many basic filters and transitions for you. You can add and adjust AMV effects with the feature icons on the top right. Here you can customize the play speed based on your need.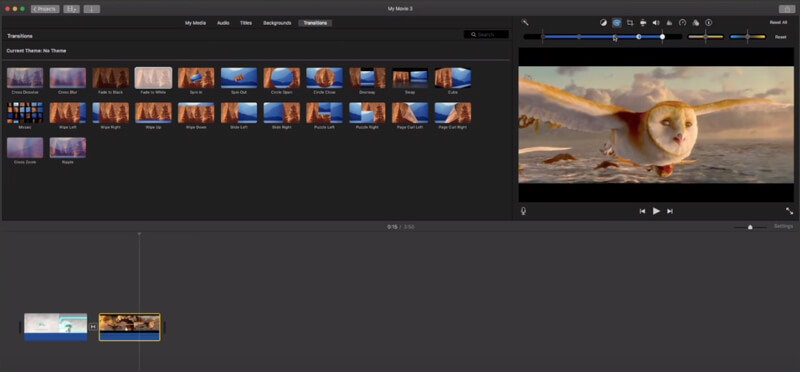 Step 5.
Drag the audio track to the iMovie and put it under the video clips. With the similar steps, you can edit audio and make it perfectly fit the edited video clips. You can play and preview the effects every time you do any operations.
Step 6.
When all editing works are done, you can click the "Share" icon on the top-right corner to save the created AMV to your Mac. iMovie enables you to output high quality anime music video.
However, AMV creation with iMovie will be saved in limited formats. For play or share it freely, you may need the AMV converter .
---
Part 4. How to Make an AMV on Computer with Best Video Editor
If all your need is to quickly edit video (cut/combine) and add an external audio track, you should try the powerful Video Converter Ultimate. It can work as an AMV maker to help you make an AMV. It is equipped with many useful editing features like crop video, cut, merge, rotate, add watermark, enhance quality, adjust image/sound effects and more.
This AMV maker offers both Windows and Mac versions. You can free download it on your computer and follow the next steps to create your anime music videos.
Step 1.
With the download button above, you can easily download and install this AMV maker on your computer. Then launch it to start making AMV.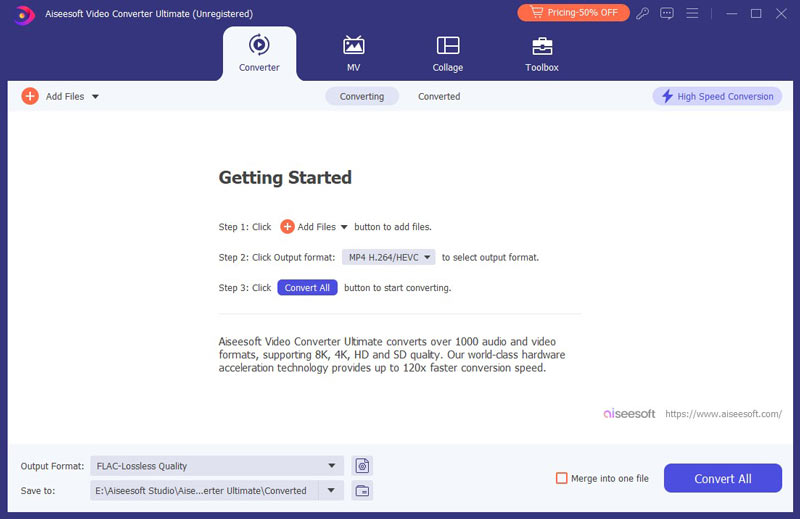 Step 2.
Click the "Add Files" to import anime videos to this AMV creator. Here you are allowed to directly load anime DVD for the AMV making.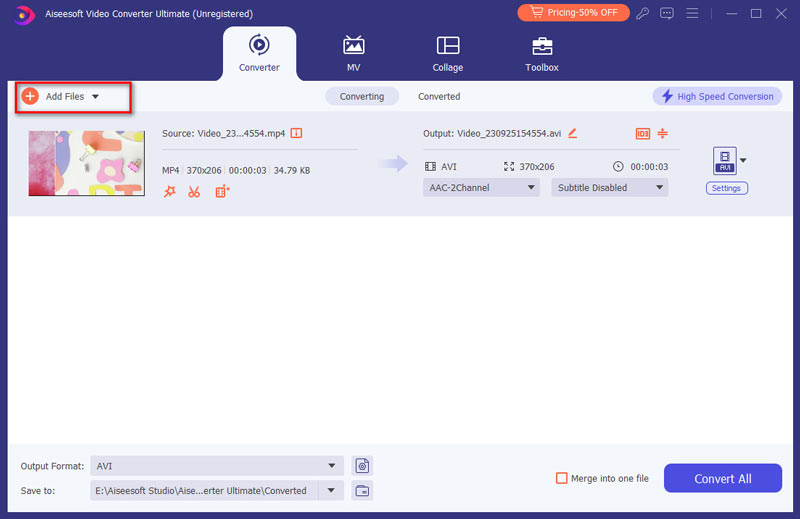 One thing you should know is, you can't add image files to this software. That means, this AMV maker doesn't support creating AMV with pictures.
Step 3.
After the anime video loading, you can click "Edit" to edit it. Here you can use the "Cut" feature to cut the source file and only keep the necessary parts. Then you can combine these clips together with the "Merge into one" function.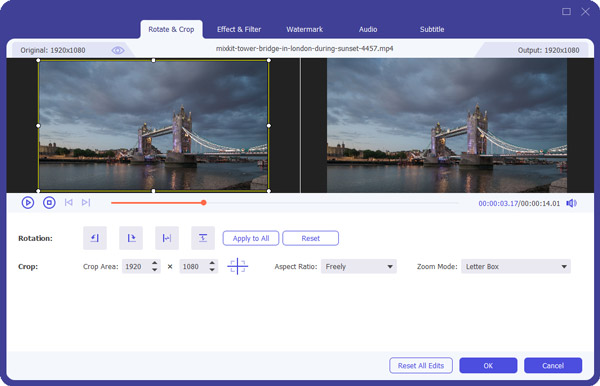 There are many other editing features you can use during this step. You can freely adjust image/sound effects, add 3D effects, enhance video quality and do various other settings.
Step 4.
When all operations are done, you can insert a suitable audio track for the AMV. Click the audio track option to add an external audio track to the anime video.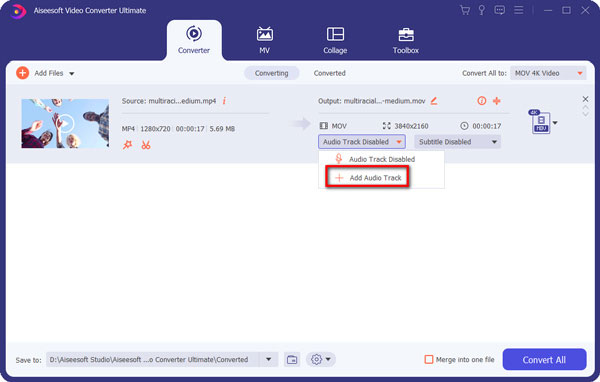 You are suggested to add an audio which has a same time length like the edited anime video. By doing so, the added music can perfectly fit your anime video. This AMV maker shows a clear time length of each video or audio file.
Step 5.
A built-in media player is designed in this AMV editor and maker. It enables you to preview the changes after every operation you did. Before exporting the AMV, you can keep perfecting it.
Click "Profile" and select a suitable output format for your AMV. It provides you with almost all popular video/audio formats. Choose your preferred video format and then click "Convert" button to save the created AMV to your computer.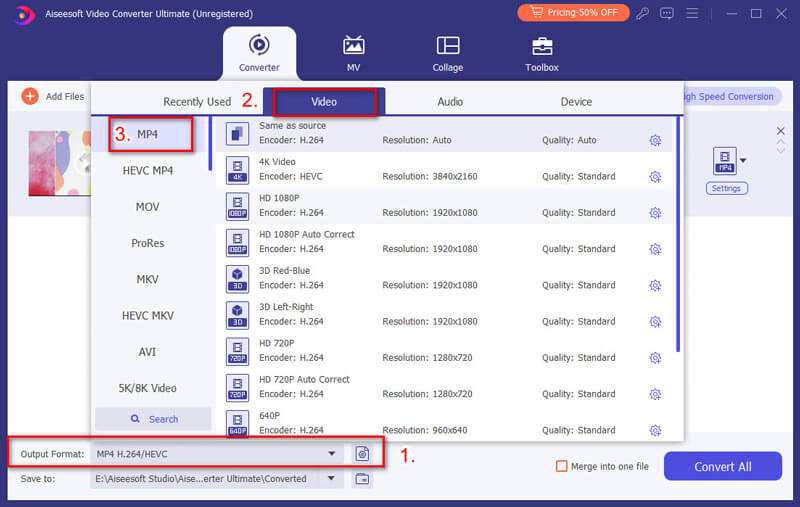 As you can see from its name, Video Converter Ultimate is a professional video converting and editing tool. It enables you to edit and make an AMV with ease. But you can't directly use it to add filters or transitions to your anime music videos.
More AMV makers can be found here.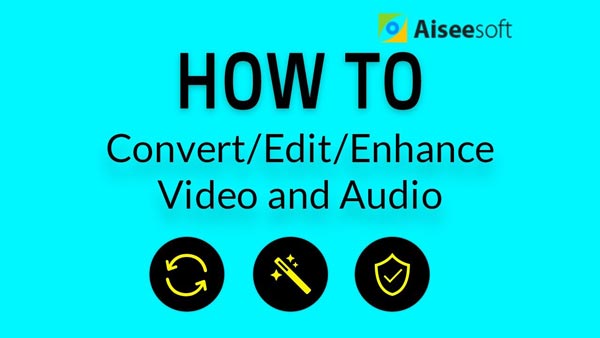 How to make an AMV? 4 effective ways are offered to help you can easily edit and create AMV videos on computer. You can choose your preferred method to make your anime music videos on Windows and Mac. If you want to make an AMV file on iPhone or Android, just check here.
Leave us a message if you still have any questions.
Part 5. FAQs of Making an AMV on PC and Mac
How long does it take to make an AMV?
It is hard to say it how long it will take to create an AMV. If you just want to make a simple MAV, then it will take several hours to create one with the simple third-party software. However, if you want to create a high-quality AMV file, then it will take 50 hours or more to make an AMV file.
How do I make an AMV without copyright?
Generally speaking, the anime will cause copyright issues easily. However, for avoiding any copyright issue, you should make sure the music is royalty-free, and claim the AMV made is fair use, where non-profit, educational or personal use are in included.
What is the meaning of AMV?
AMV, short for Anime Music Video, is a short movie composed of one or several animations with a song as the background audio. Besides, AMV is also a video format, produced for MP4 players, as well as S1 MP3 players with video playback. The container is a modified version of AVI and a variant of Motion JPEG. The AMV format file will be low resolution with a smaller size and is less popular now.
AMV VS MAD, what is the difference?
MAD is the multimedia works in video game culture and peer culture. The difference between the two is MAD is more like a music video with the clipped animations with music while MAD focuses on the film itself. Moreover, AMV is widely used in Europe and America while MAD is accepted by Japanese.

Leave your comment and join our discussion