15+ Best AMV Maker Apps to Create Your Own AMVs
Look for a great AMV video maker to create your own anime music videos? What is the best AMV maker app? This post lists 15 more video makers to help you make AMVs, whether on Android, iPhone, PC, Mac or online. In fact, you can directly free download the best AMV video maker if you want to create AMVs on computer.

What is the best free AMV video maker? I want to make an anime music video about Naruto, while the Windows Movie Maker stop working. I'm using a Dell computer running Windows 10. I tried some famous video editors like Final Cut Pro and Sony Vegas, but failed to quickly use them. I want an easy-to-use and free AMV maker, any help?
You can see many AMVs shared on the internet like YouTube, DailyMotion, Facebook and more. AMV (anime music video) is a short video which combines one or several animations and an audio track. Most of the AMVs are edited and created by related anime fans. Actually, it's quite simple to make AMVs, as long as you find a good AMV maker.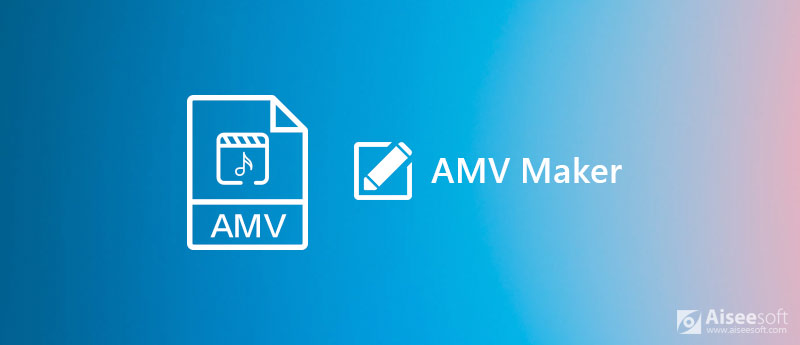 AMV Maker
Just clip the useful parts of animations and add a background song, you can easily make your own anime music video. However, Windows Movie Maker on PC, or iMovie on Mac sometimes will disappoint you when editing and creating AMVs, not to speak of the AMV maker apps for Android and iPhone.
Considering that you don't know which AMV video maker you should use, here in this post, we introduce you with 15+ AMV maker apps, including AMV creating tools for Windows PC, Mac, Android, iPhone and free online ones.
Best AMV Maker for Computer
Computer is the first choice to edit or create videos. So at the first part, we will first recommend the best AMV maker to help you create AMVs on computer. It has the capability to make anime music videos with video clips, music and images. You can free download it and make AMVs on Windows 10/8/7/XP computer.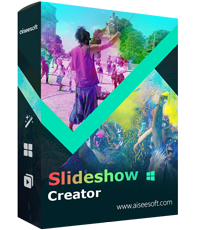 Downloads
Slideshow Creator - Best AMV Maker
Create AMVs with video clips, images, audio and various transitions/effects.
Many editing features offered to edit video/audio based on your needs.
Easy make anime music videos with ready-made themes.
Add Themes, Text, Filter, Elements to your video to make it more attractive.
Highly support any popular video/audio/image formats.
Steps to make your own AMVs
Step 1.
First, you need to install and run this powerful AMV maker on your computer. You can double-click the download button above and then follow the instructions to do that.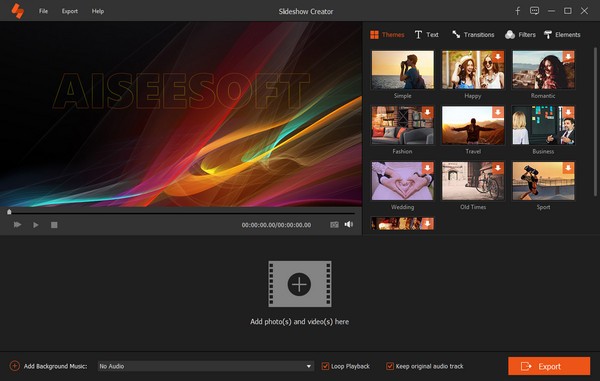 Step 2.
Click the big add icon to load the media files (anime video segments) to this AMV video maker. It is compatible with any popular video/image/audio formats. You can directly add them to this software without worry about the unsupported format issue.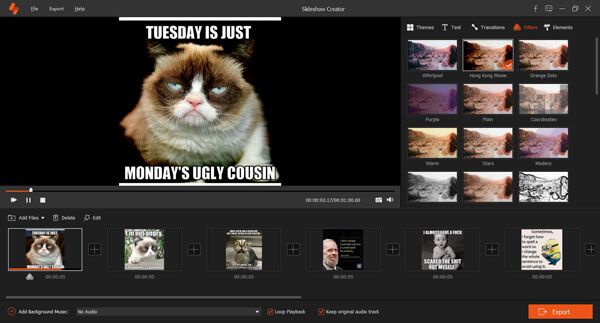 Step 3.
This AMV maker offers various themes like Travel,Christmas, Business, and many more for you. You can choose to use it or not based on your need. During this step, you can add related filter, transition and other elements to the anime music video.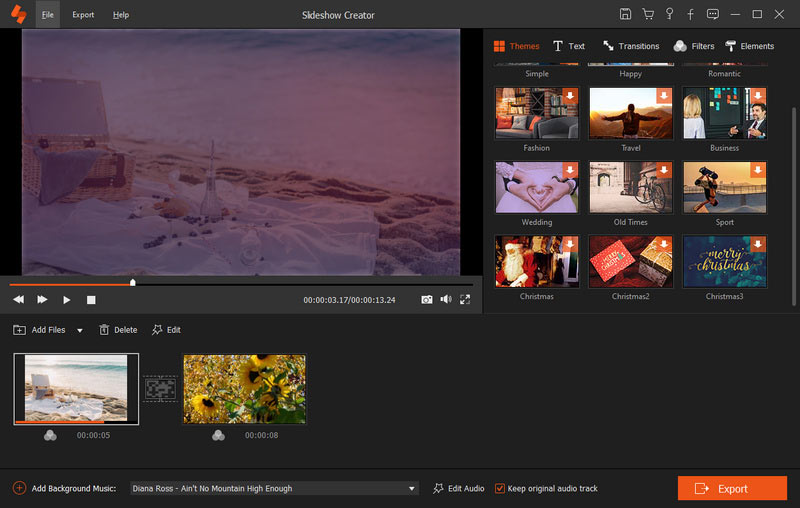 Step 4.
Select the file you want to edit and click "Edit" feature to rotate, clip, crop, speed up/slow down video or do other operations.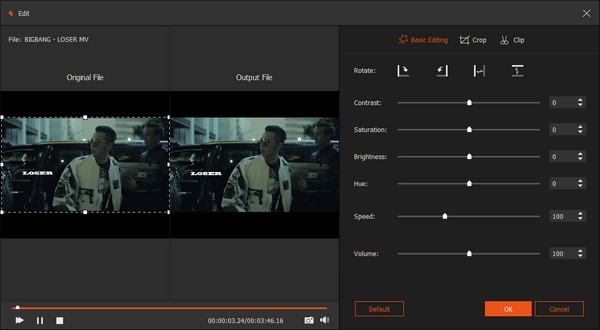 Step 5.
Click "Add Background Music" option and you are allowed to add music to this AMV. Here you can click "Edit Audio" button to edit the music length and loop playback or not. This AMV maker also provides some popular background music for you.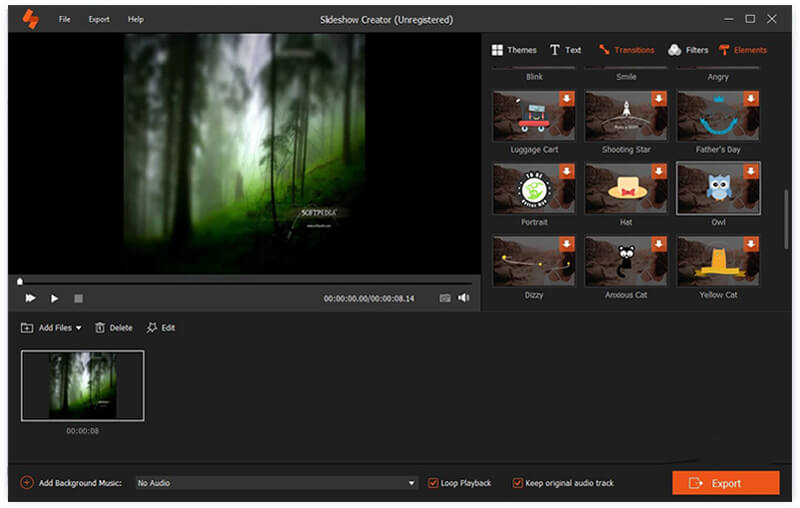 With this easy-to-use AMV Maker, you can handily turn clips, music and images into one anime music video. It guarantees you that there won't be any image or sound quality loss during the AMV creating process.
Here's the video about making slideshows for you. Click it to check.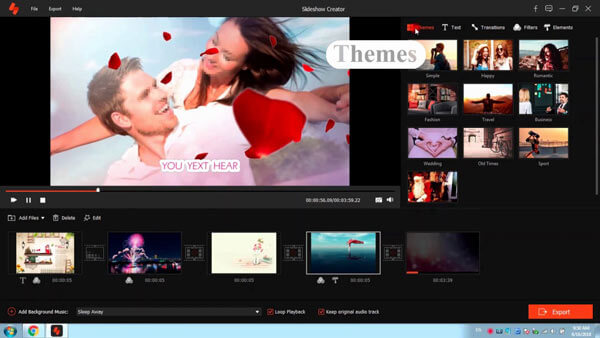 ---
5 Best AMV Makers for Windows PC and Mac
With the AMV maker app above, you can handily create your own anime music videos on Windows 10/8/7/XP computer. What if you are a Mac user, or want more AMV creating tool options? This part shows 5 more great AMV video makers for you.
Apple iMovie - AMV Maker for Mac
iMovie is the classic free video editing software for Mac which can help you create your own AMVs. It enables you to easily load video clips and merge them together into one new video. Moreover, this AMV maker for Mac allows you to add audio track to output video with ease. Check more details about how to use iMovie.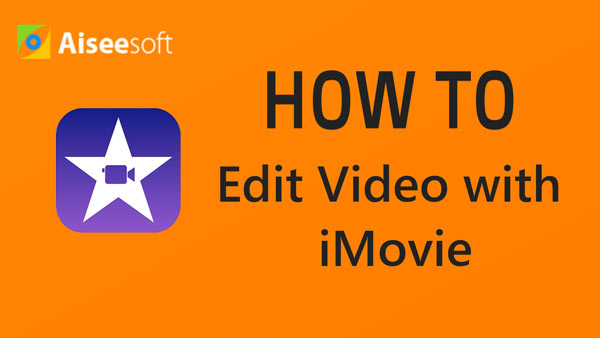 Final Cut Pro - AMV Maker for Mac
Final Cut Pro is an very powerful video editor by Apple Inc. It can work as a great AMV maker to help you edit and create anime videos. Whether you want to trim video, rotate video, combine clips, add effects or do other editing operations, it can be a great choice. Final Cut Pro is not a free AMV maker like iMovie. You need to pay $299.99 for it in the Mac App Store. Learn how to split a clip in Final Cut Pro.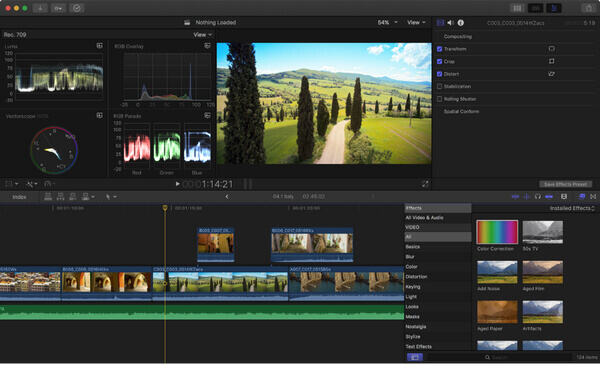 Adobe Premiere - AMV Maker for PC/Mac
Adobe Premiere is another professional AMV video maker. It supports both Windows and MacOS platforms. It is the leading video editing software for film, TV, and the web. In fact, it carries lots of editing features and is not an easy-to-use video maker to create anime music videos. It costs $20 to $50 per month. Here you may want to know the differences between Final Cut Pro X and Adobe Premiere.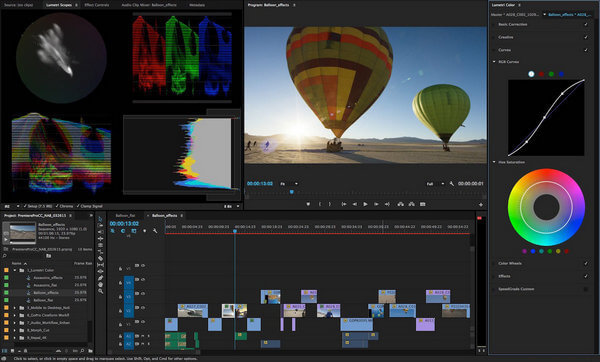 Lightworks - AMV Maker for Linux, Windows and macOS
Lightworks is a very powerful video editing tool which can help you make AMVs. It is compatible with any popular video formats from SD, HD to 4K UHD. Lots of editing functions are designed in this AMV maker to make sure you can easily edit media files and create anime videos. It offers a free version and a paid version. You can use the free version before finally buying its pro version. Here you can free download Lightworks.

Free Video Editor - Free AMV Maker for computer
Free Video Editor is a free anime music video editor and creator. Comparing with the professional video editors above, this free AMV making software is mush easier to use. Of course, it only carries some basic functions like Crop, Rotate, Clip, Merge, Watermark, and Adjust Effects and so on. It allows you to quickly trim anime, combine clips and add background music to make your own AMVs.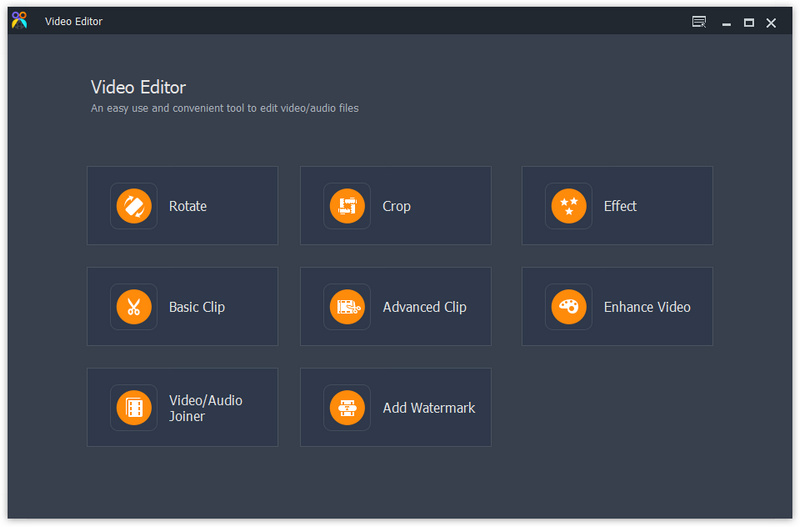 ---
5 Best AMV Maker Apps for Android and iPhone
There are a plenty of AMV maker apps in Apple App Store and Google Play can help you handily edit and create anime videos on portable Android and iOS devices. Here in this part, we extract 5 great ones from them for you to choose from.
PicPlayPost - AMV maker app for Android/iOS
PicPlayPost can work as a powerful AMV video maker and slideshow maker. Actually, it is mainly designed to create slideshows. Many occasion themes are offered, such as Birthday, Father's day, anniversary, graduation, and more. It enables you to turn images, videos, live photos and Gifs into one AMV (up to 30 minutes long).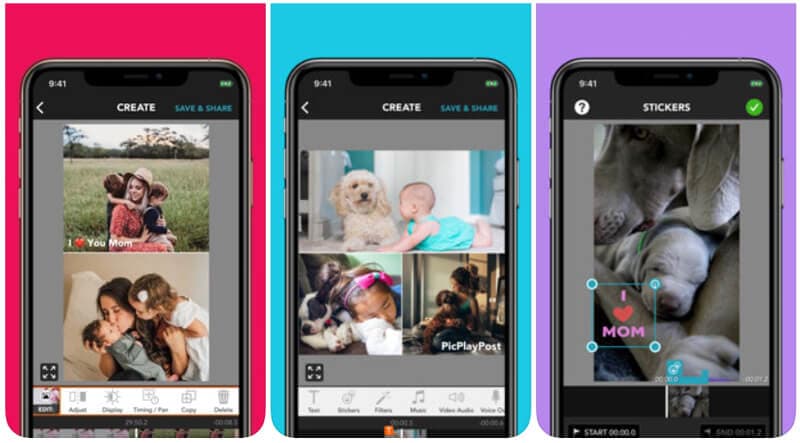 FilmoraGo - Free AMV maker app for Android
FilmoraGo offers a simple way to make AMVs on Android. You can select pictures and videos from gallery, albums, Instagram and Facebook. Many themes, filters and transitions are provided for you to quickly edit media files and create anime music videos.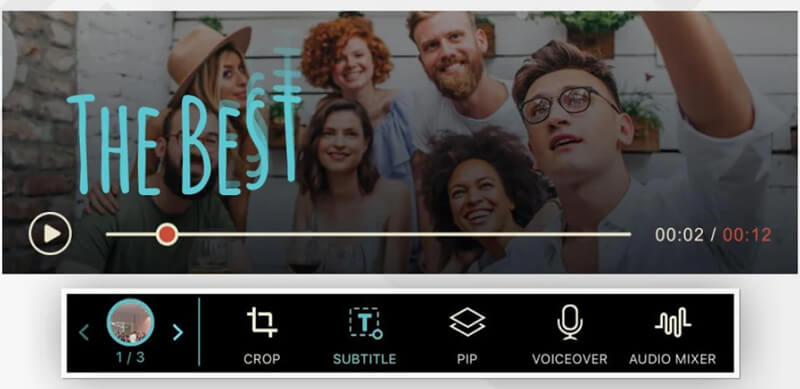 iMovie - Free AMV maker app for iPhone/iPad
iMovie also offers an iOS version for iPhone and iPad users to directly edit videos on iOS device. As it mentioned above, it carries many powerful features to ensure you can create AMVs with high quality.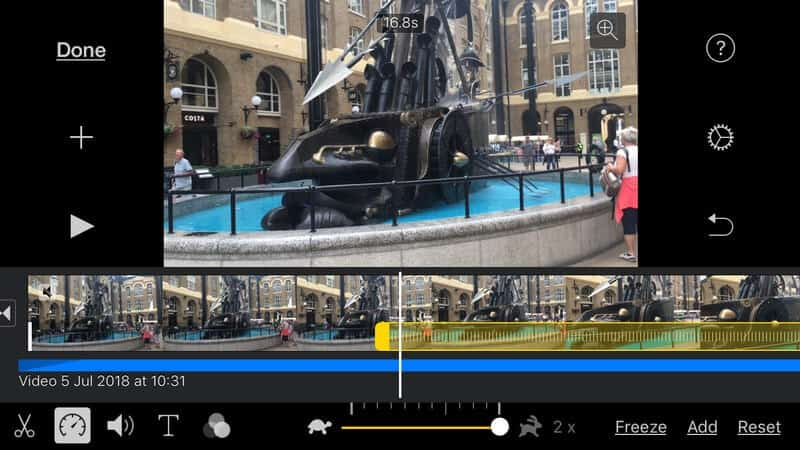 KineMaster - AMV maker app for Android
KineMaster is an easy-to-use video editor for Android users. It can work as an all-featured AMV maker app to help you edit and create videos. Many functions like video layers, blending modes, voiceovers, chroma key, speed control, transitions, subtitles, special effects, etc. are added to this Android AMV maker.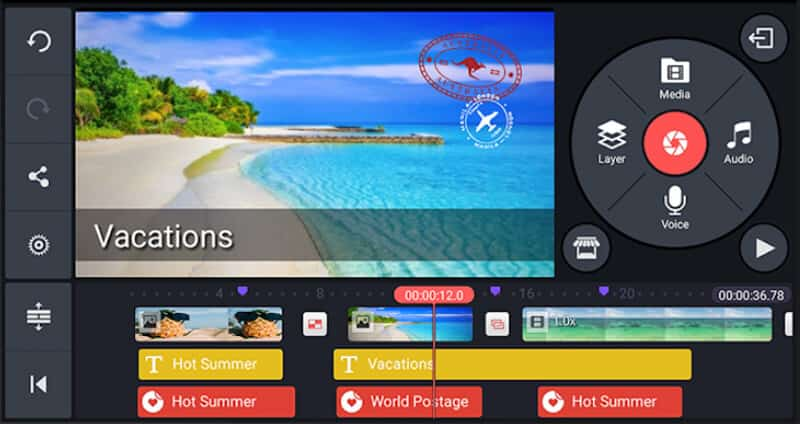 VivaVideo - AMV maker app for Android
VivaVideo has the capability to easily create professional-looking video stories. It can be a great helper when you want to create music videos of your favorite anime. It is designed with a user-friendly UI. Many stickers and filters are offered. This AMV maker app also provides 200+ special effects including Animated for you to enhance output video.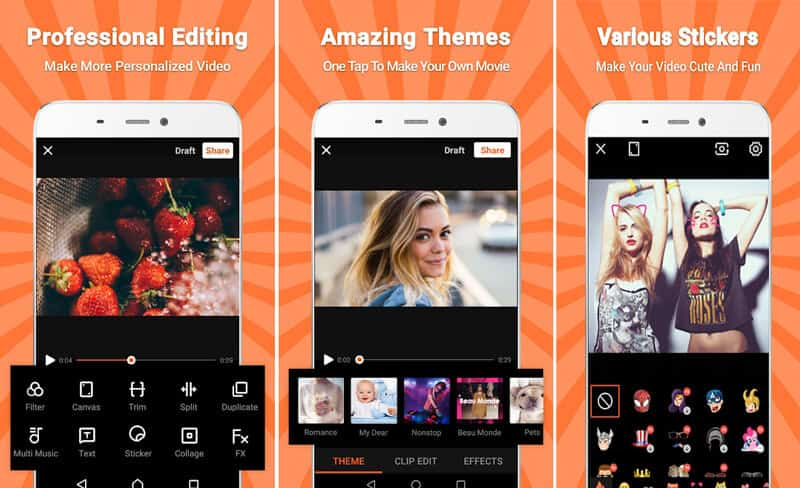 ---
5 Free Online AMV Makers
In case you prefer to edit and create AMVs online, we give you a list of 5 best online AMV makers. But you should know that, compared with AMV maker apps above, online video makers will cost more time to do the same work.
Animaker
Animaker is the very popular online anime video editing and making software. With 6 video styles in this AMV maker, you can create 720 different types of animated videos with ease. Animaker is a really anime creator app which allows you to make a new character, scene or story.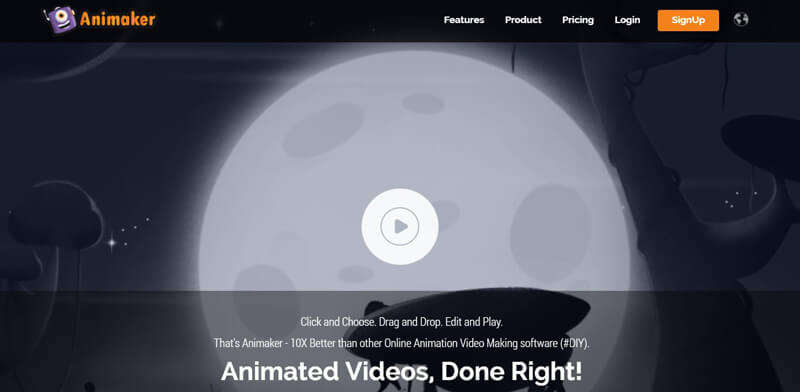 Biteable
Biteable is a great online video creating tool which enables you to create all kinds of videos, like AMVs, ads, presentations and social media contents. With its help, you can handily make AMVs with your own photos, video clips, and texts. You are required to log into your Facebook or Google account first.

Adobe Spark
Adobe Spark is a professional online AMV maker. You can add various media files like images, video clips, icons, or text to this software. It brings some pre-loaded themes for you to better edit your anime music video. You can get all controls of the transitions between slides and the motion of elements.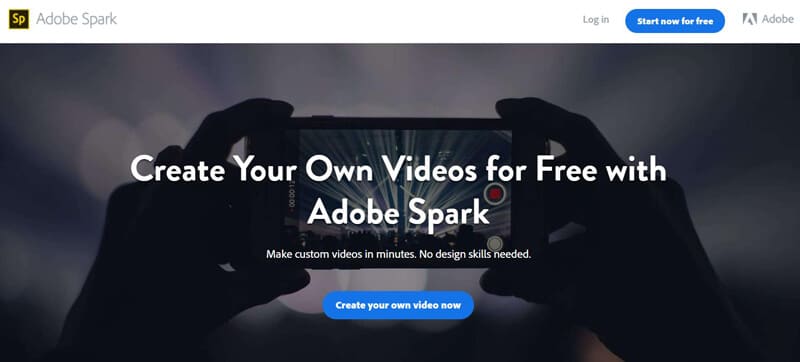 Moovly
Moovly is an online cloud-based video animation maker. Similar to other online AMV makers, Moovly allows you to upload images, audio and video clips for the AMV making. It gives you a simple way to create and animate videos and presentations. This AMV maker offers a full-featured Free Trial.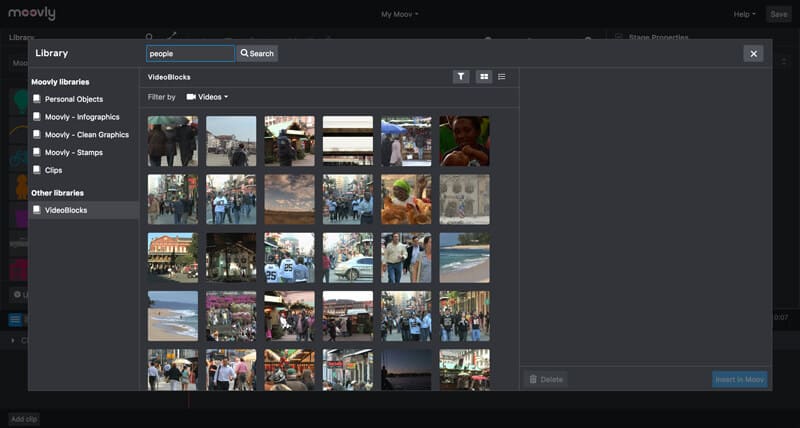 Renderforest
Renderforest is online video maker which helps to create AMVs. Moreover, you can rely on it to make slideshows, explainer animations, promotional videos, character animations, 3D realistic videos, and many more. It is equipped with a cloud-based service to help you adjust your scenes, upload pictures, modify text and make anime music videos.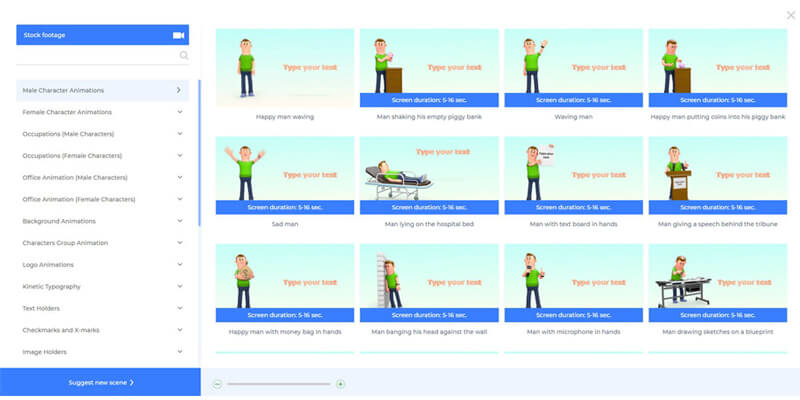 We have talked about AMV maker in this page. Whether you want to make anime music videos on computer or Android/iPhone, you can find suitable AMV creating software from this post. We recommend 15+ AMV maker apps for you to choose from. Hope you can handily create your own AMVs after reading this post. Please share it with other readers if you have any better AMV maker app recommendations.

Leave your comment and join our discussion