Tutorial on Resizing the Photo for Facebook & Requirements for Image Size
From time to time, Facebook users become more fond of this platform because of the updates, information, content with links, and visual media posting we usually do. According to reliable sources and statistics, almost 72% of posts on Facebook are usually images; next to them are videos and other information. Although we can freely post images on this platform, there are still limitations you must keep in mind before posting them here. It means not all of the images are uploadable. So, if you don't know the requirements we are discussing, you must keep reading this article to know what these are. Also, we will show you different approaches to resizing the photo for Facebook if needed.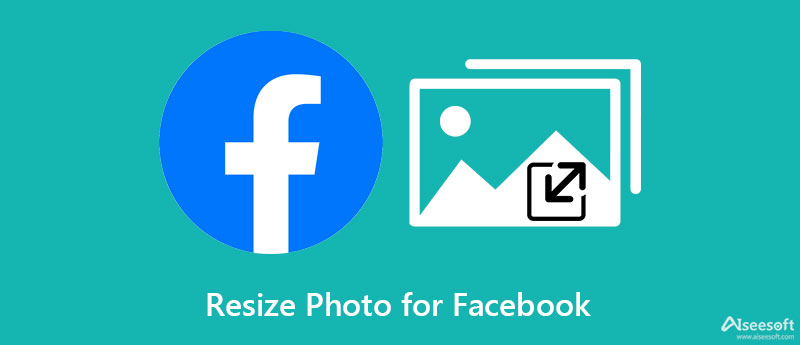 Par 1. What are the Facebook Photo Size Requirements | A Must To Know Before Uploading Images
Most of us don't care about the image size, especially when posting it. However, it is essential to know the requirements of each before uploading images as a profile picture, feed, stories, instant article, and marketplace. To help you quickly understand it, we will use a table to help you quickly distinguish the requirements needed before you resize the image for Facebook.
| | |
| --- | --- |
| Posting the Image As… | Image Size Requirements |
| Facebook Feed | ◆ Image with a link on a desktop must be 479 × 246 pixels. ◆ On mobile minimum must be 479 × 320. ◆ Recommended: 1080 × 1350 pixels. |
| Facebook Right Column | ◆ 254 × 133 pixels ◆ Recommended : 1200 × 1200 |
| Facebook Instant Articles & Marketplace | ◆ Recommended: 1200 × 1200 pixels |
| Facebook Stories | ◆ Recommended: 1080 × 1920 |
| Facebook Profile Picture/ Ad (Carousel)/ Catalog Image/ | ◆ 400 × 400 pixels |
| Facebook Event Cover Photo & Group Cover Photo | ◆ 1920 × 1005 pixels |
| Facebook Profile Cover Photo | ◆ 1125 × 633 pixels |
| Facebook Photo Post/ Linked Images/ Ads (Single Image) | ◆ 1200 × 630 pixels |
Part 2. How to Resize a Photo for Facebook Without Cropping Images [3 Photo Resizers Online]
1. Aiseesoft Image Upscaler Online
The best Facebook profile picture resizer you must use is the Aiseesoft Image Upscaler Online because of the new functions you can use. This online tool is superior in resizing your images on your device to make them fit the platform's requirements. Once you upload the photo, you can use its AI super-resolution technology to fix your blurry image. Entirely, the tool is free to use. It can retouch the low-quality images into an unimaginable high-resolution once it is done. So, are you ready to use the software and the following tutorial we add here? In that case, continue reading to finish resizing a photo for the Facebook cover like a swift of a wind.
Step 1:
You can click this link to open the
Aiseesoft Image Upscaler Online
to open the official website. No need to worry because this website has no malware or ads on the interface.
Step 2:
On the website, click
Upload Image
to import the image you want to upscale with this software. Once you've clicked it, select the image on the folder, and press
Open
.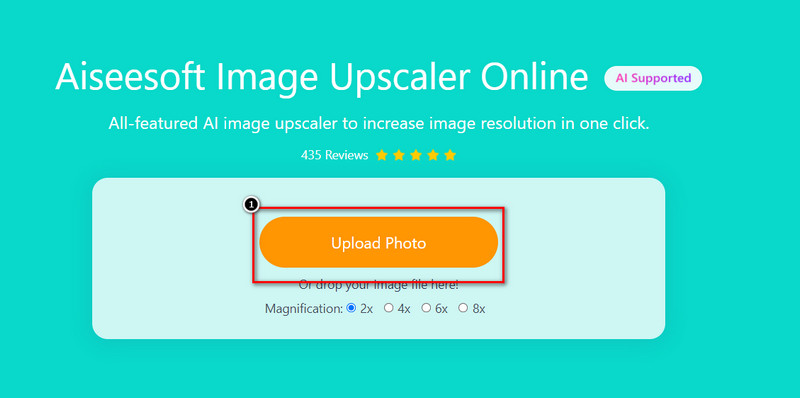 Step 3:
After uploading the image, you can now choose what type of
Magnification
you want; there are available options here, with the pixels in the bottom right corner.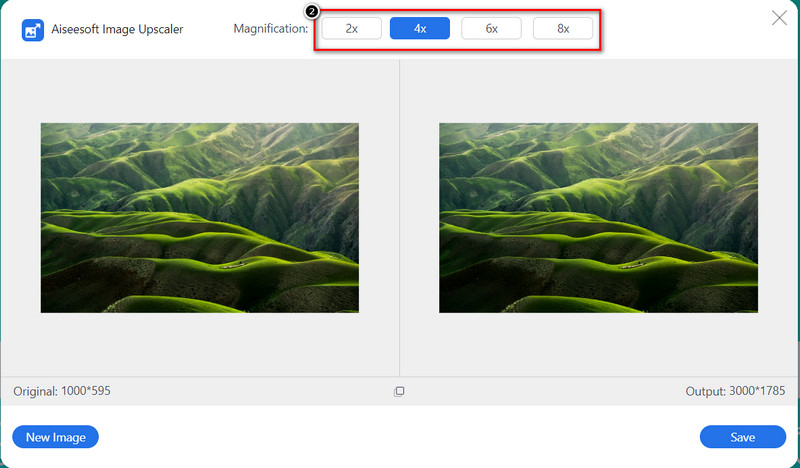 Step 4:
To start the processing of upscaling the image, click
Save
to download it on your desktop.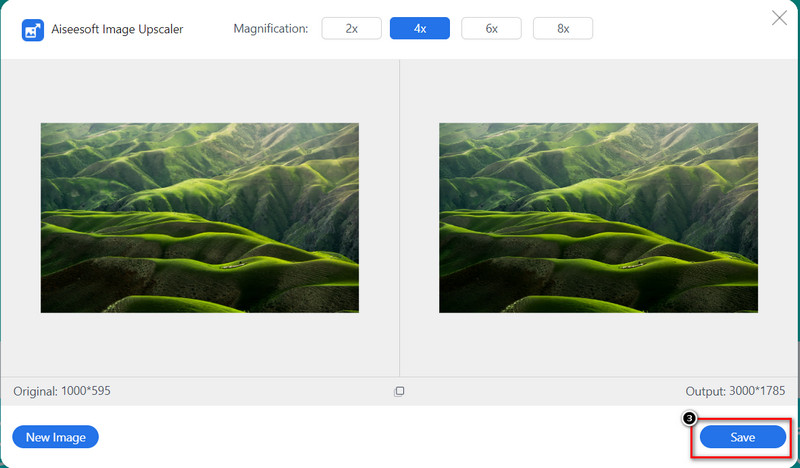 2. ResizeImage.net
Is it possible to resize the photo for the Facebook cover without cropping? You can use ResizeImage.net and its cropping features if needed for free. This tool is accessible, and you can use this for free without downloading it on your device. It has a simple interface, so you can learn how to use this tool in no time. But there is a problem with it, not the resizing feature it supports; it is the annoying ads. If you don't mind the ads, follow the steps below.
Step 1:
Search the name of it on your search engine, then click it to open.
Step 2:
Click
Upload an Image
, and ensure that the file format is less than 100 MB & 100 MP.

Step 3:
Go to Resize and adjust the
slider
according to your preferences.

Step 4:
Press
Resize Image
to change the dimension of the image you upload here.

3. Ezgif
Ezgif is a dependable image resizer you can use to resize a photo for Facebook if you need one. Though it is a known GIF solution, the online tool can handle the task of resizing the photo you have for free and GIF. It supports more image formats than ResizeImage.net; however, the maximum file size it can handle on a single image file is 50 MB or less. To help you do the task with this tool, follow the steps we add.
Step 1:
Open the webtool by searching the Ezgif image resizer on your browser.
Step 2:
Click
Choose File
, add the image file you have, then click
Upload
.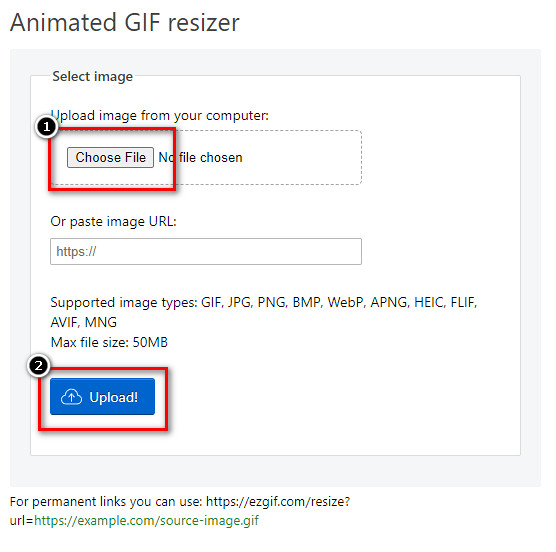 Step 3:
dd the Width and Height measurement in the empty box, then click
Resize Image
if you are done.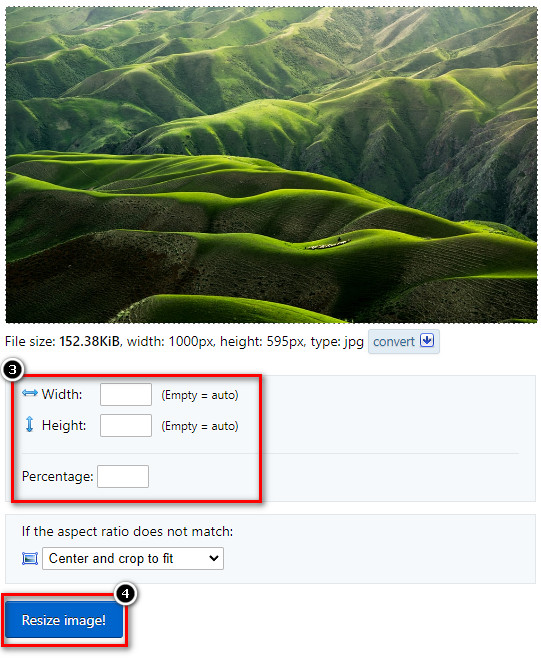 Part 3. FAQs to Resize Image on Facebook
Why do the images I post become low resolution on Facebook?
Facebook compresses the image you upload here to save the space on the server, especially if the image size is big. Because of that, the quality of the image became less. So, if you want to avoid the image being compressed, it is better to know the platform's requirements.
After resizing the image, does it become blurry?
The image you resize won't decrease the quality of the image you have. However, if you stretch out the image, then the image will become blurry in some areas. If you haven't any idea what to choose to resize the image, then read the dependable tool we add to this article to make your job easier.
Is Facebook the best social media ever?
ough Facebook is a well-known social media under the Meta, it is not in the top 1. Still, it is considered one of the top 5 social media you know on the web. And many articles on the web will tell you that it is in the top 5 at least.
Conclusion
The tools we add in this article solve how to resize a photo for Facebook, but which tool would you use? Which one do you prefer amongst the image resizer online? We will leave a simple tip if you haven't decided what to use. For a better image resizer online, you must take advantage of the tool with AI technology, which is the first web tool we introduced. By following the tutorial we add above for this tool, we can assure you that you will have the best output within a few clicks. Did this article help you? If so, you can rate us 5-stars and leave a comment below that would be helpful for us.

Leave your comment and join our discussion