5 Best Apps to Resize Your Photos on Mobile Devices without Quality Loss
There are many reasons why you need a photo resizer app for your iPhone or Android device. Today, our entire lives are now cataloged digitally due to mobile everywhere. That means that photos become larger and larger since advanced lens built-in handsets. The problem is that social media does not accept large photos. On the other hand, you may need to upscale your images in order to get more detail sometimes.
Part 1: 5 Best Photo Resizer Apps
Top 1: Image Size – Photo Resizer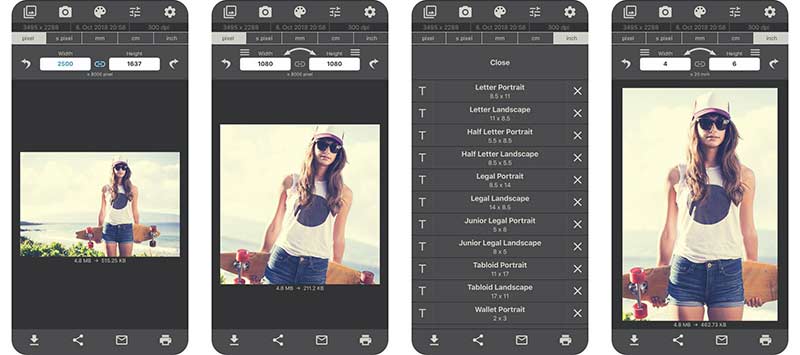 Platform: iOS 9.0 or later and Android 4.4 and up
Price: Free with in-app purchase
As its name said, this best photo resizer app allows you to change image size to whatever you like on both iPhone and Android devices. Moreover, you can view ads to exchange free features.
Pros
Resize an image manually.
Crop photos with fingers.
Convert to another photo format.
Cons
Ads are annoying.
It cuts your photos when enlarging.
Top 2: Pixlr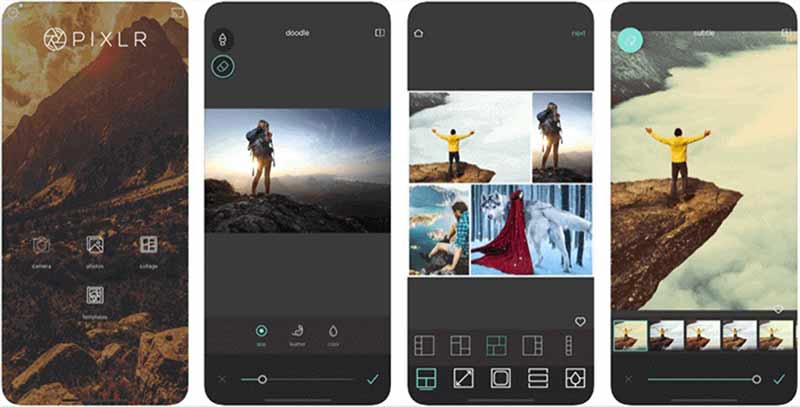 Platform: iOS 10.0 or later and Android 6.0 and up
Price: Free with ads and in-app purchase
Pixlr is one of the best picture resizer app for both iPhone and Android devices. Similar to Image Size, it lets you get free features by viewing ads. You can resize photos manually or with presets.
Pros
Alter entire image size.
Keep the original proportion.
Change canvas size.
Cons
Advanced features require payment.
There are too many features.
Top 3: Resize It – Image resize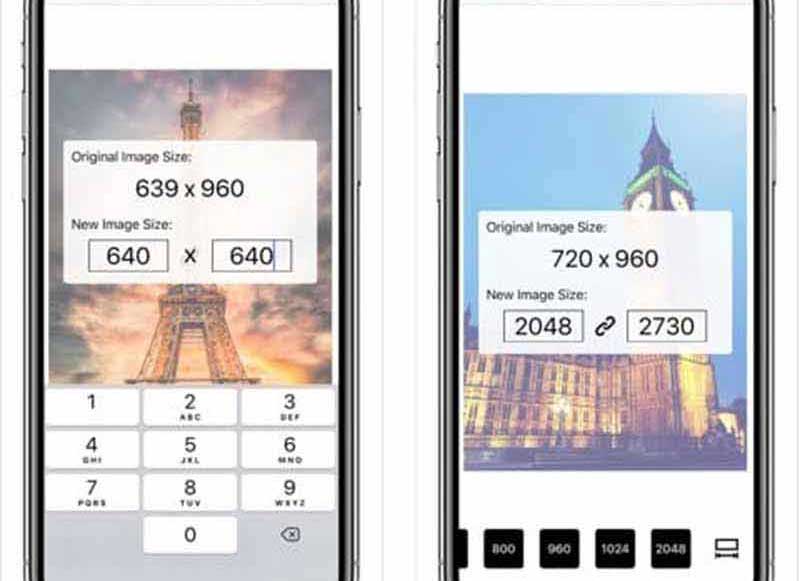 Platform: iOS 8.0 or later and Android 4.0.3 or up
Price: Free with ads
Resize It is one of the best free app to resize photos on iPhone and Android. There is no option related to payment, subscription or in-app purchase. All features are free and supported by ads.
Pros
Free to use.
Change image size accurately.
Convert format along with photo size.
Cons
There is no photo editing.
You cannot remove ads.
Top 4: ReSIZER – Simple Photo Resizer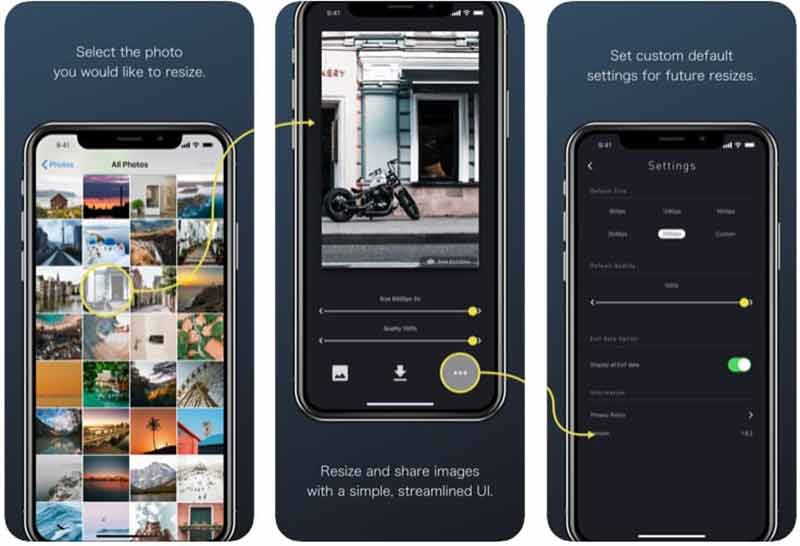 Platform: iOS 11.0 or later
Price: Free
If you are looking for the best photo resizer app for iPhone, ReSIZER is a good choice. It is completely free to use. Moreover, it is pretty simple and beginners can understand it quickly and easily.
Pros
Batch resize photos.
Decide the quality.
Safe to use.
Cons
The output formats are limited.
It will delete metadata from photos.
Top 5: Photo Compress 2.0 – Ad Free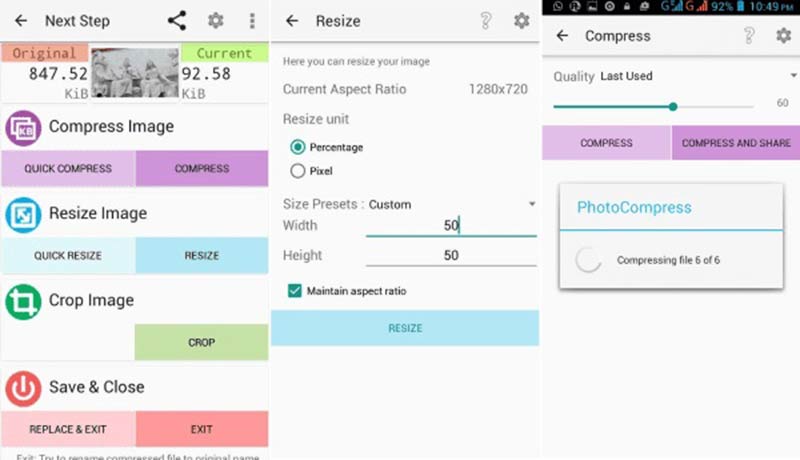 Platform: Android 3.2 and up
Price: Free
Photo Compress is both the best app to resize photos on Android and shrink your photo file size. It lets you compress, resize and crop your photos on smartphone and determine the quality.
Pros
Totally free of charge.
Resize multiple photos at once.
Share resized photos directly.
Cons
It is not available to new devices.
It may crash when processing large photos.
Part 2: How to Resize Photo Online for Free
Although smartphones are able to take photos, they are really not a good place to edit them. It makes sense that more and more people switch to computer and retouch photos on PC or Mac computer. Aiseesoft Image Upscaler is the best free photo resizer app for Windows 10/8/7/XP/Vista and Mac OS X.
Resize a photo from 2x to 8x online in one click.
Protect photo quality while resizing it.
Free of charge with no registration or other limit.
Available to almost all web browsers, like Chrome, Firefox, etc.
How to Resize a Photo Online for Free
Step 1:
Visit https://www.aiseesoft.com/image-upscaler/ in a we browser and click the
Upload Photo
button in the home page. Then follow the onscreen instructions to upload a photo. It is compatible with JPG, PNG, JPEG, BMP, and more.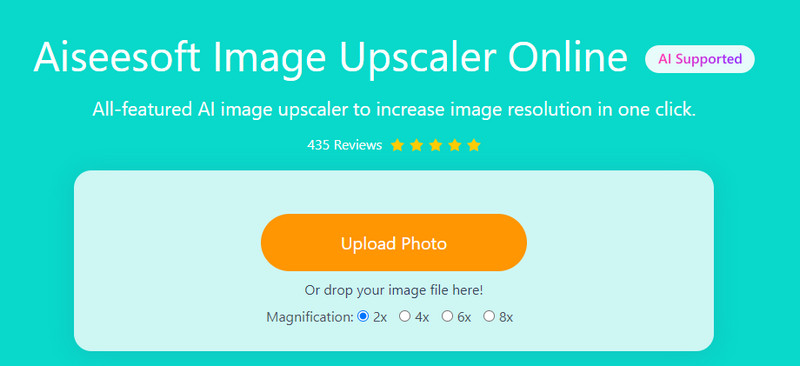 Step 2:
Then select the Magnification, like 2x, 4x, 6x, or 8x. Preview the result and compare it with the original one. The image size appears under each of them.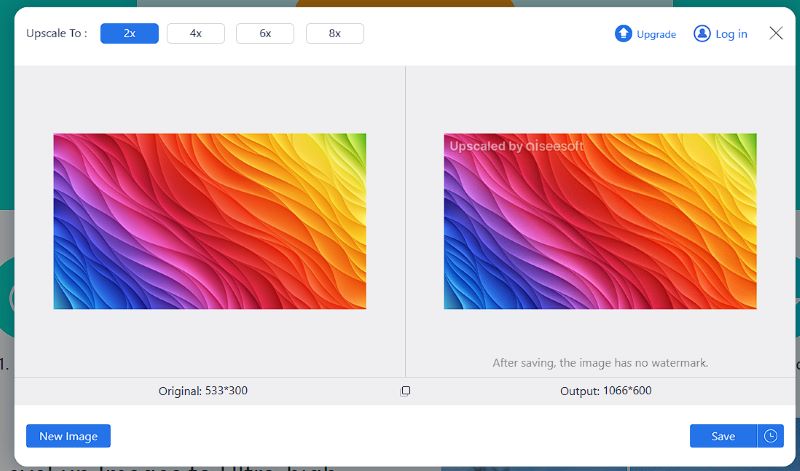 Step 3:
If you are satisfied, click on the
Save
button and it will be downloaded to your hard drive.
Part 3: FAQs about Best Photo Resizer App
How to shrink a picture?
The best way to shrink a picture is to resize and downscale the size. To get it, you will need a photo resizer app for your device.
Can I crop a picture without zooming in?
Yes, you can crop a picture without enlarging it. All you need is a photo editor lets you do the job on your computer or mobile.
Conclusion
Now, you should master at least top 5 best photo resizer apps for iPhone and Android devices. Sometimes, you need to make a large picture or downscale your photo size. These apps can meet your need on your mobile devices. However, Aiseesoft Image Upscaler is a good alternative solution to do the job on computer. You can use it to enlarge any photo without losing quality. If you have more questions, please write down below.

Leave your comment and join our discussion