Top Rooting Tools for HTC and How to Root HTC Desire HD

Part One: About "Rooting"
What is rooting? For Android users, rooting means obtaining the highest privilege for your phone. After rooting, you can bypass any restriction by the manufacturer of your device. For example, you may be annoyed about the built-in apps that you'll never use, or you are disappointed about its operating speed, etc. All these problems can be modified after rooting your phone.
Pros

1. Delete those pre-installed apps which are not useful.
2. Boost the speed of your Android Phone.
3. Update your operating system to the latest version faster.
4. Customize Rom and change the features of your phone at your will.
5. To stop the pop-up notifications and ads of some malware.
6. Stop apps running on your device automatically so that you can save more battery.

Cons

1. Rooting makes your Android phone more open to the outside and it's easier to be infected with virus.
2. Rooting gives you the access to come close to the important system files, an accident deletion would cause serious system error or even brick your phone.
3. Rooting would void off your warranty.
Part Two: Rooting tools for HTC Desire HD
After learning about rooting, you may have made up your mind to root your HTC Desire HD and get better experience. Rooting HTC Desire HD can be very easy and safe if you choose the proper rooting tool and method. But with so many rooting tools recommended on the Internet, are you sure that you can pick up a reliable one? Well, don't worry. In the next part, I'll introduce to you three best rooting tools.
1. KingoRoot
KingoRoot is one of the best one-click root tool, it is free of charge and perfectly covers Android 1.5 to 5.0 mainstream models from different manufacturers including HTC Desire, HTC One, Samsung, Google, Sony and more. KingoRoot can be installed both on Android and PC, so that you can use according to your needs.
2. Root Genius
Root Genius is fast, secure rooting software, which supports a wide range of devices. Compared with other software, Root Genius performs pretty well. It is compatible with most popular Android types, including HTC, Samsung and more. Just like its name, this software is very excellent and has many disadvantages.
3. iRoot
iRoot is free rooting software available on both Android and PC, it is one of the professional rooting tool for Android phones. Like other two tools mentioned above, this software also has user-friendly interface.
Part Three: How to root HTC Desire HD
Things to do before rooting:
1. Rooting is risky to some extent, so before any other operation, you'd better back up your Android, such as contacts, text messages, photo and more on your PC at first in case your files lose after rooting.
2. Unlock bootloader. Go to HTC Dev website and choose the models of your device, then you'll be taught how to unlock bootloader.
Note: This is similar as gaining S-OFF to perform more advanced functions.
3. Fully charged your HTC. Rooting process is unpredictable and can be very long sometimes. If your HTC runs out of battery during rooting, it will be shut off and cause other unexpected cases.
4. Enable USB debugging of your HTC Desire HD. You can follow this path "Menu" > "Settings" > "Developer options" and then turn on "USB debugging".
Root HTC Desire HD
After all the preparations were made, you are free to root your HTC. Here I'll take a simple rooting tool - One Click Root, as an example, and show you how to root HTC Desire HD. Firstly, you need to download it here.
Step 1 Install One Click Root and run it on your PC.
Step 2 Connect your HTC to your PC via USB cable, wait until One Click Root recognizes your device automatically.
Step 3 One simple click on "Root Now" button and you can start rooting process successfully. The root process may sometimes last a long time. Just make sure HTC is well connected to the computer, and wait patiently.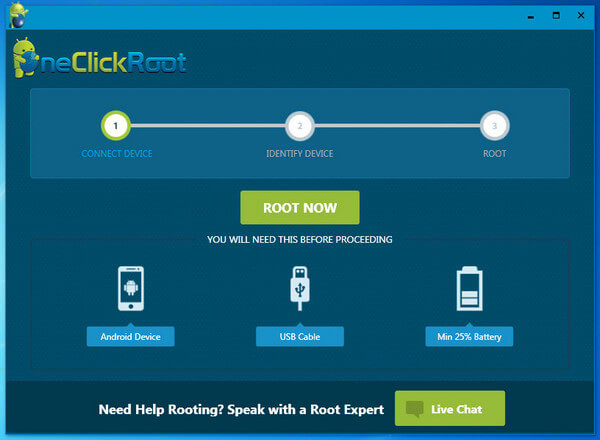 After rooting your HTC successfully, you can easily manage HTC by uninstalling unwanted pre-stocks, or installing some APKs.
This post shows you the ways to root Samsung Galaxy phone or tablet. If your phone is HTC, jump to this article to root HTC Desire HD.